Did Kim Kardashian Ever Have A Romantic Relationship With Chris Paul?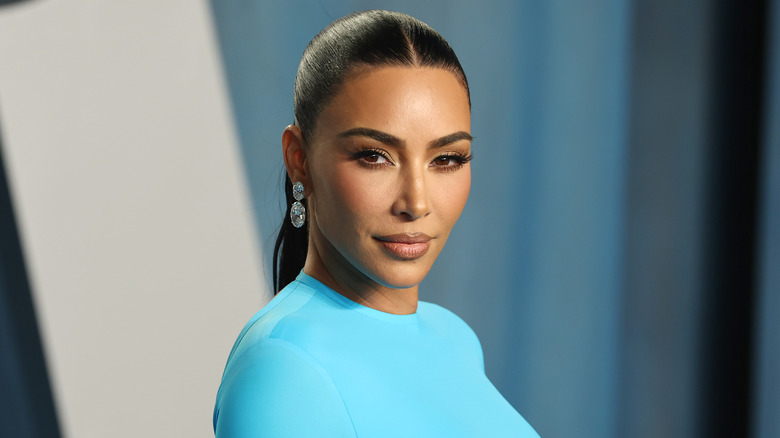 Arturo Holmes/Getty Images
Kim Kardashian has been linked to several famous men over the years. In addition to dating some celebrities, she's also been married three times, including her most recent marriage to rapper Kanye West. However, the "Keeping Up With the Kardashians" star has also dated several athletes in the past. She's even been linked to married NBA Point Guard Chris Paul. When Kardashian first rose to fame she was in a serious relationship with USC star running back Reggie Bush who went on to become the number one draft pick of the New Orleans Saints, per The Spun.
In 2010, Kardashian dated another NFL star when she confirmed a brief relationship with Dallas Cowboys wide receiver Miles Austin. However, the duo eventually split due to their busy schedules and the distance between them (via People). The Skims founder has also dated soccer player Alecko Eskandarian and reportedly had a relationship with famed soccer star Cristiano Ronaldo before tying the knot with NBA player Kris Humphries. Of course, Kardashian and Humphries were only married for 72 days before the reality star pulled the plug on the marriage and filed for divorce.
Although Kardashian seems to have a thing for athletes, did she really have a romance with Chris Paul?
Kanye West accused Kim Kardashian and Chris Paul of having an affair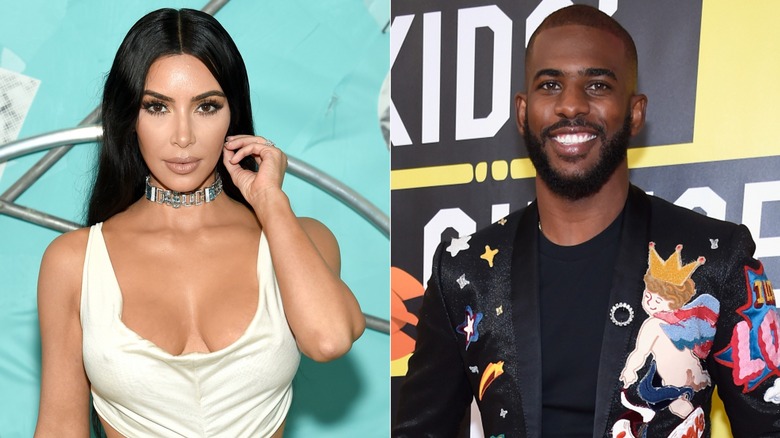 Kevin Mazur & Dimitrios Kambouris/Getty
Rumors about Kim Kardashian and Chris Paul having a romance first began when Kanye West accused his then-estranged wife of having an affair with the NBA player. West tweeted a photo of Paul and told fans that he caught the point guard with his wife before signing off the social media platform and eventually having his account suspended. After the accusations, a source told Page Six that the rumors of Kardashian and Paul having an intimate relationship were not true.
"This is not true, and sadly it's an ongoing pattern with Kanye — attacking Kim to redirect everyone's attention after a day of crazy antics where he has said every hateful and offensive thing he can possibly dream of," the insider said, adding that West has a history of making false accusations against Kardashian in an attempt to shame the mother of his four children. While the allegations targeted Kardashian, they likely took a toll on Paul as well, as he's a family man who's been married to his college sweetheart, Jada Crawley, since 2011. The couple share two children together, son Chris Jr. and daughter Camryn.
Neither Kardashian nor Paul has officially spoken out about the rumor, and it eventually died down in the wake of West's online rant.
Kim Kardashian and Chris Paul dating rumors resurfaced in 2023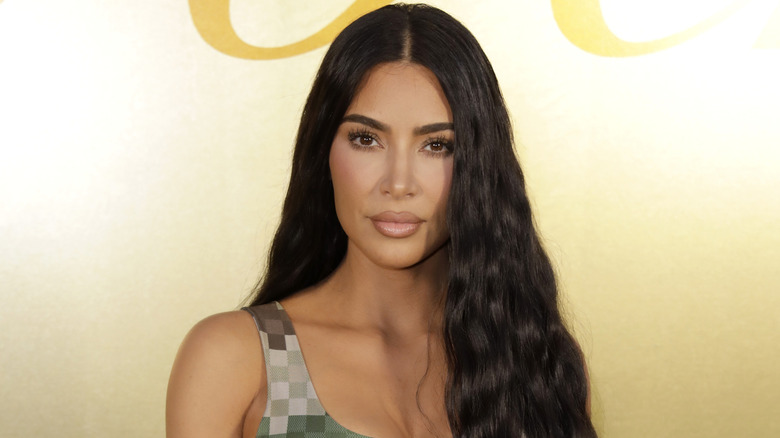 Antoine Flament/Getty Images
A year after the original rumors that Kim Kardashian and Chris Paul were dating, the pair made headlines again. Both Kardashian and Paul were spotted at Lionel Messi's debut in Miami along with many other star-studded sports fans. After the event, fans on Twitter shared a photo that they claimed was Kardashian and Paul getting into a car together, reigniting the dating rumors. However, InTouch Weekly reports that the photo wasn't from that night, and wasn't even a photo of Kardashian and Paul.
Instead, the photo was revealed to actually be an older photo of Kardashian's sister, Kendall Jenner, talking to Paul while sitting in a car with her then-boyfriend, NBA star Devin Booker. Meanwhile, Kardashian has been linked to another athlete since the Paul rumors, as speculation that she's starting a romance with former NFL quarterback Tom Brady have made their way around the internet. However, sources tell Us Weekly that the pair are simply friends.
While there seems to be no evidence to support the rumors of Kardashian and Paul having a relationship, the reality star has surprised fans with her dating habits in the past.