Why Tom Holland Doesn't Like Hollywood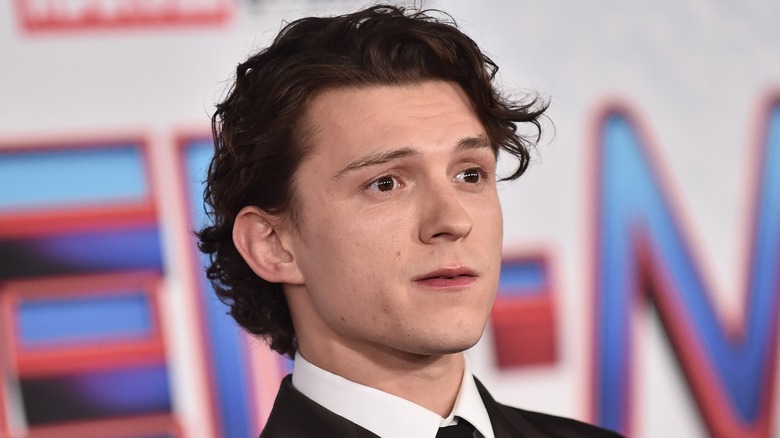 DFree/Shutterstock
Tom Holland may be an A-list actor, but he's not a big fan of Hollywood. There's no doubt that the "Spider-Man" star is passionate about his craft, of course. He just could do without some of the more negative consequences of fame and the business side. During a conversation with the beloved life coach and podcast host, Jay Shetty, Holland got vulnerable about how he really feels about Hollywood and why he makes an effort to remove himself from it all as much as he can. 
Instead of giving the excess glitz and glamor or the invasive paparazzi too much power, the actor tries his best to stay grounded and live a somewhat normal lifestyle. He prefers to only attend industry events when it's required of him and keeps his personal life as private as possible. (Unfortunately, the world discovered Holland and Zendaya's relationship when they were photographed during a private moment.) The actor has learned to focus on what makes him truly happy — loved ones, golf, and tennis, among other things. His mindset and priorities help him manage his anxiety when it comes to Hollywood. 
He really doesn't like the business side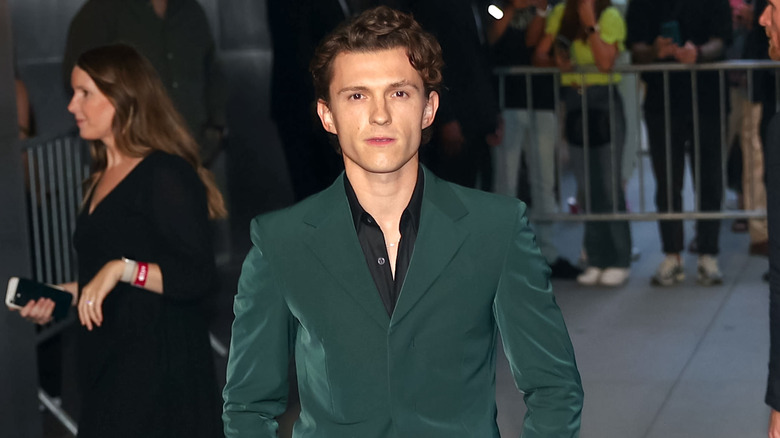 Jose Perez/bauer-griffin/Getty Images
During a July 2023 interview on the "On Purpose with Jay Shetty Podcast," Tom Holland opened up about the dark side of the entertainment world. "I really am a massive fan of making movies but I really do not like Hollywood," he admitted. "It is not for me. The business really scares me." Holland noted, "I understand I am a part of that business and I enjoy my kind of interactions with it, but that being said, I am always looking for ways to remove myself from it, to kind of just live as normal a life as possible."
The actor added that he doesn't make any appearances that aren't required because he wants to avoid unnecessary attention. Holland constantly has to remind himself to not lose sight of who he really is because he's witnessed friends lose themselves to the business in real-time. Needless to say, those friendships are over now. Fortunately, the "The Crowded Room" star does have people in his life who don't hesitate to bring him down a notch if he ever sounds out of touch or arrogant.
He would like to keep his personal life mostly private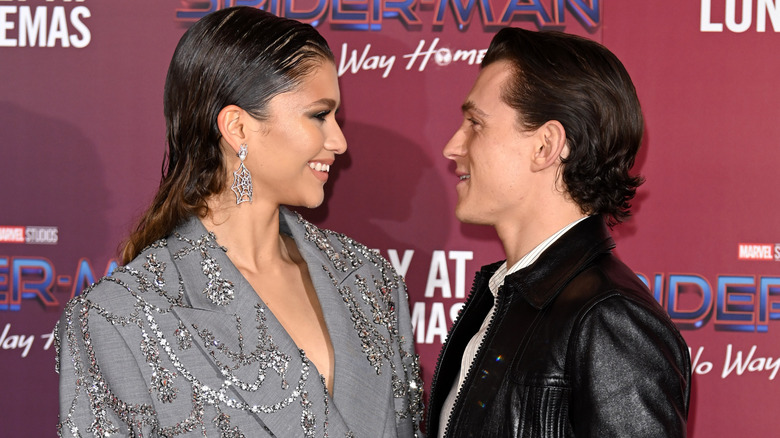 Karwai Tang/Getty Images
Over the years, Tom Holland has been vocal about his desire to keep his romantic relationships private. Hollywood unsurprisingly makes that difficult sometimes. After the "Spider-Man" star was photographed with Olivia Bolton in 2019, he expressed his discomfort with the situation to GQ. "I'm a very private person," he said. "I don't like living in the spotlight." Of course, that situation was not the first or last time paparazzi crossed Holland's boundaries. 
It was just a few years later when he and his current girlfriend, Zendaya, were spotted kissing in a car and were pretty much forced to go public with their relationship. Holland expressed a similar sentiment to the same publication following the incident and revealed that it's hard to have little control over what the public knows about your love life. "I've always been really adamant to keep my private life private, because I share so much of my life with the world anyway," he said. The issue was not that he and Zendaya weren't ready to speak about their romance — they never had plans to in the first place. Holland emphasized, "We sort of felt robbed of our privacy."