What Joe Biden's Granddaughter Maisy Studied In College
When Joe Biden isn't busy signing infrastructure bills and conferencing with world leaders, he's checking in with his grandchildren. According to Naomi Biden, he calls them every day — if they don't pick up, he'll worry that something's wrong. "He always calls with the same energy even after he's just done 15 interviews in a row," his granddaughter Maisy Biden explained to PBS NewsHour. Maisy, Hunter Biden's third daughter, graduated from Sidwell Friends School alongside Sasha Obama in 2019 before attending the University of Pennsylvania. She finished with a degree in fine arts in 2023 and appears to be pursuing a career in visual art. The first granddaughter even has an Instagram account dedicated to her projects, posting snapshots from her college art exhibitions — and even a few cat pics. 
The President, joined by his son Hunter, stopped by Maisy's senior art show during her 2023 spring semester. Hunter, who's had his fair share of controversies since his dad entered The White House, has also tried his hand at visual art. In fact, some of his paintings were listed for hundreds of thousands of dollars and, consequently, became the subject of an investigation.
Joe Biden cheered on Maisy at her college graduation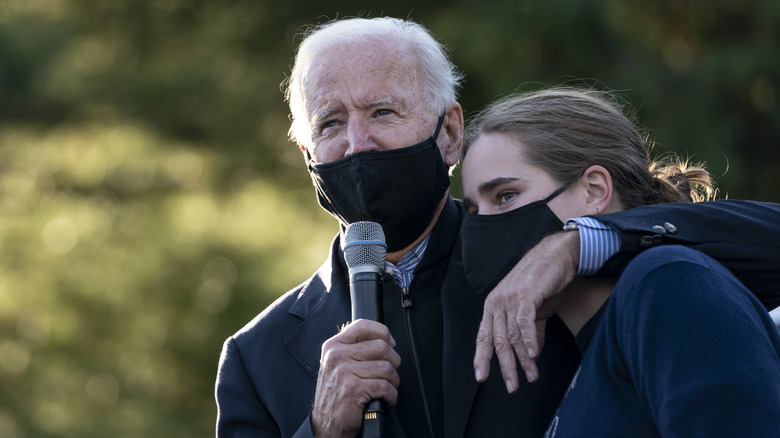 Drew Angerer/Getty Images
In May 2023, the Biden family, including President Joe Biden, celebrated Maisy as she received a degree in fine arts from the University of Pennsylvania. Clapping from the bleachers along with POTUS were First Lady Jill Biden, Hunter Biden, Maisy's mother Kathleen Buhel, her aunt Ashley, and her older sisters Naomi and Finnegan. According to U.S. News, the President got a few waves and requests for photographs. The family sat removed from the rest of the crowd, likely surrounded by plenty of Secret Service members.
This wasn't the President's first UPenn graduation. He watched his other granddaughter, Naomi, graduate in 2016 alongside Tiffany Trump — the university is also a hot spot for the "The Apprentice" star's children, housing Donald Jr. and Ivanka in the early 2000s. Donald Trump himself attended in the '60s. In 2013, President Joe Biden was the school's commencement speaker. "I was asked why I wore a Penn tie. My answer is 'I earned it,'" he joked, referring to the years of tuition he paid when his late son, Beau Biden, attended the school (via YouTube).
Maisy Biden has a competitive streak
Although Maisy Biden's main focus in college was fine arts, she has a long-standing interest in basketball. During her Sidwell Friends days, she was even the star of the school's basketball team, playing alongside first daughter Sasha Obama. Their coach? None other than former President Barack Obama. As the 45th president explained on the "Armchair Expert" podcast, Maisy was pretty much the "LeBron" of the league. "She dominated. She was great, you know, and we went undefeated. The Vipers ruled," he said. Eventually, other teams in the league complained that having a presidential coach created an unfair advantage. "There were a lot of teams that were like, 'This is unfair, they can't have the president be their coach,'" Maisy Biden explained on Today. "But, I mean, we won," she laughed. Of course, her "Pop" was always there to cheer her on.
Maisy Biden's competitive spirit came out again when her grandfather ran against Donald Trump in the 2020 Presidential election. In one TikTok, she sports a "Vice President Joe Biden" tee, crossing out "Vice" in sharpie to celebrate her Pop's win. The caption? "Hey hey hey goodbye trump." After completing her degree at UPenn, Maisy Biden even joined her grandfather on a trip to Hiroshima, Japan, for the G7 Summit. Quite the graduation present, although we're guessing she didn't join in on meetings with the leaders of Canada, France, and Italy.