Who Is Joe Biden's Granddaughter, Maisy?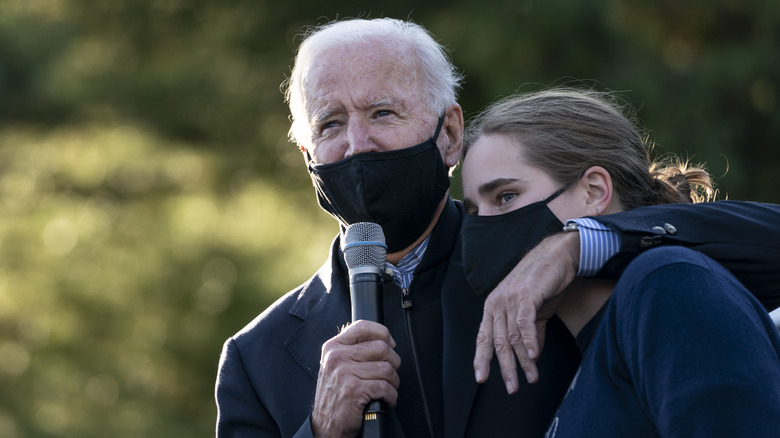 Drew Angerer/Getty Images
Maisy Biden's name filled headlines back in 2019 when her grandfather, President Joe Biden, skipped the Iowa Democrats Hall of Fame Dinner for her high school graduation, and again when she graduated from the University of Pennsylvania with a bachelor of arts in 2023. Over the years, Maisy herself has had numerous interactions with the press. She typically appeared alongside her sisters Naomi and Finnegan, who each also graduated undergrad from the University of Pennsylvania.
Including Maisy, Joe Biden has seven grandchildren, whom the president claims he calls daily. "He always calls with the same energy even after he's just done 15 interviews in a row," Maisy told PBS.
The public has seen snippets of her relationship with her grandfather via the media. Despite her name making it to the headlines, and her giving soundbites in interviews, Maisy still remains somewhat of a mystery. Here's what we know about the granddaughter of the 46th president.
Maisy's hobbies and interests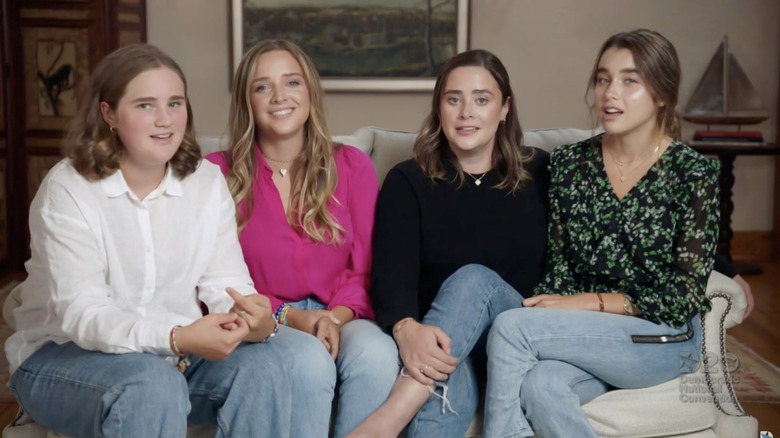 Handout/Getty Images
Maisy is the daughter of President Biden's son Hunter Biden and his former wife Kathleen Buhle. In addition to her two older sisters, she has a younger brother named Beau.
In high school, Maisy was quite the basketball player — even former President Barack Obama said so. She and Obama's daughter went to school together and were on the same basketball team. Sasha Obama and Maisy Biden's friendship was and is an especially close one. During this time, Maisy said President Biden regularly attended her basketball, soccer, and lacrosse games. "It was always funny seeing him show up when I was like 'I think I just saw you on TV about 30 minutes ago, how did you just end up here?'" Maisy told Today. "And he was like 'Don't worry, I knew it was a big game today.' It's really nice knowing that he'll always be there when I want him to be there."
Since then, Maisy went on to study fine art at the University of Pennsylvania. Her artistic eye is present in her fashion. For the evening celebrating Biden's inauguration, she chose a unique look by pairing a patterned red and white gown with black and white sneakers.
Maisy during and post election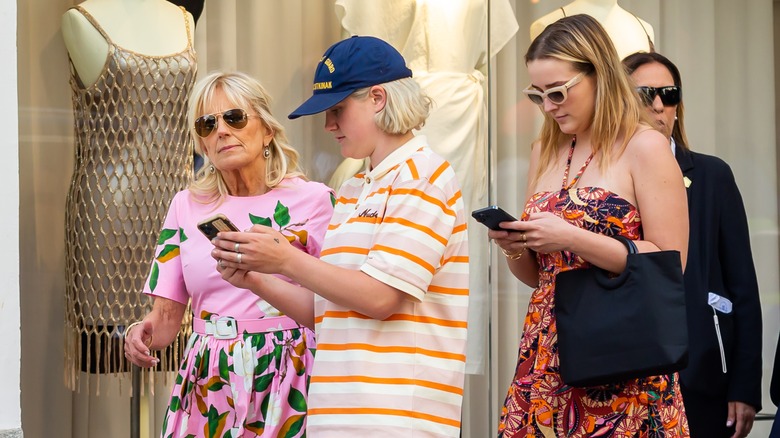 Marta Fernandez Jimenez/Shutterstock
In a 2021 interview, Maisy, her siblings, and her cousin revealed that they were supportive of Biden entering the 2020 election. He had expressed concern about his family being in the spotlight and wanted everyone to voice their opinion before he ran. He was met with enthusiasm. During the 2020 campaign, Maisy accompanied her grandfather along the campaign trail. That wasn't the end of her travels. She joined her grandparents again when they went to Spain in 2022. After her graduation in 2023, Maisy also tagged along with Biden to Japan.
In addition to basketball and art, Maisy has made a name for herself on social media. While her Instagram only has just over 4,000 followers, her TikTok has over 160,000. She mostly showcases her art on her Instagram. As for TikTok, her personality is on display as she makes videos featuring her friends and glimpses into her daily life.