Charles Armstrong-Jones: 9 Facts About Princess Margaret's Only Grandson With A Royal Title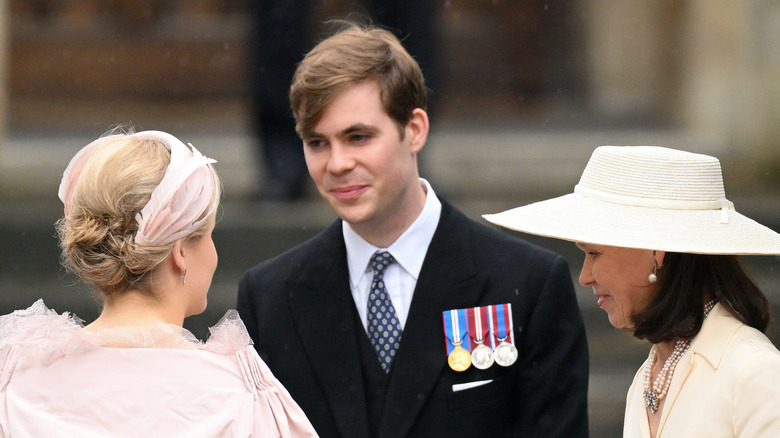 Karwai Tang/Getty Images
Princess Margaret was a beloved member of the royal family whose legacy of subverting the expectations of how a royal "should" behave continues to ignite curiosity today. From the scandals of Princess Margaret to her undeniably-radiant personality, the younger sister of Queen Elizabeth II was one of a kind. When the larger-than-life royal started her own family with Antony Armstrong-Jones, she passed along her unique approach toward royal life to her two children and four grandchildren. While Princess Margaret's grandson, Charles Armstrong-Jones, may not find the spotlight as comfortable as his grandmother once did, he is undoubtedly blazing his own trail as a young royal, and, in turn, carrying on her legacy of paving your own way. 
To be connected to the House of Windsor and manage to maintain your personal privacy is a difficult task to achieve. Armstrong-Jones has the opportunity to take a more prominent role in the public eye. After all, he occupies the 26th spot in the line of succession for the throne. Even so, he chooses to evade the cameras and accompanying chatter of the media. Where many have failed to establish privacy, Charles Armstrong-Jones appears to succeed. 
Even if his name doesn't regularly appear in headlines, Armstrong-Jones is a figure worth noting. As the only grandchild of Princess Margaret with a royal title, Armstrong-Jones holds a unique position amongst Princess Margaret's descendants. 
Charles Armstrong-Jones holds the title of Viscount Linley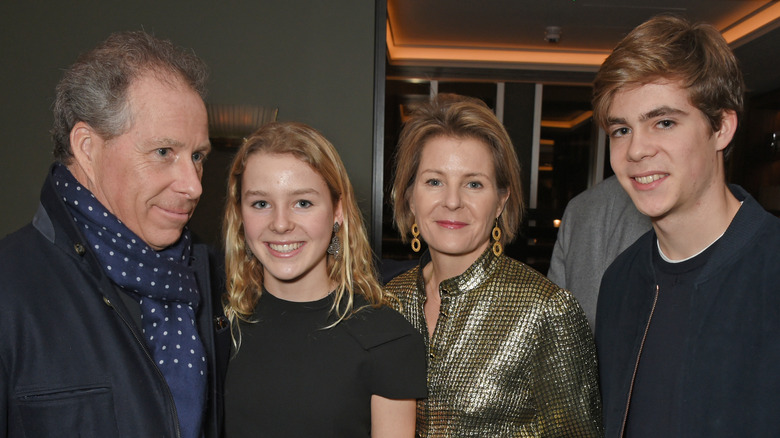 David M. Benett/Getty Images
The complicated process of royal titles has been the subject of public curiosity for decades. Just as questions surrounding the titles of the Sussexes have dominated recent conversations, the titles of Princess Margaret's descendants have spurred their own chatter. When the only sister of the late Queen Elizabeth II married photographer Antony Armstrong-Jones in 1960, they both received brand-new titles. Princess Margaret became the Countess of Snowdon and her husband became the 1st Earl of Snowdon — a title that was created by the queen herself. Princess Margaret and Antony Armstrong-Jones' publicly tumultuous relationship produced two children: David Armstrong-Jones and Lady Sarah Chatto. David Armstrong-Jones was born in 1961 with the title of Viscount Linley.
When Lord Antony Armstrong-Jones died in 2017, his title of Earl of Snowdon passed onto his eldest son, David Armstrong-Jones. As a result, the title of Viscount Linley passed to Charles Armstrong-Jones and secured his place as the future Earl of Snowdon, just like his father and grandfather. Charles Armstrong-Jones thus became the only one of Princess Margaret's grandchildren to hold a royal title — a fact that seems to reflect Princess Margaret's desire for her descendants to grow up out of the public eye. 
Princess Margaret had a complex attitude towards the concept of royalty, saying once that, "My children aren't royal, they just happen to have the queen as an aunt" (via Express). This attitude is reflected in the way her grandson Charles Armstrong-Jones approaches his life out of the spotlight.
Charles Armstrong-Jones leads a rather private life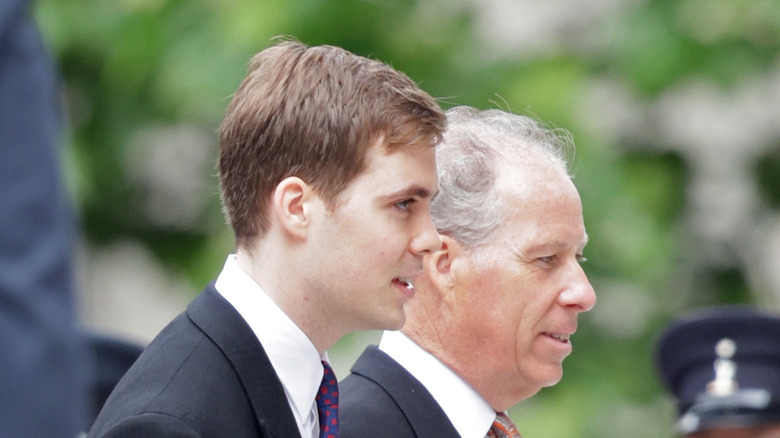 Chris Jackson/Getty Images
Unlike many of his royal and non-royal relatives, Charles Amstrong-Jones seems to avoid any sort of public attention and appears to prefer a more reserved approach. This attitude towards his position has resulted in Viscount Linley's relative anonymity in the public eye. As grandson to the beloved and captivating Princess Margaret, Armstrong-Jones could very easily embrace a more prominent position — a role that his cousins and sister seem to be perfectly comfortable accepting. However, for reasons we may never have the opportunity to learn about, this intriguing royal is doing things his own way.
Armstrong-Jones' public shyness provides a fascinating contrast to his cousins Samuel and Arthur Chatto, who are the sons of Princess Margaret's daughter Lady Sarah Chatto. The eldest of Princess Margaret's grandchildren, Samuel Chatto worked in the art market for a time before opening his own ceramics studio where he now spends his time creating and selling his own works of art. On his Instagram, Samuel Chatto proudly and artfully displays his ceramics to almost 100,000 followers. Armstrong-Jones' other cousin is Arthur Chatto — a marine who has become somewhat of a royal heartthrob. After becoming known as a "royal thirst trap," Arthur deleted his Instagram. Unlike his cousins, Charles Armstrong-Jones chooses to keep his Instagram private, which helps him maintain a position far outside the public eye. ‌
Viscount Linley received an education befitting of royalty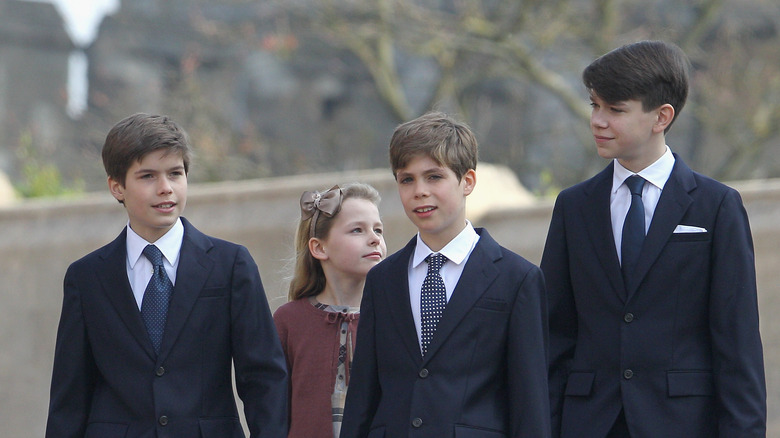 Chris Jackson/Getty Images
Even if Charles Armstrong-Jones may avoid some of the conventions tied to being a member of the royal family, he seems to embrace other opportunities presented to him. Education is one of these. Like his royal second cousins Prince William and Prince Harry, Viscount Linley chose Eton College as his place of education which he attended from 2012 to 2017. This decision to attend the prestigious boarding school not only continued a long-established royal tradition but also presented Armstrong-Jones with the opportunity to build a relationship with his cousin, Arthur Chatto, who attended Eton College at the same time, though the two cousins would ultimately embark on separate higher education and career paths.
After Armstrong-Jones graduated from Eton College in 2017, he made the choice to continue his education by enrolling in the public university of Loughborough University. Located in Leicestershire, England, Loughborough University emphasizes research. Although Viscount Linley's choice to attend this public university may have deviated from the royal tradition of attending more recognizable names, such as St. Andrews or the University of Cambridge, the quality of the education he received didn't suffer. While at Loughborough University, Armstrong-Jones studied Product Design Engineering — knowledge he put into practice with several internships. Charles Armstrong-Jones concluded his studies upon his graduation in 2021.
Charles Armstrong-Jones channels his creativity as a musician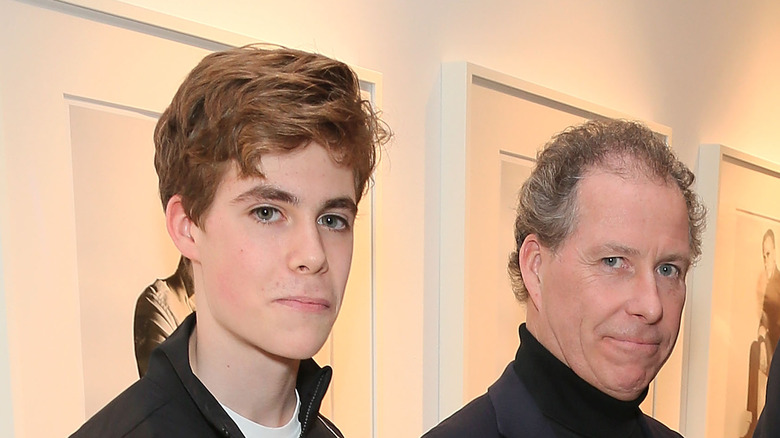 David M. Benett/Getty Images
Though Charles Armstrong-Jones chooses to keep most aspects of his life private, his talents as a musician have not remained hidden. His younger sister, Lady Margarita Armstrong-Jones, spoke highly of her brother's musical passion when she gave an interview with Tatler in May 2023. She went into detail about her brother's skills, saying, "He is very into his orchestral music. He is self-taught [and he] can sing, play the piano and the guitar. It's wonderful." Since graduating from Loughborough University in 2021, Armstrong-Jones has really honed his musical skills, creating complex pieces of music on his laptop.
In addition to raving about her brother's musical creativity, Lady Margarita revealed to Tatler how she, her brother, and her father have carried on her grandfather's love for photography. Viscount Linley's grandfather was, of course, the well-known photographer Anthony Armstrong-Jones. His passion for photography lives on into the photographs taken by his son, the 2nd Earl of Snowdon, as well as grandchildren Charles and Margarita Armstrong-Jones.
But Charles Armstrong-Jones is not only joining his grandfather in the ranks of creative family members. There is no shortage of creativity in this family. His father, the 2nd Earl of Snowdon, is an internationally-known furniture designer. Viscount Linley's aunt is Lady Sarah Chatto, who is a professional painter. From a pottery-artist cousin to a jewelry-making sister, this musical royal will most likely always have a receptive audience in his family.
Kensington Palace was once home to Charles Armstrong-Jones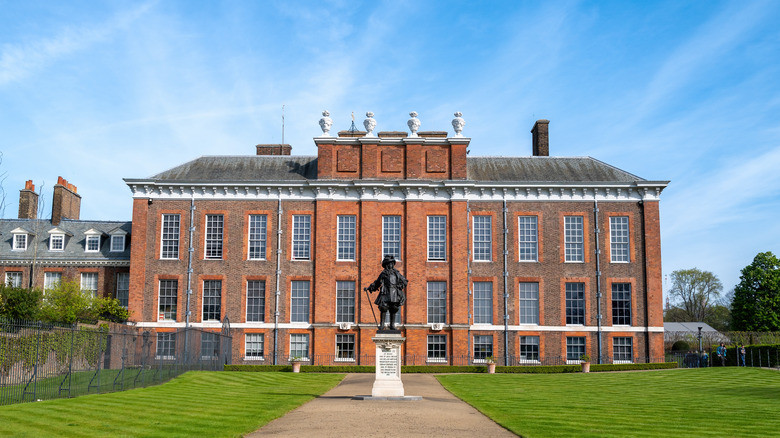 Rixipix/Getty Images
Another little-known fact about Viscount Linley is that he once lived in one of the most recognizable symbols of the British royal family: Kensington Palace. This grand palace represented the home of many significant royals, including Princess Diana, the Prince and Princess of Wales, the Duke and Duchess of Sussex, and the late Princess Margaret who moved to Kensington Palace after marrying Antony Armstrong-Jones. The couple raised their children, David Armstrong-Jones and Sarah Chatto, together in Kensington Palace before their divorce in 1978. Although Charles Armstrong-Jones did not spend most of his childhood years at the iconic palace like his father and aunt, he spent his first two years of life there when he moved in with his family in 2000. 
Before Charles Armstrong-Jones had even turned 1 year old, he relocated to Kensington Palace along with his parents David Armstrong-Jones and Serena Armstrong-Jones when Princess Margaret's health began to decline. Charles Armstrong-Jones spent his first years in Kensington Palace as his family cared for Princess Margaret. When Princess Margaret died of a stroke in 2002, the Armstrong-Jones family moved out after living in Kensington Palace for two years. When his royal grandmother was laid to rest, his main connection to the royal family was lost as well, giving Charles Armstrong-Jones a newfound distance from royal life.
Charles Armstrong-Jones served as page of honour for 3 years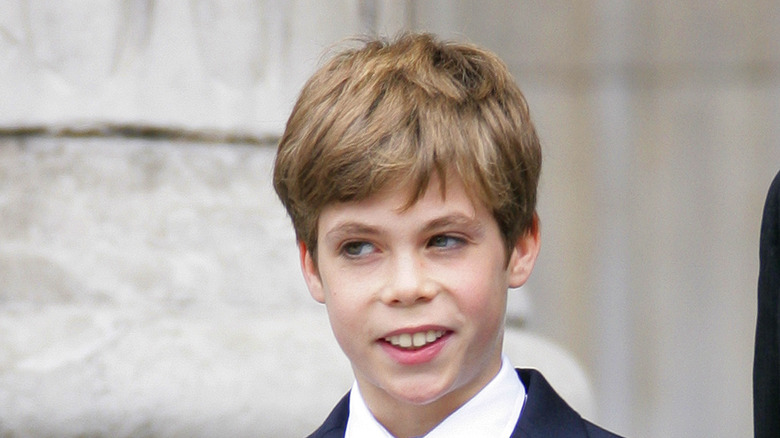 Max Mumby/indigo/Getty Images
Charles Armstrong-Jones may not currently hold a position that requires him to serve royal duties, but he was once given a special ceremonial role in which he attended to his great-aunt Queen Elizabeth II during events of ceremonial significance. He was a page of honour, which is a role of ceremonial nature that is utilized during major events, such as coronations and the State Opening of Parliament. Interestingly, the role once performed by Armstrong-Jones was most recently carried out by Prince George during the coronation of King Charles III. 
In 2012, the 12-year-old Armstrong-Jones was appointed by his great-aunt to become her page of honour. As a page of honour, Armstrong-Jones joined his fellow pages in carrying the queen's train. Taking part in this tradition reportedly represented a great deal in the relationship between Queen Elizabeth II and her sister's family. A courtier told Telegraph that, "Charles never made a fuss about not being made a pageboy, but the queen was keen to ensure that he did not feel left out." Armstrong-Jones served as page of honour until 2015 when he stepped aside from the ceremonial role. Since ending his responsibilities as page of honour, Armstrong-Jones has yet to assume another royal duty.
Queen Elizabeth II valued her relationship with the Armstrong-Jones family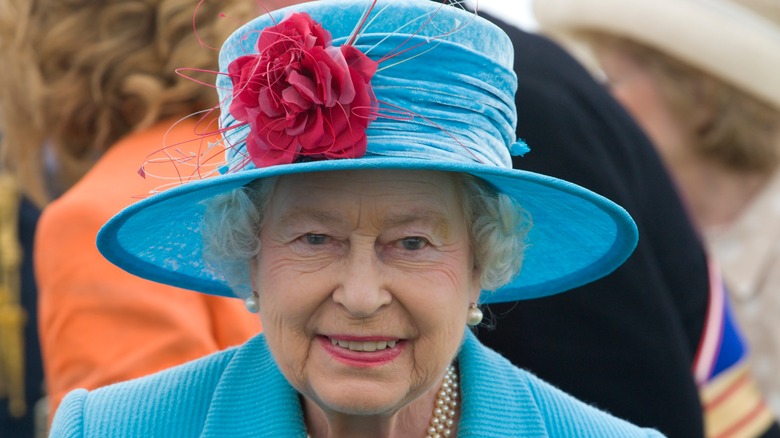 SRichardImages/Shutterstock
Although Viscount Linley may prefer to maintain a distance from the media, he is not disconnected from his more prominent royal relatives. Queen Elizabeth II, in particular, appears to have played a central role in upholding the bond between Charles Armstrong-Jones and his extended family. The viscount's grandmother, Princess Margaret, may have experienced a complex relationship with her older sister, but both sisters appeared to honor the relationship between their families. However, because Princess Margaret died when Charles Armstrong-Jones was just 2 years old, she wasn't there to uphold the connection. In spite of this, Queen Elizabeth II always held a special spot for the children and grandchildren of her sister.
The Armstrong-Jones family reportedly received an annual invite from the Queen to celebrate Christmas with the family at Sandringham during her reign. Although his father David Armstrong-Jones and aunt Sarah Chatto may not be the most prominent figures in the conversation surrounding the royals, they are still the nephew and niece of the Queen. Their regular invitations to join the Queen for Christmas at Sandringham represent this special relationship — a tradition that King Charles III appears to intend to continue, as Viscount Linley's father joined King Charles III for the celebration of Christmas in 2022. Although it was unclear whether Charles Armstrong-Jones joined the festivities this past year, he will most likely have the future opportunities to accompany his relatives in their royal festivities.
Charles Armstrong-Jones occasionally supports the royal family at major events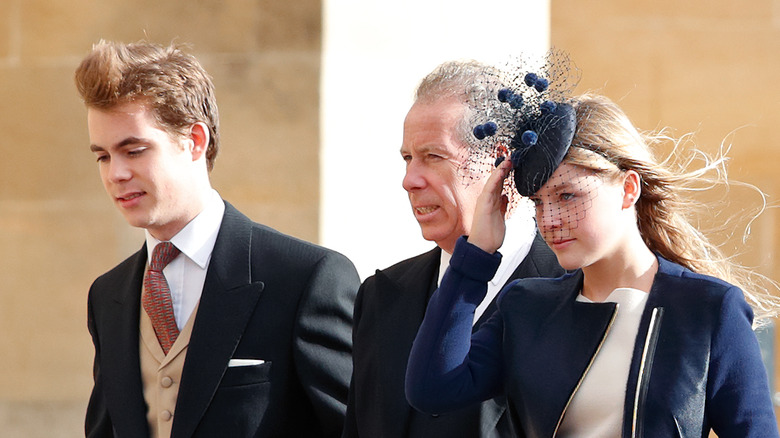 Max Mumby/indigo/Getty Images
Viscount Linley may not fully embrace a life in the limelight, but he still makes the occasional appearance in public. Even though Charles Armstrong-Jones no longer attends to formal duties since he ended his role as Page of Honour in 2015, you can still see him at major events, such as coronations and funerals as well as significant celebrations including weddings and the Royal Ascot.
Though his face may not stand out in the crowd of his royal relatives if you're not familiar with him, Armstrong-Jones has represented the extended royal family at major events such as Trooping the Color. In September 2022, Armstrong-Jones joined both his immediate and extended family in honoring the life of his queen and great-aunt. While Viscount Linley supported his family at the funeral of Queen Elizabeth II, his father David Armstrong-Jones walked behind the late queen's coffin. When King Charles III assumed the throne in May 2023, Viscount Linley was one of the many royal faces in the audience. After all, King Charles III is Armstrong-Jones' first cousin once removed.
Though he may not be the most prominent member of the royal family, Charles Armstrong-Jones represents a fascinating approach that one can take to the royalty they're born into. Just as his grandmother Princess Margaret chose to lead her life, Viscount Linley is creating his own unique way even when those around him may choose another path.