Who Is Princess Margaret's Daughter Lady Sarah Chatto?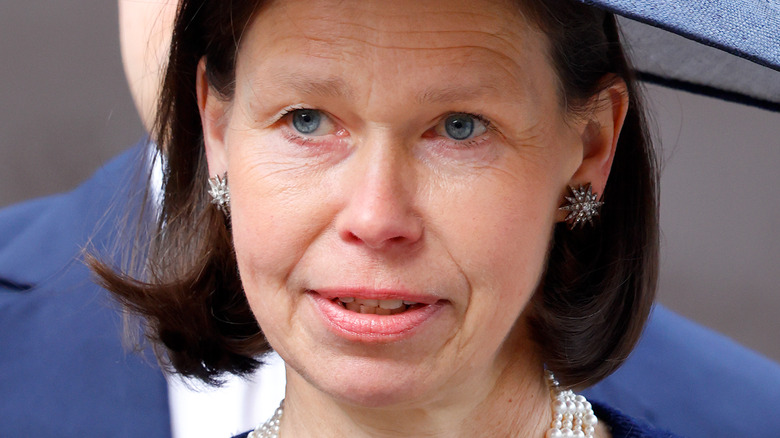 Max Mumby/indigo/Getty Images
While plenty of royal followers and fans know that the British royal family is extensive, it can seem like the same familiar faces are the ones who always dominate conversations about what it means to be royal in the U.K. today. There are a number of cousins, nieces, and nephews who rarely see the spotlight — and it certainly seems that quite a few of them prefer things that way.
One of the more private members of the British royal family is Lady Sarah Chatto, the daughter of Princess Margaret and Antony Armstrong-Jones. Sarah was born into the family in May 1964, and as she grew up, it became clear that she had inherited many of her photographer father's artistic inclinations. In the early 1980s, she joined her dad on a trip to India while he was working on a film, and eventually moved on to build her own career as a painter. These days, Lady Sarah Chatto appears to be living happily in London with her husband.
Lady Sarah Chatto is 27th in line to the throne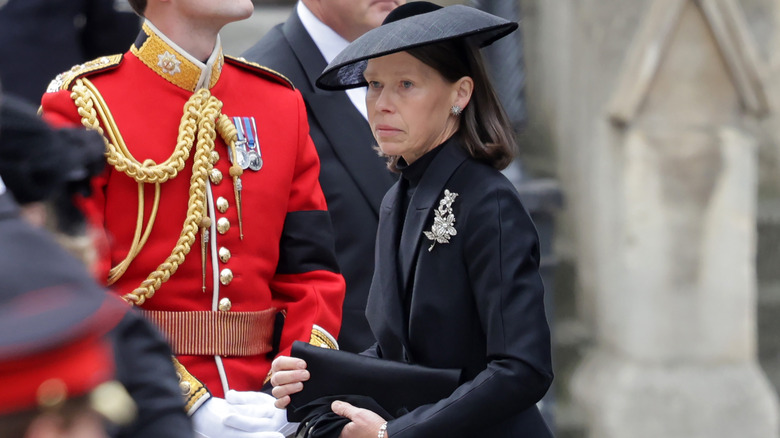 Chris Jackson/Getty Images
When it comes to the British royal family, much attention is paid to the line of succession, especially when those who are closest to the throne are discussed. Lady Sarah Chatto is 27th in line to the throne and is well behind the younger members of the royal family, which include the children of King Charles III, Prince Andrew, Prince Edward, and Princess Anne.
If this ranking bothers Sarah, she's never made it known — in fact, it seems she prefers to live most of her life behind the scenes. Whatever her ranking in order to the throne might be, it's clear that Sarah is an important member of the family and that she enjoys a number of close relationships with those who might outrank her. Sarah is reportedly very close to King Charles, and was a bridesmaid in his wedding to Princess Diana and named godmother to their second child, Prince Harry.
Queen Elizabeth II adored her niece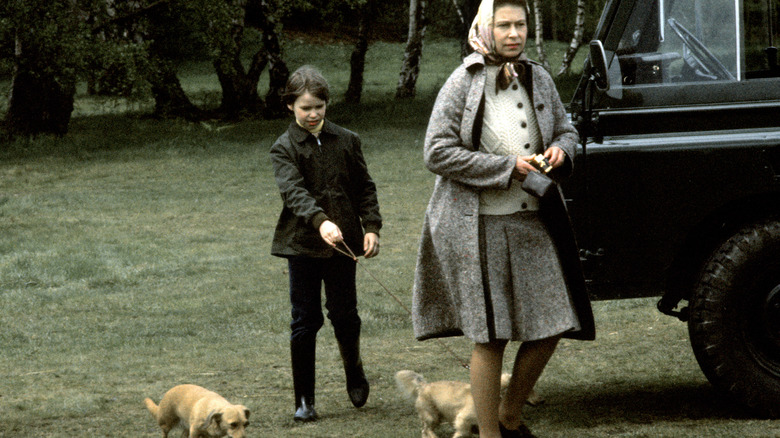 Anwar Hussein/Getty Images
Lady Sarah Chatto was the only niece of the late Queen Elizabeth II, and by all accounts, the monarch loved her very much. At the time of the queen's death in 2022, royal experts commented on the effect that the monarch's passing would have on her niece. "Sarah and Her Majesty the Queen had a very close and unique relationship. She will no doubt be grieving and processing this in private and we can expect to see her with the rest of the royal family in the coming days," said royal editor Emily Nash (via Hello!).
The outlet also noted that the queen and her niece were so close that Queen Elizabeth would allow Sarah to accompany her on trips to one of her favorite homes away from home, Craigowan Lodge in Aberdeenshire. While the two had a strong relationship before Princess Margaret's death, it has been said that the loss of Margaret is what spurred Sarah and the queen to become even closer.
Lady Sarah Chatto grew up in Kensington Palace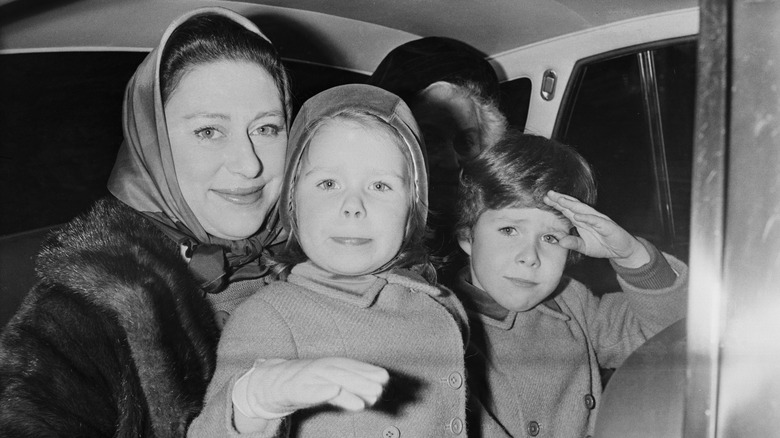 Terry Fincher/Getty Images
Like many members of the royal family, Lady Sarah Chatto grew up close to her relations. As the child of Princess Margaret, Sarah and her family lived on the grounds of Kensington Palace, especially during her childhood years. She and her brother David Armstrong-Jones were often accompanied by their nanny, but Princess Margaret and the Earl of Snowdon were both said to be closely involved in the lives of their children.
Princess Margaret occupied Apartment 1A on the grounds of Kensington Palace, which is the apartment that Prince William and Princess Catherine eventually moved into following the births of their children, and is still considered their primary residence in London. Royal biographer Christopher Warwick, who collaborated with Princess Margaret, often visited the home when she lived there and once said: "I got to know Apartment 1A very well indeed. The best way to describe it, it was like walking into an English country house. It was very elegant, it had an 18th-century quality about it, and it was furnished with lovely antiques" (via Express).
Lady Sarah Chatto is artistic like her father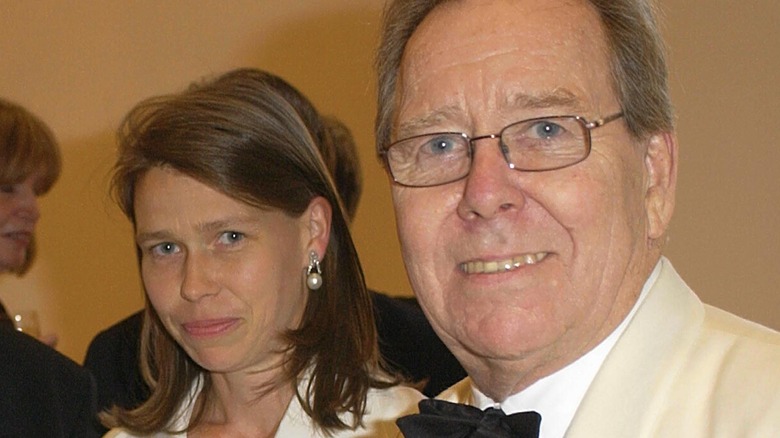 Bruno Vincent/Getty Images
While it's clear that Lady Sarah Chatto has a strong bond with members of her mother's family, she is equally attached to her paternal side, too. In fact, Sarah is artistic, much like her father, the late photographer Antony Armstrong-Jones. Sarah studied art at Bedales School and took a foundation class in the subject at Camberwell School of Art before pursuing a higher degree in art at the Royal Academy Schools.
Sarah even had the opportunity to travel to India with her father in the 80s when he worked as a photographer on the movie "A Passage to India." She was allowed to work as an intern on the production, ultimately assisting in costume design. The trip was fortuitous in other ways too, as Sarah first met her husband Daniel Chatto during her time in the country, where he was working on the movie "Heat and Dust."
Sarah continued to work in the arts following her experience in India and is currently represented by Redfern Gallery having won a number of awards in her field.
Lady Sarah Chatto got married in 1994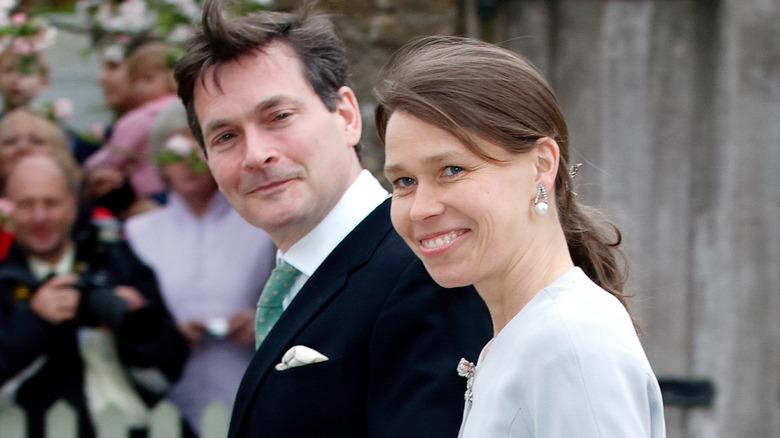 Max Mumby/indigo/Getty Images
Lady Sarah Chatto and Daniel Chatto married on July 14, 1994, nearly a decade after they first met. While the two were introduced when they were both working on film sets in India in the early 1980s, they didn't begin to explore a relationship until years later in 1986. It was clear throughout the course of their courtship that they were both focused on careers in art, and by the end of the decade, Daniel was no longer acting and instead was focused on opening his own art shows.
Far from the lavish royal weddings that other members of the family have had, the pair got married at the church of St Stephen Walbrook in London. Sarah's bridesmaids included her sister Lady Frances Armstrong-Jones and her cousin Zara Tindall, née Phillips, and both King Charles and Princess Diana attended the wedding despite the drama surrounding their own marriage and impending divorce at the time.
Lady Sarah Chatto has two children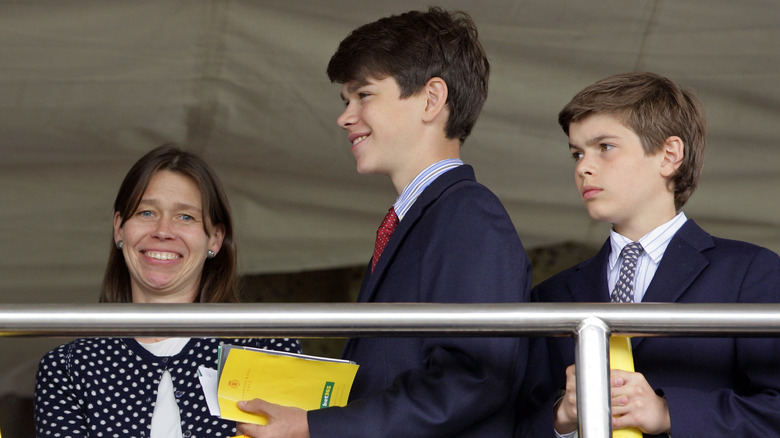 Max Mumby/indigo/Getty Images
Lady Sarah Chatto and her husband Daniel Chatto have two sons together. Their oldest, Samuel Chatto, was born in 1996 and has followed in his artistic parent's footsteps in a number of ways. Samuel has admitted that the three months he spent working in the commercial art world were enough for him to understand that he wanted to guide his own career, and currently works as a potter.
On top of that, Samuel has a strong interest in yoga and has even become licensed in the physical practice. Because Samuel is not a high-ranking member of the royal family, he is free to share much of his life on social media. In 2019, he revealed on Instagram that he had spent several weeks training in pottery and ceramics in Scotland and that he traveled to India to earn his yoga certification in a six-week program. He was thrilled with both experiences, and shared with followers that "clay consumed my every waking hour and I am so excited to see what I can achieve this year!"
The pair's second son, Arthur Chatto, was born in 1999 and has so far seemed more interested in his place in the royal family than his older brother. He even served as a Page of Honour from 2009 to 2015. Following a stint as a personal trainer, Arthur has since joined the Royal Marines and no longer has a public social media account.
Lady Sarah Chatto gained international attention after being featured in a documentary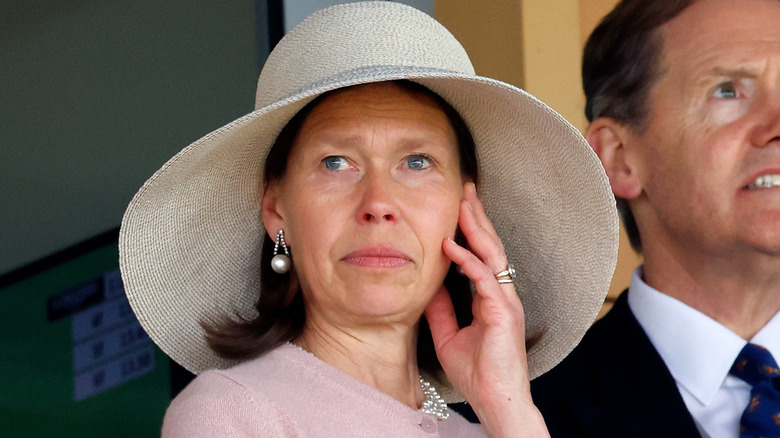 Max Mumby/indigo/Getty Images
Lady Sarah Chatto has always been known among those who closely follow the British royal family, but she gained international attention after appearing in the BBC documentary "Elizabeth at 90: A Family Tribute." While plenty of members of the family participated in the documentary, it was Sarah who seemed to charm audiences the most. 
Viewers seemed most delighted by Sarah's seemingly laidback demeanor and by the happiness she expressed while looking at photos and videos of her late mother, Princess Margaret. But it was Sarah's sincere praise of Queen Elizabeth that sent people over the edge. At one point in the documentary, Sarah watches a video of her mother and her aunt singing and is clearly captivated by the footage.
"They're singing. Some songs my grandmother taught us when we were younger," she said (via YouTube). "I think my aunt knows more than my mother. ... It's the sweetest thing, isn't it? Singing must have been a huge part of their lives." She then added that singing was something the two women did together often. "I remember hearing them singing together. It was very moving. It's something you don't forget."