What To Know About Nicolas Cage's 3 Children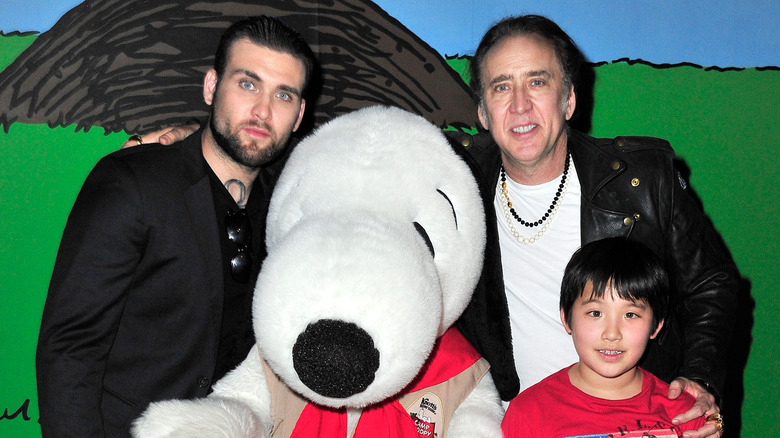 Jerod Harris/Getty Images
Few actors have gained notoriety quite like Nicolas Cage. He has worked on everything from action movies to Christmas flicks. And for an actor with a portfolio as diverse as Cage's, it's unsurprising that his personal life is just as intriguing. The Oscar-winner has had many high-profile relationships over the years, with stars like Patricia Arquette and Lisa Marie Presley, alongside rumored romances with Hollywood icons like Sarah Jessica Parker and Angelina Jolie. 
Cage has been married five times. His marriage to Presley only lasted three months, and his impulsive Vegas marriage to make-up artist Erika Koike ended just four days after the ceremony took place. He's a father to three children from three separate relationships. In 1990, Cage welcomed his first child, Weston Cage Coppola, with his then-girlfriend, model Christina Fulton. The couple started dating in 1988 and parted ways in 1991. His second child, Kal-El Coppola, came from his third marriage to Alice Kim. 
The former couple met when Kim was a 19-year-old waitress in Los Angeles and Cage was 40, and they wed just two months after their first encounter. Cage's marriage to Kim lasted 12 years. The "National Treasure" star told The Guardian that he was caught off guard by the divorce, but he continues to have a good friendship with Kim, and she even attended his fifth wedding, to Riko Shibata. At 58, Cage had his third child, a daughter named August Francesca Coppola Cage, with Shibata, in 2022. The couple has a 31-year age gap, which makes her younger than his eldest son, Weston.
The Cage children are a talented bunch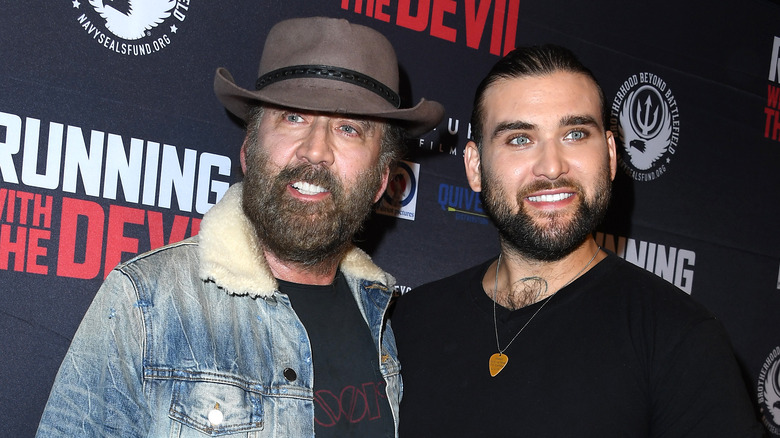 Steve Granitz/Getty Images
Nicolas Cage's eldest son, Weston Cage Coppola, is a musician and an actor. Weston has been the lead in two currently disbanded metal bands, Eyes of Noctum and Arsh Anubis. He also provided two songs for his father's films, "Vengeance: A Love Story" and "Drive Angry," and appeared in "Lord of War." Weston has acted in several movies that don't involve Nicolas and earned some production credits too. In a 2019 Daily Mail interview, he credited his father with giving him the best acting advice: "He told me about the importance of utilizing your imagination, your expressions and voice — a homeostasis of all those things together to really express your character's desires." 
Weston also spoke fondly about how his childhood dinner table was often a star-studded event featuring the likes of Jim Carrey and Ozzy Osbourne. Nicolas' second child, Kal-El Coppola, was named after Superman's Kryptonian birth name. Nicolas told People that he initially considered naming him Kyle, but his wife, Alice Kim, wanted something different (via SheKnows). At 13, Kal-El made his acting debut by lending his voice to Young Bruce Wayne's character in "Teen Titans GO! to the Movies."
And despite the usual fears of having a kid later in life, Nicolas was delighted at the prospect of looking after his first daughter. He told Access Hollywood, in 2022, "My boys are all grown up, and I miss going to the toy store. I miss singing lullabies and rocking in the rocking chair," adding, "I'm looking forward to getting back to that."
Weston Cage Coppola has had several run-ins with the law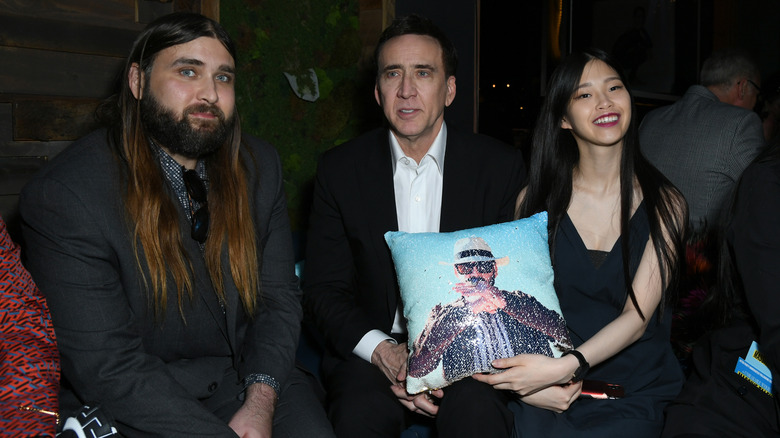 Jc Olivera/Getty Images
In July 2011, Weston Cage Coppola was arrested twice for domestic violence against his ex-wife, Nikki Williams, who was also taken into custody on one of these occasions. According to TMZ, they got into an altercation after a verbal argument that got so bad that the 911 dispatcher heard Williams' deafening screams over the phone. The outlet also wrote that Williams cut her then-husband's arm with a bottle. However, in a Facebook post, Weston claimed the whole incident was a misunderstanding and he was trying to protect his then-wife from harming herself after she had physically assaulted him. 
That same year, Weston was put on psychiatric hold after he got into a physical altercation with his trainer when he reportedly refused to let Weston eat his choice of meal. Weston's mother, Christina Fulton, pinned his bad behavior on Nicolas Cage. She told CNN that she wished her son wasn't in contact with Nicolas, and accused him of manipulating their son into villainizing her, even though she had raised him alone most of her life because the actor was never around. 
Weston retorted that he didn't want his mother to be his caretaker, blamed her for his life's problems, refused to see her, and allegedly filed a restraining order against her in 2020. He also got arrested for a DUI after Weston damaged public property and drove his car into a tree in 2017. In 2023, Weston's third ex-wife, Hilla Aronian, accused him of physical and mental abuse.