What To Know About Nicolas Cage's Wife, Riko Shibata (And Their Age Gap)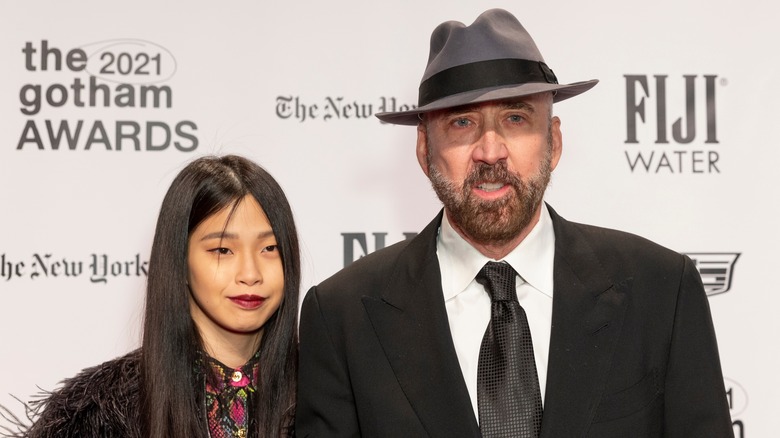 lev radin/Shutterstock
When "Moonstruck" and "Vampire's Kiss" came out in the late '80s, Nicolas Cage's wife, Riko Shibata, wasn't yet born. According to The U.S. Sun, Shibata is over 30 years younger than her Hollywood husband. The pair were introduced by mutual friends while Cage was filming "Prisoners of the Ghostland" in Japan. The connection was pretty much immediate. "I asked her, 'Do you have any pets?' And she said, 'Yes, I have flying squirrels.' She had two sugar gliders ... I thought, 'That's it. This, this could work out,'" Cage remembered in a conversation with ET.
As the actor has previously noted, "I think there has to be some unusualness to be able to be in a relationship with me" (via The New York Times Magazine). Considering Shibata's unique taste in pets, it seems she fits the bill. The pair were first spotted together in 2020 — they went on a romantic trip to check out Cage's future burial site in New Orleans — and they officially tied the knot in February 2021. Their first child, daughter August Francesca Coppola Cage, was born in 2022; she was named in honor of Cage's late father, August Coppola. If that name sounds suspiciously familiar, it's because of Nicolas Cage's impressive family tree. He's the nephew of legendary director Francis Ford Coppola.
With Cage and Shibata's unique relationship, here's what we know about Cage's much younger bride.
Nicolas Cage proposed to Riko Shibata on a FaceTime call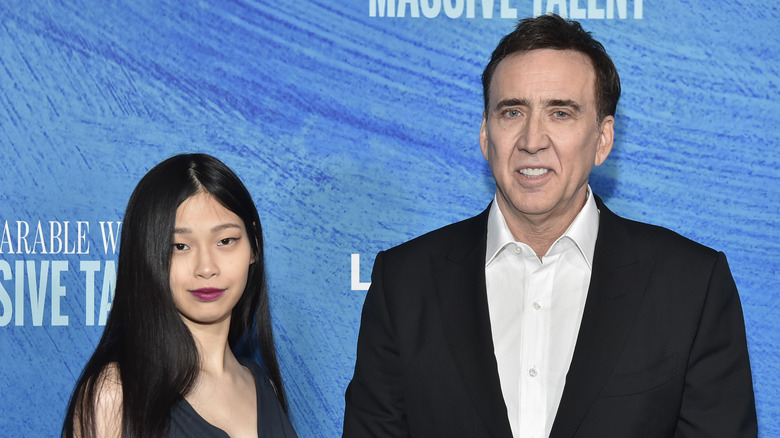 Rodin Eckenroth/Getty Images
The COVID-19 pandemic resulted in quite a few changes. There was virtual school, virtual work, and, for Nicolas Cage and Riko Shibata, virtual marriage proposals. After spending time together in early 2020, the couple eventually went their separate ways for a while because of COVID. "She left New York and went back to Kyoto, Japan [during the pandemic] and I went back to Nevada," Cage told his brother, Marc "The Cope" Coppola, in a radio interview. After living apart for six months, Cage decided to propose to Shibata on a video call. "I finally just said, 'Look, I want to marry you' and we got engaged on FaceTime," he shared.
The actor later shipped a black diamond engagement ring over to his fiancée. "Her favorite color is black so she wanted the black gold and the black diamond," he said. After their Las Vegas nuptials in February 2021, the pair made their first red carpet appearance in July 2021. Shibata, of course, wore a black dress.
Riko Shibata is Nicolas Cage's fifth wife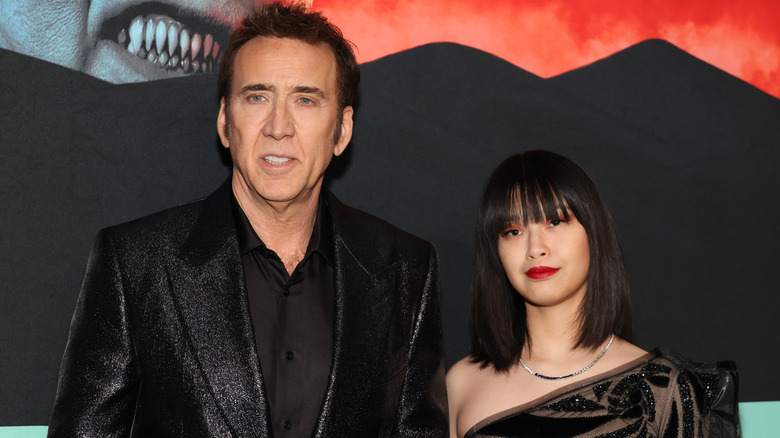 Dia Dipasupil/Getty Images
Nicolas Cage's marriage to Riko Shibata is actually his fifth. The actor was previously married to Patricia Arquette from 1995 (the year Shibata was born) until 2001. According to the "True Romance" actor, he asked her to marry him the first day they met — she sent him on a quest in 1987, promising to accept his proposal once all 10 steps were completed (via "Watch What Happens Live"). He persevered — pretty romantic if you ask us.
Unfortunately, it wasn't meant to be for the two actors, and Cage went on to marry Lisa Marie Presley, the late daughter of Elvis Presley, in 2002. Their marriage lasted just three months before they decided to separate. Next, the "National Treasure" married Alice Kim from 2004 until 2016, his longest relationship to date. The actor also has a son, Kal-Al, with Kim, as well as another son, Weston, with ex-girlfriend Christina Fulton. Cage's fourth marriage to makeup artist Erika Koike lasted for just a few months in 2019.
Though he's had bad luck with marriages in the past, Cage is optimistic about his union with Shibata. "I'm really happily married," he told The Los Angeles Times, acknowledging, "I know five is a lot. But I think I got it right this time."