The Young And The Restless Famous Feuds: Sharon And Phyllis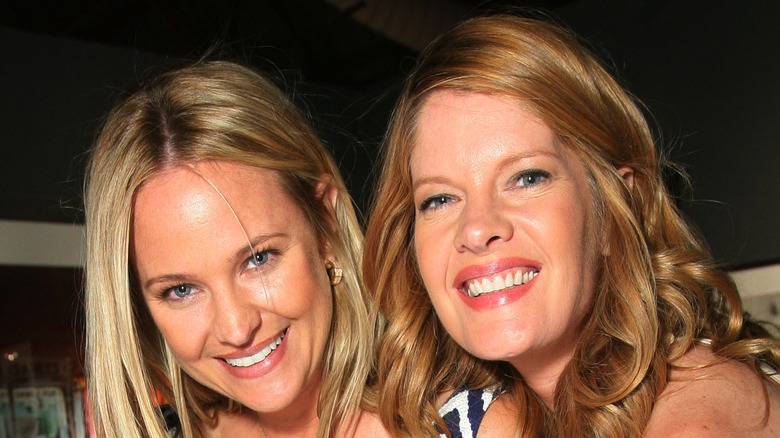 Alexandra Wyman/Getty Images
Sharon Collins (originated by Monica Potter, now portrayed by Sharon Case) and Phyllis Summers (Michelle Stafford) on "The Young and the Restless" have one of the longest-standing and most complicated feuds in the show's history. Both women have been on-screen for a long time and had full storylines before the feud even started. But, as in all soap operas, love complicates everything.
When Sharon first arrived in Genoa City, Nick Newman (Joshua Morrow) instantly fell in love with her and, despite complications caused by Sharon's boyfriend at the time, the two started dating. Even though they had lots of ups and downs throughout their relationship, Nick and Sharon seemed stable until Sharon's daughter from a previous relationship, Cassidy (Camryn Grimes), was in a car accident with Phyllis' son and died. Unfortunately, this tragedy proved too much for Nick and Sharon and their marriage suffered the consequences. Cue the beginning of the Sharon vs. Phyllis feud.
Nick sought comfort with Phyllis after Cassidy's death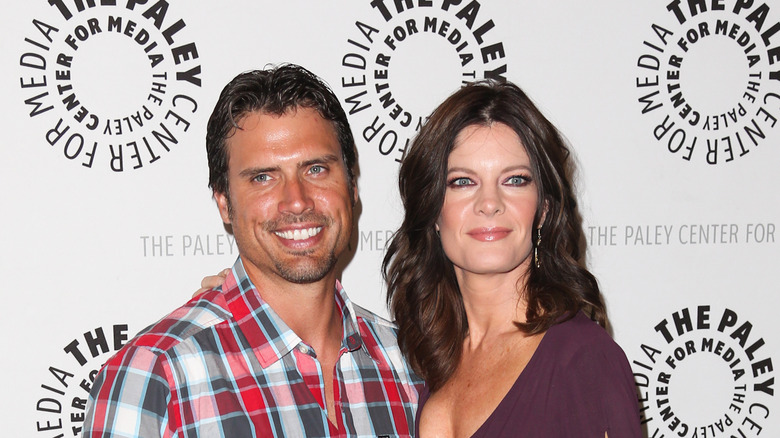 Paul Archuleta/Getty Images
Grieving after Cassidy's death, Nick found comfort in an affair with Phyllis Summers. The two kept it a secret until Sharon found out and was devastated. Phyllis got pregnant and despite the fact that the paternity results were not conclusive, Nick assumed he was the father. Determined to stay with Sharon out of obligation, she turned him down, filing for divorce. Nick and Phyllis welcomed a daughter named Summer (Allison Lanier). 
Even though Sharon had moved on with Jack Abbott (Peter Bergman), the animosity between Sharon and Phyllis grew to a boiling point when they signed on to a joint business venture with their significant others. Sharon, Jack, Phyllis, and Nick could not make their workplace relationship run smoothly, so the two couples flipped a coin to see who would be left at the company. Jack and Sharon won, but Sharon convinced Victor (Eric Braeden) to give Nick his job back. Nick rehired Sharon as the Beauty of Nature spokesperson, causing Phyllis to wonder if things were really over between the two.
Nick went back and forth between both women for years, until Sharon wanted to reunite when Summer was a teenager. Just to make sure, Nick took another paternity test and Sharon tampered with the results, showing Jack as the father instead of Nick. Phyllis discovered Sharon's scheming and told her that she knew, but before she could reveal the truth, Phyllis fell down a flight of stairs and ended up in a coma.
Sharon and Phyllis can't seem to put aside their differences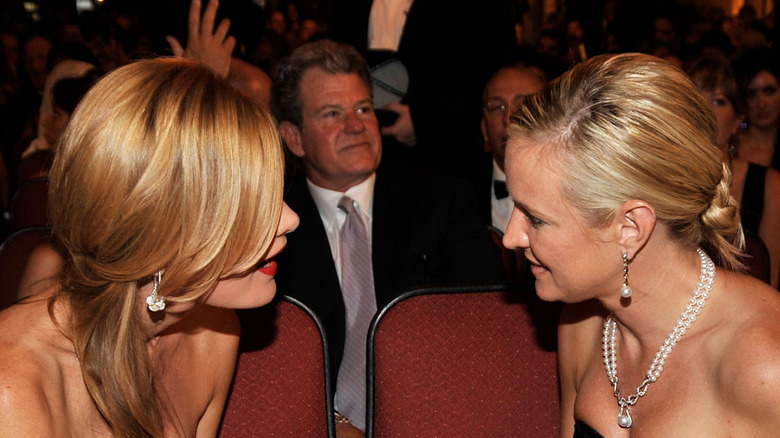 Kevin Winter/de/Getty Images
The path was clear for Sharon and Nick to reunite. Sharon and Nick planned to get married, but the wedding was interrupted by Phyllis who had woken up from her coma. She told Nick what Sharon had done with the paternity test results for Summer, and he broke up with her shortly after. They found their way back to each other, but Nick slept with Phyllis right before his impending wedding to Sharon. Furious at her rival and her betrothed, Sharon broke up with Nick at the altar.
Phyllis and Nick gave their relationship another go, but it was soon revealed that Sharon and Phyllis had been two of the women who helped cover up J.T. Hellstrom's (Thad Luckinbill) attempted murder; they believed he had died, so they kept the secret, even though he was revealed to be alive later on. Nick broke up with Phyllis and she left town soon after. When she returned, Phyllis entertained the idea of reuniting with Nick but ultimately rejected him. 
Even after all this time, it seems as if the two women still can't get along. Despite moving on with different people, the resentment of years of feuding still remains. Sharon and Phyllis can't go long without sparking an argument about one thing or another, and it doesn't seem like it's going to end any time soon.