Michelle Obama And Donald Trump Have Vastly Different Memories Of His Inauguration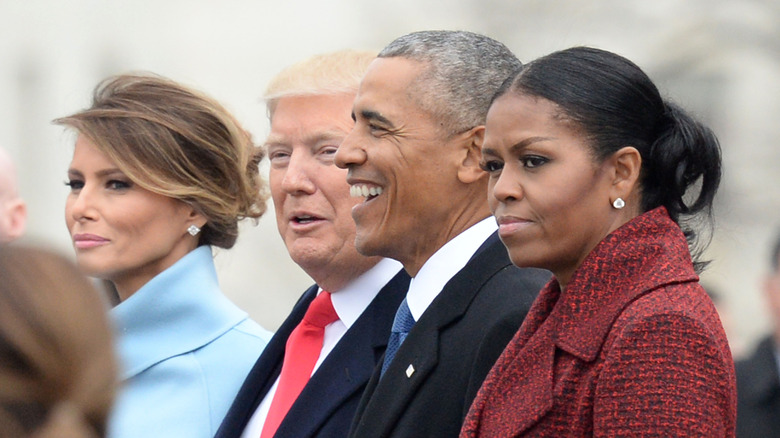 Pool/Getty Images
After Barack Obama's history-making win as President of the United States, hope for the future appeared to be well alive. However, these hopes were dimmed in the face of Donald Trump's rise to the presidency. Misinformation and "fake news" have been hot topics in politics over the past two terms. Now, Michelle Obama is stepping up to fact-check Trump's memory of his swearing-in.
During an episode of her podcast, "Michelle Obama: The Light," the former first lady discussed her life both in and beyond the White House. She also talked about the 2017 inauguration, during which Michelle's disdain was visible in press photos. The ever-classy former lawyer shut down Trump's faulty claims once and for all: "There weren't that many people there. We saw it, by the way!"
Michelle's choice to jab at the turnout was fitting, seeing as Trump's claim of a 1.5-million-strong crowd was the very first lie of his presidential term. She also famously sported a frown as Trump was sworn in, as seen in images spread across social media. In her 2018 novel, "Becoming," Michelle revealed that she actively decided to wear her disappointment during the ceremony despite the public's opinion. "Realizing it, I made my own optic adjustment: I stopped even trying to smile," she wrote (per ABC News).
Trump's inauguration claims were quickly debunked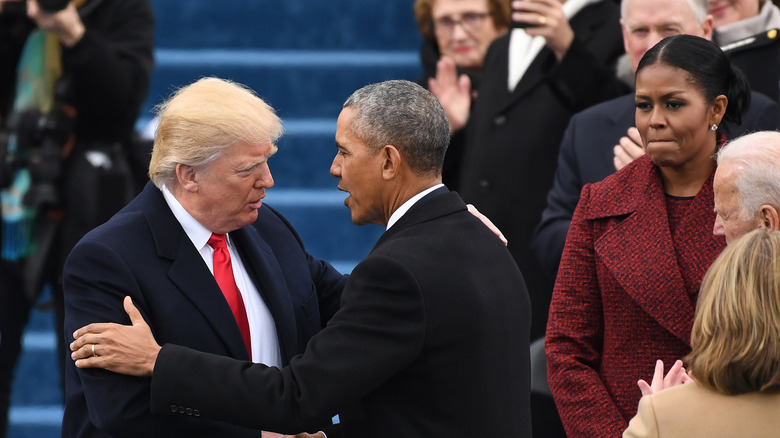 Bloomberg/Getty Images
In 2017, Donald Trump and his administration infamously claimed that reports on poor inauguration turnout were the liberal media's blatant attempts at belittling his success. The then-president even told ABC News: "We had a massive crowd of people ... I looked over that sea of people and I said to myself, 'Wow.' And I've seen crowds before. Big, big crowds. That was some crowd."
Within his first week, the newly-elected President Trump was adamant about proving his crowds were massive. After he made these obviously inflated claims about attendance rates, evidence proving their falsehood quickly came to light. Side-by-side shots of the crowd during Barack Obama's 2009 inauguration versus Trump's 2017 inauguration quickly went viral. 
To further fan the flames, White House Press Secretary Sean Spicer claimed that Trump received "the largest audience to ever witness an inauguration, period, both in person and around the globe," (via Politico). This was also proven to be untrue: Trump's crowd was significantly smaller in-person and via cable ratings than the 2009 inauguration, per HuffPost.
Obama was extremely disappointed by Trump's presidency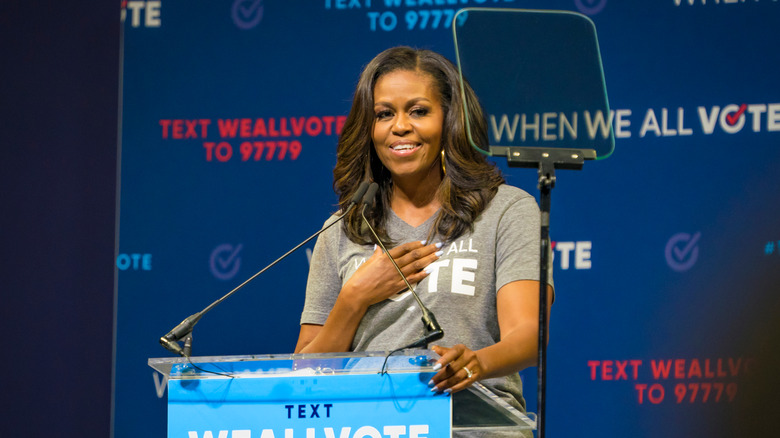 Hunter Crenian/Shutterstock
As the torch was passed over, Michelle Obama was feeling extremely emotional, later admitting that she sobbed after Donald Trump was sworn in. "[I] cried for 30 minutes straight, uncontrollable sobbing," she acknowledged on her podcast. "Because that's how much we were holding it together for eight years without really being able to show it all." It's true that no president's White House tenure is without hardships. But for the Obamas, being the first Black First Family came with its own unique set of difficulties. 
But, after the 2016 election, mindsets changed significantly. What the Obamas championed for eight years — anti-racism, representation, and inclusion for underrepresented communities — was suddenly undermined. In Obama's book, "The Light We Carry," she reflected on her disappointment as she watched the 45th presidency continue.
"It shook me profoundly to hear the man who replaced my husband as president openly and unapologetically using ethnic slurs, making selfishness and hate somehow acceptable," she wrote, per NPR. On what the Trump administration represented, Obama continued: "It felt like something more, something much uglier than a simple political defeat."