Michelle Obama Recalls Sobbing After Donald Trump's Presidential Inauguration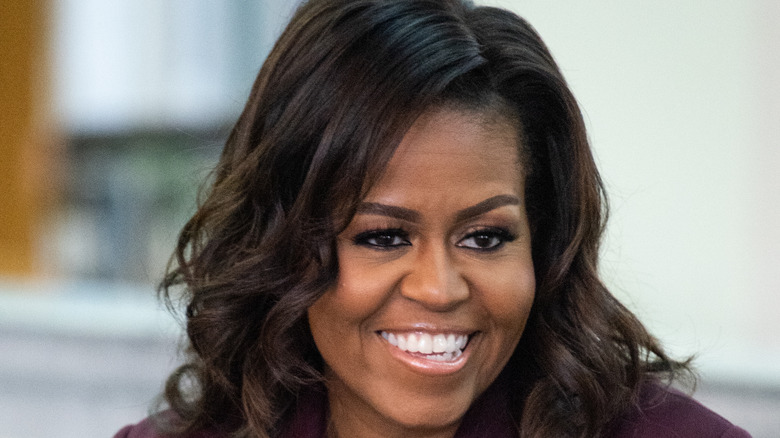 Jim Bennett/Getty Images
As First Lady, Michelle Obama promoted a variety of initiatives including supporting military families, educating girls around the world, and tackling childhood obesity. She was also First Lady when she published her first book "American Grown: The Story of the White House Kitchen Garden and Gardens Across America," which told the story of how gardens can bring people together and the power of healthy eating. After her time as First Lady came to an end, she kept using her voice to inspire others. She wrote her memoir "Becoming," where she wrote about growing up, the presidential election of her husband Barack, and their time in the White House. "Becoming" shattered sales records, becoming the best-selling book in the US for 2018 after just over 2 weeks, according to BBC.
Her latest book is "The Light We Carry: Overcoming in Uncertain Times," and in it, she writes about her experiences with life's challenges and provides advice for facing what life may throw at us; you'll want to take Michelle's words of wisdom to heart. Along with the book, she's now launched "Michelle Obama: The Light Podcast" on Audible. And in the debut episode, she spoke with Hoda Kotb and revealed her emotional reaction after attending Donald Trump's presidential inauguration.
Michelle Obama was emotional on Donald Trump's inauguration day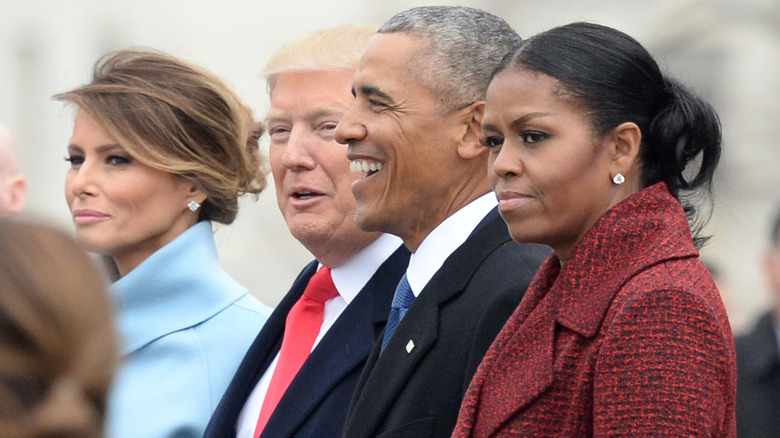 Pool/Getty Images
On the premiere of "Michelle Obama: The Light Podcast," Michelle Obama had an open conversation with Hoda Kotb, and she acknowledged the pressure of being the first African-American family in the White House and how that informed her emotional reaction after Donald Trump's inauguration. Getting on Air Force One after the inauguration, she said she "cried for 30 minutes straight, uncontrollable sobbing, because that's how much we were holding it together for eight years without really being able to show it all."
As for what caused the flood of emotion, it's something many are likely to understand. "​​We were leaving the home we had been in for eight years, the only home our kids really knew," she said. "They remembered Chicago, but they had spent more time in the White House than anywhere."
But it wasn't just leaving their home that made it an emotional day. Michelle spoke about what she felt but couldn't show: "to sit on that stage and watch the opposite of what we represented on display, there was no diversity, there was no color on that stage. There was no reflection of the broader sense of America." While she may have held her emotions in to a large extent, she knew people could tell everything was not okay for her on that stage. "Many people took pictures of me and they're like, you weren't in a good mood. No, I was not."
Michelle Obama will never forgive Donald Trump for endangering her family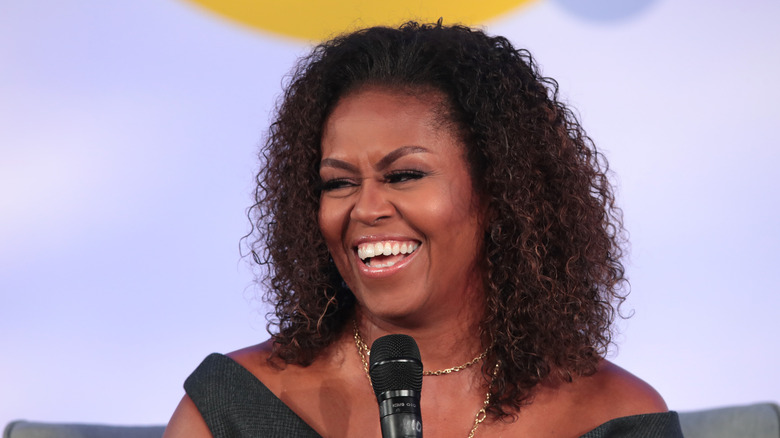 Scott Olson/Getty Images
Michelle Obama also got in a little dig on Donald Trump's claims about the inauguration crowds on the debut episode of "Michelle Obama: The Light Podcast." Trump claimed that over a million people came to his inauguration. The controversy over the crowd size gave us the phrase "alternative facts" as Kellyanne Conway defended press secretary Sean Spicer's description of the inauguration crowd as the largest ever, via NBC News. Michelle said that she and Barack Obama flew over the Capitol on Marine One, and she noted that the crowd seemed to be pretty petite. 
Michelle's unhappiness with Trump isn't just over differing politics, it's personal. In "Becoming," Michelle wrote about Donald Trump and his birther conspiracy about Barack, where Trump questioned whether Barack was born in the United States. She wrote: "Donald Trump, with his loud and reckless innuendos, was putting my family's safety at risk. And for this, I'd never forgive him," per ABC News.
As much as Michelle has been clear about not liking Trump and his politics and how emotional it was to be at the inauguration, she and Barack did attend. Trump didn't do the same when he was outgoing president; Trump broke inauguration day tradition and left Washington D.C. before Joe Biden was sworn in. Michelle and Barack were in attendance.