Donald Trump's Campaign Rails Against The Former President's Third Indictment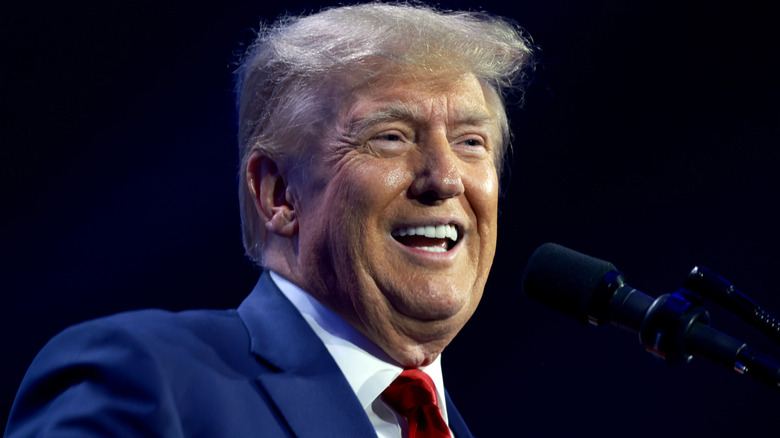 Joe Raedle/Getty Images
On Aug. 1, 2023, former president Donald Trump officially received his third indictment. This one is in connection with his role in the Jan. 6 attack on the United States Capitol, and it comes after he received an official notification from the Department of Justice on Tuesday, July 18, 2023. He was charged with conspiracy to defraud the United States; conspiracy to obstruct an official proceeding; obstruction of and attempt to obstruct an official proceeding; and conspiracy against rights, according to CNN.
A letter from special counsel delivered to Trump on July 16, 2023, confirmed that he was under investigation by the DOJ, and receiving official correspondence like that was a clear signal of a coming indictment.
While we don't have all the details from the investigation, we've heard some surrounding Trump's actions on and before January 6, 2021, thanks to the House Select Committee that's been investigating the attack on the United States Capitol. They spoke with over 1,000 witnesses and presented bombshell testimony about January 6 in a number of public hearings, and their final report outlined Trump's alleged misconduct and recommendations for charges against him, in part, for "assisting and providing aid and comfort to an insurrection" and "conspiring to defraud the United States."
Donald Trump has called this investigation, like others, a witch hunt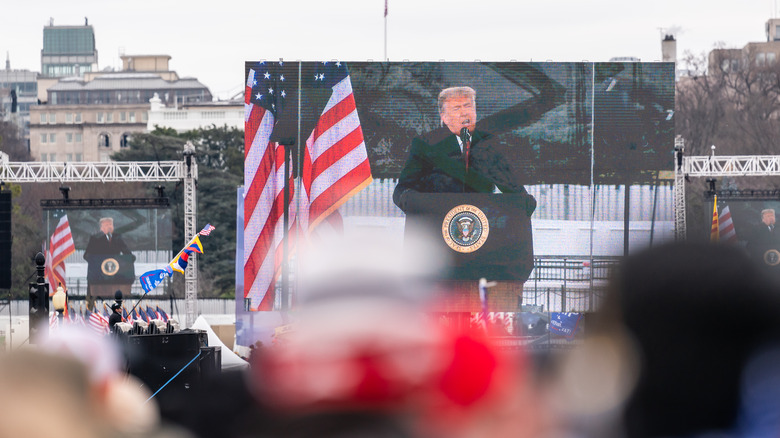 bgrocker/Shutterstock
Donald Trump's campaign released a statement on Aug. 1 on Twitter, railing against the indictment. It read, "This is nothing more than the latest corrupt chapter in the continued pathetic attempt by the Biden Crime Family and their weaponized Department of Justice to interfere with the 2024 Presidential Election, in which President Trump is the undisputed frontrunner, and leading by substantial margins." The statement went on to claim the persecution of Trump and his supporters "is reminiscent of Nazi Germany in the 1930s, the former Soviet Union, and other authoritarian, dictatorial regimes."

Trump posted a statement to Truth Social a couple of days after receiving the target letter from the Department of Justice that preceded the indictment. He wrote, "WOW! On Sunday night, while I was with my family ... HORRIFYING NEWS for our Country was given to me by my attorneys. Deranged Jack Smith . . . sent a letter (again, it was Sunday night!) stating that I am a TARGET of the January 6th Grand Jury investigation, and giving me a very short 4 days to report to the Grand Jury, which almost always means an Arrest and Indictment." Trump again referred to the investigations against him as a "WITCH HUNT" and an example of election interference — Trump is making his third run for the office of the president in 2024. He also mentions the potential for a fourth indictment, which could be in the works. There's an ongoing investigation into Trump's potential election interference in the state of Georgia.
After the news of Trump receiving the target letter from the DOJ went public, House Speaker Kevin McCarthy backed the idea that this was an example of the government going after a political opponent. McCarthy said, "If you notice, recently President Trump went up in the polls and was actually surpassing President Biden for reelection. So what do they do now? Weaponize government, go after their number one opponent," via CBS News.
Trump joins hundreds of others charged for their January 6 actions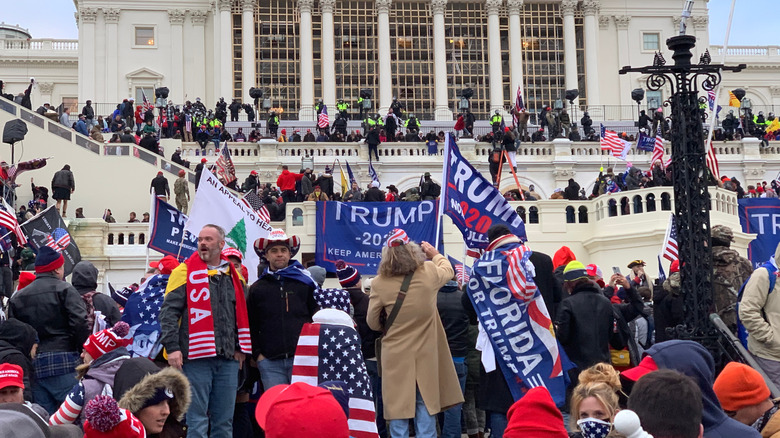 Sebastian Portillo/Shutterstock
Special counsel Jack Smith was appointed by Attorney General Merrick Garland in November 2022, according to the DOJ, and his job is to "oversee two criminal investigations." One looks into the handling of "classified documents and other presidential records" and the other is to determine "whether any person or entity unlawfully interfered with the transfer of power following the 2020 presidential election or certification of the Electoral College vote held on or about Jan. 6, 2021." They have now both ended in criminal indictments for Trump.
Trump became the first former president to be indicted on criminal charges at the end of March 2023 with 34 charges of falsifying business records related to hush money payments before the 2016 election. Trump's second indictment came from the DOJ in June 2023, and the 37 different federal charges were connected to his keeping classified documents from his time as president and obstructing their requested return by the government. He pleaded not guilty in both cases.
Over 1,000 people from across the country have been charged over their involvement in the January 6 insurrection with charges ranging from entering a restricted area to seditious conspiracy. And while Trump wasn't actually at the Capitol during the attack, a grand jury clearly thinks there's enough evidence to prove that he committed a crime.