The Strange Connection Between Stanley Tucci's Wives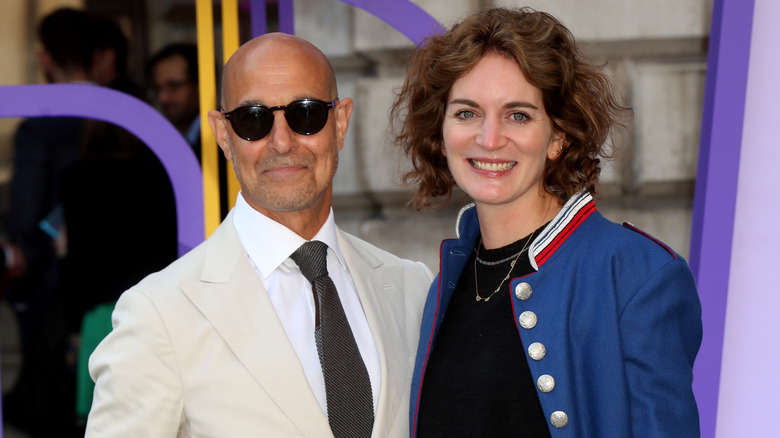 Darren Gerrish/Getty Images
From "The Hunger Games" franchise to his supporting roles in classics like "The Devil Wears Prada" and "Easy A," Stanley Tucci is one of today's most beloved actors. He even inspired the parody son "Tucci Gang" on "Saturday Night Live" — if that's not success, we don't know what is. Outside of sporting gelled blue hair as Ceasar Flickerman and being a supportive husband to Meryl Streep in "Julie & Julia," Stanley Tucci has plenty of practice being a real-life husband. Sadly, the actor's first wife, Kate Tucci, passed away in 2009 after a years-long battle with breast cancer. At the 2006 premiere of "The Devil Wears Prada," she met and talked to her husband's future wife, Felicity Blunt. Even Stanley thinks it's a pretty strange coincidence. 
On a 2021 episode of "WTF with Marc Maron," he explained the situation. "["The Devil Wears Prada" is] where I met Emily [Blunt] and we became friends," he said, adding, "And, actually, Felicity — Emily's sister, my wife — she and Kate talked at the premiere that night and I have a photo of them together, which is so odd. And then many years later, I ended up marrying Felicity." Perhaps a sign that his first wife would have approved of his second? Kate found out she had cancer right before he signed on to do the film. "I did ["The Devil Wears Prada"], and she started treatments, and then we had the premiere, and then she was alive for four more years after that," he said. Together, they had three children.
Stanley Tucci and his first wife moved to the countryside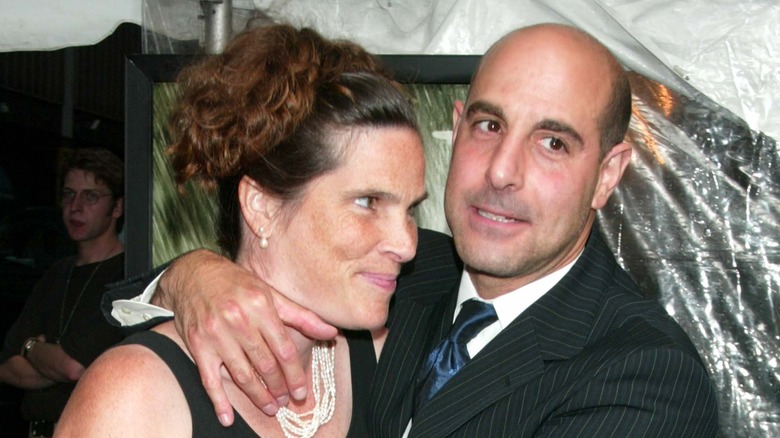 Jim Spellman/Getty Images
Stanley and Kate Tucci both loved nature. In 2005, 10 years after they tied the knot, they moved with their three children to a six-acre farmhouse in South Salem, New York. "When my wife Kate died, that certainly [turned my life] completely upside down, and she died in [our] house," he recounted on the podcast "Life is Short with Justin Long." 
It was hard for him to leave their family home behind, especially considering the memories tied to the place. "You never stop grieving," he told CBS Sunday Morning. "It's still hard, and it will always be hard." However, he knows that Kate wouldn't want sadness to take over his life or the lives of their children.
Through Kate's health struggles (and later through his own cancer diagnosis), food helped him gauge how she was feeling. Now, he's channeled his years of soul-searching into a cookbook, a food-centered memoir, and even a travel show where he explores Italy's regional cuisines. If you're looking for quick kitchen tips, make sure to follow the actor's popular TikTok account — you'll also get a glimpse into his home life with his second wife, Felicity Blunt. 
Stanley Tucci tried to break up with Felicity Blunt at first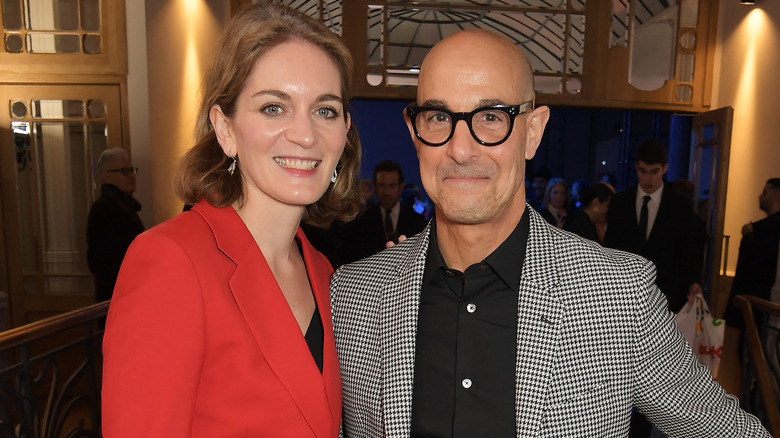 David M. Benett/Getty Images
Kate Tucci connected with Felicity Blunt long before her husband. "[Felicity] and Kate talked a lot that night," Tucci remembered on BBC's "Desert Island Discs" series, referring to "The Devil Wears Prada" premiere. In 2010, the year after Kate's death, he saw Felicity again at her sister's wedding to John Krasinski. The connection was immediate, but Tucci had some reservations.
"I was afraid to get into a relationship and I kept trying to break it off because I am 21 years older than she is and I didn't want to feel old for the rest of my life," the actor explained on the show. Eventually, he realized she was the one for him, and they got engaged in 2011. "Felicity has been so incredible taking on a widower and three children," he added. "If anybody made things better for all of us, it's her. She's the one." The couple share two kids of their own. 
Felicity, a successful literary agent, even collaborated with her husband on a few of his book ventures, per Curtis Brown. As for what her famous sister, Emily Blunt, has to say about the relationship? She paid him some bizarre compliments in a 2022 interview with People. Most importantly, "[Stanley Tucci is] an all-around renaissance man who knows the way to everyone's hearts. And it's through having a damn good time," she said. We'd definitely like to be invited to a Tucci-Blunt-Krasinski pasta party one day.