Emily Blunt Pays Brother-In-Law Stanley Tucci Some Bizarre Compliments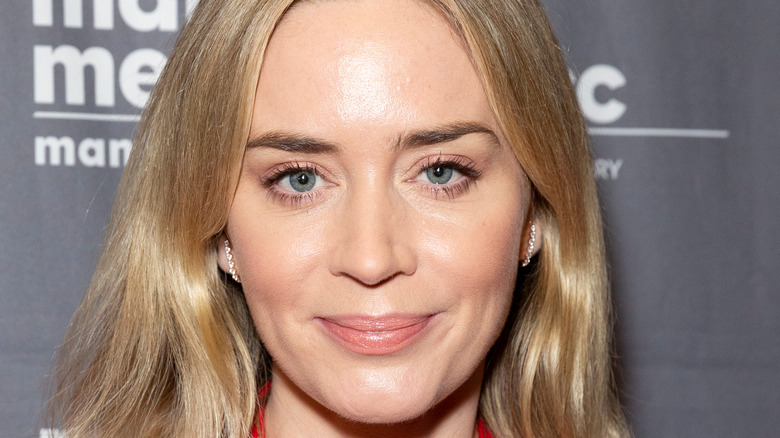 lev radin/Shutterstock
Meryl Streep's character in "The Devil Wears Prada" had some truly iconic lines, like: "Florals? For Spring? Groundbreaking," and the perfectly dismissive "That's all" (via Glamour). Surprisingly, the movie also helped spark some unexpected romance. At the film's premiere, Stanley Tucci met co-star Emily Blunt's sister, Felicity. Tucci and Felicity then met again and hit it off a few years later at Emily's Lake Como wedding to John Krasinski in 2010. Shortly thereafter, Tucci and Felicity started dating, and the pair got married in 2012 (via People).
The two couples still seem close. On Thanksgiving 2021, Tucci posted a photo of himself and Krasinski to Instagram with the caption "HAPPY THANKSGIVING FROM MY FAMILY TO YOURS." Tucci included a reposted TikTok video by Alexa Shoen, in which she said that when she's stressed out she likes to think about the fact that Tucci and Krasinski probably hang out together at family events. 
Then, on Christmas Eve, Tucci posted a video of himself making a Christmas cosmo, and towards the end of the video, Krasinski and Emily make an appearance wearing Santa hats and tinsel scarves. Basically, there seems to be a lot of love between the two couples, and Emily has nothing but kind, if unexpected, praise for her brother-in-law.
Emily Blunt thinks Stanley Tucci is a "renaissance man"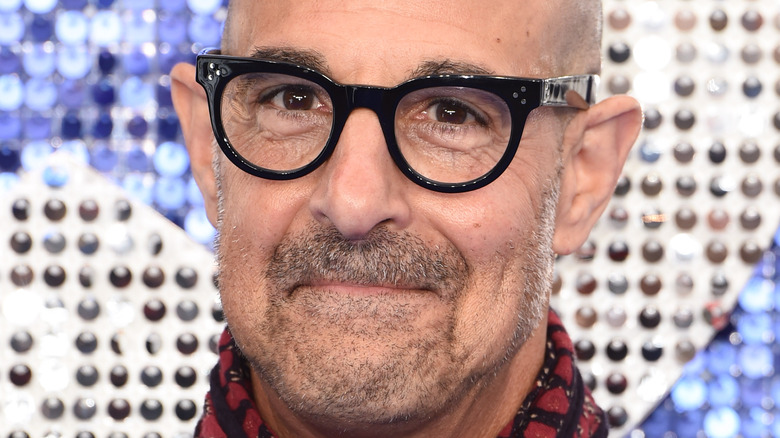 Featureflash Photo Agency/Shutterstock
We've seen Stanley Tucci's acting skills over the years, and his cocktail making skills from Instagram, but Emily Blunt recently revealed some of her brother-in-law's other impressive feats. Blunt told People that Tucci is "a great drummer" and "a beautiful painter," and perhaps the most unexpected of all, she said he is "weirdly flexible." Blunt added that he has "a leg lift that rivals Jane Fonda's." Who knew? She also said, "He's an all-around renaissance man who knows the way to everyone's hearts. And it's through having a damn good time."
Tucci is currently starring in the CNN food and travel show "Stanley Tucci: Searching for Italy," in which he travels around Italy sampling dishes, meeting chefs and farmers, and looking at Italy's history and culture through its food (via CNN). Tucci had previously been left unable to eat in 2017 after being diagnosed with a cancerous tumor at the base of his tongue (per People). He credits his wife for helping him make it through chemotherapy, telling People that her "undying attention, affection and encouragement got me through it."
Now, who's ready to see that leg lift?