Why The Bold And The Beautiful's Hope Married Wyatt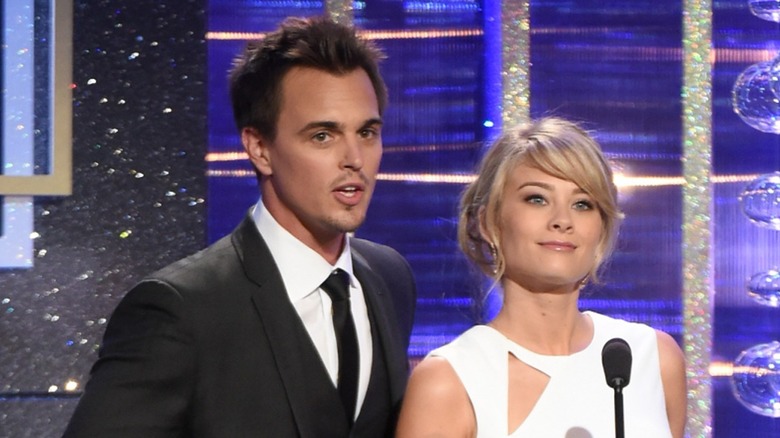 Michael Buckner/Getty Images
Hope Logan (originated by Kimberly Matula, now Annika Noelle) has had a very complicated love life on "The Bold and the Beautiful." Any long-time viewer of the soap knows that Hope's been stuck in an on-again off-again relationship with Liam (Scott Clifton) for years, but he's not the only Spencer brother who has ever pursued her; she also entertained a relationship with his brother, Wyatt — who has a complicated love life of his own — and even went so far as marrying him.
Hope and Wyatt hit it off from the moment they met, with Hope even helping Wyatt discover that he was part of the Spencer family. Finally feeling like someone's first choice after years of having to compete with Steffy (Jacqueline MacInnes Wood) for Liam's attention, Hope encouraged Wyatt's flirtations, even though she still harbored feelings for Liam. This complicated love triangle reached a climax when Hope and the Spencer brothers found themselves in Europe for a business trip and Hope made an impulsive decision that turned out to be one of the biggest mistakes of her life.
Hope's Parisian dreams turned into a Monte Carlo wedding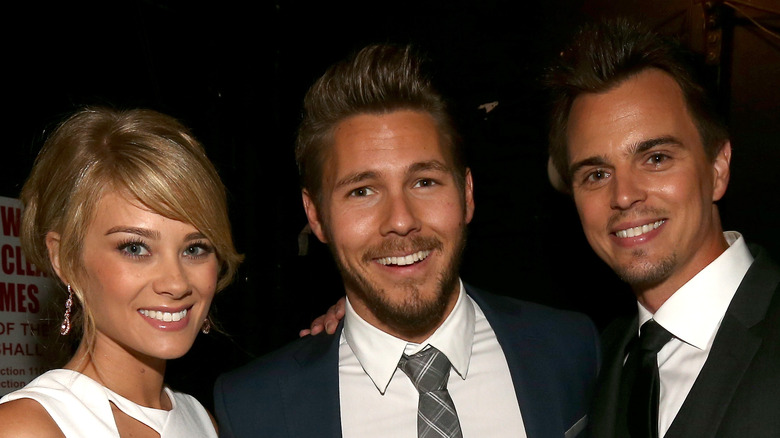 Christopher Polk/Getty Images
Wyatt inherited the "Hope for the Future" diamond, a precious jewel that was integral to Forrester Creations at the time and he and Hope were sent to Paris for a promotional photoshoot with it. Hope and Liam were starting to find their footing again and, in the hopes of marrying him, Hope told Liam to meet her at the Eiffel Tower. However, their romantic French wedding would never come to pass; Liam didn't show up at the Eiffel Tower, leaving Hope despondent. Wyatt then convinced her to abandon Paris and he flew them to Monte Carlo to cheer her up after her near-wedding to Liam.
What Hope didn't know was that this situation had been orchestrated by Wyatt's mother, Quinn Fuller (Rena Sofer). Not wanting Hope to marry Liam, she threw Ivy Forrester (Ashleigh Brewer) into the River Seine in hopes that Liam would jump in and rescue her, thus missing his wedding with Hope and standing her up. The plan worked like a charm; when Hope assumed Liam had left her at the altar, she ran straight into Wyatt's arms. Since it seemed Liam had disappointed her once again, Hope decided to take a chance and make an impulsive decision that she would come to regret.
Hope and Wyatt's spontaneous marriage ended in disaster
Even though Wyatt was obviously a rebound for Hope, both seemed content to promise themselves to the other. The pair married on Bill Spencer's (Don Diamont) boat, called the Stella Maris. After they were pronounced man and wife, Hope and Wyatt jumped into the ocean, signifying the leap of faith they were taking with this marriage. All seemed well for the moment.
When Hope found out that Liam did not intentionally miss their wedding in Paris, she almost reunited with him but stayed because she was pregnant with Wyatt's baby. Wyatt's mother Quinn became obsessive over Hope's unborn child and ambushed Hope, causing her to fall down a flight of stairs and miscarry. Wyatt failed to file a restraining order against Quinn for Hope's sake and she left town for Milan, divorcing him off-screen. 
Even though Hope's impulsive wedding to Wyatt promised a fresh start for her character, their relationship was just never in the cards.