Where Adele's Relationship With Her Ex-Husband Simon Konecki Stands
Kevin Mazur/Getty Images
Superstar Adele was first linked to Simon Konecki sometime in 2011 and the two welcomed a baby about a year later, according to E! News. They decided to get married in 2018, but their union came to an end in 2019. "Adele and her partner have separated. They are committed to raising their son together lovingly. As always they ask for privacy. There will be no further comment," read a statement emailed to the Associated Press by the singer's rep. Adele and her ex's focus shifted to co-parenting their son, Angelo, and they didn't often speak about why their marriage didn't work out. 
Despite the couple's divorce, Adele and Konecki have managed to remain amicable over the years, and there doesn't seem to be any bad blood between them. In fact, when Adele's spoken about her ex, she really hasn't had anything but glowing things to say. In an interview with Oprah Winfrey ahead of her November 2021 television special, Adele said that she trusts her ex-husband "with [her] life" (per People). She went on to say that she feels as though her ex and her son were "angels" that had been sent to her at the perfect time. "He came at such a moment, where the stability that he and Angelo have given me, no one else would have ever been able to give me," Adele explained. Although the mom of one has moved on romantically, her marriage to Konecki isn't something she regrets — and she expressed such in another post-divorce interview.
Adele says marriage just 'wasn't right' for her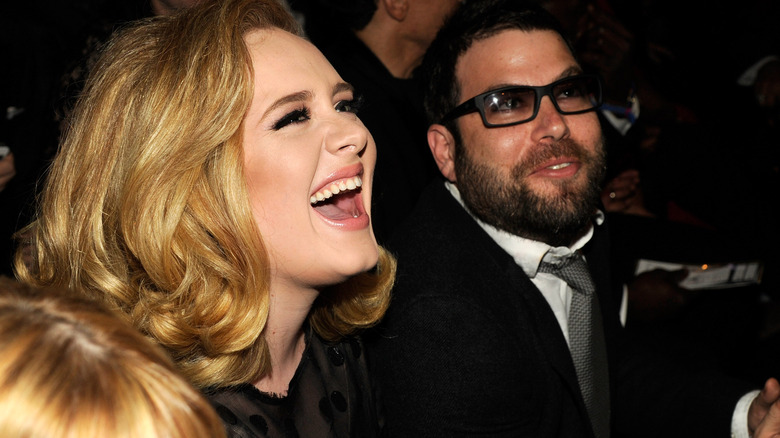 Kevin Mazur/Getty Images
Adele's always done her best to keep her personal life out of the tabloids, but she's praised Simon Konecki on various occasions, before and after their split. "Simon is already who he is, and I'm still becoming who I'm going to be. He's confident. He's perfect," she told Vanity Fair in 2016. In an interview with British Vogue in November 2021, Adele explained that her son didn't understand the divorce and, frankly, neither did she. "Obviously Simon and I never fought over him or anything like that. Angelo's just like, 'I don't get it.' I don't really get it either. There are rules that are made up in society of what happens and doesn't happen in marriage and after marriage, but I'm a very complex person," Adele said, later adding, "It just wasn't right for me any more. I didn't want to end up like a lot of other people I knew. I wasn't miserable miserable, but I would have been miserable had I not put myself first. But, yeah, nothing bad happened or anything like that."
Two years after her split from Konecki, Adele took her romance with Rich Paul public. The two were seen sitting courtside at a Milwaukee Bucks game, according to People magazine, and they'd met at a party sometime prior and really seemed to hit it off. As Adele and Paul continued spending time together, things got more serious, so much so that she introduced her new man to her ex-husband.
Adele has blended her past and present lives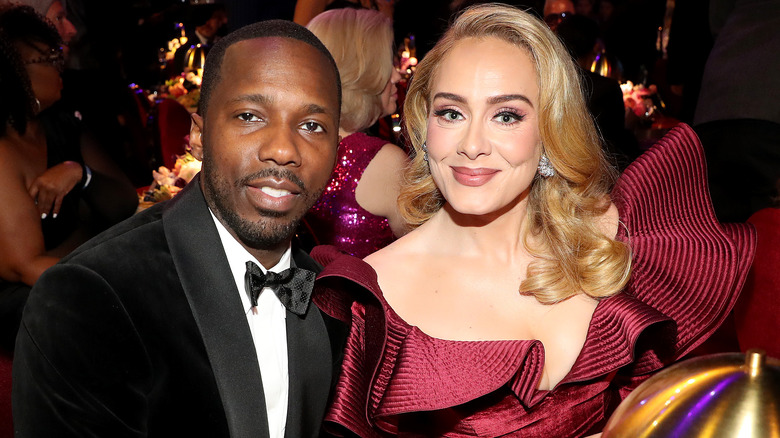 Johnny Nunez/Getty Images
In July 2022, Adele performed at the BST Hyde Park Festival in London and Rich Paul looked on from the crowd. However, according to Us Weekly, he wasn't the only one who was showing support for the "Someone Like You" singer. Paul was actually joined by Adele's ex-husband. The report claims that Paul and Simon Konecki "were photographed watching the show together." Page Six actually shared some of those photos, and Paul and Konecki could be seen sitting together.
It seems as though everything is just right for Adele this time around — and it's possible that marriage may be on the table. "I've never been in love like this. I'm obsessed with him," she told Elle in August 2022. "I definitely want more kids. I'm a homemaker and I'm a matriarch, and a stable life helps me with my music," she added. About six months later, photos of the songstress wearing a huge diamond ring on that finger surfaced online, according to the Daily Mail. Rumor has it (see what we did there?) a wedding could take place by the end of 2023.