Adele Realized Her Marriage Was Headed For Divorce In This Unusual Way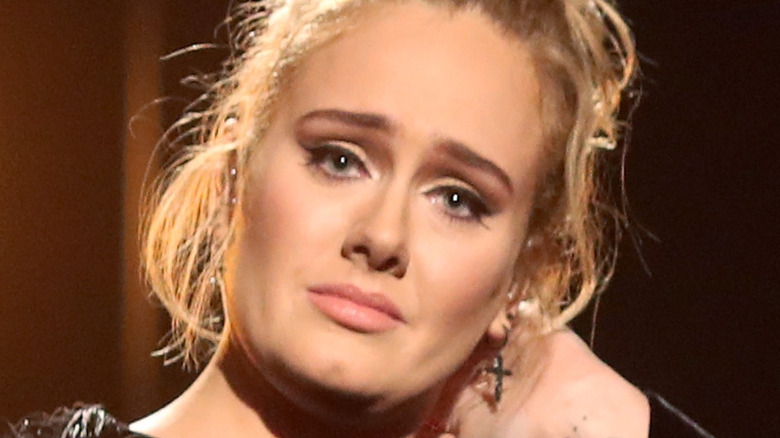 Christopher Polk/Getty Images
The only thing that has been more eagerly anticipated than her upcoming album has been Adele's exclusive interview with Oprah Winfrey. After all, what an iconic pair! While Adele makes it her business to move us with her lyrics and voice, Oprah manages to do the same with her touching words and thought-provoking questions. 
And this past year has been an Adele era for the decades. From her glow-up to finally breaking from her musical hiatus to give fans the single they desperately needed by releasing "Easy On Me," the iconic singer hasn't stopped making waves. Fans of the Grammy award winner know that she's done it amidst serious upheaval in her personal life. Adele finalized her divorce from ex-husband Simon Konecki in 2021. And while the divorce was finalized two years after the couple filed for it in September 2019, per ET Online, the singer had long kept quiet about its effect on her emotional health. 
Ever since their separation, devoted fans eagerly awaited to hear anything from the singer — whether in the form of an interview or a new album guaranteed to break hearts all over the world. We got glimpses when she opened up to Rolling Stone. "It made me really sad," the artist recently told the media outlet. "Then having so many people that I don't know know that I didn't make that work ... it f***ing devastated me." Her sit down with Oprah brought out more. Who better to tease out every detail in a delicate and insightful manner? Well, the exclusive interview — which dropped on November 14 — did not disappoint. Adele was just as candid as ever. In fact, she even revealed the startling moment she knew her relationship was over.
Adele realized it was time to separate after a magazine personality quiz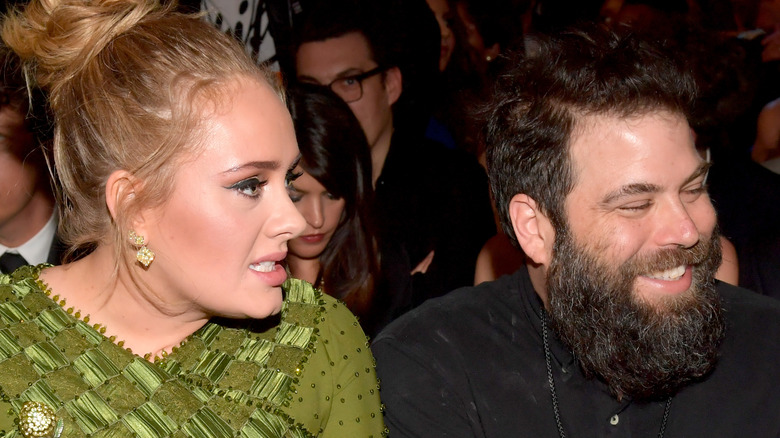 Lester Cohen/Getty Images
With Adele's upcoming album "30" marking her first release in five years, fans all suspected the album would revolve around her healing from her divorce from Simon Konecki. When "Easy On Me" was released, people realized they were probably right. Desperate for even more insight, fans' prayers were answered with the airing of Adele's first TV interview about the new album.
In a way that only Oprah can tap into, Adele discussed everything from her album to her weight loss. She even dished on her son's obsession with Taylor Swift, according to BuzzFeed News. What the star really got brutally honest about, though, was her divorce, recalling the lightbulb moment she realized she wanted to end things. The "Hello" singer revealed to Oprah that she took a personality test in a magazine. When asked the question, "What's something that no one would ever know about you?" the star realized her answer was, "I'm really not happy. I'm not living, I'm just plodding along," she explained (via the Daily Mail). She simply had to realize, "What am I doing? What am I doing it for?" (Dying to watch it for yourself? Adele's interview with Oprah is now streaming on Paramount+.)
Adele isn't playing the blame game about her divorce, either. In fact, as she previously revealed to Vogue, she doesn't think either did anything wrong. "Neither of us hurt each other or anything like that," she reflected. "It was just: I want my son to see me really love, and be loved. It's really important to me."
How's Adele doing post-divorce?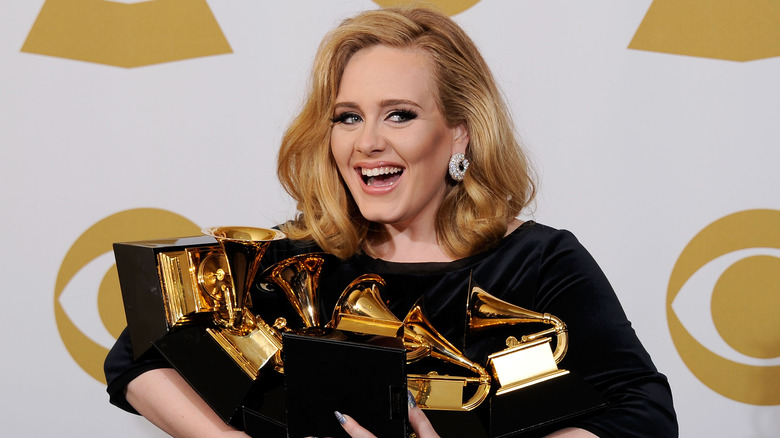 Kevork Djansezian/Getty Images
Adele's doing fine, thank you very much. As she recently told Oprah, the singer is letting go of her attachment to a nuclear family and is moving forward, co-parenting with her ex-husband, Simon Konecki (via CNN). They live close to each other, and Adele says, are still close. "I feel like [Simon] and Angelo were angels sent to me, that's how I feel," Adele admitted to the talk-show host. 
Meanwhile, Adele's new album, "30," is set to drop on Friday, November 19. As USA Today will remind you, its track "Easy On Me" hit number 1 on the Billboard Hot 100 in late October. And while the singer's new, slimmer body image (Adele began working out during her divorce) has been analyzed ad-infinitum, she's not stressing about that either. She remains, she told Oprah (via CNN) "body-positive." Besides, she said, "It's not my job to validate how people feel about their bodies." 
Finally, Adele's got a new beau. She and sports agent Rich Paul started dating in early 2021. Elle will fill you in on the details, but the two are at least close enough to attend an NBA final together. More importantly, as the "Rolling in the Deep" singer told Oprah, this relationship is dramatically different than her last ones. It's Adele's first romance in which she's loved herself, too.