Meet Simu Liu's Girlfriend, Allison Hsu
Marvel "Shang-Chi" superstar Simu Liu may be one of the film industry's latest heartthrobs but seems to fancy relationships over the bachelor life. He previously went public with "Senior Year" actor Jade Bender in June 2022, though the two were initially linked in 2019. That relationship came to an end in September 2022, making way for a new lady to enter his life.
In December 2022, Liu and the music industry maven Allison Hsu were spotted out for the first time during the premiere of the action comedy flick, "Violent Night." The two sported matching Christmas sweaters as they cozied up next to one another for pictures on the red carpet. Days prior, Hsu alluded to a romance when she shared a photo of her and Liu on Instagram, both gleaming with only a smiley face in the caption. Since going public with their romance, the couple has proudly shown off their love for one another. Even with Hsu dating one of Hollywood's most promising stars, she still maintains an accomplished professional life of her own.
Allison Hsu made the Forbes 30 Under 30 North America Music list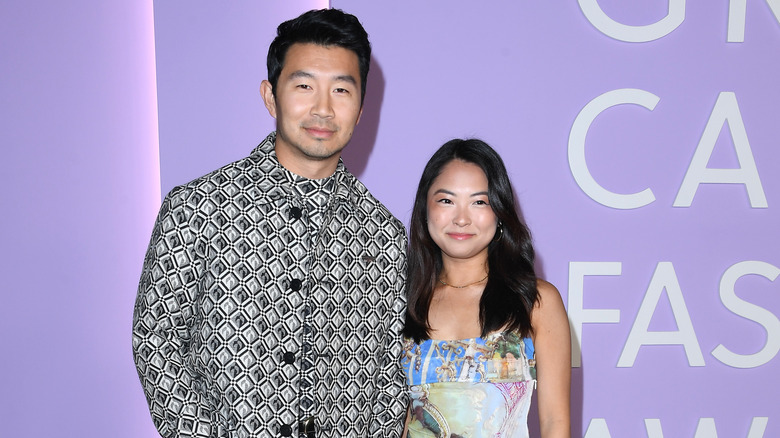 Steve Granitz/Getty Images
Allison Hsu possesses much more than just a pretty face. Per her LinkedIn, after graduating from the University of California in Los Angeles with a Bachelor Of Arts in Economics, Film, Television & Digital Media, she began a career in the music business. This led Hsu to Digital Marketing Director position with Interscope Records. In her role, she helped with the online imprints of several of the label's signees. Her work has been so notable that it caught the attention of Forbes. In December 2021, the publication recognized Hsu in its 30 Under 30 North America Music list, which recognizes young innovators and executives making strides in the industry.
In the acknowledgment, Forbes wrote that Hsu used her remarkable skills to spearhead the digital platforms of artists such as Lady Gaga and FINNEAS. She worked closely with several teams to successfully launch websites and campaigns for musicians. In a heartfelt Instagram post regarding her achievement, Hsu expressed her sincere gratitude for being recognized by such a prestigious publication.
"​​Thank you so so much @forbes @forbesunder30 for this honor. It's still surreal to me that I get to wake up every day and do what I love at a company as innovative and trailblazing as @interscope and work alongside so many amazing people that inspire me to be the best version of myself possible," Hsu wrote in the lengthy statement.
She worked on the social media campaign for Billie Eilish's 'Happier Than Ever' album
One of the most notable campaigns that Allison Hsu has been a part of was the rollout of Billie Eilish's "Happier Than Ever" project. Unveiled on July 30, 2021, Eilish's sophomore album was nominated for several Grammy awards, including Record of the Year for its title track. After its debut, Hsu gloated over the project online, praising the fantastic team she'd been a part of that helped with the release.
"It's been an honor to be inspired by their art every day. And this team!!! Filled with the most amazing, dedicated, and creative people ever who make long days and late nights feel like joy," Hsu wrote, sharing an image of Eilish's album cover.
Between curating experiences for performers and their fanbases, Hsu has been seen several times accompanying Simu Liu at events. She was most recently by his side at the "Barbie" movie premiere, a movie where he portrays the role of Ken, which was a painful filming process for Liu. The on-screen superhero is grateful for Hsu's unwavering support, telling People back in April that she would even watch his rom-com film, "One True Loves," which features some lovey-dovey scenes with co-star Phillipa Soo. It appears there is no jealousy on Hsu's front, which is likely one reason the duo is still going strong.