The Real Meaning Behind Calm Down By Rema And Selena Gomez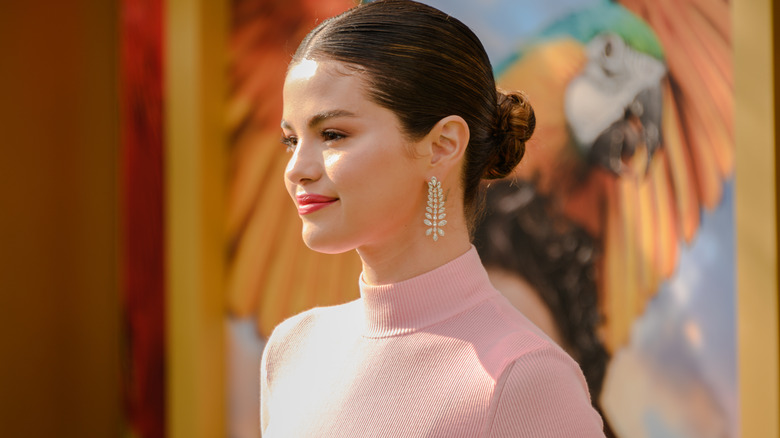 Silvia Elizabeth Pangaro/Shutterstock
No one can calm down about Rema's "Calm Down" featuring Selena Gomez, and for good reason. The sexy Afrobeats banger is the ideal summer track for the club, the car, the beach, and even the bedroom. After it went viral on TikTok and peaked at the number three spot on the U.S. Billboard Hot 100, Gomez shared her gratitude for Rema and the song in a July 1 Instagram post. "This man has changed my life forever," the singer captioned photos of her and her collaborator embracing and posing. Gomez, who felt one of her biggest hits was a Rihanna reject, further said, "Rema, thank you for choosing me to be a part of one of the biggest songs in the world. Love you forever." He replied in the comments, "Love you too Queen," with a red heart emoji. 
With its addictive melody and the beat that practically begs you to bust out some smooth dance moves, it's easy to lose yourself in the tune without listening closely to the words. If you pay attention, though, there's a narrative packed with love, lust, and fear. The hit was inspired by a real experience Rema had when he tried to woo an attractive woman at a party. In "Calm Down," the talented musician sings about winning over the captivating partygoer, and Gomez musically steps into the woman's shoes and tells her side of the story.
Rema's inspiration behind 'Calm Down'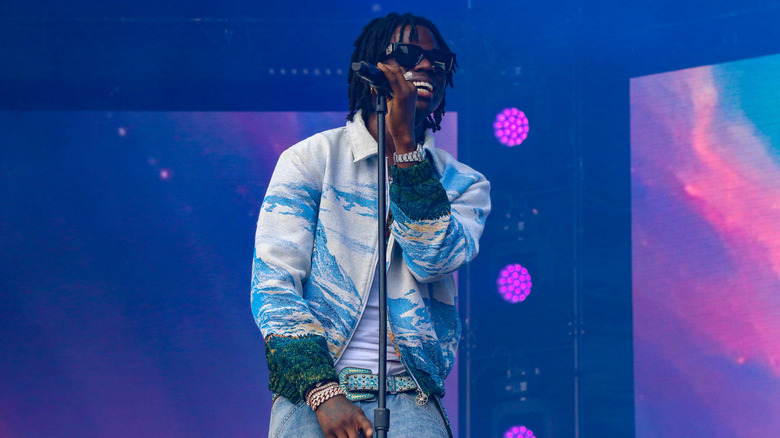 Brian Stukes/Getty Images
There was one night that changed Rema's love life and career forever. In a February 2022 statement for Pitchfork, the musician recalled the juicy series of events that inspired his popular track. "'Calm Down' is all about the events that led me to finding love at the time," the Nigerian artist said. "It started at a party where I saw a girl who stood out from other girls so I felt like shooting my shot. We spoke and danced." He explained to Billboard that at first, her friends wouldn't let him anywhere near her. "I was like, 'Yo, just calm down,'" he remembered. That line helped convince her to get to know him, and then sparks flew fast. 
In the first verse, the singer recounts the moment this woman caught his eye: "I see this fine girl for my party she wear yellow / Every other girl they dey do too much but this girl mellow." The chorus tells the story of her letting loose and the two of them dancing and enjoying each other. The music there feels both peaceful and sensual — exactly the mood Rema wanted to create that night. The singer admits in the chorus that he's catching feelings fast. "If I tell you, say, 'I love you,' no dey form yanga oh," he croons. "Yanga" is a Nigerian pidgin term for "fronting," per Genius, so he's urging her to be honest about her own feelings. 
Selena adds a female perspective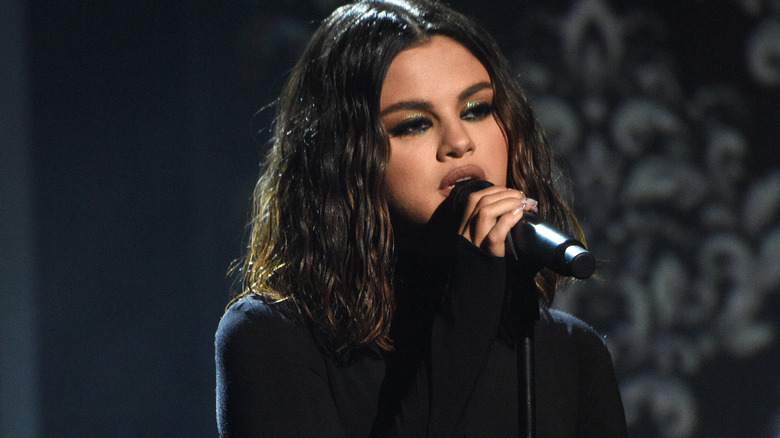 Kevin Mazur/ama2019/Getty Images
When Rema decided to make a remix with a female artist, he knew that Selena Gomez was the perfect singer for the job. Gomez enters in the second verse, and her beautiful, breathy, sultry vocals help transport listeners to the late-night scene of two young people feeling each other on the dance floor. In her verse, she makes the narrative fuller by adding the woman's perspective. "Yeah, I know I look shy but for you I get down oh," Gomez sings. "And my hips make you cry when I'm moving around you." Her character gently teases Rema (or the everyman in this situation) by claiming that although she appears to be holding back, she's actually trying to impress him. 
With lines like "get you a taste for the night" and "wanna give you it all but I can't promise that I'll stay / and that's the risk you take," Gomez fuels the tease even more. She's interested in this person, but not emotionally prepared to commit. So, when the "Only Murders in the Building" star sings "calm down" and the rest of the chorus, there's a different intention behind the same lyrics: She's telling him to stay in the moment and not get too ahead of himself. Gomez's presence on the remix takes the song from one person's diaristic thoughts to a thrilling push-and-pull romantic tale with layers and conflicting POVs.