How Queen Camilla Can Elevate Her Signature Style, According To An Expert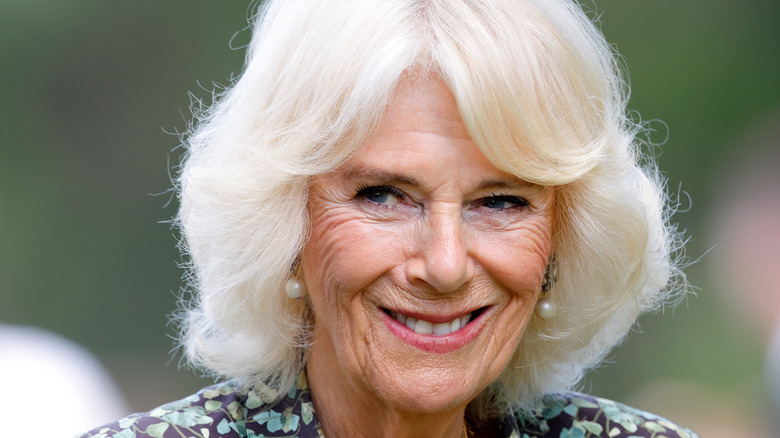 Max Mumby/indigo/Getty Images
Queen Camilla has been honing her royal look by partnering with trusted designers for 18 years. Camilla is a fan of A-line dresses, a universally flattering style. Over the years, the queen has worn a variety of these in bold prints and bright colors, as well as pastels. Designer Anna Valentine, who created Camilla's dress for her 2005 wedding to King Charles, strives for camera-ready outfits. "They are always tailored in some respect, but then we add a softness and some swing so that she has lovely movement," Valentine explained to The Telegraph in 2017.
Some people, however, would like to see Camilla break out of her comfort zone. "I would prefer to see Queen Camilla's hemline come up just a little and see her wear more structured fabrics and more form-fitting sheath dresses like other royal ladies," style expert Leroy Dawkins informed Express. Fiona Clare, one of Camilla's go-to designers, disagrees. She feels hemlines should lengthen with age and has increased the queen's hems by 4 to 5 inches. 
Megan Watkins, SilkFred's Head Stylist, appreciates Camilla's goal to look stylish without garnering unnecessary attention. "If she really wanted to make a statement, though, I think she would look phenomenal in a square-necked style, perhaps with a more exaggerated waistline," she suggested to Express. Whether or not Camilla shakes up her style, she already knows the key to style success: "If you are confident in what you wear, like she is, you will always look great," says Clare.
Camilla's sapphire jumpsuit was a fashion leap that divided fans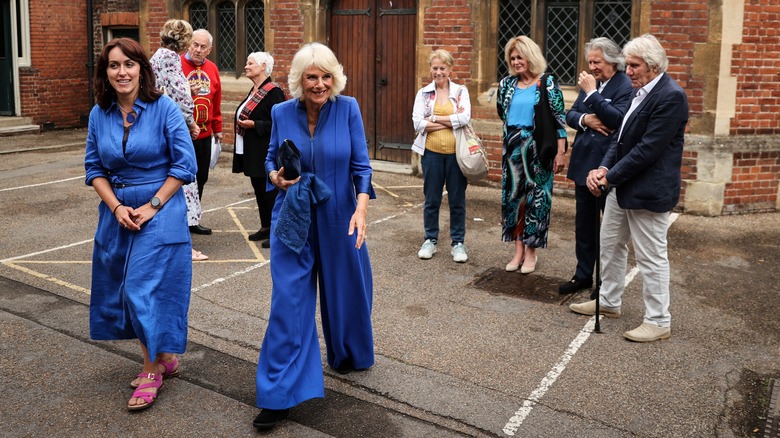 Wpa Pool/Getty Images
In June 2023, Queen Camilla sported a brilliant blue jumpsuit designed by Anna Valentine at the Queen's Reading Room Literary Festival. With its billowy silhouette and eye-catching color, Camilla's sartorial choice was a polarizing one. The queen has donned jumpsuits before, like the navy one, also crafted by Valentine, which she wore to the 2022 Commonwealth Games and on a 2019 New Zealand royal tour. Some people preferred the more understated navy version to the vibrant sapphire hue, while others weren't fans of the jumpsuit's wide legs or Camilla's decision to wear the ensemble with black boots. 
Others, however, saw the choice as evidence Camilla was stepping up her fashion game. "The fabulous, exaggerated flared leg elevates the look while also being flattering. The cleverly placed darts accentuate her waist," wrote Dinah van Tulleken, fashion editor at the Daily Mail. "Camilla was probably the last of the royals I expected to look to for fashion inspiration, but I'll be keeping an eye on her from now on." Anna Murphy, fashion director at The Times, called Camilla's look "smoking." 
Murphy and others also praised Camilla's decision to leave the jumpsuit partly unzipped to show off her necklaces. Designer Fiona Clare is a fan of dramatic necklines on the queen, often choosing a slit variety. She says, "The deeper, the better, especially on a fuller bust and far more flattering on her than a round neck."