The Unapologetic Real Meaning Behind Beyoncé's Song Sorry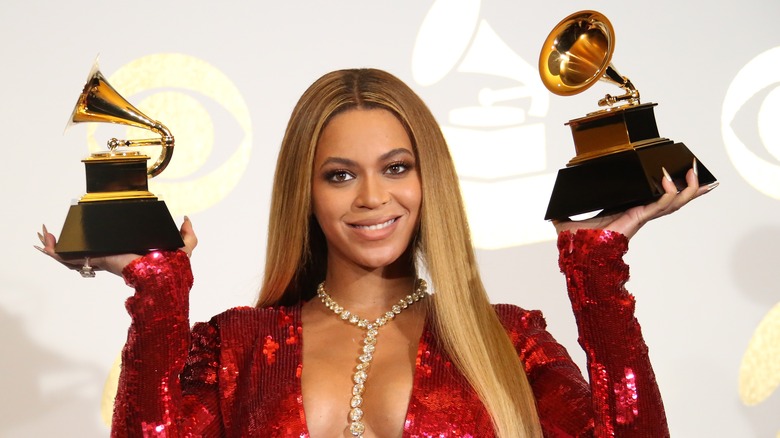 Dan Macmedan/Getty Images
The complications in Beyoncé and Jay-Z's marriage stepped into the limelight in the song "Sorry," the iconic break-up anthem where the songstress found empowerment in herself. Fans may remember that Serena Williams made a cameo in the song's music video, dancing alongside Beyoncé as she tells men: "Boy, bye."
The song was a standout on her critically acclaimed 2016 album, "Lemonade." The album has been lauded as Beyoncé's magnum opus — even though she won the Grammy for Best Urban Contemporary Album in 2017, fans and critics alike were surprised when she lost "Album of the Year." As she accepted her win, even Adele made it a point to dedicate the award to her dear friend. The album was also accompanied by a visual film, "Beyonce: Lemonade," which premiered on HBO.
On this album, Queen Bey got as real and raw as ever. It follows her progressing emotions after finding out her loved one has been unfaithful — something she could relate to in real life. In "Sorry," Beyoncé famously calls out the woman Jay-Z cheated on her with and declares that she no longer feels the blues — rather, she's enraged. To get her revenge, she goes on a spite-filled joyride, which consists of going to the club and having zero "Fs" left to give.
The song walks us through Beyoncé's first actions as a free woman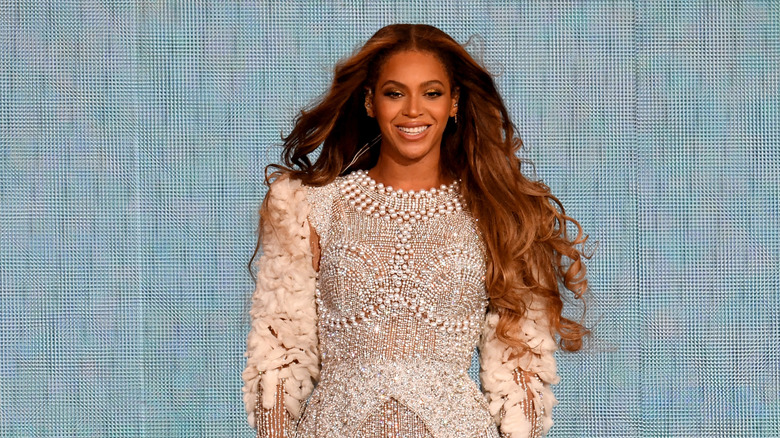 Kevin Winter/pw18/Getty Images
Beyoncé co-wrote "Sorry" alongside Wynter Gordon and Melo-X in 2015, per Pitchfork. "She's hands-on with everything," Melo-X said of the singer. "She gives direction on everything and is very involved with the whole process." Therefore, it's safe to assume that the song is based on realities the megastar faced amid her relationship drama. 
To forget the pain she's feeling, Beyoncé hits up the club with her girls: "Headed to the club / I ain't thinking 'bout you / Me and my ladies sip my D'USSÉ cup." — thus begins "Sorry," the ultimate break-up anthem. It's intriguing that despite the anger she's expressing, Beyoncé sings about indulging in D'USSÉ, which is Jay-Z's cognac brand.
Beyoncé is unapologetic about how her behavior is upsetting her partner, and refuses an apology: "Now you want to say you're sorry / Now you want to call me crying / Now you gotta see me wilding." With this defiance, she issues a call to women who are fed up with their relationships: "Middle fingers up / put them hands high / Wave it in his face, tell him, 'Boy, bye.'" This independent spirit Beyoncé is embracing is actually labeled at the beginning of the "Sorry" music video: apathy.
Beyoncé addresses the woman with whom Jay-Z had his affair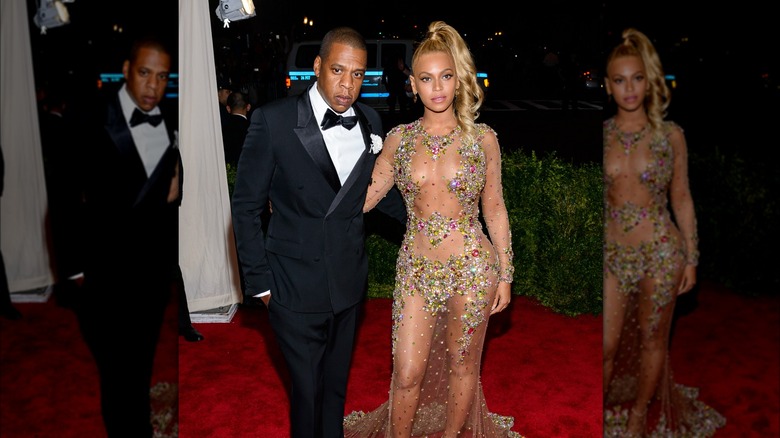 Sky Cinema/Shutterstock
In 2014, rumors swirled about tensions in the A-list marriage after footage revealed Solange Knowles attacking Jay-Z in an elevator. It's well known that Beyoncé and Solange have a close relationship, so the reason for Solange's outburst was rumored to be something serious, such as infidelity (per Glamour). While nothing was confirmed initially, almost two years after the incident, Beyoncé seemingly addressed that there was unfaithfulness in the marriage.
In "Sorry," Beyoncé provides the only descriptor we have of the third person in their marriage. She heartbreakingly recalls: "He only want me when I'm not there / He better call Becky with the good hair." In the final chorus, she tells the story of how she realized her husband was cheating on her. She even threatens to leave the home with her baby — presumably, the adorable Blue Ivy Carter. "Looking at my watch, he shoulda been home / Today I regret the night I put that ring on / He always got them f****** excuses / I pray to the Lord you reveal what his truth is."
In Jay-Z's subsequent 2017 album, "4:44," he mentions "Becky." Beyoncé sings alongside him on "Family Feud, where Jay-Z raps: "Yeah, I'll f**** up a good thing if you let me / Let me alone, Becky." Both of their albums address the pitfalls in their marriage from two points of view. While Beyoncé struggles with the healing process, she eventually overcomes the apathy she originally felt for her husband in "Sorry."