Inside Beyoncé And Solange Knowles' Relationship Over The Years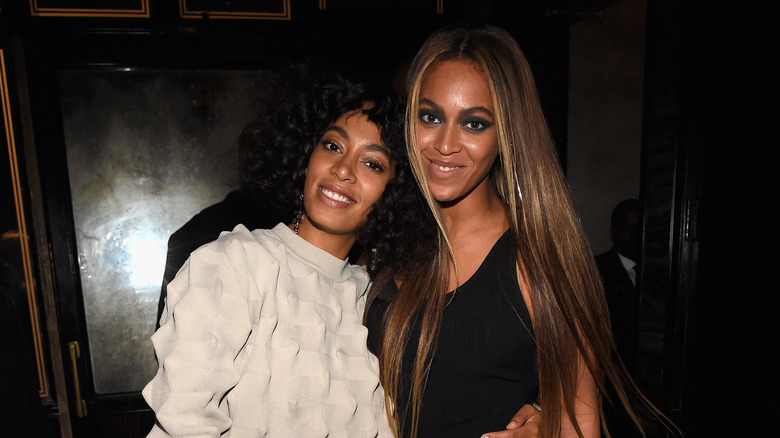 Kevin Mazur/Getty Images
When you're an A-list star, you typically are the most famous person in your industry and your family. To avoid being overshadowed, the siblings of most A-list stars tend to pursue a different career path. However, this isn't the case for Beyoncé and Solange Knowles. The famous sisters grew up in the music industry and spent their formative years performing on stages around the world.
Despite both pursuing music careers, the Knowles sisters each have their own distinct style and personality. Their journeys to success may have differed but their parents have been by their side every step of the way. In fact, Tina Knowles-Lawson and Mathew Knowles have struck gold twice. They not only have one Grammy award-winning daughter, but two. Despite the two sisters managing to keep details of their personal life outside the press, we have seen glimpses of their close relationship over the years. Here's how Beyoncè and Solange's relationship has evolved over the years.
They both were musically inclined at a young age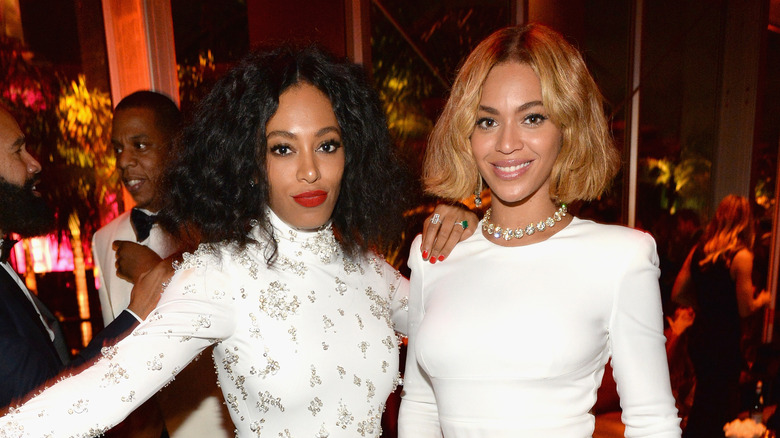 Kevin Mazur/vf15/Getty Images
Beyoncé and Solange Knowles grew up in a home in Houston that centered around music. From the age of nine, Beyoncé began performing with a girl group named Girl's Tyme, which later evolved into Destiny's Child. Her talents were first discovered by her dance teacher who heard her sing during class and recognized that she could hold a tune. The teacher notified her father who later managed the group that performed on shows like "Star Search" before landing their first record deal in 1995. Not far behind Beyoncé was her younger sister, Solange, who also found a love for music.
In an interview with her little sis for Interview Magazine, Beyoncé recalled seeing her sister write and record songs in her bedroom at the age of 10. "I remember thinking, 'My little sister is going to be something super special,' because you always seemed to know what you wanted," she told Solange. It wasn't long before a young Solange played the songs she had written for her family.
Despite her apprehension, her family was supportive. "They're the first people I played the songs to, and how they responded to them was just incredibly humbling and amazing for me," Solange told Loud and Quiet. She landed her first publishing deal at 15 and even penned songs for Kelly Rowland's debut solo album. From a young age, the two sisters had big aspirations and their parents nurtured it.
They were protective of each other from a young age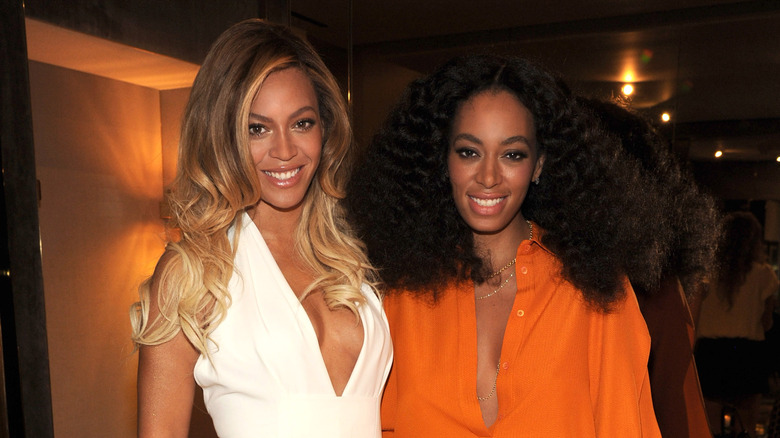 Kevin Mazur /chime For Change/getty Images For Gucci/Getty Images
Despite both seeking a career in the music industry that is cut-throat and ruthless, Beyoncé and Solange Knowles grew up extremely protective of one another. In fact, Solange told ES Magazine that she grew up slightly jealous of her sister's budding friendship with bandmate Kelly Rowland after she moved in. Even though she was five years older than Solange and busy perfecting her craft with Destiny's Child, Beyoncé remained close to her sister. "But my sister was very protective of me, and we were very sweet with each other. I'm sure if we were closer in age we wouldn't have gotten along so great," Solange explained. 
The feeling of protectiveness is mutual between these two siblings and is something their mother, Tina Knowles-Lawson, instilled in them. On her infamous Instagram, the loving mom posted a split video of her two daughters in separate interviews discussing how they're not afraid to stick up for each other. "If someone talks about my sister, I swear to you I'm ready to fight," Beyoncé said in the clip. "If my sister is happy, I'm even more happy, if she's sad, I'm even more sad." 
In Solange's clip, she bluntly describes always being ready to beat someone down if they try to mess with her big sister. "Sisterly love the Houston Way," their proud mom captioned the video. "Mama will beat your a** about both [sic]."
Their mother put them in therapy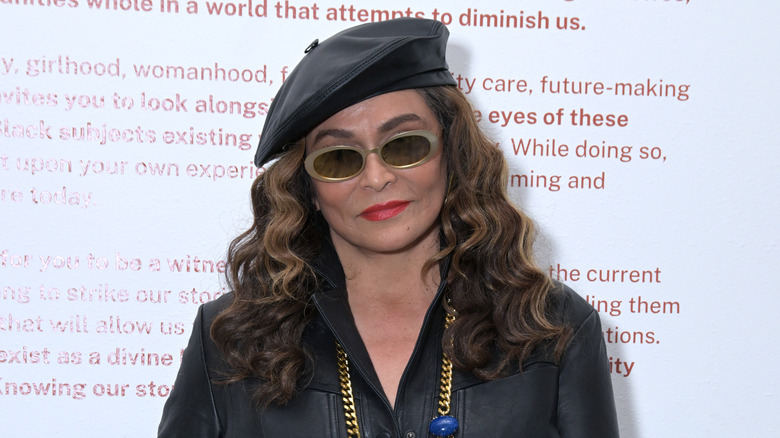 Michael Tullberg/Getty Images
A sibling rivalry is pretty normal in most households. However, when your big sis is one of the biggest stars on the planet, that rivalry is bound to put a strain on your relationship. Beyoncé and Solange Knowles' mother knew that fame could breed feelings of jealousy between her girls and wanted to prevent it. During the early days of Beyoncé's career, she placed both daughters in therapy.
In a 2018 interview with Maria Shriver, Tina Knowles-Lawson revealed that she wanted both daughters to receive equal attention and didn't want Solange to ever feel overshadowed. "I wanted Beyoncé to be sensitive to the fact that Solange had to deal with being a little bit in her shadow," she explained. "And it made her way more sensitive and protective. And they're still fiercely protective of each other."
Knowles-Lawson noted that she grew up in a household where she felt her siblings were more favored and wanted to break the cycle with her own daughters — especially as they pursued fame. As a mom, she devoted separate days to each daughter so they both got equal attention. Despite her extended family not being keen on the idea of them attending therapy, Knowles-Lawson knew it would help them better understand each other. "It made [Beyoncé] more sensitive to who her sister was and what she had to deal with because of her," she said. 
Solange was Beyoncé's backup dancer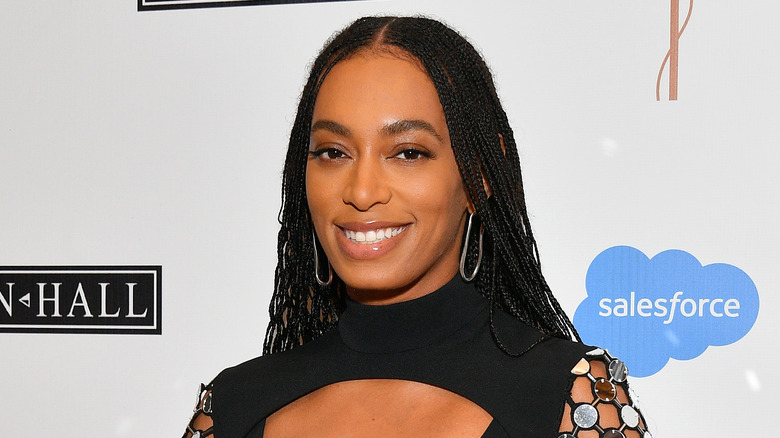 Dia Dipasupil/Getty Images
As Destiny's Child rose to popularity in the late '90s, they performed for sold-out crowds around the world. With Beyoncé's father as their manager and her mother as their stylist, it was a family affair, but Solange soon got in on the action as well. When one of the group's original backup dancers became pregnant and stepped away from the tour, a 13-year-old Solange stepped up to the plate. She joined Destiny's Child during many gigs, including the 2001 NBA finals halftime performance in which they were infamously booed. 
Solange was the perfect choice considering she had dreams of becoming a professional dancer. In 2017, the singer explained to W Magazine that her younger self dreamed of attending Juilliard. However, her time on the road with her sister was cut short. When Solange turned 15, she suffered a knee injury that forced her to be sidelined for the rest of the tour. Despite her dancing dreams coming to a screeching halt, Solange looks back fondly on that time with her sister. "It was really nice, 'cause in a weird way, we were able to have a lot more of a consistent family life," she told Fader. 
Despite being all grown up now, the sisters still love to bust a move together. In 2014, Beyoncé danced with her sister on stage to dance during her Coachella set. When Beyoncé headlined the festival in 2018, Solange returned the favor and the two danced together during "Get Me Bodied".
Solange turned down Destiny's Child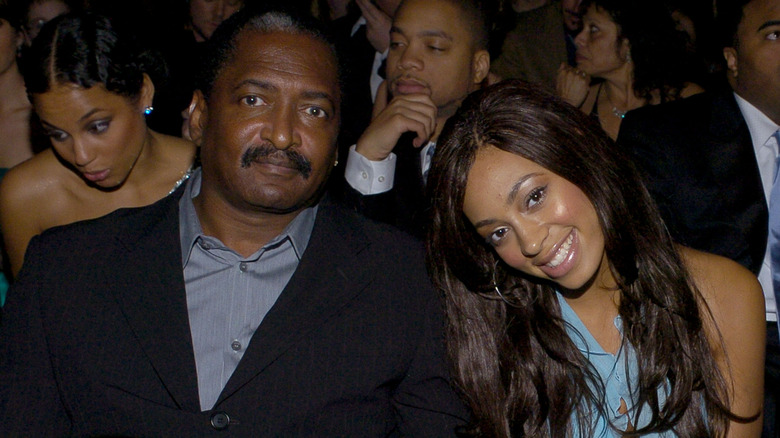 L. Cohen/Getty Images
Fans of Destiny's Child might remember the group going through plenty of lineup changes during its time. During its peak, members were replaced left and right, and lawsuits were filed against manager Mathew Knowles who was accused of showing favoritism towards his daughter, Beyoncé. What some Destiny's Child fans might not know is that the other Knowles daughter was supposed to be a member of the group.
In 2022, Knowles took to his Instagram and revealed that during the lineup changes, he once had plans for Solange to join the chart-topping group alongside Beyoncé. "Many of you aren't aware, but I personally wanted Solange to be in Destiny's Child," he wrote. "That didn't appeal to her. You would think joining Destiny's Child would be a dream to her, and she had every opportunity to seize the success that the group was experiencing — but she wanted to forge her very own path." 
Despite the incredible opportunity to perform with her sister and her own father pushing her to join the group, Solange doubled down on her decision and chose a solo career instead. Knowles respected her decision and helped manage Solange's solo career in the early days. "I never forced my kids to do ever do anything they didn't want to do," Mathew told VladTV in 2019. "So I supported that [decision] which is why her first album was named Solo Star."
They dropped debut albums just months apart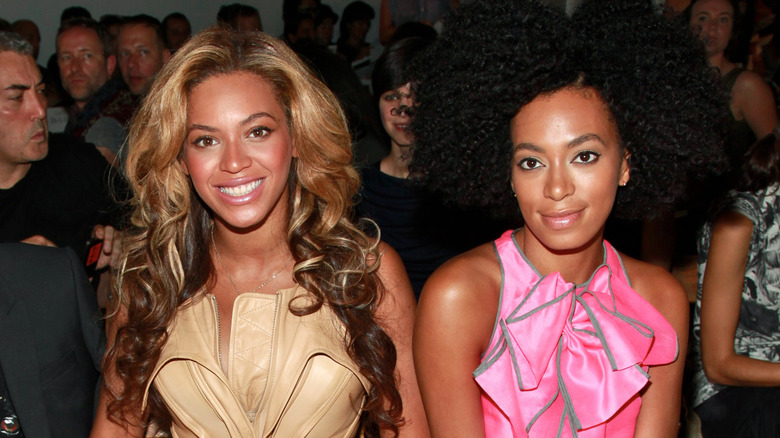 Charles Eshelman/Getty Images
2003 was a big year for Beyoncé and Solange Knowles. Towards the end of 2002, Solange released her debut album, "Solo Star," and hoped to make a name for herself in music. Despite help from big-time producers like Timbaland and Pharrell, the album failed to make it on the Billboard Hot 100 and sold only 112,000 copies. The lack of promotion didn't help and it fell off the charts in five weeks.
According to Solange, she had disputes with her label over her sound which left her struggling to promote the work on her own. "I didn't care. I didn't need the money," she admitted to ES Magazine. "It wasn't very successful." Around the time of her debut release, Solange turned down what could have been a lucrative project for her. According to the executive producer of "The Cheetah Girls," Solange was supposed to be in the project but dropped out to focus on her debut album.
Months after Solange's debut, Beyoncé briefly stepped away from Destiny's Child and laid the groundwork for her solo career. She released her solo debut, "Dangerously in Love," which climbed to the top of the charts with the help of her smash hit, "Crazy in Love," with Jay-Z. The album sold 317,000 copies in its first week, proving what it means to truly be the "Beyoncé of a group".
Solange became a young mother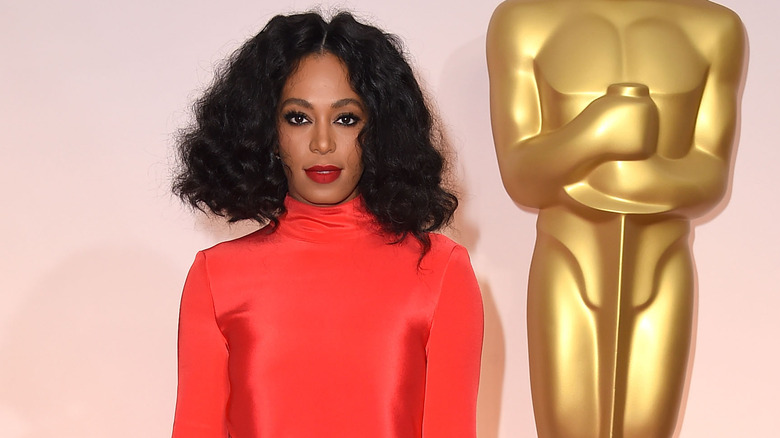 Steve Granitz/Getty Images
In 2004, Solange Knowles' life changed forever when she discovered she was pregnant at 17 years old. At the time she was dating her boyfriend of five years, Daniel Smith. The two quickly got married, much to her parent's dismay. "[They] were alarmed and frightened that their 17-year-old daughter wanted to get married and have a kid, but I'd been working since I was 13," Solange explained to ES Magazine.
According to Solange, once the initial shock wore off her parents were supportive of her. After welcoming a son named Daniel Julez Smith Jr, Solange and her husband moved to Idaho while he played football in college. She settled into a quiet life as a wife and a new mom — a life much different than recording music and touring the world.
That quiet suburban life didn't last very long. She ended up divorcing her husband in 2006 and used her new experiences as fuel for songwriting. ​​"I got married young, I had a child very young, and once I had my son that was my entire existence," Solange explained to Loud and Quiet. "I moved to the country and had that whole romanticized life, for a while, but I think I had to go through that in order to grow as an artist." Two years later she recorded and released her sophomore record, "Sol-Angel and the Hadley St. Dreams". It sold 46,000 copies in its first week and debuted at #9 on the charts.
Solange co-wrote songs for her big sister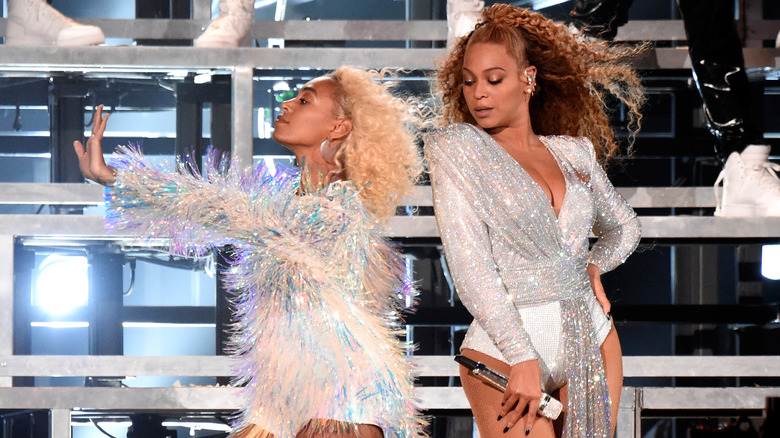 Kevin Mazur/Getty Images
Fans of Beyoncé and Solange Knowles have always wanted a record with the two of them singing on it. Unfortunately for those fans, the sisters have only gifted us with two duets. In 2001, Solange, alongside Destiny's Child, provided vocals for "The Proud Family" theme song. The classic tune had the two sisters singing about having love and loyalty for their family. A pretty fitting theme, right? 
On the 2006 re-release of her debut album, Solange included her big sister on the song, "Naive". The obscure track doesn't have a music video and the two have never performed it live together or acknowledged its existence. Despite dropping plenty of albums since then, fans have yet to hear them harmonizing again. According to Beyoncé, her younger sister is to blame. "My sister will not record with me," Beyoncé told The New York Times in 2012. "She's her own woman."
Even though they haven't sung together on a track since 2001, the two sisters have collaborated on a few hits. Solange wrote the retro R&B record, "Why Don't You Love Me," which appeared on Beyoncé's 2011 "I Am...Sasha Fierce" album. She also has songwriting credits on Beyoncé's classic "Get Me Bodied" club anthem which features on her 2006 "B'Day" album. Solange even made an appearance in the music video with Kelly Rowland and Michelle Williams.
They've defended each other against comparisons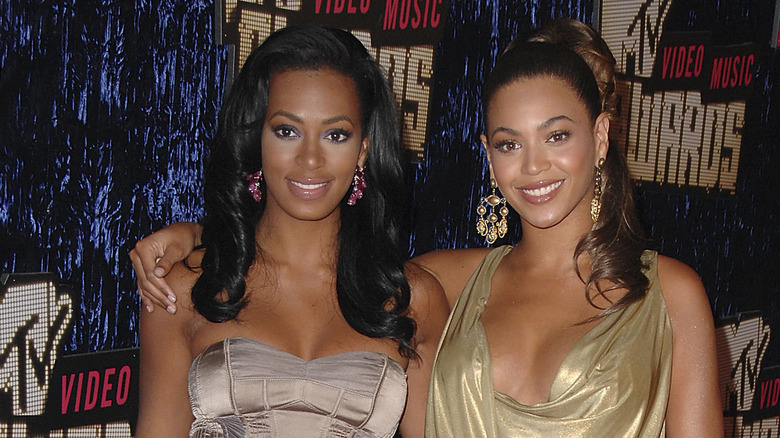 Steve Granitz/Getty Images
As the lead singer of Destiny's Child, Beyoncé Knowles has always taken center stage. During their peak, fans and critics recognized her extraordinary talent in singing and dancing. However, that meant they frequently compared her bandmates to her — especially after she went saw plenty of success as a solo artist. Solange faced the same fate as she ventured out into music. Despite adopting a different musical sound and personal style, fans couldn't help but compare the two sisters and pit them against each other. 
Solange has never been shy about how she loathes the comparisons. In 2009, the "Losing You" singer checked fans who shade her big sis in an attempt to uplift her. "Don't try to love me becuz [sic] u want 2 be the "anti Beyoncé". I am the "all for" Beyoncé. Now kiss both of our Knowles asses if u don't like it," she tweeted (Via Metro). Beyoncé also has not found any flattery in the shade towards her sister. 
The singer made her feelings known to hip hop artist Fabolous, after he rapped, "Only if you gold, I never do the bronze, 'Cause if you could have Beyoncé would you take Solange?' on a track titled "For The Money". During an interview on The Breakfast Club, the rapper recalled Beyoncé reprimanding him at a party. "I ain't gonna share the exact conversation, but she told me, '[These are] people. Saying something like that can personally hurt her.' And I said, 'You know what? I get it,'" he shared.
The infamous elevator incident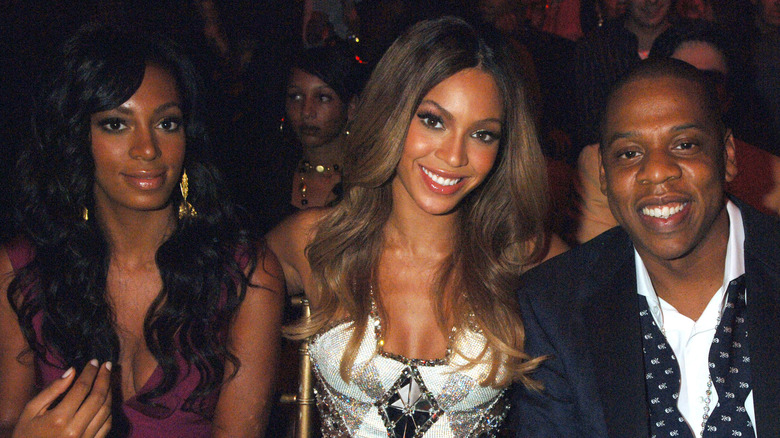 Jeff Kravitz/Getty Images
In 2014, the world stopped and watched security footage in awe. This silent video would not only change our view on Beyoncé and Jay-Z's marriage, but it would also spark three incredible albums. The shocking video showed Beyoncé, Solange, and Jay-Z in an elevator following that year's Met Gala. As the trio and their bodyguard entered the elevator, Solange launched a physical attack on Jay-z who attempted to block the blows (and kicks) by his enraged sister-in-law. As she repeatedly lunged at the rapper, Beyoncé stood in the corner seemingly unfazed. 
As the trio left the event, cameras caught a shot of an angry Solange, a sheepish Jay-Z, and a smirking Beyoncé leaving separately. Beyoncé opted to leave in a car with her sister while her husband was stuck in a vehicle on his own. Rumors circulated that the drama was sparked by Jay-z flirting with Rachel Roy at the event. "Jay said something inappropriate to Beyoncé and Solange, and she snapped," a source told People. "When they got in the elevator, it escalated quickly the way family tensions can. It got exceptionally heated the way family moments can." 
In an effort to shut down speculation of a family feud, the trio later posed for family photos and appeared to be all smiles. On his 2017 album, "4:44," Beyoncé's husband admitted to past infidelities and acknowledged the infamous moment. The rapper even admitted to "egging on" Solange, per USA Today.
They babysit for each other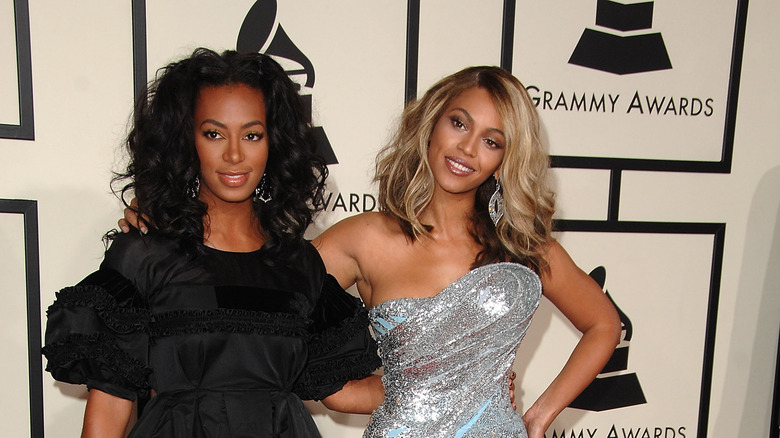 Steve Granitz/Getty Images
Beyoncé and Solange Knowles don't just share a love for music with one another. The two sisters share the joy of motherhood. After Solange became a mother in 2004, Beyoncé took on auntie duties. She was frequently seen taking her nephew on trips to Disneyland and Jay-Z even brought him on stage at the Grammys. When it was Beyoncé's turn to enter motherhood, Solange was more than happy to babysit her niece, Blue Ivy Carter. 
In a 2012 interview with Vulture, Solange shared how the special arrangement she has with her sister. ​​"Blue comes over, I babysit," said Solange. "[Beyoncé] takes Julez sometimes for the weekend. [Blue] and Julez are going to grow up more like sister and brother than cousins." Solange's free spirit may have rubbed off while babysitting because Beyoncé's firstborn has shown similar traits to her famous aunt. On her third birthday, Solange posted a special message to her niece. "My twin, my fellow sassy pants," she wrote (via E! Online). "My dancing partner, my incredibly smart, beautiful, niece-y-poo, turns 3 today! I love her so much." 
Tina Knowles-Lawson also sees similarities between Blue Ivy and her daughter Solange. She shared a video on Instagram of her granddaughter busting a move in a dance class and wrote, "This is Blue but I swear it looks like Solange dancing at this age." And just like her aunt Solange, Blue Ivy's days as a performer started as her mother's backup dancer.
They both skipped their father's wedding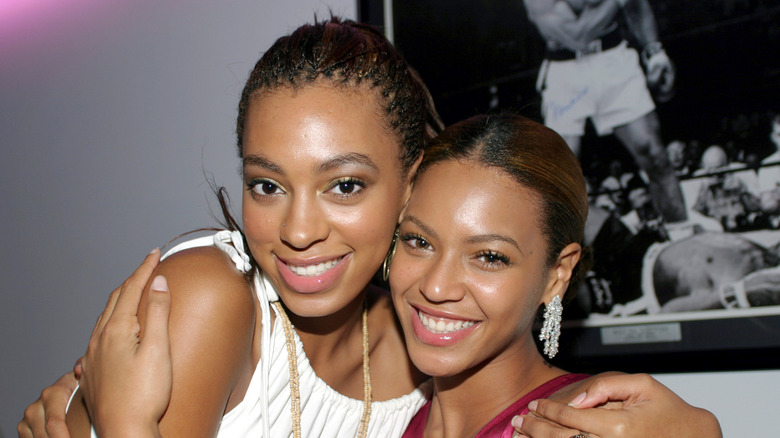 Johnny Nunez/Getty Images
Despite successfully raising two talented daughters, Tina and Mathew Knowles' 33-year-long marriage fell apart in 2009, and Tina filed for divorce two months after her husband was hit with a paternity lawsuit. Tina called it quits after it became apparent that Mathew had not only been unfaithful but fathered a child outside of the marriage. The parents remained amicable in public but it was clear that Mathew's alleged infidelity and multiple messy paternity lawsuits left a strain on the family. During that difficult time, Tina's daughters rallied around her.
During an interview on "Girlfriends Check In," the famous mom shared how her daughters spent quality time with her to keep her spirits lifted. "They came over and looked at old movies with me," she said. "We ate ice cream all night. They let me feel sorry for a short period of time, and then they were like, 'Momma, you a bad girl.'" Tina explained that her daughters reminded her that she had a bright future ahead of her — and her daughters knew best. Tina soon found love again and got remarried in 2015 to actor Richard Lawson.
However, when their father got remarried in 2013, Beyoncé and Solange were nowhere to be found at the ceremony. The two skipped out on the wedding which many speculated was due to tension with their father. However, Mathew shared with US Weekly that it was simply a scheduling conflict: "Unfortunately, Beyoncé and Solange had previous engagements which made it impossible for them to attend."
The two sisters are still supportive of each other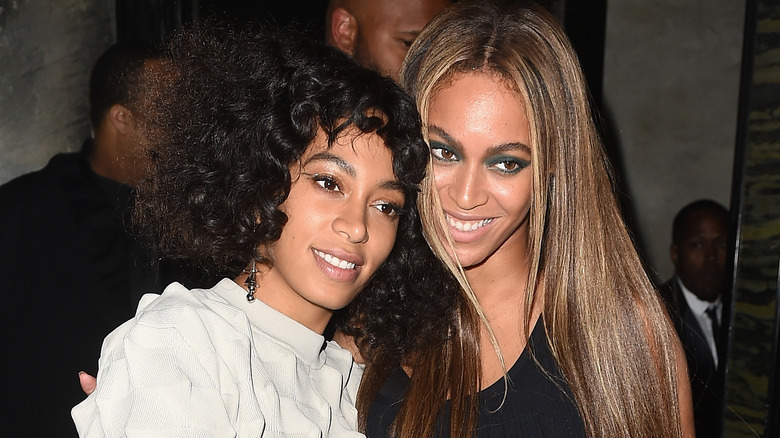 Nicholas Hunt/Getty Images
Beyoncé and Solange Knowles spent the majority of their childhoods working to be the stars they are today, and now, they are respected artists and cultural icons. Separately they have conquered music, fashion, and film and the trailblazing sisters are still breaking new ground and have supported each other every step of the way. In 2022, Solange became the second Black woman to compose a score for the New York City Ballet's annual Fall Fashion Gala. 
On the historic night, her family came out to support her. Beyoncé and her mother were in the audience to cheer her on. Following the event, Beyoncé gave a shoutout on Instagram to her little sis and celebrated her accomplishment. "My beloved sister, there are no words to express the pride and admiration I have for you. You are a visionary and one of one," she captioned the photos of her sister. "Might I suggest you don't f*** with my sis," she concluded. 
Beyoncé also gave a shoutout to Solange on The Queens remix of "Break My Soul." She namedropped her little sister alongside other queens who inspired her. Beyoncé and Solange prove that two queens don't compete, they cheer each other on.