How Many Kids Does Tristian Thompson Have?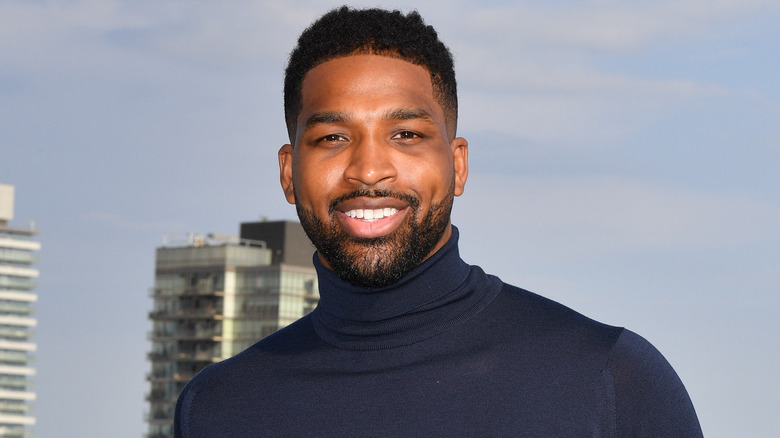 George Pimentel/Getty Images
Tristan Thompson became known to fans as an NBA star who played for the Cleveland Cavaliers from 2011 until 2020, even winning a championship alongside LeBron James, Kevin Love, and Kyrie Irving in 2016. However, it wasn't until he began dating reality star Khloe Kardashian that he really became a household name. These days, Thompson is known not only for his basketball skills and relationship history but also for fathering four children — Prince, True, Theo, and Tatum — which got him into some scandalous situations.
Thompson and Kardashian began dating in 2016 and their relationship moved quickly. The pair appeared on Kardashian's reality TV series at the time and were discussing starting a family together. "He wants to have, like, five or six kids with me, and that's lovely," Kardashian said during an episode of "Keeping Up With The Kardashians." "We could start at one and then grow from there. But now, knowing I'm on birth control, it's really scary. It's like a really big step," she added.
Of course, Thompson and Kardashian did go on to have a family, eventually welcoming two children together. However, both of their children's births were surrounded by drama due to Thompson's infidelity.
Tristan Thompson has a son and daughter with the reality TV star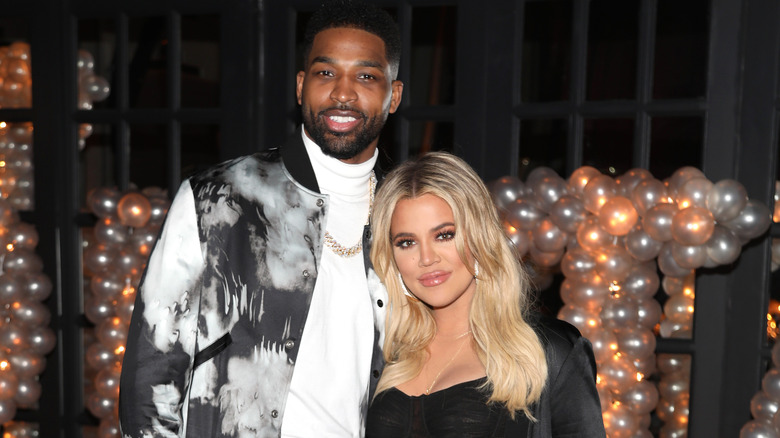 Jerritt Clark/Getty Images
Tristan Thompson and Khloe Kardashian welcomed their first child together, daughter True Thompson, in 2018. Kardashian gave birth to the baby girl in Cleveland, Ohio, and the birth was captured by reality TV cameras. Sadly, it wasn't the most magic of times for Kardashian, as a few days before she went into labor, Thompson had been busted cheating on his pregnant girlfriend, creating a media firestorm surrounding True's entrance into the world. Despite the relationship drama, Thompson and Kardashian tried to make things work. "True-ly Perfect. Man time goes by soo fast but I'm loving every minute of it," the NBA player captioned an Instagram post on True's first birthday.
After many relationship ups and downs, Kardashian and Thompson opted to have another child together and used a surrogate to conceive their second baby, son Tatum Thompson, who was born in August 2022. However, the birth of their son was also cloaked in drama. Shortly after celebrating Tatum's conception, Thompson shocked Kardashian and fans when it was revealed that he had been unfaithful once again, this time fathering another child outside of his relationship with his longtime love.
After Tatum's birth, Thompson credited the little boy for helping him start a new chapter. "You are a reminder of what life represents to me," Thompson said of baby Tatum on his first birthday. "The mistakes along the way are lessons not failures. There is no expiration date to reinventing yourself," he added.
The basketball star has two other sons with different women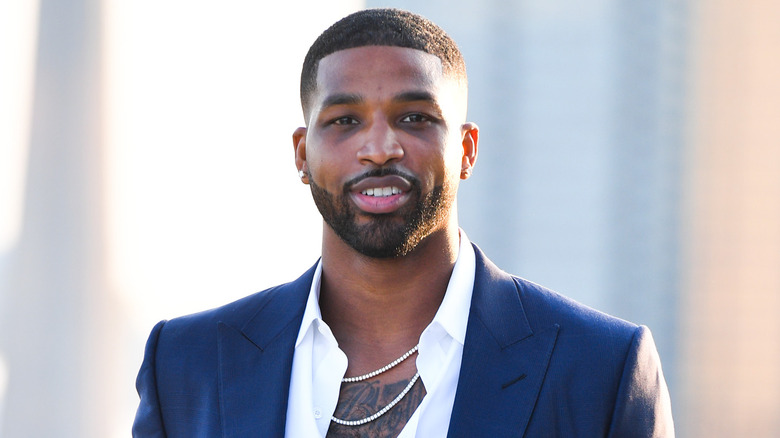 George Pimentel/Getty Images
In addition to the two children that Tristan Thompson shares with Khloe Kardashian, he is also the father of two other sons. Thompson's oldest child, Prince Oliver Thompson, was born in 2016 after he and Prince's mother, Jordan Craig, had split, per Us Weekly. In 2019, Thompson and Craig found themselves in a dispute over child support before agreeing that Thompson would pay $40,000 a month to help support Prince. In 2020, Thompson shared a sweet photo of himself with his oldest child in honor of his birthday. "I'm soo lucky to have you as a son," he wrote via Instagram."Your heart and soul is pure gold," he added.
Thompson's third child is son Theo Thompson. He was born in December 2021 just after Kardashian and Thompson found out their surrogate was expecting their child. Theo's mother, Maralee Nichols filed a paternity suit against Thompson before her son's birth. DNA test results later confirmed that Thompson was the father. He later issued a statement saying, "I take full responsibility for my actions. Now that paternity has been established, I look forward to amicably raising our son," he said (via People).
Although Thompson has proven to have relationships with Prince, True, and Tatum, the same may not be true for his son Theo. According to Page Six, Thompson pays child support for Theo but allegedly has no relationship with the little boy.