Denise Richards Kept Her Daughters' Romantic Lives In Mind When She Divorced Charlie Sheen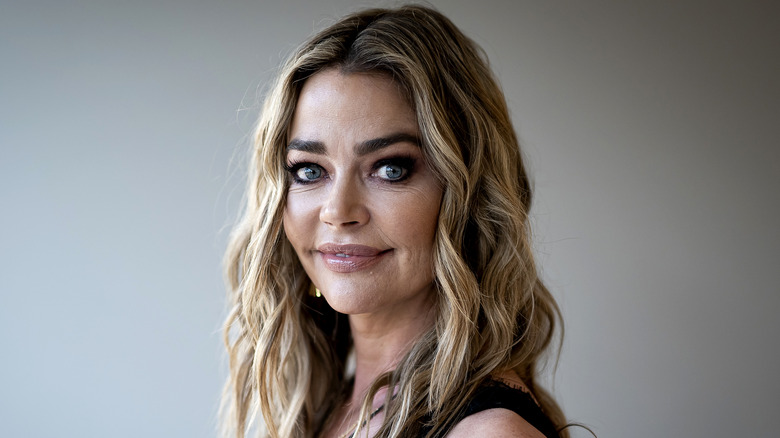 Samuel De Roman/Getty Images
Denise Richards and Charlie Sheen's divorce and marriage once made them one of Hollywood's most talked-about couples. The pair started dating after Richards guest-starred on Sheen's TV series "Spin City" in 2001, and Richards later revealed to People that she knew almost instantly that Sheen was her future husband. The pair found themselves engaged just three months later and walked down the aisle in June 2002. The pair went on to welcome their first daughter Sam in 2004. Months later, they announced their second pregnancy.
Things took a dramatic turn when Richards filed for divorce while six months pregnant with their second daughter, Lola. Eventually, the "Wild Things" star went on to admit that she ultimately chose to end her marriage to protect her girls, telling the "Divorced Not Dead" podcast that she wouldn't want her daughters to marry someone like Sheen and knew she needed to think of their future romantic encounters and set an example.
The couple's divorce dragged out after trying to reconcile and then attempting to settle their divorce privately. Sheen and Richards then went on to disagree about custody of their daughters, with Richards claiming that her former spouse exhibited "inappropriate behavior" due to "his attraction to underage women and his sexual explicitness on the internet," per legal documents obtained by Access Hollywood. However, through it all, Richards remained adamant about keeping her daughters sheltered from the volatile nature of her relationship with Sheen.
Denise Richards got real about her decision to divorce Charlie Sheen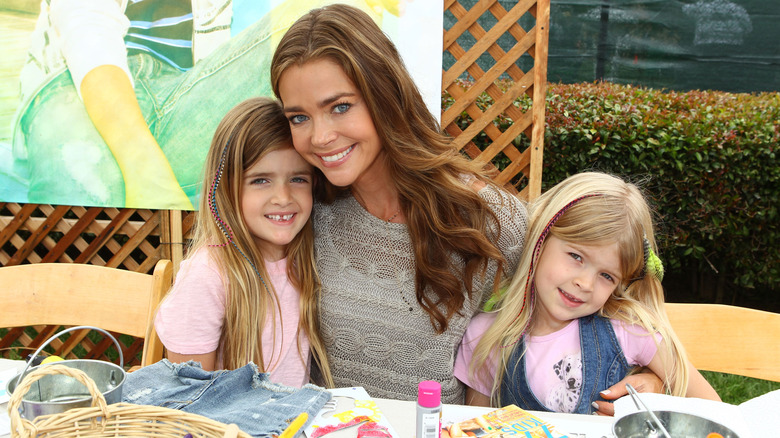 Alexandra Wyman/Getty Images
During the interview with Caroline Stanbury on the "Divorced Not Dead" podcast, the tragic details of Denise Richards' decision to divorce Charlie Sheen were revealed. Richards confessed that things behind closed doors weren't good between her and Sheen and that she tried to shield her daughters from the drama as best as she could during that tumultuous time in her life. Finally, when contemplating filing for divorce, Richards thought of her girls, and what she would want for them if they were in a similar situation.
"I said to myself, would I want my daughters to be married to this man? No offense to him, but it's true," Richards said of Sheen. "I think he would take that — he would understand what I'm saying. That's when I was like, 'Well, why am I accepting this?'"
Years later, Richards spoke out about the divorce again during an episode of "The Real Housewives of Beverly Hills," telling her husband Aaron Phypers that she still looks back with uncertainty about how she handled her split from Sheen. "I just feel like I f***ed up a lot with their dad. I don't want them to look back at their childhood and remember [arguments]," she said.
Denise Richards is still supportive of Charlie Sheen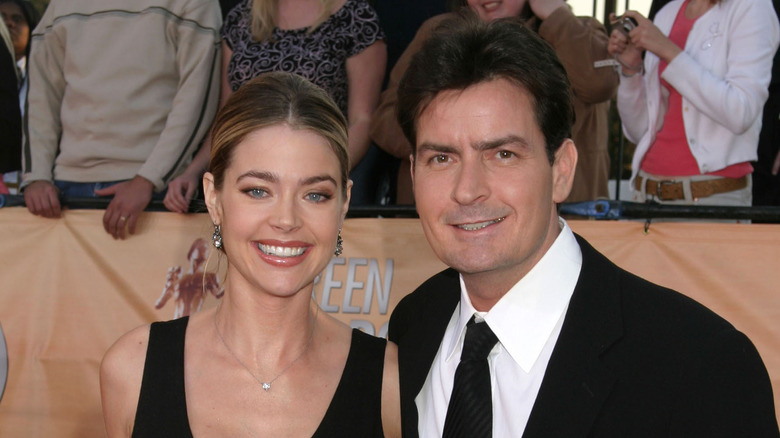 Kathy Hutchins/Shutterstock
Although Denise Richards and Charlie Sheen may have had a messy split, the couple still continue to support one another and co-parent their children. In 2013, when Sheen and his ex-wife Brooke Mueller had social workers at their home for behavior concerns, Richards stepped up and offered to take the couple's then 4-year-old twin boys Max and Bob. "It was a real mess," one source told People. The arrangement was made in order to give the boys some stability while their parents worked on their health and other issues. The situation gave the twins someone to look out for them while they got to spend more time with their older sisters.
In her interview with the "Divorced Not Dead" podcast, Richards spoke respectfully of Sheen, revealing that she'll always support and help him in any way possible due to their connection as co-parents. "To this day, Charlie does know he can call me at any time, no matter what," the actor said. Despite ending her marriage to Sheen for the sake of her daughters, Richards says she only wants the best for her former husband. "I don't care what he says or does, I will show up and be there because I always wanted him — and still do — to be the best dad for our daughters," she added.