What To Know About Christina Applegate's Daughter, Sadie Grace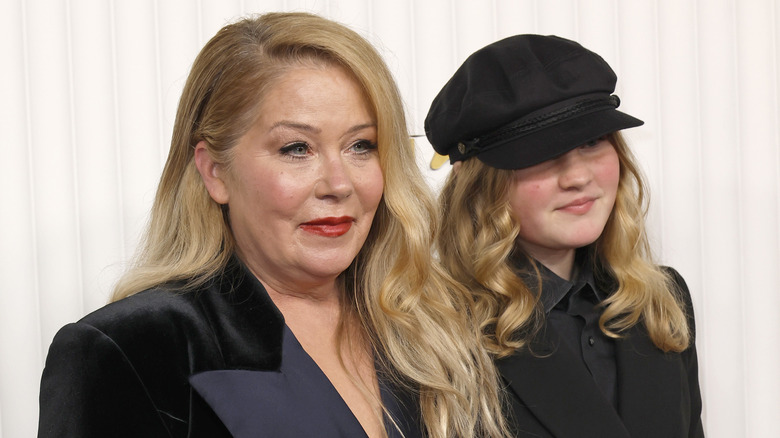 Frazer Harrison/Getty Images
Christina Applegate may have starred in "Bad Moms," but that title couldn't be further from the truth. She and her husband, Martyn LeNoble, share daughter, Sadie Grace LeNoble, who is reportedly the apple of Applegate's eye. Puns aside, the actor gushed to People after her daughter was born in Los Angeles in 2011, "I love my kid ... more than I've ever known [is] possible. Like, humanly possible. It's a spiritual thing ... I really love her." And she has proved that statement true, putting Sadie first despite her flourishing career and Applegate's health struggles.
Sadie has also played a profound role in both Applegate's career and health. After her birth, Applegate told Ellen on "The Ellen DeGeneres Show" that her new baby had healed her past relationship with her body, something she struggled to accept after a double mastectomy in 2008. She told the host, "I dropped my gown, which I don't do, this part of my body [her chest] is very private to me [...] That's a real private place. A place that I don't have a good relationship with, let's say. But at that moment of pulling her out, I just tore that [gown] off."
Sadie also impacted her mother's career as Applegate and LeNoble frequently brought the youngster on set. Both had parts on the NBC program "Up All Night," Applegate as an actor and LeNoble as the musical composer. So, Sadie went with the couple to work. At one point, she even influenced the script when Applegate told the director details about how her birth really went down, which were later included in the show.
It seems like Sadie is on the same path as her mother
Maybe it has something to do with being on set as an infant, but Sadie Grace LeNoble seems to be on the same career path as her mother, Christina Applegate. At first, the actor admitted that her daughter didn't realize her mom's job wasn't like everybody else's. In fact, a seven-year-old school friend reportedly clued LeNoble in on her mom's Hollywood status.
Applegate told her daughter, "It's not bad," that she's in the spotlight all the time, but she won't allow LeNoble to become an actor until she is 18. In a 2018 interview with People, Applegate divulged that her pride and joy is "entertaining," and that boasts musical and comedy talents as well as a propensity for accents. However, the "Bad Moms" star has a strict rule that though LeNoble can study acting before age 18, she can't actually get a gig before that traditional "adult" birthday.
That rule hasn't stopped LeNoble from becoming a fan of movies. In fact, the "Dead to Me" star revealed to E! News at the 2020 Golden Globes that her daughter is a big fan of Disney's "Descendants," and she wanted a "Descendants 3" party. More specifically, LeNoble wanted "Sofia Carson to be there," and Applegate used the Hollywood event to find the actor who plays Evie and chat with her about attending her daughter's birthday bash. 
The two could be twins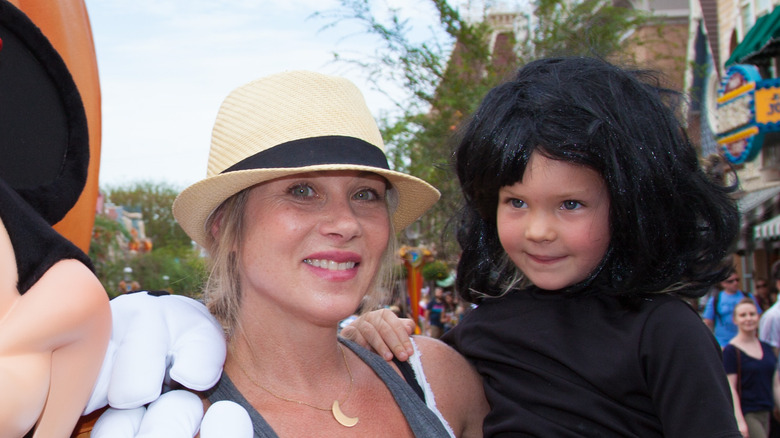 Handout/Getty Images
As Sadie Grace LeNoble approaches her teenage years, more commonalities than just career aspirations are becoming obvious between her and her mom, Christina Applegate. At the 2023 Screen Actor Guild Awards, LeNoble arrived looking like her mother's twin. Both wore matching, black tailored suits with their blonde locks coiffed in a similar manner. LeNoble was just the support her mother needed, both physically and emotionally, as the celeb has said the award show may be her last as an actor due to Applegate's heartbreaking news about her multiple sclerosis diagnosis. Admitting to the Los Angeles Times, Applegate plans on doing a "ton of voice-overs to make some cash to make sure that my daughter's fed and we're homed."
But if Applegate's adoration for LeNoble's talent is to be believed, then the rising star has a bright future, whether on-screen as an actor or behind the scenes in music like her dad, Martyn LeNoble. Sadie is also taking steps to protect her future health. Applegate notes that she is vegetarian "and practically vegan. That's her choice." (via People). Going on to say that due to her past diagnosis with the BRCA1 gene mutation, it's super important that Sadie keeps up with her healthy lifestyle.
Comically and musically inclined, incredibly supportive of her mother, and all-in for a healthy lifestyle at such a young age — it sure seems like Applegate is doing an incredible job raising Sadie!