Sean Hannity And Ainsley Earhardt Have Quite The Noticeable Age Gap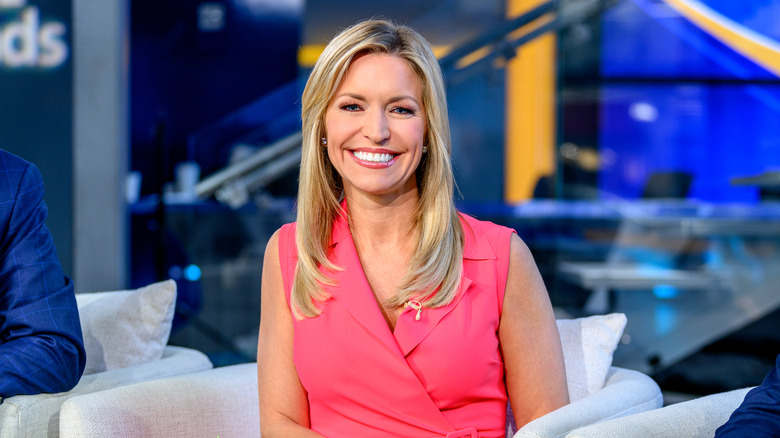 Roy Rochlin/Getty Images
After years of speculation and flirtation, famous Fox News anchors Sean Hannity and Ainsley Earhardt have finally gone public on their relationship. Now that the cat's out of the bag, though, they've opened themselves up to a lot of criticism — namely, their sizeable age gap.
As far as celebrities go, it's not the worst one out there: Hannity is 61, while Earhardt is 46. Dating rumors first started swirling about three years ago, when Earhardt was 43 and Hannity was 58. Considering Leonardo DiCaprio's infamous penchant for dating models half his age, most people have barely batted an eye at the age gap between the TV personalities. Still, it's nothing to scoff at, either, and some people are curious about their relationship's beginnings. Though they seem very happy together, some would argue that by dating a much older man, Earhardt may never join the ranks of news anchors with really gorgeous husbands.
Is their relationship problematic?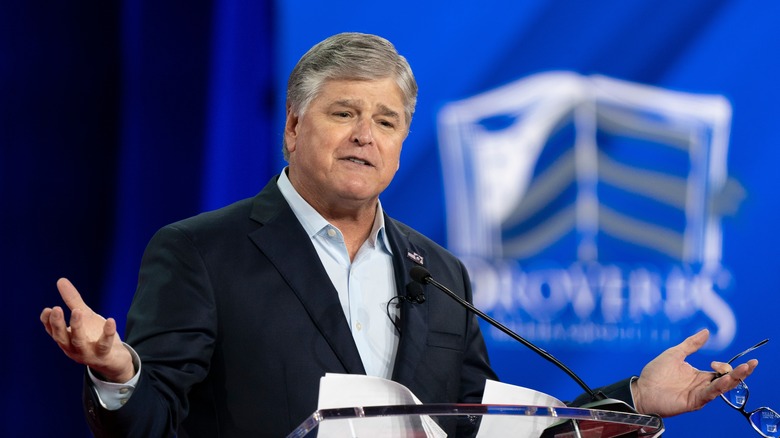 lev radin/Shutterstock
A variety of factors determine whether or not it's possible to manage age gaps in a relationship. One of the biggest is life experiences: If the younger party started dating their older partner as a teenager, there's definitely cause for concern. However, if the two started dating as adults, with commensurate life experiences, the age gap becomes less problematic. Of course, much of this comes down to individual opinions and cultures, but this generally seems to be a good rule of thumb.
When it comes to Sean Hannity and Ainsley Earhardt, their relationship doesn't seem to raise any red flags (as far as age is concerned). Despite their 15-year age gap, they both seem to be in the same stages in their lives. Both Hannity and Earhardt have steady (and quite lucrative) careers at Fox News, children, and a history of long-term relationships. An argument could be made that there was a power imbalance when they first met — Hannity had been working at Fox for over 10 years when Earhardt joined in 2007. However, there's no evidence of a romantic relationship between them at that time. 
Relationship timeline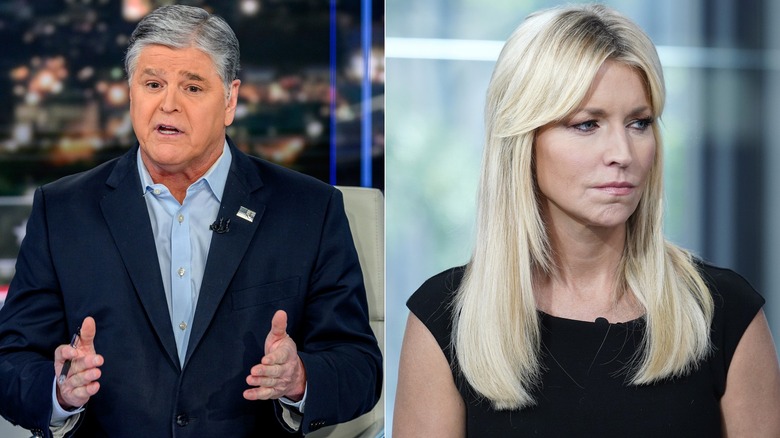 John Lamparski & Roy Rochlin/Getty
After affair rumors rocked Ainsley Earhardt and Will Proctor's marriage, the two called it quits — regardless of the claims' validity. Clearly, Sean Hannity saw an opening, because he and Earhardt were seen cuddling up a little over a year later. According to Entertainment Tonight, Hannity had also left his marriage before dating Earhardt. He and his ex-wife, Jill Rhodes, were together for over 20 years and have two children together.
In 2020, they promptly shut down dating rumors. Earhardt told Business Insider that she was single, and even went so far as to say, "Sean is a wonderful person and whomever he chooses to date will be extremely fortunate." Guess she counts herself lucky. Hannity, on the other hand, was a bit more vague. All he said to the publication was, "I do not discuss my personal life in public." Things change, we suppose.
The funny thing is, the two were closer than ever that year. A source told the Daily Mail that Earhardt was using Hannity's in-house studio to broadcast her show, "Fox & Friends." While they didn't provide any insight into what this spelled for the two's budding relationship, another source weighed in, saying that Earhardt was staying with Hannity in Oyster Bay, Long Island, and that they were "100 percent dating." Whatever the situation was, it worked out for them.
Their first couple photos surfaced in the Daily Mail, in places like South Carolina, Florida, and Oyster Bay. Earhardt brought her daughter, Hayden Proctor, with them on their latest vacation to Florida, where Hannity treated her as his own.