Did Jennifer Lopez Take Ben Affleck's Last Name After Getting Married?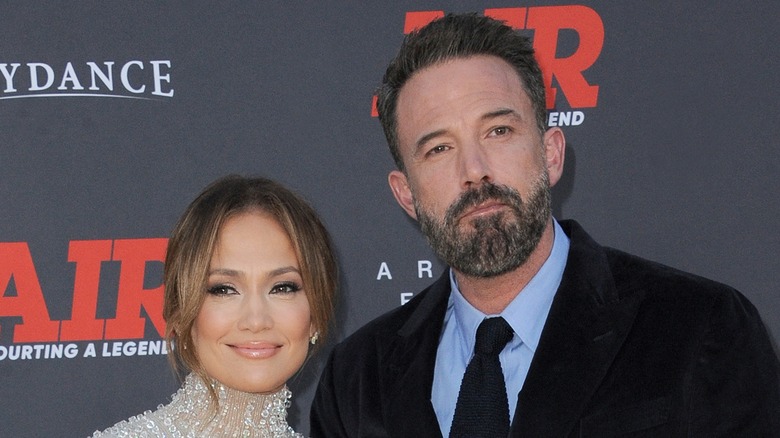 Tinseltown/Shutterstock
Relationships do not get much higher profile than that of Jennifer Lopez and Ben Affleck, also known as Bennifer. Both have been in the spotlight for decades and had long previous relationships with other well-known and beloved stars. Lopez was engaged to Yankees World Series player Alex Rodriguez, and Affleck was married to actress Jennifer Garner for 10 years before splitting in 2015.
What makes Bennifer all the more intriguing is the fact that Lopez and Affleck dated in the early 2000s, even getting engaged before breaking up in 2004. After both became single again, they rekindled their relationship in May 2021. Bennifer finally said "I do" in August 2022. Given that Lopez is a superstar so heavily engrained in global pop culture, changing her name for which she is so well-known for sounds difficult. However, Lopez did decide to take on Affleck's last name after their nuptials — at least for the purposes of legal paperwork.
Jennifer Lopez feels that taking Ben Affleck's last name is 'romantic'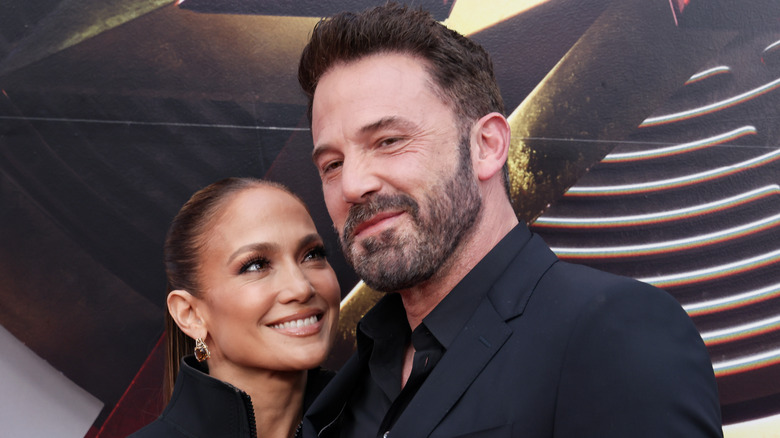 Rodin Eckenroth/Getty Images
In the December 2022 issue of Vogue, Jennifer Lopez explained how she feels about changing her last name since marrying Ben Affleck. "People are still going to call me Jennifer Lopez. But my legal name will be Mrs. Affleck because we're joined together. We're husband and wife. I'm proud of that," she told the publication. Lopez's comments came after the New York Times published opinion pieces on the subject. Some found her decision to be a "troubling reminder of the patriarchy's inescapable persistence." Others chalked the decision up to a newfound happiness after years of enduring failed marriages. 
Lopez was shocked by the mixed reactions. In response to them, the multi-hyphenate stated, "I can understand that people have their feelings about it, and that's okay, too. But if you want to know how I feel about it, I just feel like it's romantic. It still carries tradition and romance to me, and maybe I'm just that kind of girl."
Jennifer Lopez never considered having Ben Affleck take her last name instead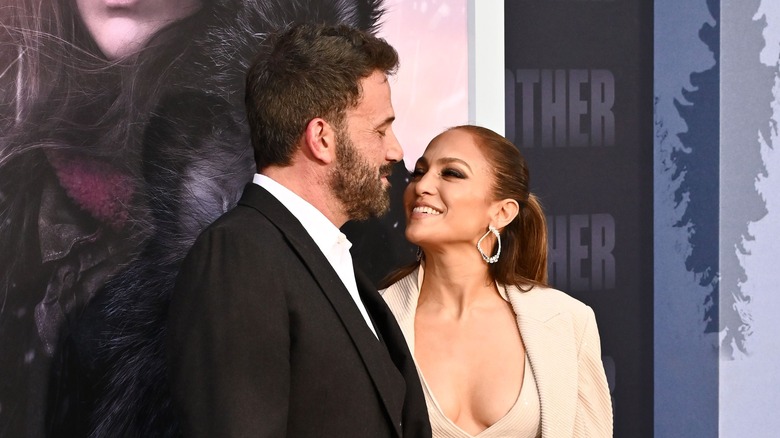 Andrew Toth/Getty Images
Between Jennifer Lopez and Ben Affleck, Lopez is arguably the bigger star in both music and Hollywood. However, Lopez laughed at the idea of Affleck taking her last name instead. "No! It's not traditional. It doesn't have any romance to it. [...] I'm very much in control of my own life and destiny and feel empowered as a woman and as a person," she told Vogue.
In Lopez's explanation as to why she decided to remain traditional and change her last name to Affleck, it is perhaps not so regressive to feminism or gender equality. Her explanation suggests that it was her choice to do so. A woman's right to choose when it comes to multiple aspects of life is a central theme to both of these movements. Choice of last names comes into play with other celebrity couples, such as Alexa and Carlos PenaVega who opted to combine their last names or Priyanka Chopra who added Jonas to her full name after marrying singer Nick Jonas. Even back in the 1970s, John Lennon legally changed his name to John Ono Lennon to reflect his marriage to Yoko Ono. To each their own!