How Chip And Joanna Gaines Successfully Balance Working Together As A Couple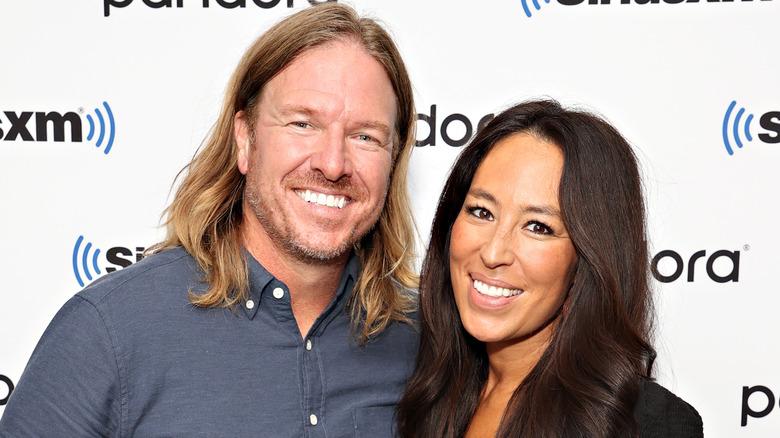 Cindy Ord/Getty Images
House renovations can bring out the worst in even the calmest of couples. From choosing paint colors to designing kitchen layouts, there's a lot to stress over and argue about. However, for Chip and Joanna Gaines, house renovations are an everyday occurrence. The pair, who've been married since 2003, flip houses for a living as the stars of HGTV's reality series "Fixer Upper" and "Fixer Upper: Welcome Home." In both shows, the Gaineses tackle housing projects side by side, all while staying super close and parenting their ever-growing brood (they now have five children). And on top of that, the two also run a booming business, Magnolia, that includes the Magnolia Network, a brick-and-mortar store, a restaurant, books, clothing, and more.
Working together as a couple might not be easy, but Chip and Joanna thrive as a team. As they wrote in their book "The Magnolia Story," "We function better together than we do apart, and I don't think either one of us has ever felt the urge to say, 'I need a break from you.' Don't get me wrong, we've certainly had our share of disappointments and arguments, but we just always wanted to tackle our issues together."
While it's easy to chalk their success up to compatibility, Joanna once told People that the couple were "so opposite" from one another. With a thoughtful approach to marriage, though, the Gaineses have made it work.
Chip and Joanna Gaines are deeply committed to each other
Living, working, and parenting together requires a great deal of commitment, and according to Chip Gaines, he and wife Joanna Gaines are in it for the long haul. He told Access Hollywood, "Our superpower is that Jo and I are not quitters. Throwing in the towel is not something that honestly ever even comes to mind and I would say that it happened pretty early on in our relationship. We just thought that it's interesting that divorce and leaving one another is not really an option for us."
Their committed approach dates back to the first years of their marriage when the newlyweds were still learning how to work together as a professional duo. "In the first months of our marriage, we were always flipping a house," Chip explained to People. "We were working on this little shop. We had babies early in the process. We pretty quickly had to say, 'We're either going to go at each other and blow this thing up, you and I trying to fight each other about every nook and cranny, or we can figure out how to come together as a team.'" The Gaineses chose to stick together, putting love before work, and they never looked back since.
The Gaineses lean on boundaries and respect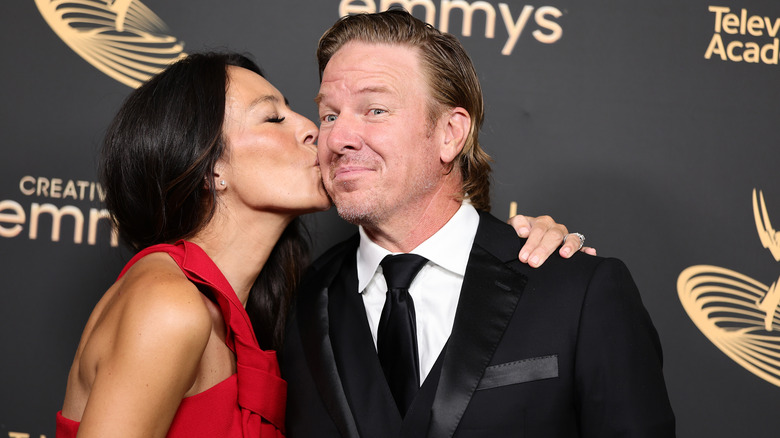 Matt Winkelmeyer/Getty Images
Running a business and starring in a reality show alongside a romantic partner might not work for everyone, as Chip Gaines once told People, but for those who do decide to merge marriage with business, he revealed that boundaries are essential. "[W]hen you decide to go for it, just really weigh on each other's strengths and try not to cross over into each other's lanes," Chip said. "That was one thing that I learned pretty early on is that ... I am a big creative by nature so I was always stepping in [Joanna Gaines'] universe and I was always thankful she wasn't micromanaging my side of the business so it worked, but I would come in and have these bold opinions about everything ... And then after about a year of sort of wrestling with each other like that, I realized A: I wasn't as good at it as I thought I was, so that was a problem, and then B: Why not let her really go for it in her way?"
The ability to recognize that he was overstepping and his willingness to back off and let Joanna approach projects with her own ideas and methodologies not only improved their working relationship but it's been beneficial for their professional lives, as well. After all, respect is an integral part of all kinds of partnerships, and Chip recognizes its value when it comes to his life with Joanna. 
"Solid mutual respect, lots of hard work goes into this, but at the end of the day, I think if you can get to a mutual place of respect, you can really, you know, you can change the world," Chip said in an interview during Inbound 2019.