The Skill Joanna Gaines Passed On To Her Son Crew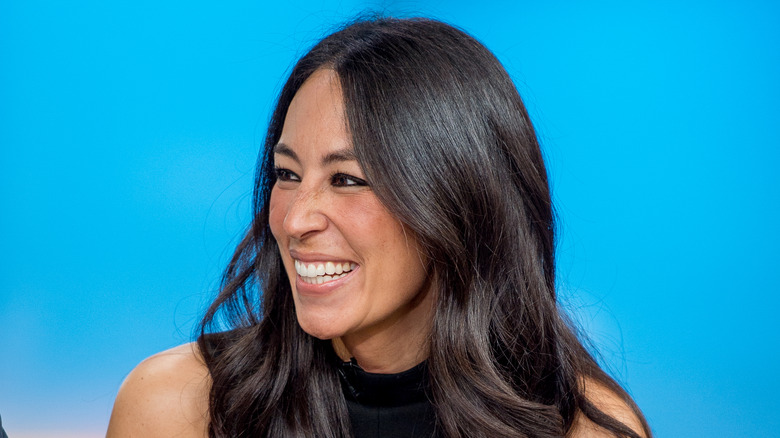 Roy Rochlin/Getty Images
Taking a look inside Joanna Gaines' relationship with Chip Gaines will prove that these two are a real power couple. Their hit Emmy-nominated HGTV show, "Fixer Upper" is their claim to fame and since then they've dabbled in other business endeavors including a coffee shop,  a paint and wallpaper line, their own magazine publication,  and an online shop for decor. The couple has even published nine books, ranging from memoirs to cookbooks. It's wild to think about how much Chip and Joanna Gaines are really worth!
But amidst all of their accomplishments is the most important gift of all: their children. To anyone who follows Joanna and Chip, it's obvious that their kids mean the world to them. Their two girls, Emmie and Ella, and three boys, Crew, Duke, and Drake keep Joanna and Chip pretty busy! Instead of separating work and home life completely, Chip and Joanna are seen on Instagram, allowing their kids to help and be involved with the projects that they're doing and the interests that they have. 
Crew, in particular, has shown interest in some of the things Joanna enjoys.
Joanna and Crew's talent
Followers of Joanna were charmed by her post of her daughter Ella putting together mason jar desserts. Joanna captioned it, "Her new summer business is selling baked goods at the office when she goes to work with me. Tonight we stayed up late and she made Aunt Opal's banana pudding and the chocolate chip cookies from my cookbook. She's going to make a heck of a businesswoman." But it seems like Ella is not the only one who inherited Joanna's sweet tooth and talent in the kitchen.
Like his mother, Crew loves to bake. For the Fourth of July, little Crew baked and decorated cake pops in the traditional holiday colors. The photo looks like it was taken in a community space and the caption reads, "Test Kitchen Camp with Crew." And even outside of a classroom setting, Crew is always spotted in the kitchen. A post from Joanna shows Crew helping her make a meat sauce. It's clear he is having fun and very focused as he tastes the sauce, breaks up the burger, and adds just a dash of salt to the meal.
Scrolling through Joanna's Instagram allows you so many opportunities to look at this kitchen duo making delicious meals and tasty treats. 
Crew's other interests
Cooking in the kitchen and taste testing along the way is not Crew's only interest. He also, like Joanna, loves gardening. Joanna shares this love of his on her Instagram, sharing a post of the two cooks taking off their chef hats to check the garden, she captioned it, "My favorite thing to do when we get home from a trip is check the garden with Crew."
Joanna also shares, "Before the sun sets, he tells his little plants good night and to not let the (bed) bugs bite!" on another Instagram post with Crew going plant to plant in the greenhouse. But, it's clear that Crew has so many interests from this post that's captioned, "He woke up this morning and said he wanted to be a 'tire man' and then he changed his mind and wanted to be a butterfly catcher and that turned into becoming a fire maker. This little guy makes life fun." 
Followers of Joanna can't wait to see what Crew decides he wants to be next!