What Happened To JiggAerobics After Shark Tank?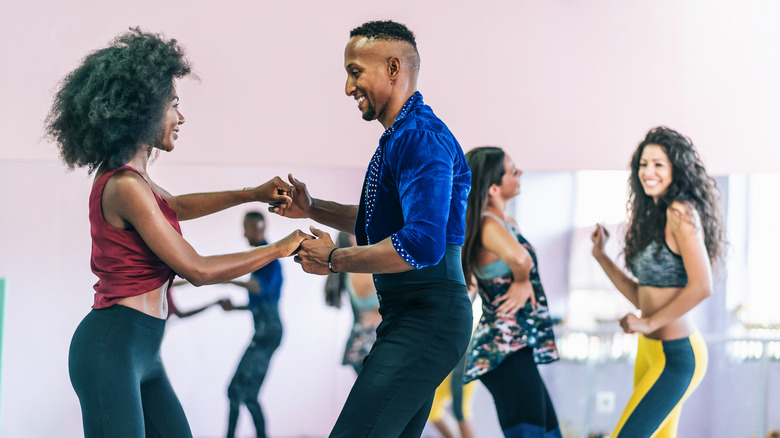 Valentinrussanov/Getty Images
Whether you exercise at home or in the gym, getting bored with your workouts is easy. But one savvy fitness instructor is committed to changing that. Founder Ladonte Lotts brought JiggAerobics to "Shark Tank," even convincing the angel investors during his pitch to get up and "get jiggy" with him. Lotts, who also goes by "Mr. Get Right," appeared on Season 11 of the investment series in 2020.
JiggAerobics aims to fill the gap between fun and fitness, the Baton Rouge native blending his hometown dance "jigging" with plyometrics, a form of conditioning that aims to build muscle power through exercises(via Shark Tank Blog). In 2015, Lotts founded his fitness program to host classes, perform at events, and offer streaming sessions. In his pitch, Lotts explained to the Sharks that he runs his program through a subscription model — wellness buffs can stream online classes for $9.99/month.
Additionally, he travels to provide JiggAerobics sessions, which have proven to be a hit. These "fitness parties" attract clients all over the South, and Lotts hopes to take his workout program to the international stage. This is where he needs the Sharks' help: introducing his unique workout program to the world. It is notoriously difficult for fitness businesses to lure in a Shark. Just take DDP Yoga which, despite the backing of a WWE Legend, still couldn't snag a deal. So, was Lotts successful in securing a partnership with a Shark?
What happened to JiggAerobics on Shark Tank?
Ladonte Lotts certainly came on "Shark Tank" with the right energy. The passionate fitness instructor requested $50,000 in exchange for 12% equity in his company. In addition to expanding JiggAerobics outside of the Southern market, he also wanted to certify more instructors across the country. Lotts explained in his pitch that his classes cost $15 per hour-long workout, and he hosts pop-up sessions at gyms across the country. His team of aerobics aficionados even perform at basketball games and shows, entertaining plenty of crowds.
While the Sharks were taken by his charisma, they failed to understand how their investment would truly help JiggAerobics. Kevin "Mr. Wonderful" O'Leary dropped out first, explaining that JiggAerobics is a personal services business that doesn't need a Shark. Lori Greiner explained that what Lotts is actually selling is himself and that investing in a personal brand isn't for her. While Daymond John said he had experience investing in fitness businesses, their viability just isn't guaranteed — he was out.
Fellow Sharks Mark Cuban and Barbara Corcoran had similar sentiments, telling Lotts that he himself is the business, not just his dance style. They also dropped out, urging him to continue traveling and performing to build up his clientele. Thus, JiggAerobics walked away from the Tank with no deal and many well wishes.
Is JiggAerobics still around after Shark Tank?
It appears that the viral fitness program is still going strong. Despite missing out on a deal and being left to operate during the COVID-19 pandemic, Ladonte Lotts found success with virtual "fitness parties." JiggAerobics also offers its own fitness merchandise, from children's workout products to branded tees. As of May 2022, JiggAerobics has a revenue of under $1 million, reported Shark Tank Blog.
Instead of going global, Lotts has directed his program towards community spaces, traveling to schools and campuses across the country. In 2021, he told Blavity: "[We] utilize our fitness sessions as vehicles to spread 'the cheese' (joy, self-confidence and physical & mental wellness) to every participant we encounter." JiggAerobics hosts "Get Right Sessions" for people of all ages and fitness levels. They offer an at-home 4-week fitness program that is priced at $69. There is also a Physical Education Package for schools and camps that wish to get younger students moving.
JiggAerobics has also created an online community, calling people to "get lit while they get fit" across their social channels. On YouTube, JiggAerobics TV provides free dance cardio resources. They also have nearly 39,000 devoted followers on Instagram, keeping fans updated on sessions near them as they travel across the country. Lotts even posts personal dancing videos on the page, providing a sneak peek into future workout sequences.