Hari Nef: 10 Facts About Barbie's Breakout Star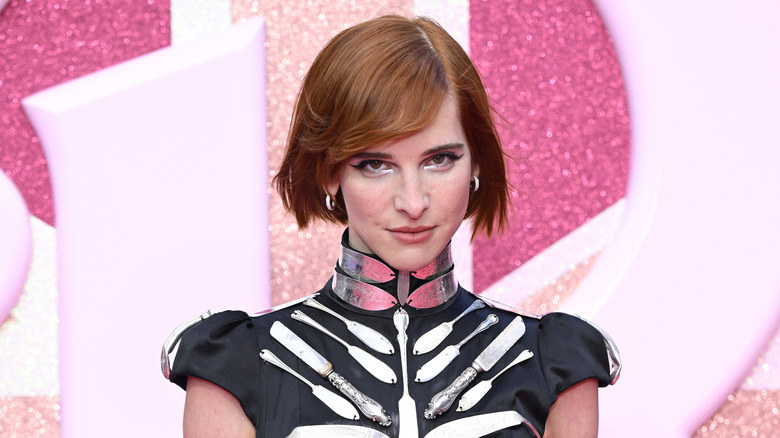 Gareth Cattermole/Getty Images
Hari Nef may not yet be a household name, but millions are now familiar with her face since she starred in the blockbuster hit "Barbie," playing a Barbie who is also a doctor who is also a really cool girl. But Nef is much more than her role as a doll come to life. Fans might also recognize the Columbia grad from HBO's "The Idol," the hit series "Transparent," or the countless campaigns she's appeared in as a sought-after high-fashion model.
Yes, she is a transgender woman, but she'd rather not let that fact define her as a performer. Nef is a modern It-girl, with her immaculate sense of style, her affable sense of humor, and her astute observations on culture. So, who is this cool chick and where did she come from? Here's what you need to know about the breakout star of "Barbie," (and how her amazing Barbie costumes came to be!). 
She was the first transgender woman signed to IMG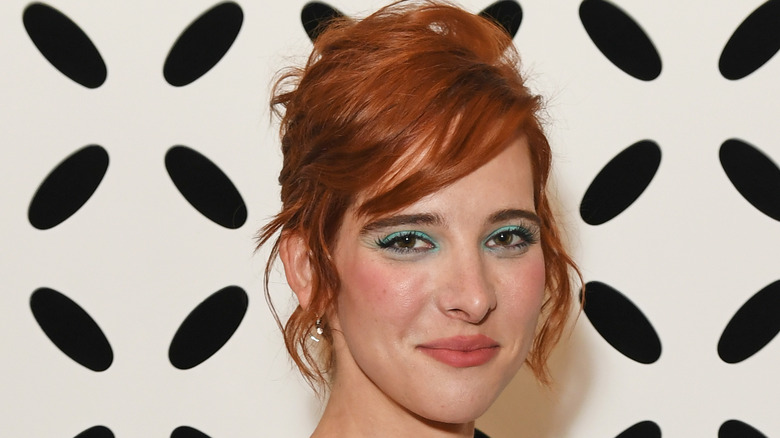 David M. Benett/Getty Images
In 2015, Hari Nef made history when she became the first openly transgender woman to sign with famed modeling agency IMG Worldwide. IMG boasts an impressive roster that has included stars like Gigi Hadid, Gisele Bundchen, and Hailey Bieber. Nef had recently graduated from Columbia University where she studied drama, when she signed with the agency and began her enviable career as a model and actress.
Nef was a sensation as she sashayed the runways for Ekhaus Latta and Hood By Air during New York Fashion Week and starred in campaigns for Selfridges and luxury handbag designer Mansur Gavriel. And that was only the beginning. Nef once again made history when she appeared on the cover of Elle UK in September 2016, as she was the first trans model to do so.
But Nef is more than just a pretty face, and from the start of her career, she's used her platform to speak out about issues facing the trans community. In a 2015 tweet, the model tweeted a succinct yet eye-opening message: "i'm handed opportunities in 2015 as a white trans woman 9 have been slain in the u.s. in 2015 because they were trans women of color," she wrote.
Hari Nef has appeared in many popular series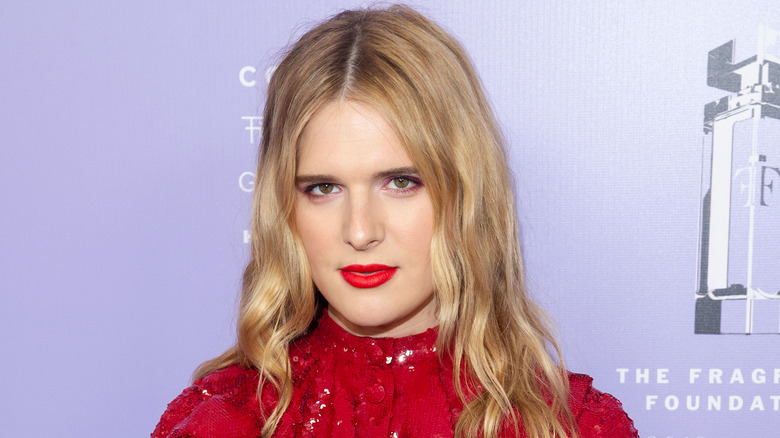 Ovidiu Hrubaru/Shutterstock
Hari Nef's unique look was a hit in the fashion world, and that translated into even more opportunities. Being model-pretty and having a background in drama, it was only a matter of time before Nef made her mark on the acting world as well. In 2018, Nef made her foray into film, starring in the cult hit film "Assassination Nation" as Bex. She also had roles in some pretty big television projects before her turn in "Barbie": Nef appeared in the hit series "Transparent" as Gittel, the fan-favorite Netflix show "You" as Blythe, and HBO's controversial "The Idol" as Talia, among her many other roles. She also guest-starred on the popular "Sex and the City" spin-off "And Just Like That..." 
Nef, who began transitioning as a college student studying drama, has spoken about how her transition affected her craft as an actress. "Finding my new voice and my new body and a new set of roles to play ... felt so much more authentic," she told The New York Times. "I always joke that I'm a better actress than I am a male actor."
She loved a Barbie computer game as a kid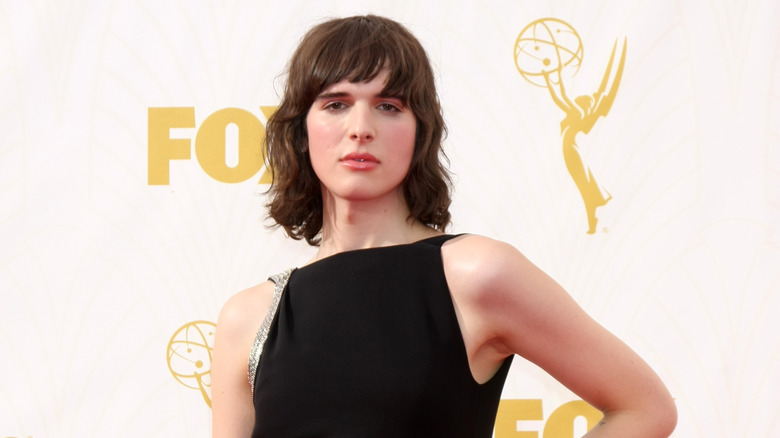 Kathy Hutchins/Shutterstock
Playing a Barbie doll in the movie "Barbie" would likely have been a dream come true for so many actors, especially those who spent their childhood playing with the iconic doll and her plethora of pink accessories. Hari Nef was no exception, although her Barbie of choice was actually in a computer game. "It was Barbie's Magic Hair Styler," she explained to Out. "It was mostly about her face and the glam. You could give her the right hairstyle and the right makeup for an occasion." 
Nef is certainly no stranger to the glam, and the actress also had some insight into why Barbie's Magic Hair Styler was so appealing. She told Out, "I think also maybe the privacy of it, and something about Barbie and technology was really interesting to me at that point." And like many other kids, it seems as though Nef's experience playing with Barbie ended up having a deeper meaning than simply dolling up the iconic toy. "I felt like through Barbie I could explore all kinds of people to be and things to do," she shared.
The actress is super close with Lena Dunham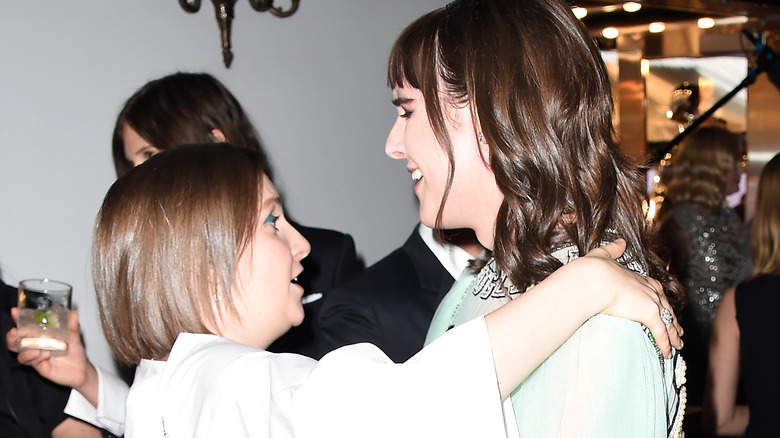 Nicholas Hunt/Getty Images
Hari Nef's star is definitely on the rise, and while working her way to the top she's made close connections and forged some super tight friendships. One of Nef's bffs is Hollywood powerhouse Lena Dunham. Nef and Dunham met when Nef was just beginning her film and TV career, and the two hit it off right away. In fact, Dunham gave the young actress a piece of advice that resonated deeply. "It was really my dear friend Lena Dunham who told me that amidst all of these invitations to collaborate and the phone ringing for you, never lose sight of your own work and what you want to make," Nef shared with Vanity Fair.
Along with being pals, the two talented women have worked together on several projects. Nef and Dunham narrated a mini-documentary for Planned Parenthood, which Dunham co-directed, Dunham directed a music video by Issy Wood that starred Nef, and Nef appeared in the short-lived HBO series "Camping," which was co-created by Dunham.
Nef also told Laura Brown on an episode of "Dirty Laundry" that Dunham had given her a memorable gift with a sweet story behind it. While Dunham was studying theater in high school, an older, cooler girl gave her a little gold ring, and years later Dunham gave it to Nef. "And so ... the cycle of like cool older theater girls is unbroken," Nef shared, adding that it's her lucky ring and she wears it to auditions.
She went through an awkward phase as a child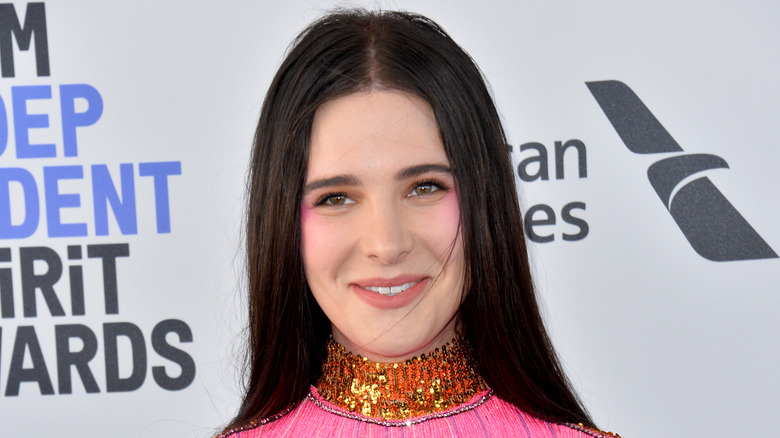 Featureflash Photo Agency/Shutterstock
From strutting the most glamorous runways and her breakout performance in "Barbie," it's hard to imagine Hari Nef as anything but poised and put-together. But the actress admits that she hasn't always possessed the It-girl level coolness we see in her today. Growing up in the affluent city of Newton, Massachusetts, Nef was what she described to Dazed as "weird, chubby, popular and artsy." She also described her high school self as very type-A but with a twist. "I was this overachieving, over-programmed public school student, but I was also a rebellious teenager doing drugs, sneaking off with boys and lying to my mom," she revealed.
One thing is for sure — young Hari Nef was not feeling her suburban life and longed for a more thrilling grown-up world. She's also always loved to party and "Dance the Night" away like a Barbie. "I've been wanting to go to the club since I was like, 8," Nef shared on Max's "Get to Know Me."
Nef had big ideas for her Barbie wardrobe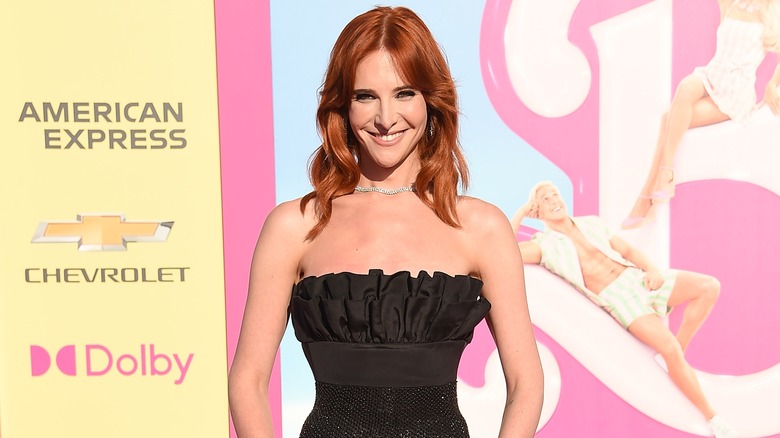 DFree/Shutterstock
For Nef, a seasoned model, it was the fashion aspect of the "Barbie" movie that got her super excited. And though she's not the main Barbie — the role snagged by Margot Robbie, whose Barbie red carpet outfits have left the internet stunned — she plays a Barbie who's a doctor. She told Out of the role, "It's literally the most preposterous, once-in-a-lifetime, exciting, orgasmic opportunity to go all in on this one little thing that I love so much, which is clothes and looks and fashion and the fantasy."
Due to an ultimately fortuitous scheduling conflict, the first person Nef met on the "Barbie" set was not the director, Greta Gerwig, but rather costume designer Jacqueline Durran. The two ended up collaborating on ideas for Nef's Barbie wardrobe, a concept that utterly thrilled the star. She explained, "I told them straight up, 'I want the highest heel every time. I want the waist tiniest every time. I want the biggest hair every time. I want to put big things in my hair.'"
Nef equated her love for all things over-the-top glam with drag as an art form, and she thought of her costuming in the film as something like an homage to drag and ballroom culture. "It felt kind of like a legacy that I could honor onscreen of dolls dolling, dolls dressing up," she said.
She has an eclectic taste in music and movies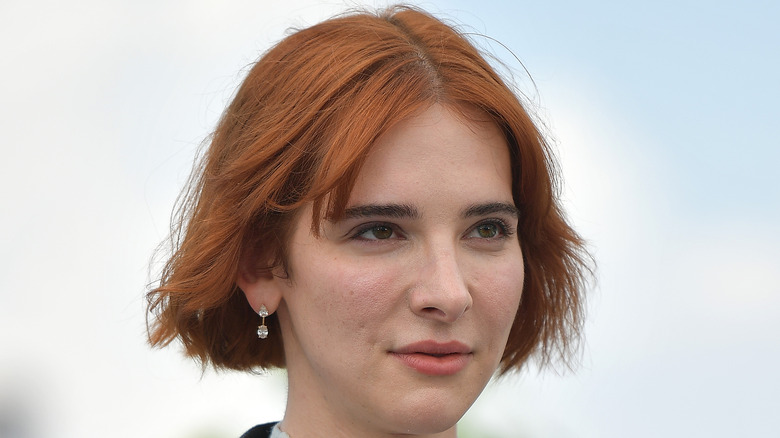 Dominique Charriau/Getty Images
It's been established that Hari Nef has a great sense of style and a love of all things fashion. But does her cool-girl persona extend to her taste in movies and music? It turns out it's kind of a mixed bag, which honestly just makes Nef even cooler to us. When asked on Max's "Get to Know Me" what her comfort movies are, Nef named "The Parent Trap" (the 1998 version starring Lindsay Lohan), "The Devil Wears Prada," and David Lynch's "Mulholland Drive," which the star argued "is kind of the same movie as 'The Parent Trap' if you think about it."
As for music, she's a fan of Courtney Love and Love's band Hole, but her first concert was a little more country and not so much rock 'n' roll. "Shania Twain!" Nef laughed. "In Boston with my mom. She was playing a lot of Shania Twain in the car ... I felt like a woman," Nef said. Currently, she loves the song "Crush," by Ethel Cain, but when it comes time for karaoke, her go-to tunes are Amy Winehouse's "Rehab" and "Picture" by Sheryl Crow and Kid Rock. We love the versatility, Ms. Nef!
Hari Nef is vegan
Kathy Hutchins/Shutterstock
Like many actor-slash-models, Hari Nef sticks to a healthy regimen when it comes to diet and exercise. However, she's wary of the notion of wellness as it pertains to our culture at large. "At my most cynical, I think 'wellness' is a thing that upper-class white women in their 30s invented in order to battle invisible demons that don't exist," she explained to The Cut. Her personal wellness philosophy is simple: "I listen to my body, I listen to my head, and I ask myself what feels good and doesn't feel good." And for Nef, feeling good includes a vegan diet.
While Nef admits her eating habits can seem a bit odd — eating lunch foods for breakfast is one example — creating healthy habits was important to her. "I began eating a vegan diet because I was looking for a productive boundary that I could draw with food," she told The Cut. "My relationship with food in the past has not always been perfect or easy." She emphasized that her veganism is not political and is limited to what she eats. "If I avoid processed foods and stick to veganism the healthy way ... I feel great about nourishing myself. It's just something that works for me," she said.
The actress created a wild backstory for her Barbie character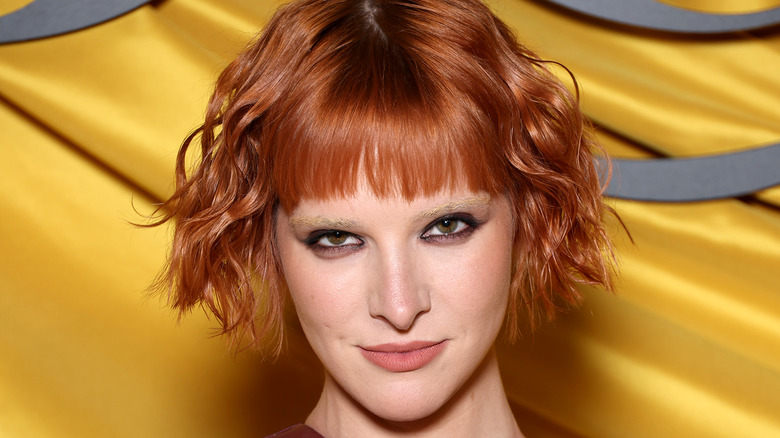 Pascal Le Segretain/Getty Images
Something we love about Hari Nef is her quirky personality. She's creative and extremely intelligent (she graduated from an Ivy League school, after all), and her wit is something she brings to the myriad roles she's played. For instance, she created a very specific backstory for her Barbie role in the "Barbie" movie.
She told Vogue that she'd decided a doll collector owned her Barbie. "A gay man in his 50s who lives in a rent-controlled apartment in the West Village," she elaborated, saying that the costuming of her character had her thinking along these lines. "I was given the most over-the-top, fashion-y, crazy costumes. And I was like, 'This is no child's doll.'" Nef got even more detailed, explaining why her Barbie was more of a collector's item than a toy. "I feel like every week [the doll collector] has his two or three friends over, maybe he's a little lonely, and he shows them my new outfit. And I just kind of stay in my box," she said.
She doesn't want gender to define her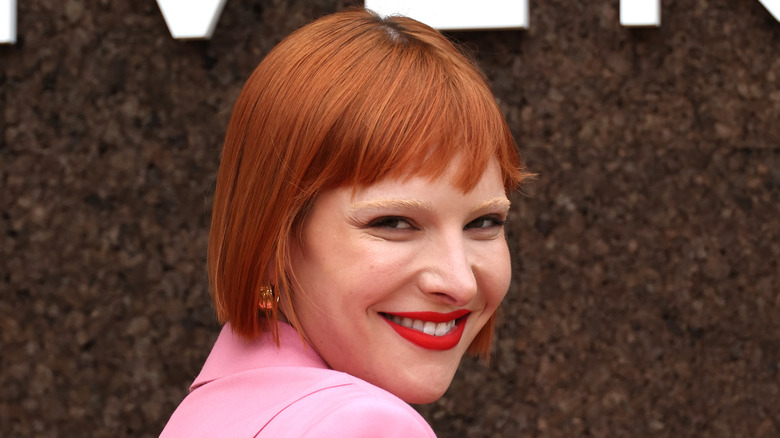 Pascal Le Segretain/Getty Images
Although Hari Nef openly discusses life as a trans woman, she's quick to point out that her gender is one of the least interesting things about her. She told The Guardian, "I think that often my work is obscured by my gender identity. I don't want it to be a big deal ... Identity is a dead end. It's a snoozefest." That's not to say that Nef doesn't advocate for trans rights — opportunities to do so often just landed in her lap. "It was accidental, being an activist," she said. "But I am outspoken. I am not passive [about] the injustice that I've seen." Nef has also expressed her frustration with how she's been referenced in the media. In a 2018 tweet, she chided journalists for calling her a "trans actress" instead of just an actress. 
And, for the record, Nef's casting in "Barbie" had nothing to do with being trans. "David Heyman, the executive producer, told me that when he saw my tape he didn't know I was trans. He just knew that I got the tone of what they were going for," she told Out.
As of 2023, things have been working out in Nef's favor. But what's her advice for others on a similar journey? "The best that we can do as women, as trans women, is be there for each other and take ourselves at face value, without relying on the green light from someone or anyone else."