What We Know About Melanie Lynskey's Relationship With Ex-Husband Jimmi Simpson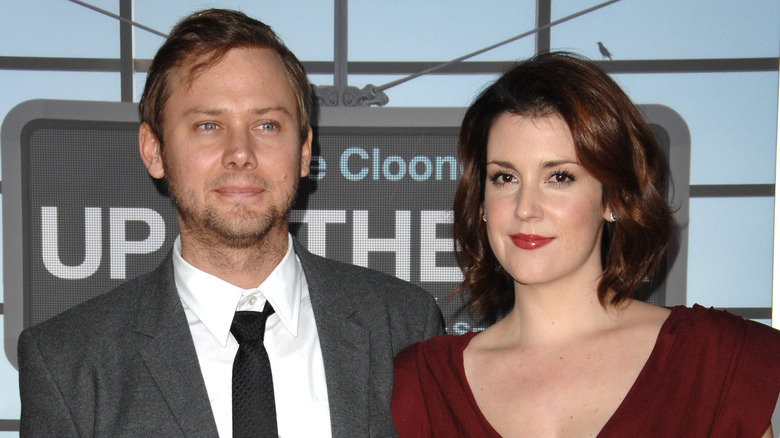 Steve Granitz/Getty Images
Melanie Lynskey and Jimmi Simpson met in 2001 while working on the miniseries, "Rose Red." They dated for six years and then got married in April 2007. However, the celebrity couple faced significant challenges that led to the demise of their marriage after just five years. Lynskey filed for divorce in 2012, citing irreconcilable differences. However, the divorce proceedings went surprisingly smoothly due to the absence of children and the fact that neither party sought spousal support from the other. 
While it seemed like a mutual decision, Simpson admitted it took a toll on him, which even resulted in a six-inch scar. "It happened a few months after a 12-year relationship ended ... I'd been a long-term relationship addict and now I was alone, lost ... I'll be this guy, I thought. I'll attract women with my biceps and my motorcycle," he told Short List. One fateful night, a friend asked for his help and, on the way to their house, Simpson got into an accident riding his motorcycle and was rushed to the hospital. 
He sustained severe injuries to his collarbone but in addition to the physical damage, Simpson was left in a lot of emotional pain as well. The actor felt utterly alone, without anyone to care for him. Thankfully, all is well now between the former couple. Lynskey and Simpson have not allowed their separation to make them bitter toward each other. Instead, they have chosen to maintain a close and respectful relationship after their divorce. 
They've remained friendly towards each other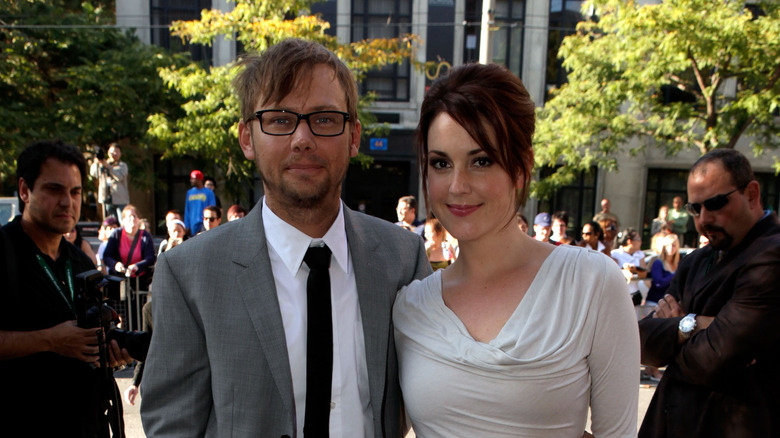 Jeff Vespa/Getty Images
Melanie Lynskey and Jimmi Simpson's friendship after their divorce is a heartwarming example of how love and respect can withstand the trials of a failed romantic relationship. Over the years, the public has frequently witnessed them gushing about each other on their social media accounts. In May 2017, Simpson posted about a few things Lynskey had returned to him from their marital home. In an Instagram post, he wrote, "My dear friend and ex-wife #melanielynskey routinely returns Easter eggs I'd forgotten behind in the funny, little home we shared. Just got a box containing my senior HS yearbook." 
Meanwhile, when the "Yellowjackets" star posted a tweet to remember Ray Liotta after his heartbreaking death, she didn't fail to mention her ex-husband. Lynskey wrote, "When I was married to the wonderful @jimmisimpson he did the movie 'Date Night' with Ray Liotta, and I cannot even express how kind Ray was to me, how welcome he made me feel when I visited set, and how lovely he was about my work. A truly warm and generous man. Rest In Peace, sir."
Their genuine affection for each other was also evident in how the former spouses continued to support one another's various ventures. In May 2022, the "Candy" star shared a tweet about Simpson's upcoming AppleTV+ project and said she was really looking forward to it. The following month, the "Westworld" actor shared Lynskey's interview with Variety and tweeted, "I love this article and this human!" He also sweetly described her as "wickedly talented." 
Both actors have moved on in their romantic lives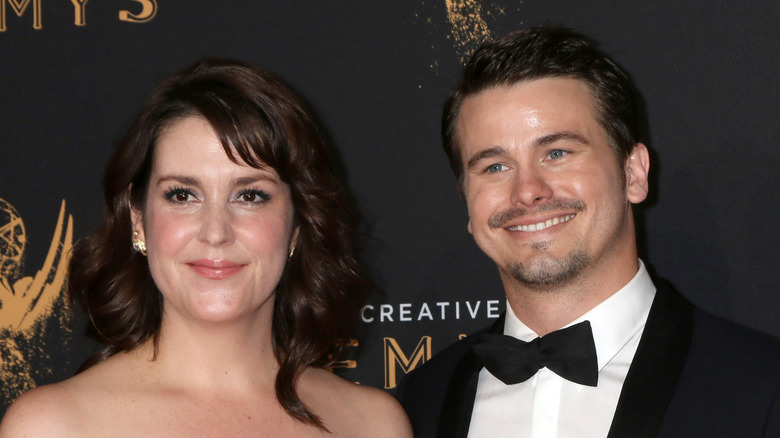 Kathy Hutchins/Shutterstock
Since Melanie Lynskey and Jimmi Simpson's marriage didn't work, both of them have moved on from their relationship in different ways. "The Last Of Us" star found love with actor Jason Ritter. They met on the set of the 2013 film "The Big Ask" and started dating shortly after. In 2018, the happy couple welcomed their daughter and got married in a simple wedding two years later. 
Sharing the details of the ceremony, Lynskey said on Sirius XM, "We got married on our front porch of our little rental house in Atlanta. A nice lady came and married us. We had two friends there. [Singer] Ali Ahn and [actor] William Jackson Harper were the two friends. Those were our two friends at our wedding and they were great," (via YouTube). 
Meanwhile, Simpson continued to thrive in his career while exploring new relationships. In February 2018, he went public with Sophia Del Pizzo after they walked the red carpet together for the premiere of USA Network's "Unsolved." They had a courthouse wedding in April 2019, however, the marriage only lasted 19 months. Simpson filed for divorce in July 2021. As of July 2023, Simpson is rumored to be back together with Serinda Swan, whom he dated briefly after his divorce from Lynskey.