Inside Melanie Lynskey And Jason Ritter's Relationship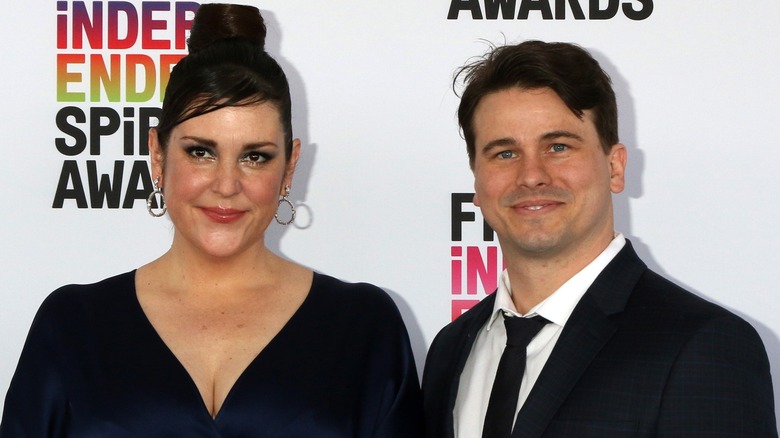 Kathy Hutchins/Shutterstock
Although Melanie Lynskey has been a talented actor for over 20 years, her fame has skyrocketed since she landed the role of Shauna, the main character on "Yellowjackets," which has become one of the most popular shows of the last few years. Her husband, Jason Ritter, also has an impressive acting career, starring in shows like "Joan of Arcadia" and "The Event."
As fate would have it, these two talented actors starred in a movie together in 2013, and, well, the rest was history. In the last 10 years, Lynskey and Ritter have gone from co-stars to a married couple — and they even had a daughter in 2019, completing their little family. As their romantic relationship has progressed, the duo has also had the opportunity to act in several films and TV shows together, including "We'll Never Have Paris" and "Candy."
Though they're undeniably what the internet would call "couple goals," it hasn't always been an easy road for the two of them. Below, we'll fill you in on all the sweet details of Melanie Lynskey and Jason Ritter's relationship.
They met on set in 2013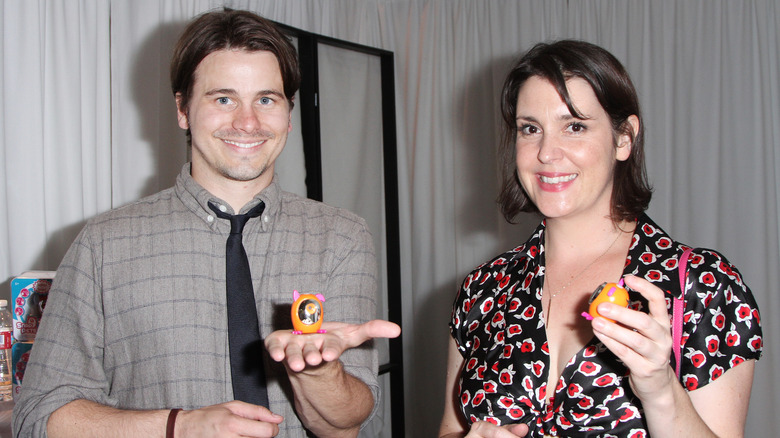 Maury Phillips/Getty Images
Melanie Lynskey and Jason Ritter first met on the set of "The Big Ask," a 2013 drama/comedy about a group of friends coming together to support one friend through grief. Though Melanie and Jason did not play romantic partners in the movie, sparks were flying behind the scenes.
Though the pair kept their relationship pretty private in the early days, the couple later revealed that their relationship began while they were both going through hard times.
"We were both going through very difficult times in our lives. We were both going through breakups," Melanie said on "The Drew Barrymore Show." "It was like a very tumultuous time." Though their behind-the-scenes meet-cute sounds adorable, Jason admitted that it wasn't actually a fairy-tale meeting. "It's not as cute of a story as you would like to think. It was messy and interesting and weird," he said. We'll take his word for it — but also, we'd say their relationship seems to be pretty cute these days.
They made their relationship public in 2014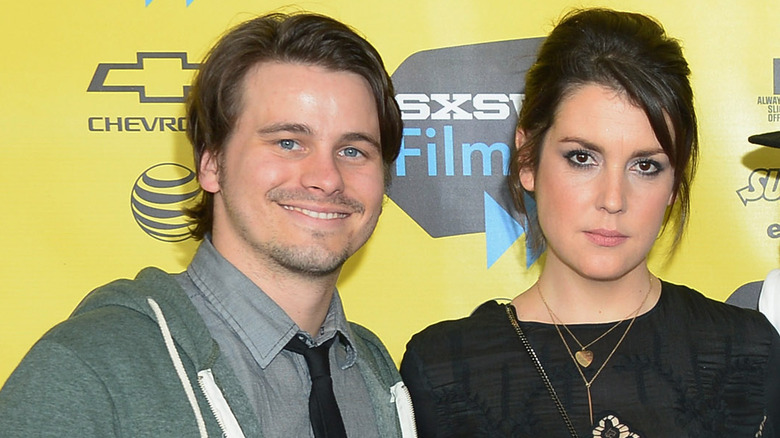 Michael Loccisano/Getty Images
The duo starred in another movie together in 2014, a rom-com called "We'll Never Have Paris." Just as it happened with "The Big Ask," Melanie and Jason were not a couple in "We'll Never Have Paris"; in fact, they played siblings, which we'd guess was slightly awkward considering the pair had been dating for nearly a year at that point.
In any case, "We'll Never Have Paris" proved to be an important milestone in the couple's relationship history, since the two stepped out publicly as a couple at the SXSW premiere of the movie.
A year later, the two appeared at the premiere of "Togetherness," and there was no doubt they were a couple at this point. One photo of the two at another 2015 premiere shows them cozying up next to each other, Jason's arm around Melanie's back and Melanie's arm swept across Jason in a sweet half-hug (via Cosmopolitan).
They've worked together on several films and series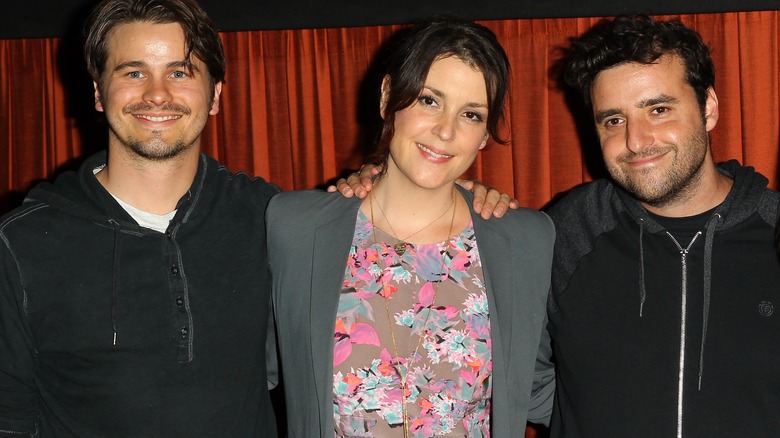 Jb Lacroix/Getty Images
Melanie Lynskey and Jason Ritter are a power couple in every sense of the phrase. Not only do they have a close romantic relationship, frequently professing their love and adoration for one another, but they also have worked together on many of the same professional projects.
The pair met on set for "The Big Ask" in 2013, then went on to star in "We'll Never Have Paris" in 2014. After that, they played a couple in "The Intervention," which was a 2016 comedy-drama directed by Melanie's longtime friend Clea DuVall. Lynskey said it was great working with Jason, telling ScreenCrush, "It was fun, it was just easy. We get along really well. He is just such a sweet, easygoing person. It was nice, he is very easy to be around. He is such a good actor."
But that's not where their shared jobs end. It was announced in late 2022 that Jason would guest star in Season 2 of "Yellowjackets" with Melanie, who plays a main character on the show. Then, in 2023's "The Last of Us," Melanie played a character set on revenge, while Jason had the opportunity to play one of the infamous fungus zombies.
They got engaged in 2017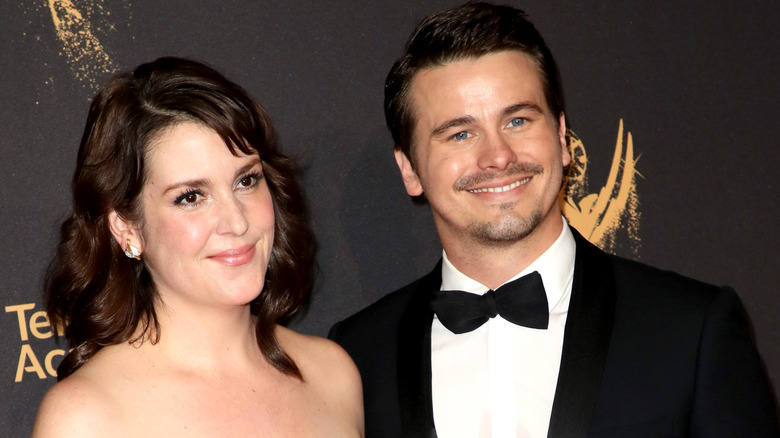 David Livingston/Getty Images
After four years of keeping their relationship relatively low-key, Melanie announced their engagement in an extremely public way. On "Hollywood Today Live" in 2017, Melanie said: "Now he's my fiance. Yes, I know, I'm announcing it" (via People).
Apparently, the proposal was sweet and simple — Melanie revealed that Jason popped the question while the two were hanging out on the couch. "It was cute," she said. Despite the fact that they'd been together for four years, Melanie admitted that she was very surprised by the proposal. Since then, the couple hasn't been shy about confessing their love to one another.
In February 2017, Melanie tweeted a GIF of two dinosaurs kissing with the caption, "You make my heart 'saur,'" tagging Jason and adding that she was posting the corny GIF "ONLY because it's Valentine's Day" (via Twitter). Jason tweeted "Happy Valentine's Day" with a photo of a heart, with Melanie tagged in the heart.
The couple had a daughter in 2019
Often, when a celebrity gets pregnant, the rumors flood tabloids at the slightest hint of a baby bump. But fortunately for Melanie and Jason, they were able to keep the news of their child under wraps for quite a while, not announcing the child's birth until about a month after their daughter was born. In January 2019, Melanie wrote on Twitter, "We feel lucky to have been able to have our news just be for friends and family for a while, but I guess the story got out, so! Yes! @JasonRitter and I had a daughter in December. We love her so much; she's perfect. Thanks to everyone for your sweet messages."
Melanie added a few follow-up tweets, noting that she "did NOT welcome the baby 'quietly,' I was blasting A$AP Rocky and yelling a lot." She also took the time to thank her labor and delivery team at the Atlanta hospital where she had her daughter, saying "Everyone was an angel, and I'm eternally grateful."
The couple got married in 2020 -- for an unexpected reason
In an interview with SiriusXM, Melanie shared that she got married to Jason in 2020 — but not quite in the way you'd expect. There was no real wedding planning, no traditional wedding dress, and no fancy private venue; the event was a bit of a rush deal. "We got married on our front porch of our little rental house in Atlanta," Melanie shared (via YouTube). "A nice lady came and married us. ... Those were our two friends at our wedding and they were great. They brought a cake and flowers and everything we needed."
Why the spur-of-the-moment wedding? "I was going to Canada for 'Yellowjackets,' and I was on the phone with somebody, and they said, 'Oh, he won't be allowed in.' And I was like, 'We have a child. What? I can't leave for six months.' So, I was like, 'We have to get married tomorrow.'"
But, as it turns out, the person who told Melanie that Jason wouldn't have been able to get into Canada was wrong ... meaning the wedding wasn't necessary. "It was actually a very fun wedding day, but it didn't need to happen," Melanie said.
Jason didn't feel like he 'deserved' Melanie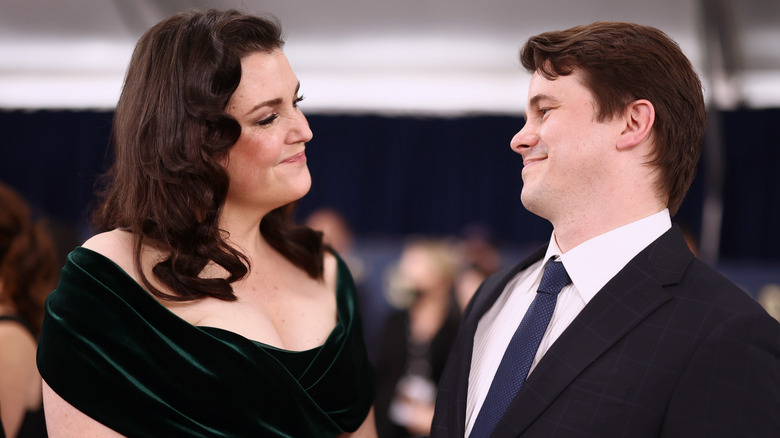 Emma Mcintyre/Getty Images
As we alluded to earlier, the beginning of Jason Ritter and Melanie Lynskey's relationship wasn't all rainbows and butterflies. On "The Drew Barrymore Show" in 2023, Jason said that he "knew how incredible Melanie was early on," but he struggled to feel like he was deserving of being with her. He explained that he was "dealing with some alcoholism issues."
Jason confessed, with tears in his eyes, "At a point, I knew how amazing she was, and I thought she would be incredible for someone who deserved her, basically, and I didn't feel like I was that person. I felt a little bit too crazy. So it was only after like, maybe a year into not drinking where I started to go, oh, maybe I can promise some things to someone else. Maybe I can be this person."
Although Jason felt he had to work on himself so that "maybe [he] could be the one for her," Melanie was rooting for him the whole way. "It looked so hard," she told Drew Barrymore. "He did so much work on himself. I'm so proud of him."
Melanie Lynskey and Jason Ritter have been in couples therapy since the beginning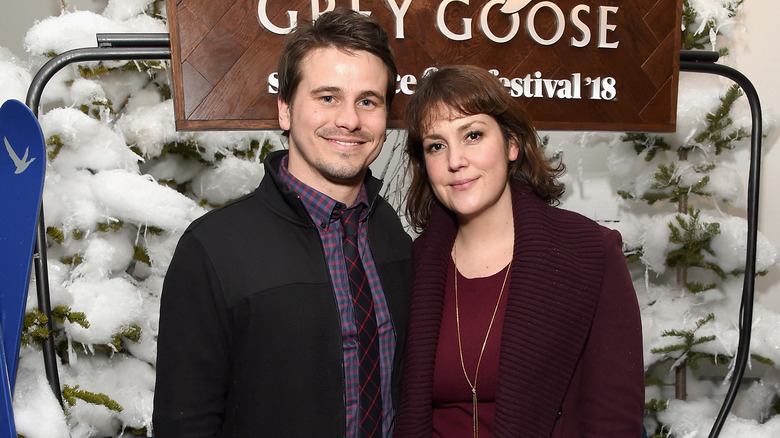 Michael Kovac/Getty Images
Couples therapy may seem like something that typically doesn't come up until you're years into a relationship, but for Melanie and Jason, they utilized the resource right off the bat. "We were in couples therapy three weeks after we met each other," Melanie said on "The Drew Barrymore Show." "Now we're like, 'Should we go back to therapy?'"
For these two, couples therapy was a way to strengthen their relationship. Although mistakes were made, both Melanie and Jason were willing to work on things so that their relationship could thrive.
"I think, well, this is, first of all, the best person in the world, and I just knew it," Melanie said. "Like, even though mistakes were made along the way, you had such a good heart. And also, he was always so willing like, every time I said, 'I really need to talk to you about something,' he would be like, 'What is it? What is it?' Like, so present, wanting to have the conversation and so willing to take responsibility. And we just kept growing."
Jason Ritter defends Melanie Lynskey against body-shamers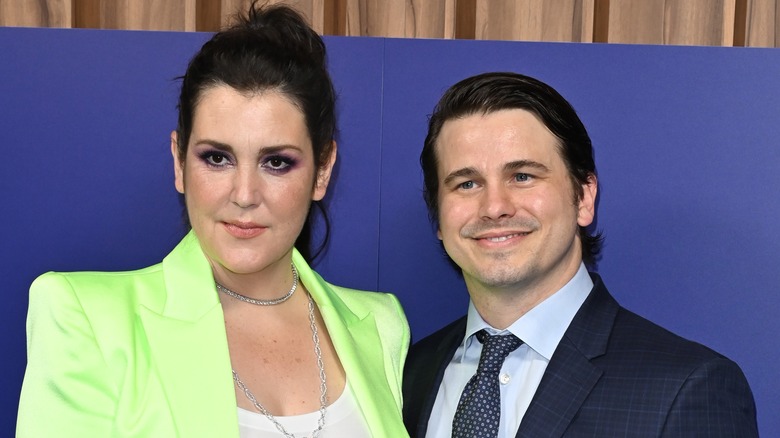 Featureflash Photo Agency/Shutterstock
Since "Yellowjackets" premiered in November 2021, people — especially internet trolls — have had a lot to say about Melanie Lynskey's body. On Twitter, Melanie shared her frustration: "Most egregious are the 'I care about her health!!' people ... b***h you don't see me on my Peloton! You don't see me running through the park with my child. Skinny does not always equal healthy."
Unfortunately, the body shaming wasn't just coming from trolls — it's been an issue she's had to deal with from the production team for "Yellowjackets." She shared with Rolling Stone, "They were asking me, 'What do you plan to do? I'm sure the producers will get you a trainer. They'd love to help you with this." Her castmates, including Juliette Lewis, Tawny Cypress, and Christina Ricci defended her, writing a letter to the producers condemning their body shaming. Eventually, Melanie said enough is enough. "I was losing my mind trying to conform to something that was not physically possible for me," she told People in 2016. "I was like, 'I just need to look the way I'm supposed to look.'"
Along with her "Yellowjackets" co-stars, Melanie's husband has had her back throughout the body-shaming BS. On Twitter, Jason penned a short and sweet recommendation to the haters: "If anyone has any further unsolicited comments about *anybody* else's body, they can feel free to write them in permanent ink onto their own foreheads and swan dive directly into the sun."
Ten years in, and they're still head over heels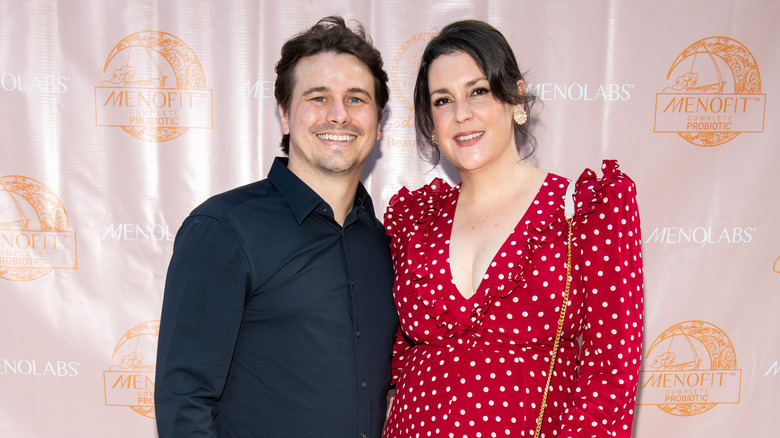 Amanda Edwards/Getty Images
There's no doubt about it: Melanie Lynskey and Jason Ritter are wild about each other. It's evident in the way they talk about each other and publicly support one another — and even in the way they interact with each other in interviews and public appearances, staring lovingly, listening with intention, and holding hands.
On their recent "Drew Barrymore Show" appearance, Melanie shared an anecdote that made her realize Jason was the one. "I had a very, very old dog," she said, "and Mouse was so, so, so old at this point and getting up in the night multiple times, needing to pee, and it was kind of driving me crazy, and Jason would get up with her every single time and just take her outside and go back to sleep and get up and take her outside. And I think that was when I was like, 'Oh, I could have a child with this man, like, I could really do this.'"
It's clear Jason admires Melanie just as much. In a recent Instagram post celebrating their anniversary, Jason wrote, "I love you forever and thank you for the life we've made together. I am the luckiest guy on the planet, and our daughter has the greatest mama of all mamas."