What Martha Stewart's Relationship With Blake Lively Is Like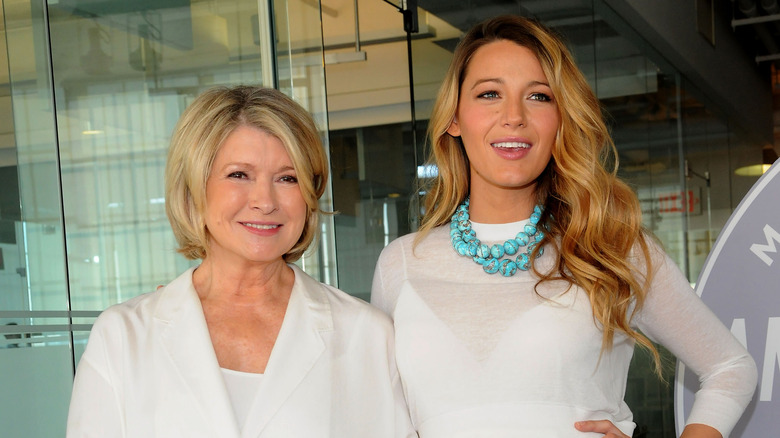 Desiree Navarro/Getty Images
Most people would probably find it difficult to strike up a friendship with someone a few decades older than us, but for many celebs, age isn't a barrier to forming a genuine connection. Many know that Martha Stewart shares a close friendship with Snoop Dogg, who is 30 years her junior. But you may be unaware that Stewart also has a fantastic relationship with Blake Lively. Stewart told HuffPost that their friendship began when Lively and her future husband, Ryan Reynolds, moved into an apartment near hers. In fact, their realtor introduced them, per EW. 
Despite being such high-profile names, they started conversing in an ordinary fashion when Lively visited Stewart's and the two got to talking. In a stage event at the American Made Summit, Lively recalled a funny anecdote from the early days of their friendship when Stewart said she would love to ride a motorcycle with Reynolds someday. The "Gossip Girl" alum felt like Stewart was the only woman she'd allow to get up and close personal with her husband.
Stewart also told HuffPost what Lively and Reynolds were like off-screen, noting, "They're very friendly, very nice people." She added, "In a way, kind of shy — not shy on the screen, at all, if you've seen any of Blake's movies — but very shy in person. But she's a baker and a homemaker." Lively's lifestyle blog, Preserve, broached into Stewart's home improvement territory, and she had some interesting things to say about the venture.
Martha Stewart is Blake Lively's 'idol'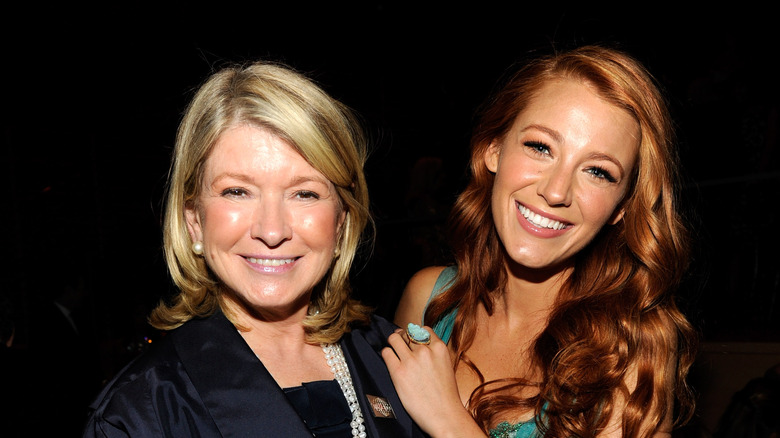 Kevin Mazur/Getty Images
When HuffPost asked Martha Stewart what she thought of Blake Lively's decision to start her blog/magazine, Preserve, Stewart opined, "I mean, it's stupid, she could be an actress! Why would you want to be me if you could be an actress? I just did a movie yesterday, though — I can't even tell you about it — but I want to be Blake Lively." You'd expect a friend to be offended by this public statement, but Lively took it in her stride. 
In an interview with E! News, Lively argued that even though her new career was a departure from her acting roots, she felt ready for it because it had been a lifelong passion rather than a spur-of-the-moment decision. The "Age of Adaline" star revealed that her blog posts consisted of things she shared with her loved ones throughout her life. Even Stewart told Vogue that Lively's career path was a natural progression because of how home-oriented she is. 
Lively also shared her love for Stewart, wondering aloud, "Who doesn't want to be Martha Stewart?" The actor and blogger continued, "Martha Stewart has been a huge inspiration to me my entire life. She's a huge source of inspiration for my mom. She's how I came to know and love Martha. I always say that Martha Stewart Living is the only magazine I ever had growing up." But alas, Preserve didn't last too long, and Stewart shared her thoughts on the closure too.
Martha Stewart rescued Blake Lively's wedding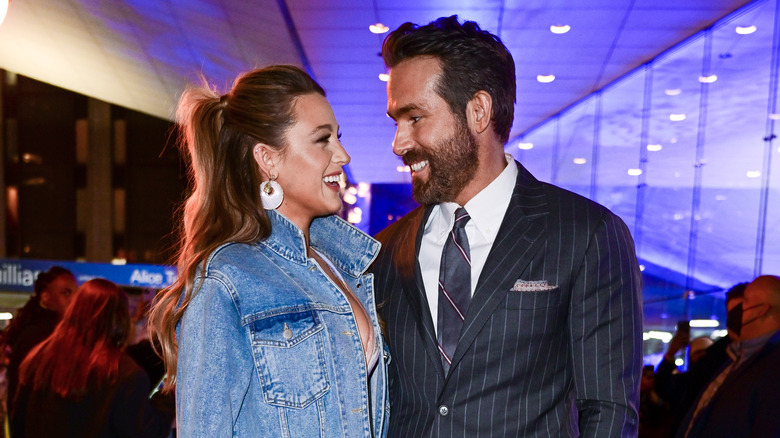 James Devaney/Getty Images
When Martha Stewart spoke to Us Magazine about Preserve shutting down, she seemingly shared similar sentiments to her initial view of the whole thing, "I'm sorry! I'm sorry! I know she made a big effort," Stewart said. "Sometimes shuttering is good. Listen, she's a movie actress. Why bother with commerce right now? She's at the top of her career ... I'm totally supportive, but you know what? Maybe you can't do everything at the same time." Their friendship is still going strong despite the awkward back and forth in the media. 
In fact, Stewart played an integral role in organizing Lively and Ryan Reynolds' plantation wedding (which he later apologized for). Speaking to Vogue, Lively gushed about the lifestyle mogul: "I've only ever found her to be completely generous and kind." She added, "She's one of those people who connect people with each other. She's there for you." Like every bride, Lively's stresses continued to mount as the big day grew closer until she couldn't handle it anymore. 
The actor recalled how Stewart stepped in at the 11th hour and took control of the situation with the help of her team, but not before sending the future married couple on a romantic getaway to relax. The TV icon also fondly reminisced about her fun times with Lively's clan when she called them over for her whimsical Easter bash. And it seems Lively is a regular at Stewart's Easter table because she attended her 2018 celebrations as well.