All Of The Drama Surrounding Ariana Grande's Rumored Ethan Slater Romance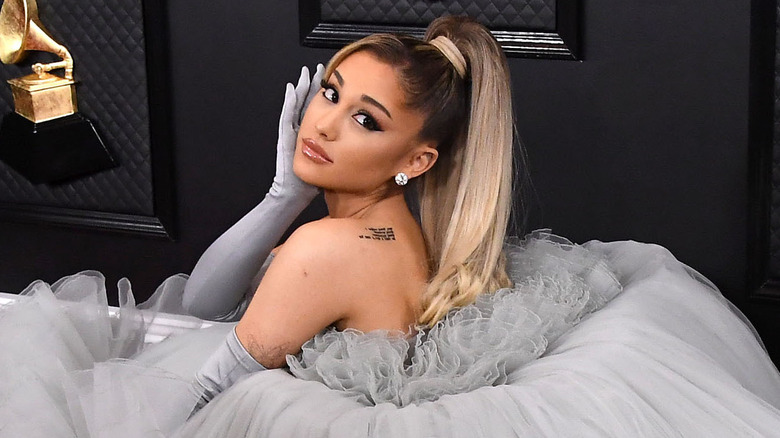 Steve Granitz/Getty Images
If you've been anywhere near the internet lately, you know that Ariana Grande has "Thank U, Next"ed her way into quite a bit of drama. Word of her split from husband, Dalton Gomez came just days before news broke that she was getting cozy with her costar in the upcoming "Wicked" movie, Broadway actor Ethan Slater. As details surrounding the romance rapidly reveal themselves, more and more rumors spread, and surprise at the new developments in Grande's personal life grows. One thing is for sure, though: no matter what the true details are, this story is messy with a capital "M," and folks can't look away from the train wreck.
Regardless of fans' personal opinions regarding the gossip and the public figures involved in the scandal, the juicy details of this story of love, heartbreak, and betrayal have the internet's attention. Still, as new details seem to be revealed every day, we are in serious need of a deep dive into this wild situation, so come along with us on a journey to the center of the Ariana Grande/Ethan Slater scandal. Get your popcorn, girlies, because this is a doozy.
Who is Ethan Slater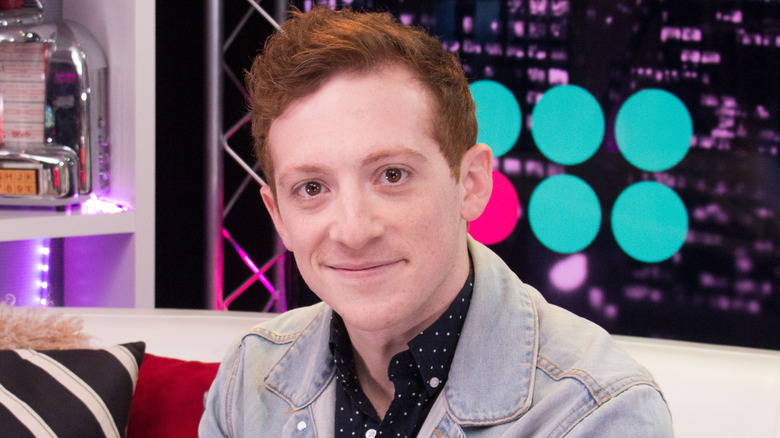 Young Hollywood/Getty Images
Let's start with the question on everyone's lips: who is Ethan Slater? Folks outside the Broadway community may be hearing of Slater for the first time amidst all the drama. Yet, the theatre world knows the 31-year-old star well. His breakout role was playing none other than Spongebob Squarepants in Broadway's hit, "SpongeBob SquarePants: The Musical." He landed a Tony Award nomination for his portrayal of the iconic character. In December 2022, it was announced that Slater would be taking on the role of Boq in the highly-anticipated movie adaptation of the beloved musical, "Wicked." "Wicked" fans know that Boq has a massive, unreciprocated crush on Glinda, who of course, will be played by Ariana Grande in the upcoming movie. As it turns out, Boq's crush on Glinda isn't quite so unreciprocated IRL. 
There are many layers to why this on-set romance has caused so much buzz. Yet, much of what gives the public pause about Grande's new beau is the fact that he was married when news of the pair's relationship broke. Slater started dating Lilly Jay in 2012, and they tied the knot in November 2018. The couple had their first child in August 2022. The fact that Slater and Jay have a baby who's not even a year old at the time of publication makes his romance with Grande even fishier. Still, a source told Page Six, "Ethan is trying to take the high road and hopes he can resolve this situation for the sake of their child."
Ariana addresses concerns
As for Ariana Grande, the 30-year-old singer was uncharacteristically quiet about her relationship with Dalton Gomez once the pair wed in May 2022. After a string of high-profile romances with a myriad of public figures, many fans were surprised when Grande, who had previously been very publicly engaged to serial celebrity dater, Pete Davidson, chose to say "I do" to a seemingly private luxury real estate agent. Still, it appeared that the pair were making things work.
However, people began commenting on her appearance, and in April 2023, Grande took to TikTok to address those comments. In the video, Grande rejected speculation that her drop in weight was concerning and a sign of health issues. She spoke about the wide spectrum of healthy and beautiful, noting, "I know personally, for me, the body you've been comparing my current body to was the unhealthiest version of my body." She suggested that life was going well and told her followers to "be gentle with each other."
This came just a week after Gomez shared an Instagram post about her love for her experience working on the "Wicked" set, as filming was halfway finished. "i don't want it to end. so while i am still here, present, now, i just wanted to . . . exclaim my tremendous gratitution! and allow my heart to overflow." she wrote.
Ariana splits from Dalton Gomez
It was clear that Grande was in a particularly happy phase of her life this past Spring –– or at least she was working hard to present this narrative to the world. Then, on July 16, photos were released of Grande at Wimbledon with "Wicked" costar, Jonathan Bailey. The singer wasn't wearing her wedding ring, nor was she making an effort to hide her hands. Rumors swirled about the state of Grande's relationship with her husband, Dalton Gomez, and by the next day, TMZ had reported that the couple had called it quits.
Grande wasted no time subtly confirming the news. Just three days after word of the breakup was out, Grande deleted her wedding photos with Gomez from her Instagram. It was that same day that the plot really started to thicken. TMZ dropped the bombshell that Ariana Grande was dating her costar, Ethan Slater. The timeline continued to confuse the public and failed to be truly solidified, but seeing as both lovebirds were married to other people, there was really no possible timeline that made the romance seem like it began entirely in good faith. A source told TMZ, however, "Ari and Ethan are just trying to lay low and be respectful of their exes as they pursue this new relationship." On July 26, Ethan Slater filed for divorce from his wife of five years. 
Lilly Jay speaks out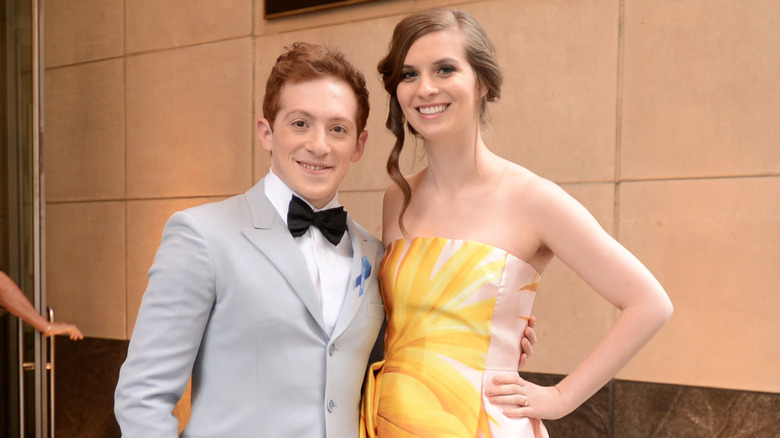 Andrew Toth/Getty Images
As this wild story rapidly unfolded, folks were waiting with bated breath for word from the attention-grabbing couple, themselves. Instead, though, both stars stayed tight-lipped, with Ethan Slater even going as far as to make his Instagram private in a clear attempt to avoid backlash. While Grande and Slater seemingly want the buzz surrounding their romance to die down a bit, one party directly involved with the drama wasn't afraid to speak her mind. Slater's now-estranged wife, Lilly Jay, took to Page Six and had no problem coming right out with her perspective on what had happened to her marriage. "[Ariana's] the story really," she claimed bluntly. "Not a girl's girl. My family is just collateral damage," she added. 
One source says that Jay is "rightfully upset because her marriage fell apart, but Ariana and Ethan didn't do anything wrong," suggesting that both parties were separated from their spouses long before the public knew, as well as before they began a romantic relationship with each other. On the other hand, another insider told a very different story, telling Us Weekly, "Ariana and Ethan weren't careful. They'd hold hands on set in between takes. They were sloppy and not hiding it." While details on how and when the relationship turned romantic are unclear, on July 28, the Daily Mail published a photo of Slater with his arm around Grande on a trip for the pop star's 30th birthday celebration three weeks before news of the romance broke.
Ariana Grande's relationship history comes under fire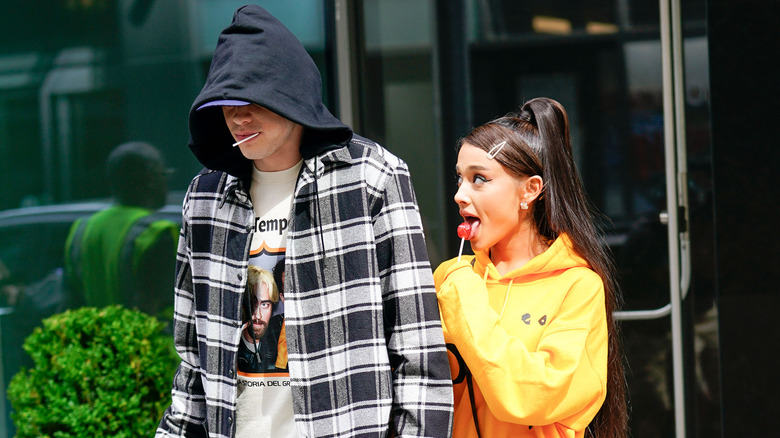 Gotham/Getty Images
Thanks to a confusing timeline, rumors are running rampant about whether or not an affair between Ariana Grande and Ethan Slater ended the pair's respective marriages. This has also put a spotlight on Grande's public and somewhat sordid dating history. Folks have brought attention to the many times that Grande was accused of cheating on her partners, as well as times she that she may have engaged in an affair with someone who then seemingly left their partner to be with her.
It was reported that the late musician Mac Miller cheated on his long-time girlfriend with Grande before beginning a relationship with her. In her memoir, late Glee star, Naya Rivera, recalled finding Ariana Grande at her then-fiancee, Big Sean's, home before their engagement was called off. Big Sean was in a relationship with Grande immediately after. Pete Davidson ended a nearly three-year relationship over text message before promptly revealing his romance with Grande. Even Dalton Gomez's ex, shared a post that read, "When you see your ex with the person they told you not to worry about" right when Dalton Gomez and Grande's romance made news.
Grande seems to have a bit of an odd pattern, and many folks have pointed to her 2019 hit song, "Break up with Your Girlfriend, I'm Bored," as a less-than-subtle clue that the star isn't hiding her adulterous tendencies. While this certainly isn't proven, one thing is clear: this story is far from over.