Will Hallmark's Christmas Movie Season Be Upended By Hollywood Strikes?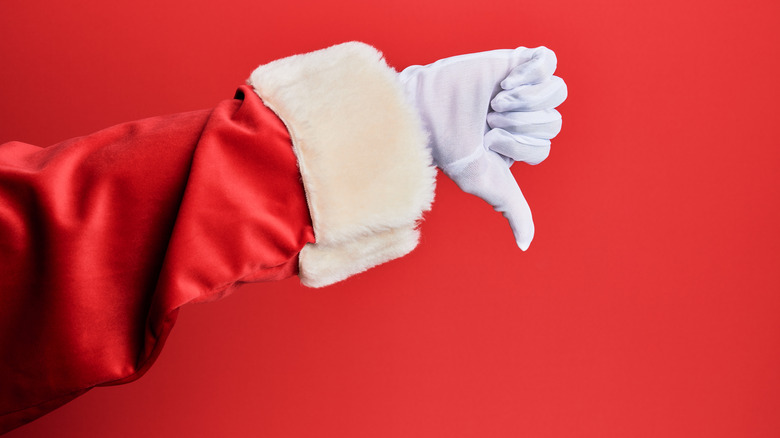 Aaronamat/Getty Images
The Screen Actors Guild — American Federation of Television and Radio Artists, more commonly known as SAG-AFTRA has been on strike since early July. They joined the Writers Guild of America, or WGA, in the strike. Both unions are demanding better pay, conditions, and respect for the workers they represent from the higher-ups in Hollywood. Of course, without writers and actors at work, all of our favorite things to watch will have to pause making new content until the workers' needs are met. We've heard of many movies and TV series halting production as they await the cessation of the strikes. Luckily, we have no problem waiting a bit longer for new content if it means that folks will start getting what they deserve for their hard work.
Still, while waiting longer to see a new movie in the theater or to binge-watch the next season of a favorite TV series is easy enough to do, some content can't be quite so easily postponed. Hallmark holiday movies are basically required viewing once November rolls around. We're only three months away from Halloween, and it seems that as a result, right now would be prime time for the network to be preparing for its beloved annual programming. This begs the question: Will there be the usual brand-new holiday content this year on the Hallmark Channel? Will Christmas be effectively canceled for Hallmark fans? Which way to the picket lines? Because we want workers' rights and plenty of holiday movies!
Hallmark stars are striking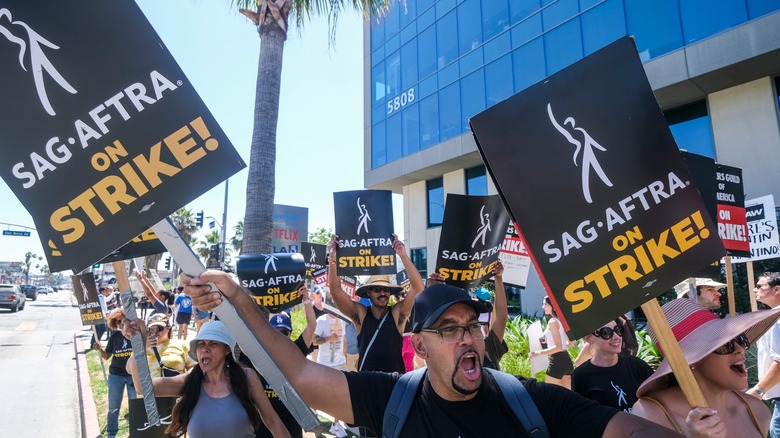 Ringo Chiu/Shutterstock
Many of our favorite Hallmark stars have been hitting the picket lines. Interestingly, though, only some of the actors who frequent the network are actually affiliated with the striking union. Since Canada is home to the most Hallmark movies, many actors who work on projects for the network are, instead, in The Alliance of Canadian Cinema, Television and Radio Artists. This union has come out in support of the SAG-AFTRA and WGA strikes, but as of now, they are not striking themselves.
Some actors who frequent the Hallmark Channel, like Aimee Teegarden and Paul Green, have taken to social media to share their support of the strikes. Hallmark Star Kristoffer Polaha shared a simple message on Instagram saying, "Our resolve has never been stronger, and together we have enormous power to effect real change in the entertainment industry. One day longer, one day stronger!" he wrote with the hashtags, #sagaftrastrong and #sagaftrastrike. Furthermore, according to SAG-AFTRA rules, actors aren't able to promote their work for the duration of the strike. As a result, stars including Jen Lilley, Rachel Boston, Brennan Elliott, and Catherine Bell backed out of their commitment to appearing at a June fan convention. It's clear that Hallmark Channel stars have been affected by the strike.
Hallmark Christmas movies will still premiere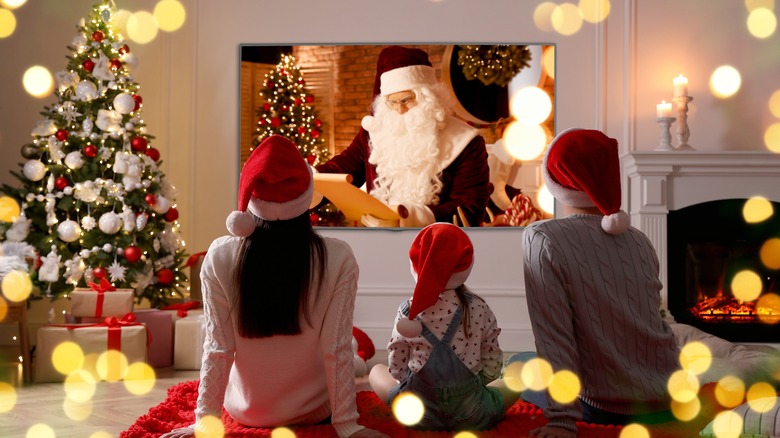 New Africa/Shutterstock
Ultimately, there's bad news and good news. The bad news is that the strike is still ongoing as of August 1, 2023, and ideally, writers and actors will receive fair compensation as soon as possible. The good news is, we're in for another classic Hallmark Channel Christmas this year. An unexpected side effect of shooting a Hallmark Christmas movie is that it's often very hot. Many Hallmark movies are filmed in the summer to have them ready for Christmastime, so stars being bundled up in coats as fake snow floats around them may not be as magical behind the scenes as it is when we watch them on our screens. That said, plenty of this holiday season's new movies have already wrapped filming.
Folks at Hallmark actually started filming the 2023 holiday movie lineup in January, and they've already wrapped filming on a whopping 18 movies. It's possible that not every intended movie will end up premiering, though, and we may have to watch more holiday movies from years past. While 18 movies sounds like a lot, 43 new original holiday movies premiered on the Hallmark Channel and Hallmark Movies & Mysteries in 2022. So, this year's Hallmark holiday season may be a bit slower than normal. But there's sure to be plenty of Christmas spirit, nonetheless. Furthermore, "When Calls The Heart" is resuming production during the actors' strike. The beloved series received a waiver from SAG that allows them to film Season 11 while the strike is still ongoing.