How Ivanka Trump's Fashion Brand Went From Success To Mess In A Few Short Years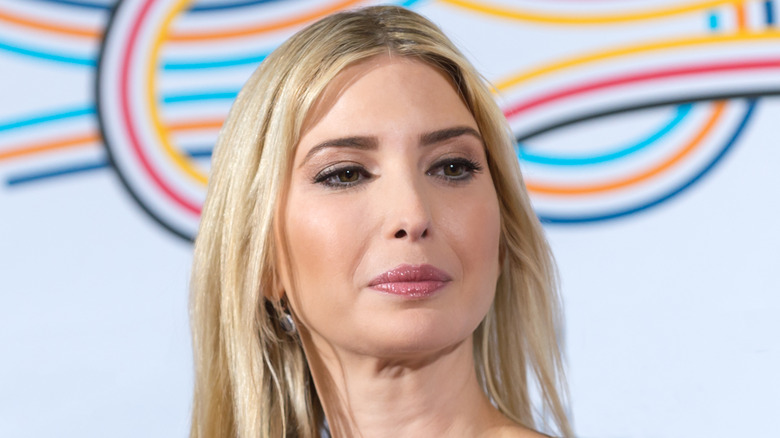 photocosmos1/Shutterstock
If fate and politics had turned out differently, Ivanka Trump might be doing any number of things today. She might have succeeded her dad as host of "The Apprentice," judging budding entrepreneurs in performance marketing challenges. She could still be dispensing advice for women on how to get ahead in business. Perhaps Ivanka might have returned to life as a model. Most likely, though, she would have continued building her brand in hopes of getting her products into every household in America. At its peak, her Ivanka Trump line of clothing and jewelry brought in $100 million, netting her a tidy portion of the profit. 
But the former first daughter abruptly shuttered her stores and stepped away from her line not long after her father, Donald Trump, became America's 45th president. What had begun as a promising venture fizzled faster than New Coke. Ivanka's decision was primarily based on her new post as a presidential advisor since holding down a major business position at the same time could've been seen as a conflict of interest. 
"After 17 months in Washington, I do not know when or if I will ever return to the business, but I do know that my focus for the foreseeable future will be the work I am doing here in Washington," Ivanka stated at the time (via Insider). The company might have shut down even if its founder hadn't joined the White House, however. Even amid Ivanka's success, there were stirrings of trouble that contributed to her line ending. 
Ivanka's customers were less loyal after the 2016 election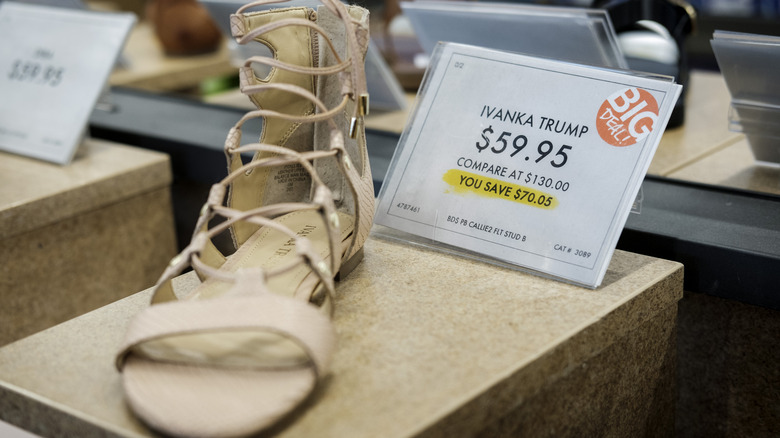 Drew Angerer/Getty Images
Ivanka Trump's personal branding started off promisingly enough. According to Business Insider, she first put her name on a fine-jewelry boutique in Manhattan in 2007. Ivanka then branched out into shoes in 2010, which sold in major retailers like Macy's. The national merchandising manager for Nordstrom's women's shoe department told Footwear News at the time that the company was initially skeptical about the appeal of Ivanka-label pumps and sandals. But, she added, "When we saw the line, we very quickly said, 'Wow, we really like these shoes.'" 
Spurred by the success, Ivanka followed up a year later with branded women's apparel, again sold at various department stores. The classic suits, dresses, and other sensible wear were touted as a caviar wardrobe for peanut-butter budgets. But everything changed once Donald Trump became the Republican presidential nominee. Though fans were happy to stock up on MAGA hats and flags, other consumers wanted nothing to do with the Trump name. 
Brand strategist Shannon Coulter even launched the Grab Your Wallet Alliance, a movement calling for a boycott of companies connected to both the candidate and his family. Ivanka addressed the protest in an interview, per Cosmopolitan, refusing to "politicize" her attempts to empower women. "The beauty of America is that people can do what they like, but I prefer to talk to the millions, tens of millions of American women, who are inspired by the brand and the message that I've created," she argued.
Politics and legal issues sank the Ivanka Trump brand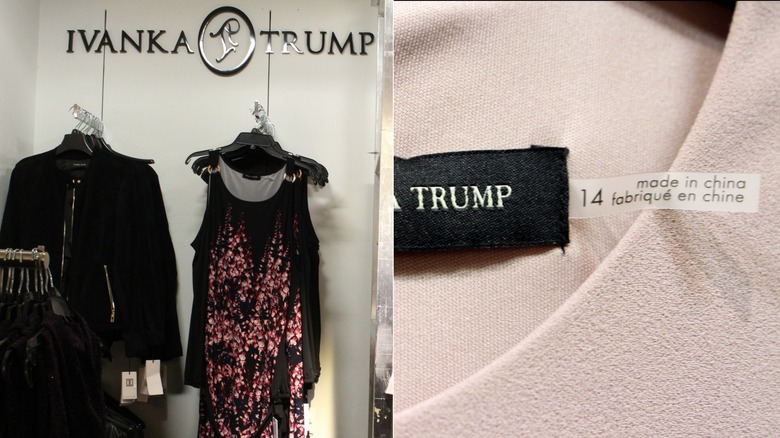 PL Gould & PL Gould/Shutterstock
After Donald Trump won the 2016 election, retailers became increasingly jittery about being associated with the family name. In early 2017, one store after another pulled Ivanka Trump's clothing and accessories lines from their shelves. Ivanka herself closed her New York boutique around the same time. Her reputation also took a hit when Italian shoe manufacturer Aquazzura Italia SRL sued Ivanka for allegedly copying one of their signature pump styles. The case was eventually dismissed. 
Plus, there had been considerable snarking over the fact that Ivanka's clothes were made in China — not the best optics for the daughter of a president who was trying to bring more jobs to America. Ivanka had been quietly supporting her brand by wearing selected items during her father's campaign, but as the controversy grew, she opted not to become a walking advertisement. She resigned from her corporate post in March 2017, just days before accepting a job as a senior presidential adviser. 
The only link to the line she maintained was a store in Trump Tower. Then, in July 2018, Ivanka announced she was closing the company altogether, including the Trump Tower shop. These days, Ivanka is focusing on a leisurely post-White House life with her husband and their three children. She has given no indication of wanting to relaunch her businesses. But those hoping to wear something Trump-related (other than a MAGA hat, that is) can still find Ivanka items on Amazon, ThredUp, and other sites.