Inside Ivanka Trump's Life As A Model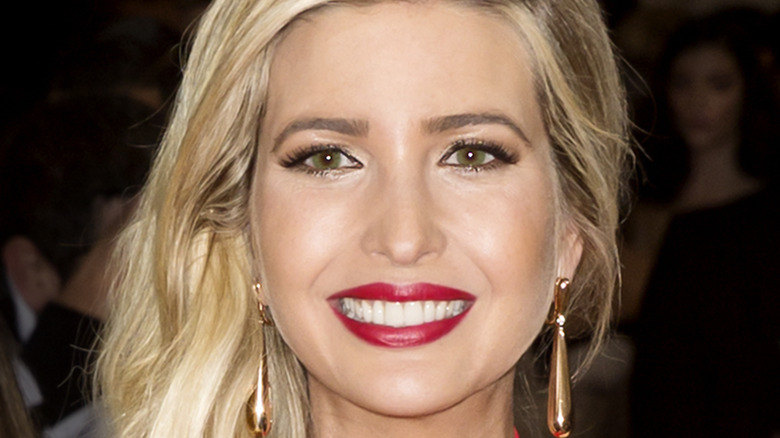 Ovidiu Hrubaru/Shutterstock
Donald Trump's eldest (and probably his favorite) daughter, Ivana Marie "Ivanka" Trump is a name that quite doesn't go away from the daily news. From being a reality television judge to being the 45th first daughter of the United States, this Trump has donned many hats. She is often seen helping her father out with his political ambitions and was a senior advisor in her father's administration. A former executive vice president of her family's Trump Organization, Ivanka also has a successful diamond jewelry line. In 2009, Ivanka accepted Judaism to marry her husband, Jared Kushner, with whom she has three children. This conversion made her the first Jewish member of any first family the US has had. The couple also has made a guest appearance in an episode of the hit television series, "Gossip Girl."
While she might be different from other kids of famous parents in many ways, she has something in common with most of them — a brief, now almost forgotten modeling career. Like most of them, the career started out with a bang and ended with a slight spark. We went down the rabbit hole that is Ivanka Trump's modeling career to bring you all the details. 
Ivanka's modeling career started at the age of 14
Tommy Hilfiger is no stranger to debuting the so-called "nepo babies" in its advertisement campaigns. Ivanka Trump was also one such celebrity kid who kickstarted her modeling career with the brand. In 1996, she professionally appeared on camera for a Tommy Hilfiger jeans ad campaign. Trump was only 14 years old when she made her debut alongside other celebrity babies like Kidada Jones and Kimberly Stewart. 
"She is only allowed to do it on weekends and holidays and absolutely not during the school year," Ivanka's mother and former model, Ivana Trump had told The New York Times in a 1997 interview. She had also stated that she preferred mathematics over modeling and that the young Trump would probably go to business school. Well, given that she has a bachelor's degree in Economics from Wharton and how successful she has gotten with her jewelry line and other businesses, mother Trump's wishes did come true. 
In 1997, she made her ramp debut by walking for Enrico Coveri
The Trump is name popular for many reasons and Ivanka's modeling career has got a lot to thank it for. According to The New York Times, her then real-estate mogul, now former President of the United States father, Donald Trump had a "'longstanding, informal relationship" with Monica Pillard, then president of Elite Model Management, a prestigious New York-based modeling agency credited with launching the career of other star kids like Jenny McCarthy and Drew Barrymore. According to the paper, Pillard "had been eyeing Ivanka since she spotted her on her father's lap four years ago, when Mr. Trump was a judge of a new-talent contest for the agency."
Back then, the modeling talent agent community was quite divided over Ivanka's debut as a model. Natasha Esch, president of Wilhelmina Models in a 1996 People interview had revealed, "I don't think Ivanka would have started a career based solely on her looks. People are turned on by her name." Some others like, Joel Wilkenfeld, president of NEXT Model Management, believed that Ivanka had "what it takes" to make it as a model.
Whatever the case may be, Ivanka Trump had a moderately successful career as a high-fashion runway model. In 1996, she made her runway debut by walking for Italian fashion designer Enrico Coveri. Following her debut, throughout the late '90s, Ivanka has walked numerous runways for Marc Bouwer, Paco Rabanne, Jill Stuart, Thierry Mugler, and Vivienne Westwood.
Amidst her debut, Ivanka called out reports alleging that she demanded super-model wages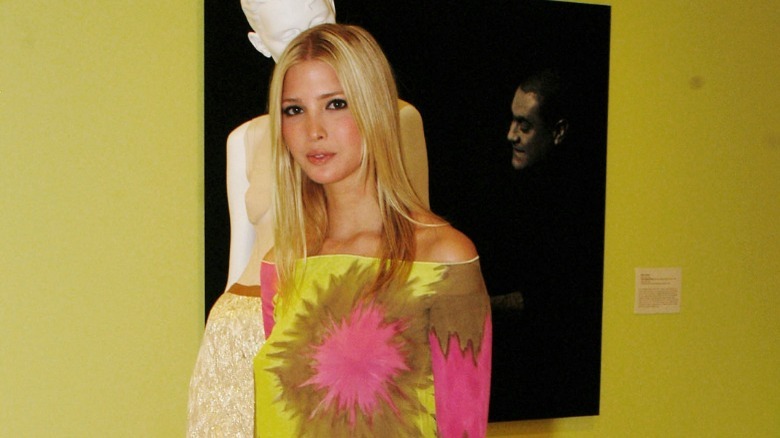 Myrna Suarez/Getty
Similar to using the family name to land specific contracts, Ivanka Trump's short-lived modeling career has seen many controversies. Early on, there were reports claiming that the young Trump was demanding $10,000, then supermodel wages, to do a fashion show. Trump was quick to squash these rumors through a behind-the-stage video of her debut by Inside Edition. 
In the reply to the reporter's questions said that she did not have to model for money. "My family has money and they can support me," she said. Although tone-deaf, she was right — the Trump family money might have gotten her to where she was, but she wasn't in any real need of it. In the interview, Ivanka also called out the various newspapers that made her sound greedy for doing something she just loved to do (via YouTube).
Ivanka was on the cover of Seventeen in '97
Throughout the years, Ivanka Trump's face has graced the covers of some of the most-read magazines in the world, including Harper's Bazaar and Good Housekeeping. It was Seventeen magazine that first saw the face of the former first daughter on the cover. Trump made her magazine cover debut in Seventeen's May 1997 issue, which featured a cover story on celebrity mother-daughter duos. "She is a teen-ager, she has a fresh look and readers can relate to her," Donna Rubinstein, the model editor of Seventeen, had gone on record defending her choice to The New York Times. "She may look like someone a reader knows." Previously, a 1995 issue of Vogue had featured Ivanka along with her mother, Ivana Trump. The magazine wrote that Ivanka "doesn't find herself in the shadow of her well-known mother." 
Seventeen was the only cover Trump did as a part of her modeling career — the rest of her cover stories featured her as a businesswoman. For instance, Ivanka Trump appeared on a 2007 Harper's Bazaar cover, which was timed to the launch of her jewelry line, and hailed her as "the new queen of diamonds." In 2013, she appeared on the cover of Forbes, which called her "the emerging power behind the family empire." Town and Country magazine featured Trump on two covers: one way back in 2008 and one eight years after, in 2016.
She co-hosted the Miss Teen USA pageant in the same year
1997 seems to be the year Ivanka Trump peaked as a model. After the Seventeen cover and a few ramp shows for some notable names, she again made headlines when it was announced that she would be co-hosting the Miss Teen USA pageant — a competition that was partially owned by the Trump corporation at the time. "I live for the moment. I do not fear the future because I think every experience makes you stronger. I am the kind of person who has no regrets," a 15-year-old Ivana had told The New York Times for a story covering her candidature as co-host to actor J. Eddie Peck. 
Talking of the pageant, Trump has said that it was a "legitimate bonding experience" and that she made a lot of teenage friends from the fashion industry (via The New York Times). This stint also marked Ivanka's debut on live television and must have helped her during her appearances as a guest judge on various seasons of "Project Runway," alongside some notable names, including Heidi Klum, Vera Wang, and Alyssa Milani. 
Ivanka believes that her modeling gigs are a result of her outer beauty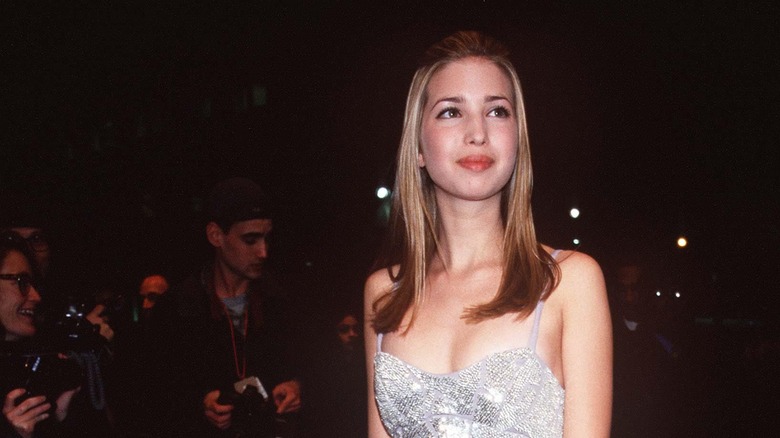 Arnaldo Magnani/Getty Images
From an early age, Ivanka Trump has wanted to break away from the monotony of the Trump name and make her name known. "I love the name my father has given me, but I'm also Ivanka Trump as a person," Trump said in a 2006 interview with Marie Claire. "I knew that for 'Trump' to be sustainable it couldn't just be about my father. It has to be about us as a family in some broader context."
Apparently, the young Trump was always aware that it was her family name that got her work. "She understands that of course, her name helped, in the beginning, to get her foot in the door. She's not stupid," Audrey Roatta, a senior assistant to Monica Pillard (who launched Ivanka Trump's career) told The New York Times amidst the hustle-bustle for her Miss Teen USA co-hosting gig. Roatta also noted that Trump was aware that she would be treated like just any other model at the agency.
It is hard to believe Roatta's words considering what Trump had told the paper herself. "Modeling is what people like; it is not family oriented. People like me for me, not for who my parents are. It is about outer beauty," said the then 15-year-old.
For Ivanka, modeling was an excuse to travel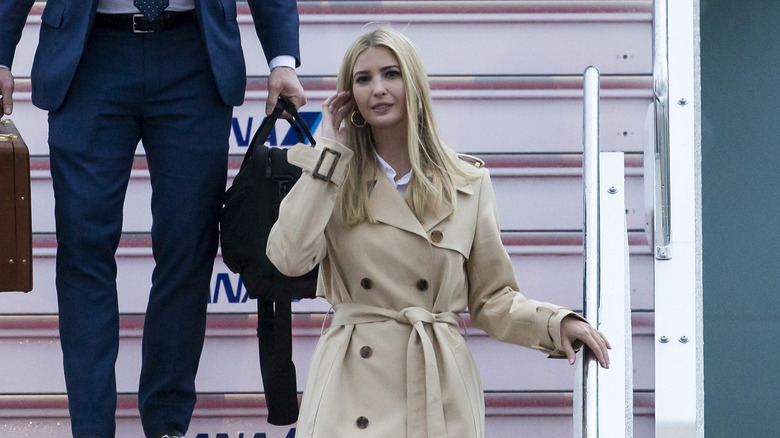 Tomohiro Ohsumi/Getty Images
As previously stated, Ivanka Trump did not get into modeling for the money. On multiple occasions, she has stated that she did it because of her love for modeling. In the above-mentioned Marie Claire interview, Trump got candid about her modeling career and revealed that she did it as an excuse to travel, so as to switch up her otherwise monotonous life.  "Modeling was not an endgame for me. I didn't particularly enjoy the act of it. It's as ruthless an industry as real estate — the people you meet in that business are just as fricking tough," she said. "It was great, but it is an annoying source of confusion at this juncture in my life."
Trump also said that people still remember her as a model and ask her how it was going, "That's how they remember me, and I want to be a little bit more serious than that, ha ha!"