Rules Meghan Markle Has To Follow Now That She's A Mom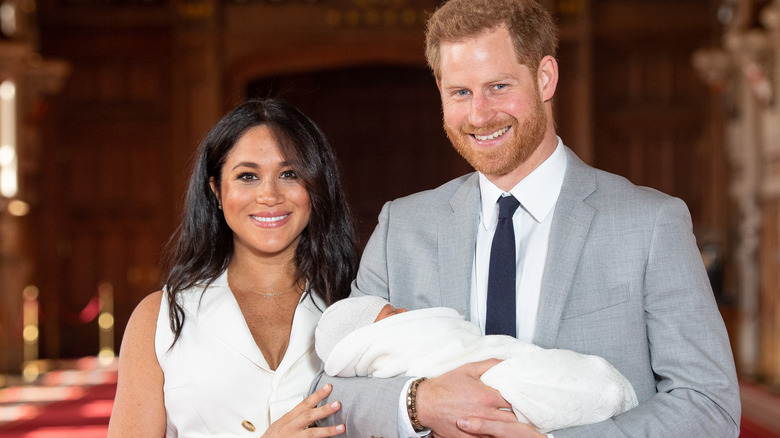 Wpa Pool/Getty Images
Congratulations are in order for Meghan Markle, the former Hollywood A-lister-turned-Duchess of Sussex, and her husband Prince Harry. According to the modern couple's Instagram post, the newlyweds welcomed a baby boy in the early morning of May 6, 2019. The royal duo announced on May 8, 2019 in another Instagram post that they'd named their son Archie Harrison Mountbatten-Windsor. 
But the royal baby excitement began long before baby Archie made his debut into the world. Fans across the globe have closely followed Markle's journey to becoming a real-life Disney princess ever since she and Prince Harry announced their engagement in November 2017. The twosome finally became husband and wife in a star-studded May 2018 wedding seemingly ripped from the pages of a fairy tale. Naturally, there has been talk of a royal baby that entire time, and what that might mean for Markle.
Though Markle has certainly shaken up the royal status quo, breathing new life into the royal family with her mixed-race, American heritage, previous marriage and divorce, sense of style, political leanings, and Hollywood background, there are still certain rules she will be expected to follow now that she's a royal mother. Here's a look at what's expected of The Duchess of Sussex now that baby Archie has arrived.
Baby's first impression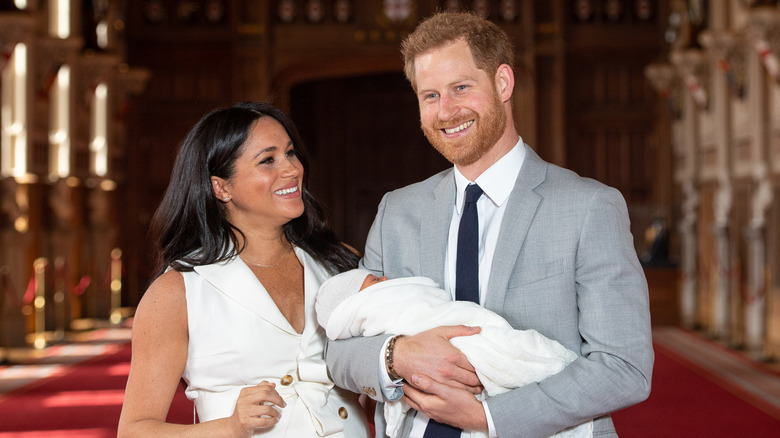 Wpa Pool/Getty Images
Everyone knows that first impressions are everything. The way you introduce yourself is certain to affect the way you are perceived by others, so it's important to make the most of your first impression. After all, you only get one! However, if you happen to be a child of royalty, you're not exactly in charge of your first introduction to the world. 
Before Archie's birth, there was speculation that Markle would be expected to smile and pose for photographers while cradling her baby outside the Lindo Wing of St. Mary's Hospital, just as Princess Anne, Princess Diana, and Duchess Kate have done before her. As if having a crowd waiting to meet your little one isn't intimidating enough, Markle was also expected to look royally prim and proper just hours after giving birth. Talk about some serious pressure!
Unsurprisingly, Markle somewhat bucked this tradition. Her first appearance wasn't hours after giving birth, and it wasn't outside the Lindo Wing. The couple stepped out together for the first time with Archie on Wednesday, May 8, 2019 — two days after Markle gave birth — at Windsor Castle to say a few words and pose for some photos as a new family of three.
About that christening gown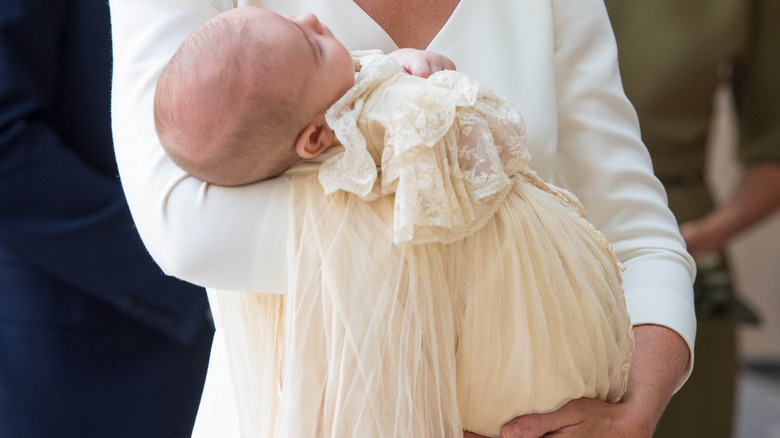 Getty Images
Another royal tradition Meghan Markle will be expected to follow is having her new baby christened, which means the newest little royal will be baptized into the Christian faith. However, unlike most new parents who have their babies baptized, Markle likely won't have a say in what her baby will be wearing on his or her christening day. Instead, Markle will be required to ensure her little one is dressed in the Honiton christening gown. 
Perhaps the name doesn't ring a bell, but you've definitely seen pictures of the Honiton christening gown before. The long, off-white gown, which is a replica of the gown Queen Victoria commissioned for her first-born daughter, has been worn in recent years by Prince George, Princess Charlotte, and Prince Louis during their respective christenings. According to Town & Country, the Queen officially retired the original Honiton christening gown in 2004, tasking her personal wardrobe advisor to help make another. Considering the deeply-rooted history of the Honiton christening gown, it's doubtful this tradition will be going anywhere anytime soon. 
It's all in the wave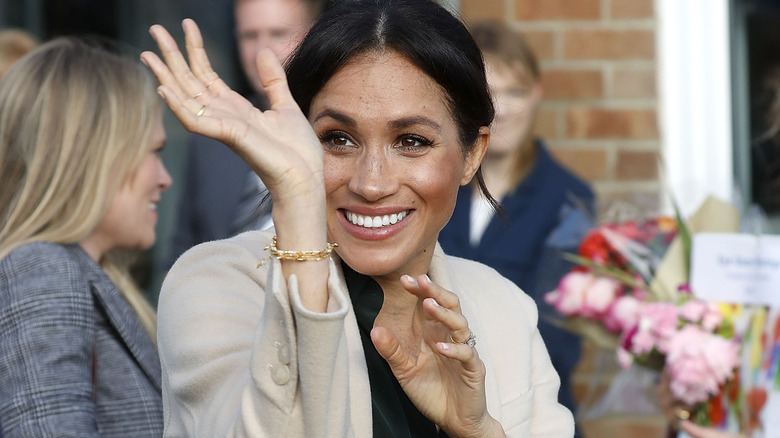 Getty Images
The royal wave is to England what the Miss America wave is to, well, America. It's a carefully crafted, unmistakable type of wave that not just anyone can perfect upon first try, and it even has its own name – the Windsor wave. As royals expert Victoria Arbiter told ABC News, "[The Windsor wave] is pretty much restricted to members of the royal family. It denotes class, elegance, restraint, and character." 
Now that Meghan Markle is a mom, she'll be expected to teach Archie the art of the famous flick-of-the-wrist wave. Perhaps Kate Middleton will be able to offer the new mom some tips, considering her daughter, Princess Charlotte, has made adorable headlines for already having the Windsor wave down-pat. 
However, it's possible that Markle might need a little more practice herself. After all, according to Arbiter, even Prince Harry's technique doesn't quite fall in line with tradition. "[The younger royals'] wave is probably a little less formal," says Arbiter. "More of a hand raise as opposed to the twist of the wrist."
Choosing godparents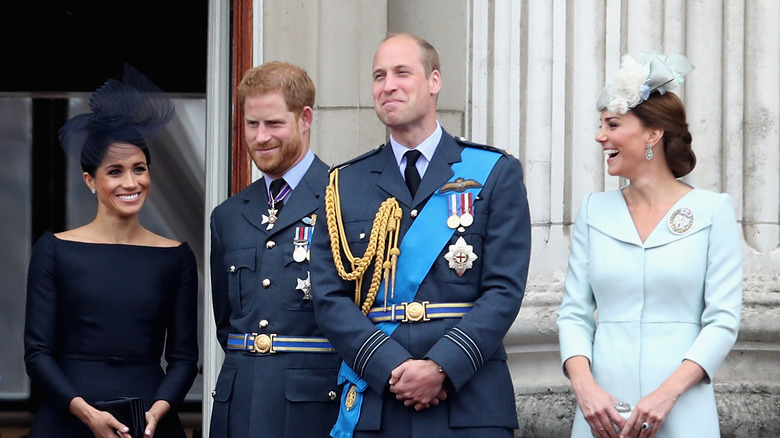 Getty Images
Traditionally, godparents are people who are chosen by a child's parents to take a particular interest in said child's upbringing, well-being, and religion. Should a tragedy occur, godparents are those trusted people designated to step up and fill the void left in the wake of the parents' absence. And while most parents only choose one or two godparents for their children, the royal family is known for their lengthy lists of friends and family honored with the royal godparent title. 
Prince Louis, the newest addition to the Duke and Duchess of Cambridge's family, has six godparents, all of whom are close friends and trusted aides of William and Kate. While rumors were swirling that Meghan Markle and Prince Harry would be named as godparents to little Louis, it seems William and Kate were perfectly content with the Duke and Duchess of Sussex simply maintaining their respective roles as proud aunt and uncle. 
Markle will undoubtedly be expected to provide a list of godparents for baby Archie. Luckily, she's at no loss for close and trusted pals. However, this new mama will probably have a difficult time narrowing down the potential godparent list. 
No kids allowed here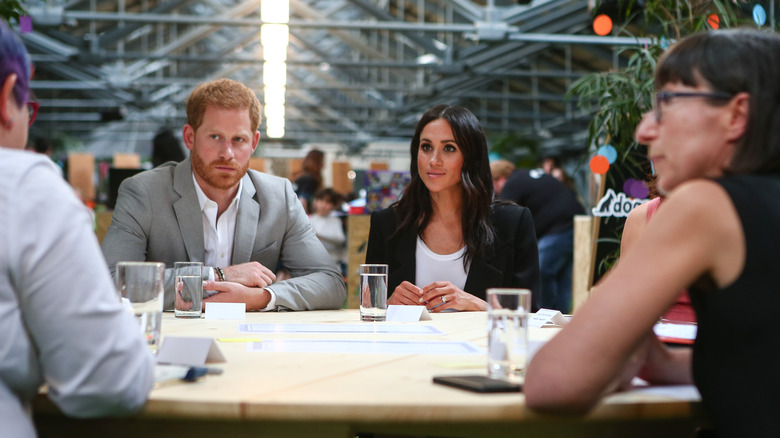 Getty Images
Ah, the joys of being young. Everything is more exciting when seen through the lens of childlike wonder. Imagination is limitless, Christmas is magical, and your birthday is the absolute best day of the year. Really, the only downside to being a kid is sitting at the dreaded kids' table during family functions. After all, you're not like the other kids — you're a cool kid! Maybe you've yet to reach double digits, but you're definitely more grown-up than your cousins. Why can't you sit with Mom and Dad at the adults' table? 
Don't feel bad — even royals aren't exempt from the kids' table. No matter how good Princess Charlotte is at the Windsor wave or how grown-up Prince George looks in his little collared shirts, royal children are reportedly relegated to the kids' table "until they have learned the art of polite conversation." Markle will be expected to enforce this rule with her little one, as well. 
Dress to impress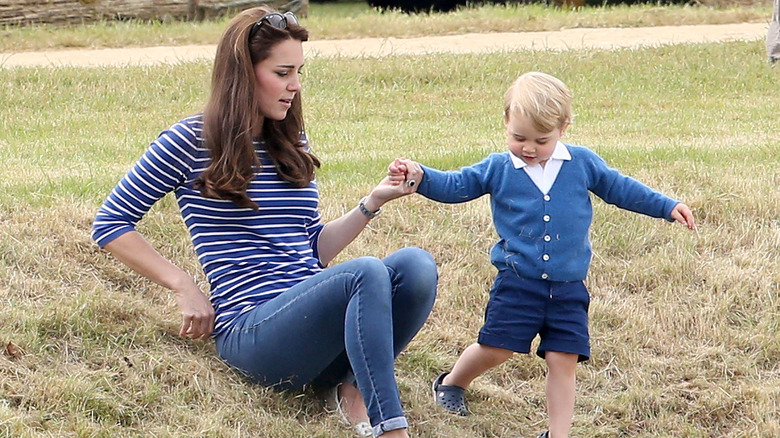 Getty Images
There's no question that Meghan Markle was the queen of the red carpet long before she was an actual royal. This gal has been serving some serious looks for years — and she's yet to disappoint us with her royal outfit choices. From the white coat she wore during her engagement announcement that subsequently sold out and spawned the "Meghan Markle Effect," to the seemingly effortlessly way she somehow makes fascinators chic and appealing, Markle knows how to dress for any occasion. And now that she's a new mom, she'll be expected to learn how to dress her little one for any occasion, too. 
As you've probably noticed, the royal children don't dress like your average tots. Instead of jeans and a t-shirt, Prince George is always seen wearing shorts — and for good reason. "Trousers are for older boys and men, whereas shorts on young boys is one of those silent class markers that we have in England," etiquette expert William Hanson explained to Harper's Bazaar. So Markle will be expected to get Archie a wardrobe filled with shorts for years to come.
An education fit for a royal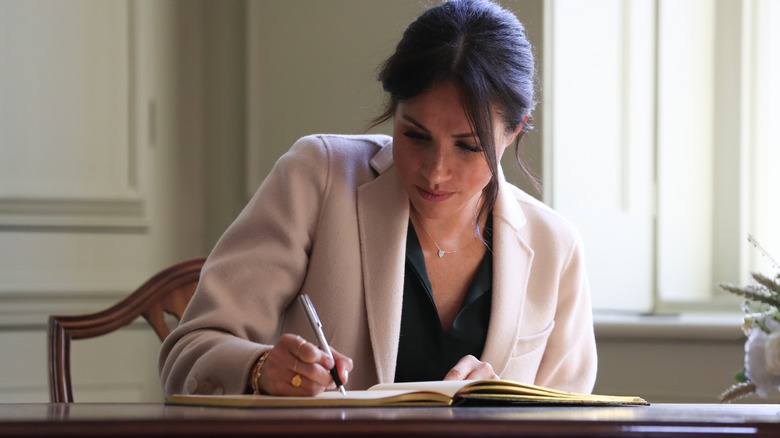 Getty Images
An outspoken advocate long before she met Prince Harry, Meghan Markle penned a passionate essay in 2017 for Time which detailed the importance of breaking the taboo surrounding menstruation, specifically in countries where lack of access to proper sanitary supplies is directly linked to girls forgoing their education to avoid embarrassment. "When we empower girls hungry for education, we cultivate women who are embolden to effect change within their communities and globally," Markle writes.
Considering her staunch belief in quality education for all, there's little doubt Markle would want anything less than the best for her own son. And even if she weren't the advocate for education that she is, Markle would still be required to enroll Archie in a prestigious, reputable school when the time comes. As People reports, Prince William and Kate Middleton enrolled Prince George in Thomas's Battersea — a London day school "for cosmopolitan parents who want their children to have the best English education money can buy," according to The Good Schools Guide. With a price tag of $23,000 per year, we certainly hope little George is paying attention! 
Sharing her little one with the world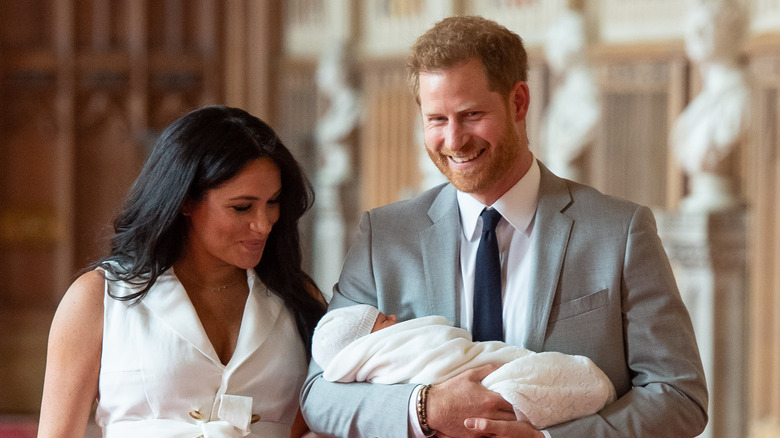 Dominic Lipinski/Getty Images
It's hard to say if Meghan Markle would have eventually decided to become a mother if she had not met and married Prince Harry. However, if she had chosen to have mini Meghan Markles of her own while continuing her career as an A-list Hollywood actress, the former Suits star might have opted to shield her children from the public eye. Plenty of Hollywood celebs have been hopping aboard the "no pictures" train as of late, including Kerry Washington, Adele, Tyra Banks, and Eva Mendes, who even managed to keep her pregnancy under wraps for a while. 
Unfortunately, since Markle is a royal, she didn't have the luxury of keeping her bun-in-the-oven a secret. Markle is also expected to share photos of royal baby Archie with the public, as well as take him along to public events — the couple gifted the world with that precious baby's face a mere two days after he was born. Hopefully her Hollywood background has prepared the Duchess of Sussex for the spotlight that is sure to be following her and her son from now until forever.