The Curtis Storyline That Had General Hospital's Donnell Turner Jumping For Joy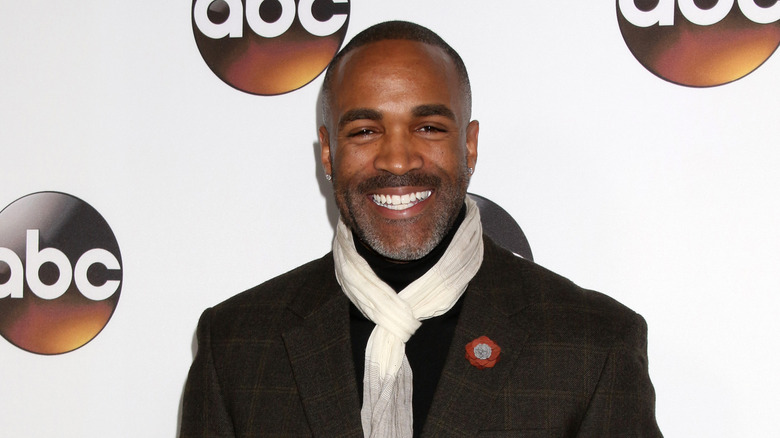 Kathy Hutchins/Shutterstock
Curtis Ashford (Donnell Turner) has always been a man of action on "General Hospital." In his past, he's been a police officer, a DEA agent, and a private investigator. His heroic deeds are numerous including helping disarm a bomb at the hospital in 2017 and helping a team of Port Charles heroes save humanity from utter annihilation in Greenland in May. However, his days of derring-do have now been faced with a major setback.
An unwitting Curtis was happily walking through the Metro Court Hotel pool area to talk to his wife Portia Robinson (Brook Kerr). Little did he know, a sniper was hiding nearby and shots rang out. One of the bullets ricocheted, striking him in the back. Curtis was collateral damage as both former spy Anna Devane (Finola Hughes) and mobster Sonny Corinthos (Maurice Benard) realized one of them had been the intended target.
Poor Curtis — who had just learned that he was the father of Portia's daughter, Trina Robinson (Tabyana Ali), and had recently rekindled his relationship with his previously thought-dead father, Marshall Ashford (Robert Gossett) — went through intense surgery to remove the bullets that were near his spine. When his heart stopped during the operation, he had a vision that he was visiting with his mother, Irene Ashford (Cheryl Francis Harrington), and his brother Tommy. He awoke to the shocking news that he may never walk again, and Turner had some interesting things to say about Curtis' current storyline.
Curtis' scenes have been challenging and emotional
Donnell Turner spoke with Soap Opera Digest to discuss what it was like to portray Curtis Ashford's intense story. He explained that "General Hospital" executive producer Frank Valentini told him that Curtis would become paralyzed months ago. His reaction to it was an eager one. "I about jumped through the phone!" he said. "I expressed my excitement and he was laughing on the other end. He said, 'I knew you'd like it. You've been saying you wanted something you could sink your teeth into.'"
Turner also explained that the scenes where he meets his mother in heaven during surgery were, "incredibly emotional and emotionally jarring, even in rehearsal." Filming was moving both for him and for the rest of the cast and crew, with Turner revealing that everyone ended up in tears by the end of rehearsal. He went on to state that he wanted to rehearse in front of the cameras on the set, "So that what you got on screen was organic. For me, it was a nod and a hug to my late mother [Lorraine Sylvester, who passed away in 2021], and I know she's proud."
With regards to the reveal that Trina is Curtis' daughter, Turner stated, "I think he is excited. I think he's encouraged to get to know her and make up for lost time." He also stated that the message behind his portrayal of a paralyzed Curtis is that no matter what the issue is, people should never give up.