Who Is Queen Camilla's Former Daughter-In-Law, Sara Parker Bowles?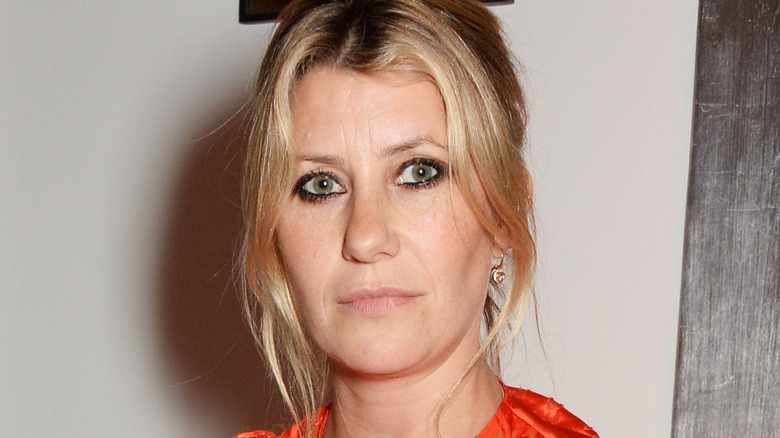 David M. Benett/Getty Images
The name Sara Buys might not ring a bell right away, but the name Sara Parker Bowles? That one might pique some interest since her shared surname with Camilla, Queen Consort, is no coincidence. Parker Bowles, formerly Buys, is the ex-wife of Camilla's only son, Tom Parker Bowles, a famous food writer and celebrity in his own right. For those of you counting branches on the complex royal family tree, yes, that makes the mother of two the former stepdaughter-in-law of the King of England. And although she and her husband divorced in 2018, Sara attended the coronation, albeit without the front-row seat and balcony views that her son Freddy, who served as a page, enjoyed. 
Since her divorce, Sara has remained relatively close with her former in-laws, particularly Camilla. Perhaps that's because she's known the King and Queen Consort for more than two decades when they were still the prince and the other woman, and the public perception of her soon-to-be mother-in-law was unfavorable, to put it nicely. "It was still the hate years. [Camilla] wasn't accepted at all. She didn't talk about it. She was just very brave and uncomplaining," Sara told The Times. These days, the former fashion editor stays busy with her new company, Wardrobe Revival. She is her own woman, confident, career-oriented, with a "cool girl" vibe. While she may not officially be royalty, Sara Parker Bowles is undeniably a royal success.
She married into the family before it was royal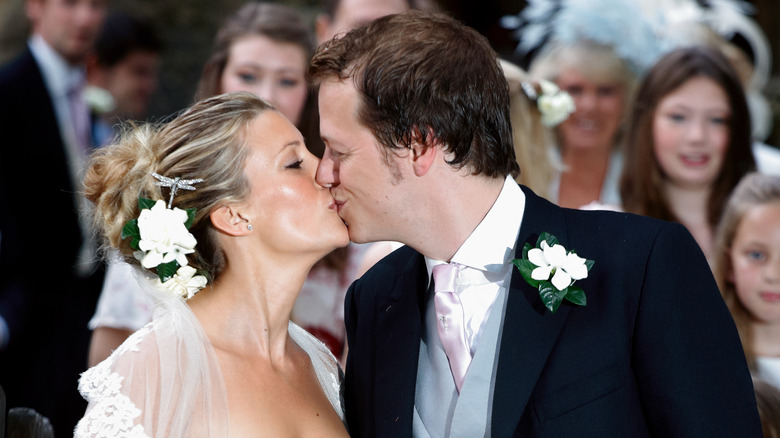 Max Mumby/indigo/Getty Images
The year 2005 was a big one for weddings in the Parker Bowles clan. First, Camilla, Queen Consort, tied the knot with King Charles III, and then her only son, Tom Parker Bowles, followed suit with his wedding to Sara Buys a few months later. The couple said "I Do" at the St. Nicholas Church in Rotherfield Greys, Oxfordshire, in front of a guest list that read like a royal social registry and included the future King and Queen of England, along with Princes William and Harry, and British rock royalty Mick Jagger. A reception for the happy couple followed at Middlewick House, the Parker Bowles family home. 
Although she was not officially royalty, the new Mrs. Parker Bowles looked regal as she sailed down the aisle in a custom gown designed by Alexander McQueen and Sarah Burton, who later made Princess Catherine's stunning bridal gown. The simple, strapless, mermaid-style gown was the epitome of quiet luxury and came with quite a luxurious price tag of more than $12,000 dollars. Parker-Bowles told The Times that it was the most extravagant clothing purchase she'd ever bought and that, while she loves owning one of the designer's originals, (as she explained, "I feel very sentimental about the fact I have something he made"), she is mortified that she spent so much. She noted, "I'd do it very differently now, but it had to be really formal. It had to be what it was."
Her children have a special nickname for Queen Camilla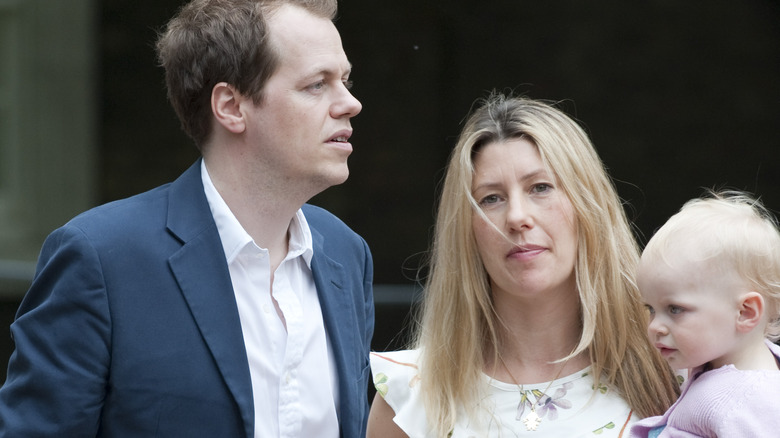 Antony Jones/Getty Images
To the world, she is Camilla, Queen Consort. To her grandchildren, she is "Gaga," the moniker lovingly bestowed by Tom and Sara Parker Bowles' children Lola and Freddy. Until recently, when Freddy made his adorable coronation faux pas, waving on the balcony of Buckingham Palace, the Parker Bowles children had flown mostly under the radar. Still, they seem to enjoy a close relationship with both their Gaga and King Charles III, whom they refer to as Umpa. In fact, it was Umpa who reached out via email to inquire about a birthday gift for Lola. Parker Bowles recalled the inquiry in The Times. "It said, 'The King would like to know what Lola wants for her birthday,' " she said with a laugh. "It was just surreal. Like language from a fairytale."
Hilariously enough, since King Charles III's coronation, family dynamics have gotten even more bizarre. As Parker Bowles told The Times, "Whenever I get cross with Tom, I say, 'Who do you think you are? Is your mum the Queen of England?'" She then quipped, "And now, actually, she bloody is."
However, the young Parker Bowles brood may not have had a storybook childhood. Their parents separated when Freddy was only eight years old, and their father began seeing journalist Alice Procope. The couple had been together for almost two years when Procope was diagnosed with cancer and died from it. It is unclear whether Lola and Freddy were close with their father's new flame, but what is clear is that the children have been exposed to a lot of changes in their young lives, including divorce, death, and perhaps most unusual, suddenly finding themselves as the step-grandchildren of the King of England. 
Sara and Tom Parker Bowles split after 12 years of marriage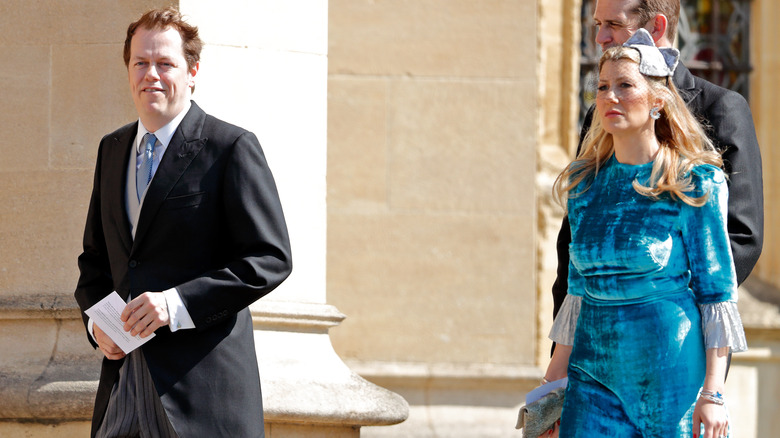 Max Mumby/indigo/Getty Images
After 12 years of marriage, Sara and Tom Parker-Bowles called it quits in 2018. The reason for the split was unclear, but the marriage had reportedly been on the rocks for a while. And while neither pointed fingers at infidelity, it wasn't long after the break up that Tom began a serious relationship with journalist Alice Procope who sadly lost her battle with cancer during the couple's two-year relationship. 
Although Parker Bowles says that she and her ex remain amiable, she told The Times that the breakup is still a "source of sorrow" for her, adding, "I'll never not be sad about it, but one day we'll be able to say we are really good friends." Until then, they managed to cooperatively co-parent their two children, Lola and Freddy, and the entire family attended the 2023 Coronation of King Charles III, although they did not sit together. As for Tom, he once penned his thoughts in The Times, saying, "Marriage is about compromise, about two people who might be rather different, but who love each other very much. Marriage is a wonderful thing in the long term, but there are ups and downs."
Sara Parker Bowles has revived the wardrobe of several celebs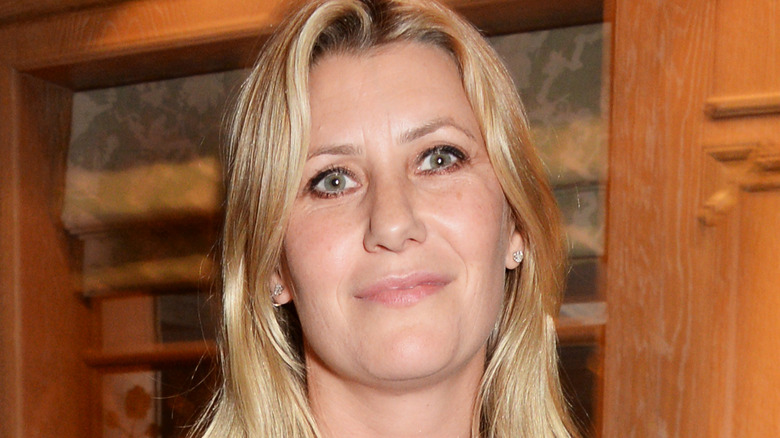 David M. Benett/Getty Images
"With a few simple style strategies, we can create a hard-working wardrobe that helps you to look and feel your best when it comes to dressing for the many elements of your life." That is the promise from Sara Parker Bowles on her company, Wardrobe Revivals' home page. 
As a fashion editor and journalist who has enjoyed a successful career with publications including Vogue and Harper's Bazaar, Parker Bowles has worked with some of the most stylish women and sought-after designers in the world. Her client book is a roster of A-list celebrities who come to her for advice on how to look and feel their best. Through Wardrobe Revivals, Parker Bowles helps them achieve that through "circular style," which consists of maximizing what the client already owns and then offering advice on where to punch it up with a new, timeless piece or two. We can't help but wonder if she was influenced by former mother-in-law Camilla, Queen Consort, who, along with Princess Catherine and other royals, famously re-wears items from her closet. 
Essentially, Wardrobe Revivals cuts through closet clutter and teaches women how to put together outfits that they can always reach for with confidence. Moreover, it encourages them to feel good about themselves, something Parker Bowles says all women can benefit from, especially as they approach middle age. She wisely told The Times, "Fashion editors don't pack loads of nice clothes when they go to the shows. They put together outfits, so it takes 20 minutes to get ready in the morning. People think it's frivolous, but clothes are currency. Fashion can embolden women."
Like her ex, Sara Parker Bowles is a well-known writer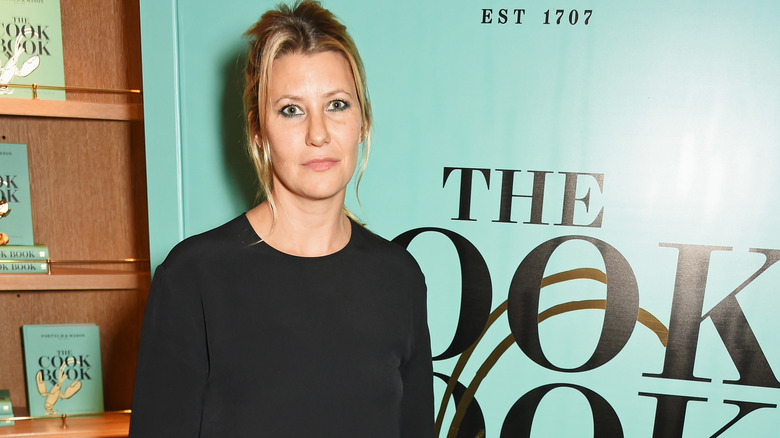 David M. Benett/Getty Images
Her ex-husband, the renowned food writer, author, and columnist Tom Parker Bowles may get all the kudos for his vast body of work, but Sara Parker Bowles has an impressive resume in the journalism industry as well. She cut her teeth with the now-out-of-print GQ Active (a health magazine) as an editorial assistant in her 20s. From there, she moved to the fashion bible British Vogue, where she was the personal assistant to the editor, before transferring to features. Interestingly, Sara claims her time as a PA was anything but successful, telling The Telegraph's fashion column that her editor saved her by placing her on the features team.
Since then, her illustrious, and enviable career in the fashion world has included stints as the associate editor of Harper's Bazaar, and senior editor of Town & Country magazine, where she was part of the launch of its premier U.K. edition. "It's a really old American publication, this is the first British issue, so it's been exciting to work on something completely new," she told The Telegraph. With so much insider knowledge at her fingertips, it's no wonder that Sara has that whole effortlessly cool thing down pat. From her perfectly imperfect hair to her casually lux style, she's the embodiment of a woman who understands the difference between wearing fashion and letting fashion wear you. 
Sara Parker Bowles has a flair for fashion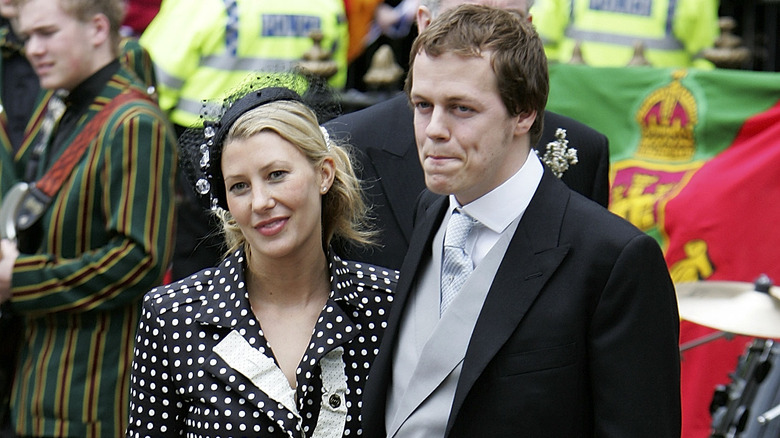 Georges De Keerle/Getty Images
As is evident from the two decades she spent in the fashion industry (as well as the launch of her company Wardrobe Revivals), Sara Parker Bowles knows a thing or two about fashion. One of the most important things she learned is what works on her body. Rather than falling for the latest trend, Parker Bowles understands the art of timelessness and dressing in a way that makes you feel confident and beautiful. She leans towards the classics, white shirts, black blazers, and a great pair of jeans from brands like Hudson, Frame, and J Brand. She once told The Telegraph that she won't wear loose-fitting boyfriend jeans because "that look doesn't suit my shape," and she eschews long maxi coats because she thinks she's "too short." 
Like any well-heeled gal, Parker Bowles loves shoes and never passes up a chance to snag a deal on a pair of Manolos or Jimmy Choos at a sample sale — because who doesn't love a bargain? Especially when it comes to timeless pieces that transcend trends. That's the mentality she says she hopes to impress upon her Wardrobe Revivals clientele. Per The Times, "You should never pay full price for anything," she insists. "It's about research, not going straight to Harrods. I want to teach people to stop making loads of impulsive cheap buys and expensive mistakes." We love to see such resourceful sartorial habits!
Sara and Tom Parker Bowles' son was part of the Coronation of King Charles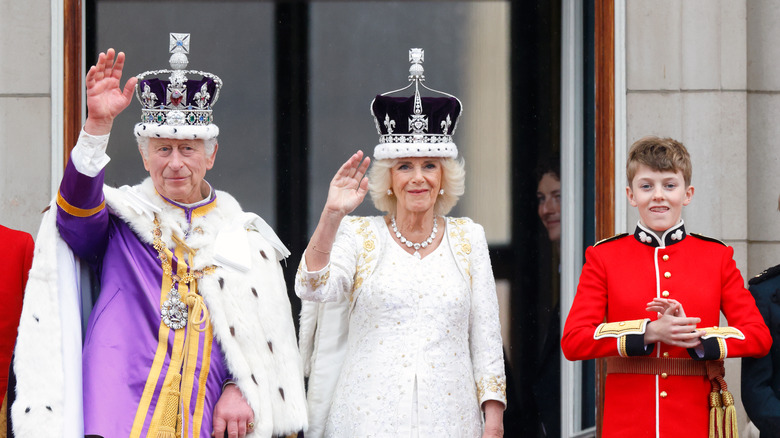 Max Mumby/indigo/Getty Images
Mothers everywhere could relate to what Sara Parker Bowles must have been feeling as her son Freddy Parker Bowles took his place as a page in the Coronation of King Charles III and Queen Camilla. She watched as he sat in the front row during the ceremony and as he stood on the balcony of Buckingham Palace, unable to hide his glee at being part of such a momentous occasion. "He wanted to go in the gold carriage, but he didn't get to. Then his face on the balcony — I could see he was just like, woah! My favourite part of the whole day was that he did a little wave that he wasn't supposed to," Parker Bowles told The Times, adding that she was "obsessively watching him."  And what mother wouldn't be if her son was part of history? 
The entire balcony ensemble of blended family members was an unmistakable sign of how far the monarchy has come in the past few decades. Both the king and queen are divorced, and the presence of members from both of their respective families sends a strong message about the importance of family and unity and hopefully establishes the tone for a new, more modern monarchy.
Sara Buy shares a close relationship with her former mother-in-law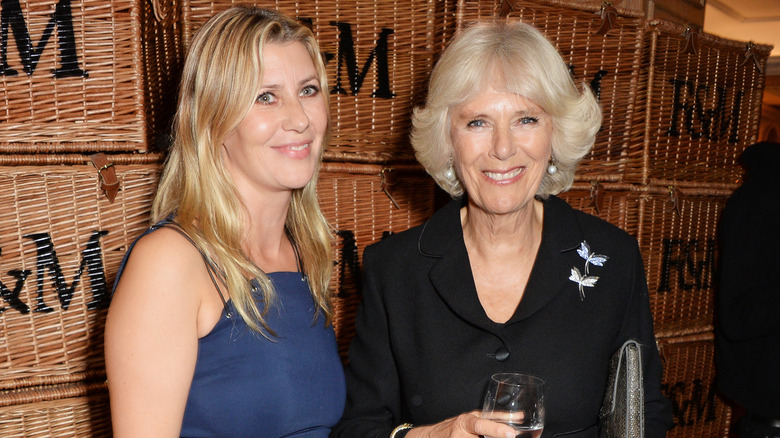 David M. Benett/Getty Images
The relationship between mothers and daughters-in-law is complex at best and contentious at worst. Like stepmothers, mothers-in-law are often cast as the villains in film and literature for their meddling schemes and competitive nature. Who can forget Jessica Lange as the manipulative, murderous mother-in-law in the movie "Hush"? Or how about Jane Fonda in "Monster-In-Law"? The film's title says it all! For Sarah Parker Bowles and her former mother-in-law Camilla, Queen Consort, those stereotypes do not apply. The two enjoyed and continue to enjoy a strong friendship. 
Parker Bowles first met her husband's mother during what she referred to in  The Times as Camilla's "hate years." She adds that her ex was worried that his mother might undergo the same negative public response once she became Queen, but time has a funny way of healing old wounds, and the tides seem to have turned for Camilla in her new role. "She's the human face of the royal family, because she's not part of it. You need those outsiders really," Parker Bowles wisely said. And as for Prince Harry's allegations that his step-mother was vying for the role of queen all along, Parker Bowles sees it differently. She told The Times, "Camilla was always in it for the right reasons. It's not right for someone to have gone through what she did, but it's come to fruition — not being Queen, but to be with the person that you love."