Richie Crawford From Family Matters Is All Grown Up And Unrecognizable Now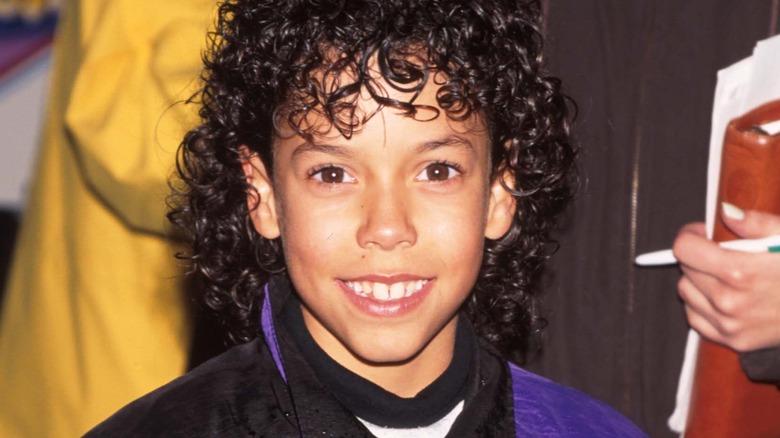 Evan Agostini/Getty Images
Through following similar family-centric themes other sitcoms perfected at the time, "Family Matters" was bound for success due to their creative depiction of a middle-class African-American family in the suburbs of Chicago. Their claim to fame, however, wouldn't be apparent until the show introduced Steve Urkel — a quirky main-stay character who saved the show from being dropped by ABC. This, in turn, allowed "Family Matters" to run for 215 episodes and sustain a credible shelf-life for nine years after its release in 1989.
In 1989, we were also introduced to Richie Crawford — the playful, yet sometimes disobedient, son of Rachel Crawford. Though Richie was initially played by Joseph and Julius Wright, three-year-old Bryton James eventually got the role in 1990 and went on to star in 144 episodes. During his appearance on Maurice Benard's podcast "State of Mind," James actor spoke about how he took to the success "Family Matters" had garnered. "Back then, I was so young that I was just having fun ... I didn't understand how people knew who I was when I was, you know, out on the street and stuff like that for a while," he stated. While each "Family Matters" cast member underwent their own dramatic transformations, none are as interesting as James' road to adulthood. From being a spokesperson for various charities to finding consistent work on a well-known soap opera, here is what Bryton James has been up to after he departed from "Family Matters."
He tackled other creative pursuits after Family Matters ended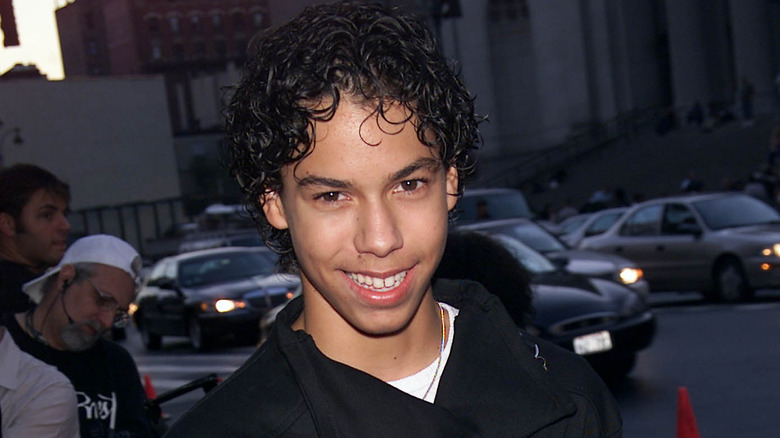 Evan Agostini/Getty Images
In most cases, the changes in having a less consistent schedule would leave actors spinning around aimlessly, trying to find work in other areas. For Bryton James, this granted him the free time to tackle other pursuits in his life he wouldn't have been able to if "Family Matters" hadn't ended. Before his departure, James took part in several charity events held by the organization D.A.R.E (Drug Abuse Resistance Education). According to his biography on Soap Net, this venture ultimately landed him in front of notable figures such as Bill Clinton and the late Michael Jackson. From there, Bryton started his own charity organization called "R.A.D.D Kids," which allowed him to tour the United States, spreading awareness of drugs and alcohol to young kids.
Surprisingly enough, his charitable efforts were a launching pad for what soon became a budding music career that saw him sign with Universal Music Group in Germany. Once "Family Matters" ended, James had already transitioned into a full-time artist. Due to the success of his first single, "The Way I Feel About You," James got the opportunity to tour overseas. "It did very, very well," he stated. "I toured over there for about a year and a half before coming back." From appearing in a Paul McCartney music video to participating in Michael Jackson's benefit concert following 9/11, James achieved massive success in the first few years after "Family Matters" ended.
His return to acting led him to become a soap opera megastar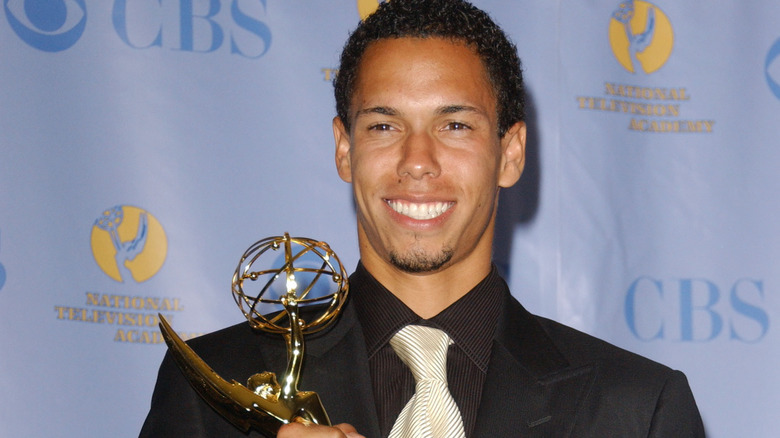 Albert L. Ortega/Getty Images
Although Bryton James is well-known for his portrayal of Richie Crawford in "Family Matters," his most notable role in television has to be his portrayal of the troubled Devon Hamilton Winter in the soap opera, "The Young and the Restless." After earning the role in 2004, James became a prominent figure in the ongoing series. In a 2020 interview with Soap Opera Digest, he spoke about earning the role and how it shaped his reignited passion for acting at the time. "Once I knew that they valued me and thought that I would be a great fit for this role, I immediately just wanted to get better every day and do the best I could to add to the show," he stated. "I mean, I didn't know anything about 'The Young and the Restless' ... I didn't know what I was really getting myself into until I got the part. But once I did, I was very confident and eager to get going.
This drive allowed him to garner several credible accolades along the way. Whether it be his numerous nominations at the NAACP Image Awards or his notable wins at the Daytime Emmy Awards, James' inclusion in the series solidified his position as a respected actor. In 2022, James touched on his string of success with MaximoTV after being nominated yet again at the 49th annual Daytime Emmy Awards, stating: "To get any nomination, it's just an honor."
Bryton James ventured into voice-acting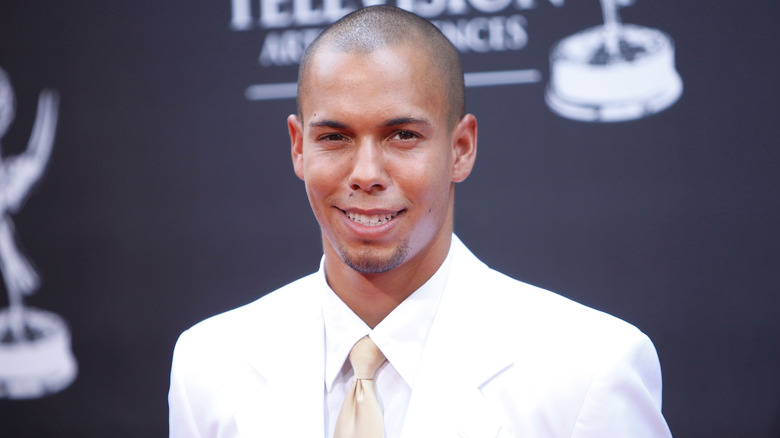 Michael Tran/Getty Images
Though Bryton James found early success as an actor in "Family Matters," the ever-growing child star was no stranger to show business. Before his gig as Richie Crawford, the California native made appearances in Disney commercials and had voice acting credits in Disney's "The Hunchback of Notre Dame." This, however, wouldn't be his only time venturing into voice acting. Due to the immense amount of time on his hands after "Family Matters," the budding actor lent his voice to "The Kids from Room 402" and the video game "The Jungle Book: Rhythm 'n Groove."
While his return to the big screen meant that he would remain consistent with his acting obligations, James kept this side hustle going for the better part of his career. Despite the strenuous schedule he had due to his inclusion in an ongoing soap opera, James found time to voice several characters from a range of Nickelodeon-produced cartoons like "Zevo-3," and Lego's "Hero Factory." From 2012 to 2014, James found consistent work voicing Roy in "Winx Club." After starring in 21 episodes, James would continue his voice-over pursuits through notable franchises such as "Star Wars: Rebels" and DC's "Young Justice." With his last voice-acting credit being "Tales of the Jedi" in 2022, it seems that James has not slowed down his yearly grind as a voice actor.
He snagged a small gig playing a witch in the Vampire Diaries
Given his success on "The Young and the Restless," Bryton James has continued to star in the ongoing soap opera series ever since his debut in 2004. Aside from his short cameos in "Smart Guy" and "The Brothers Garcia," James has kept on-screen appearances in other notable television shows limited. By 2010, however, James would use his success as an actor to land him a role in the dark fantasy series, "The Vampire Diaries."
Though his schedule would make being a regular on the show difficult, he was able to make the best out of the few episodes he starred in. In Season 2 of "The Vampire Diaries," James shocked viewers by playing the adolescent witch Luka Martin. Despite his apparent talents in acting, the shift in narrative was something new for James to adjust to. Due to his built-up familiarity with shooting soap operas, acting in a dark fantasy project was a daunting task for the California-born actor. In an interview with Variety Radio Online, James touched on the differences between the two projects. "We do an hour episode in a day on a soap opera, literally. Five days a week. You know, 30-something scenes day," he revealed. "And 'Vampire Diaries,' you have to do the scene with your shot and the scene with their shot, and the wide shot then, you know, there's special effects ... there's so much that goes into every scene."
Bryton James became a godfather of two
From joining the cast of "The Young and the Restless," Bryton James built strong friendships with several of his co-stars. Two of which happened to allow him to be a credible role model to their kids — gifting him the title of godfather. The first to do so was long-time friend Daniel Goddard, who shares two children — Ford and Sebastian William — with his wife Rachael Marcus. Judging by James' Instagram, he's been known to make his followers familiar with Ford's presence in his life. In 2015, James posted a picture of Ford finding a headshot of him in a magazine with the caption, "My other godson Ford always seems to find me!"
As his caption suggested, this wouldn't be his only godchild. From first meeting on the set of "Family Matters," James and Christel Khalil crossed paths again in "The Young and the Restless" and maintained a strong friendship over the years. In 2010, Khalil gave birth to Michael Caden Hensley and granted James the opportunity to be his godfather. Aside from sentimental Happy Birthday posts, James expressed his closeness with his beloved godchild through a "Star Wars" inspired Instagram post in 2015. Under a picture of the two squaring off with blue and red lightsabers, James spun the infamous Darth Vader quote, stating: "Caden ... I am your Godfather." Given his stance on children, it's heartwarming to see that he's still getting his fatherly fix elsewhere.
Bryton James went through a divorce in 2014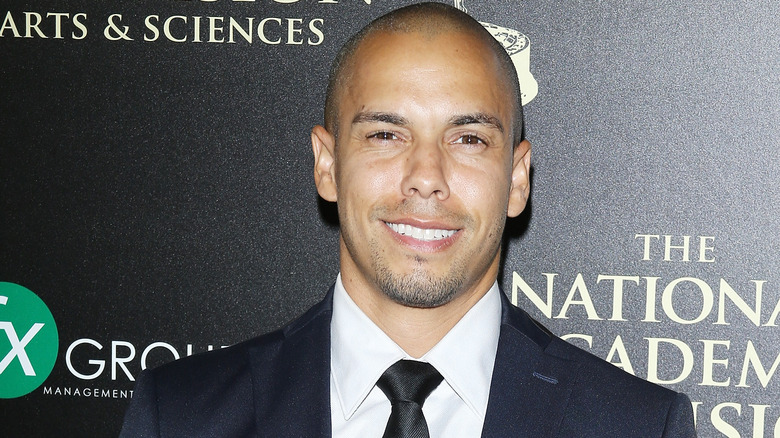 Michael Tran/Getty Images
Bryton James has been fortunate enough to successfully keep most of his private life away from the public eye. That, however, never made him susceptible to the dilemmas a young celebrity may face when it comes to publicly dating. From meeting on the set of "The Young and the Restless," James got into a relationship with Ashley Leisinger. This would culminate in the two getting married in 2011. Their relationship, however, ended in turmoil as the pair divorced only two-and-a-half years after tying the knot.
Although James remained relatively quiet on the matter, the topic brought itself up during his appearance on Maurice Benard's podcast "State of Mind." While speaking about various aspects of his life — such as his relationship with Michael Jackson and his experience on "Family Matters" — James discussed specific details regarding his marriage and why it didn't work. "It's obviously rough in the moment when things are happening, but you know, I had complete understanding of why it happened," he told Benard. "We both did things to each other, but it's all insecurity. An insecurity because ... you don't know who you are, what you want, and why you want it." Benard then asked the soap opera actor if he's open to being married again, to which he responded: "Yeah, I don't think I would get married again because I have different ideas about the institution of marriage and where it comes from and what it's about. I'm not against it, but I just don't think I would do it."
He reminisced on the success of Family Matters
Despite his success in "The Young and the Restless," Bryton James seemingly can't avoid the impact he had as Richie Crawford in "Family Matters." Similar to the cast of "Friends" or "Fresh Prince of Bel-Air," the main cast of "Family Matters" reunited for an exclusive PeopleTV special in 2017. Everyone from Reginald VelJohnson to Shawn Harrison was in attendance for the memorable segment. Given the show's impressive shelf-life, each cast member spoke candidly about their favorite moments on the show, behind-the-scenes stories, and how they got the role to each of their fictional counterparts.
That wouldn't be the only segment in which James reminisced on the success of the notable sitcom. Within the same year of the PeopleTV special, James appeared on Oprah Winfrey's "Where Are They Now."  The trip down memory lane allowed fans to learn about James' whereabouts since the show's demise. From revealing Telma Hopkins' mother-like role she played in his life to swooning over his first crush, Kellie Shanygne Williams — to even praising Jaleel White for saving the show during its early stages — James spoke about the reason for its cancellation after nine seasons. "'Family Matters' got canceled really because of time," he said. "I think relationships had gone a little south, people were just ready to move on, and also ratings-wise — I think just a combination of all those things made it for the right time to end."
Bryton James dated co-star Brytni Sarpy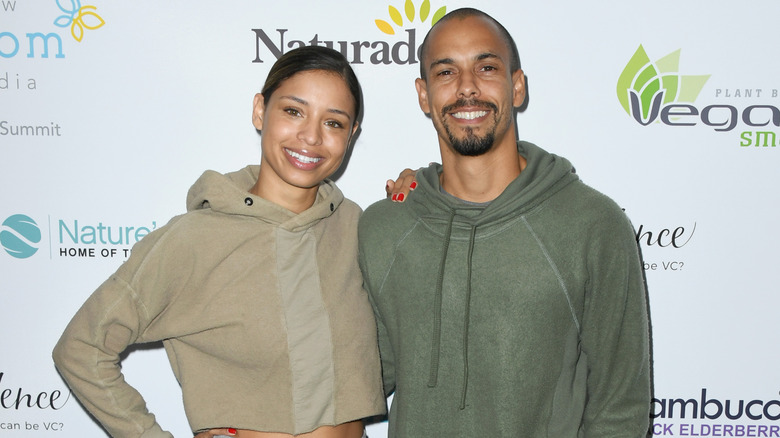 Jon Kopaloff/Getty Images
Since Bryton James went through a heart-breaking divorce in 2014, some would assume it'd be difficult for him to transition back into dating. In 2019, however, things would take a turn when actress Brytni Sarpy joined "The Young and the Restless." From first appearing on "General Hospital" as Valerie Spencer, Sarpy played Elena Dawson — Devon Hamilton's love interest.
It didn't take long for their fictional attraction to mirror their reality. After joining the cast of "The Young and the Restless,"  James began to date the actress within the same year. As the two continued to make public appearances together, James and Sarpy had no problem swooning over one another on each of their Instagram pages. On May 26, 2020 — their first anniversary — Sarpy took to Instagram to share a picture of the two on a beach with the caption, "Feels like forever and just yesterday at the same damned time ... Happy 1 year @brytonejames." (via Soaps). James followed suit and penned a caption celebrating their first year together as well. "To spend one with the One, feels like I've won." he wrote. Despite their apparent love for each other, it is unclear whether or not the pair are still together. As of 2023, it appears that Sarpy has taken down any photos of the two on her Instagram, while James has kept their affectionate selfies up for his followers to see.
He spent quarantine developing a social networking app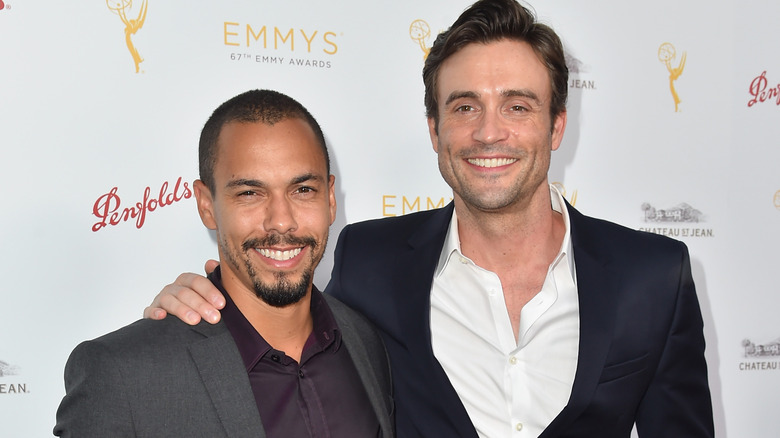 Alberto E. Rodriguez/Getty Images
While quarantine made it difficult for various films and projects to continue their productions, Bryton James took this time off to tackle other ventures. In his 2020 interview with Soap Opera Digest, he revealed that he spent most of his free time recording voice-overs, working on a writing project with Brytni Sarpy, and most notably, developing an application with his ex-costar, Daniel Goddard. "My writing partner for a long time now, Daniel Goddard, who used to play Cane on 'Y&R,' he and I have continued making some headway on some of our writing projects and also our new tech venture with a new app that we've developed and released," he shared. "So, I've found ways to keep myself busy aside from 'Y&R.'"
The "tech venture" he referred to is the social media application BILDBORD — which he released earlier that year. Goddard revealed to Soap Opera Digest that BILDBORD was made to adhere to the fans of soap operas, giving them a platform to connect, socialize, and share their opinions about various shows within the genre. Due to the complexity other forums give to their users, James and Goddard aimed to simplify the process of finding like-minded individuals through their application. Everything from hashtags to creative features on your own personal profiles was thought about and implemented into the program. Luckily for the two, the launch appeared to be a success. As of 2023, the application is still available on the Google Play store.
He reunited with his former on-screen mother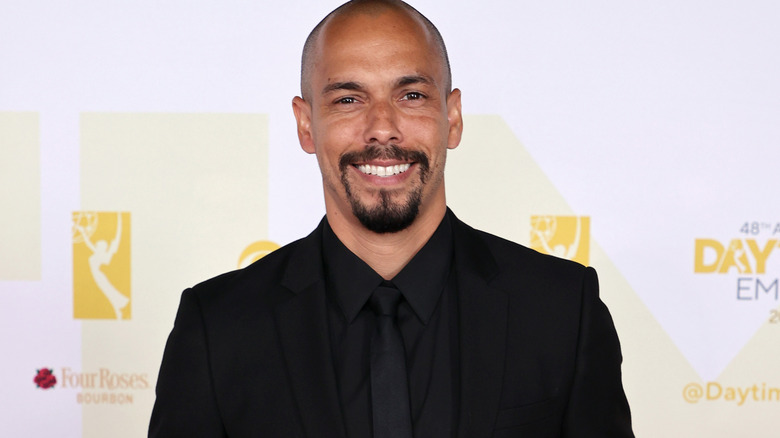 Kevin Winter/Getty Images
Although Bryton James' days on "Family Matters" are behind him, the ghost of his childhood past always seems to find its way back into his life. One example of such is his "The Young and the Restless" co-star — and known best friend — Christel Khalil. Their relationship started when she made a guest appearance on "Family Matters" in 1996. Though the two crossed paths again unexpectedly, a similar occurrence would happen in 2021. This time, it would be his former fictional mother.
In 2021, Telma Hopkins — who played Rachel Crawford in "Family Matters" — played the private investigator Denise Tolliver in "The Young and the Restless" for six episodes. During an interview with TV Insider, James revealed that this was actually in the works once he realized she was a fan of the show. "When I found that out, it's been a no-brainer for me," he stated. "I've been telling the writers and producers, 'You guys have to figure out a way to get her on the show.'" Thankfully, this all came to fruition when James received a phone call from Hopkins revealing the big news. Despite the initial excitement, Hopkins shared that she was extremely anxious about this long-awaited venture. "It's great to watch and I love being involved from home, but I was a little nervous about whether or not I could keep up the pace," she explained.