How Many Kids Do Jimmy And Rosalynn Carter Have?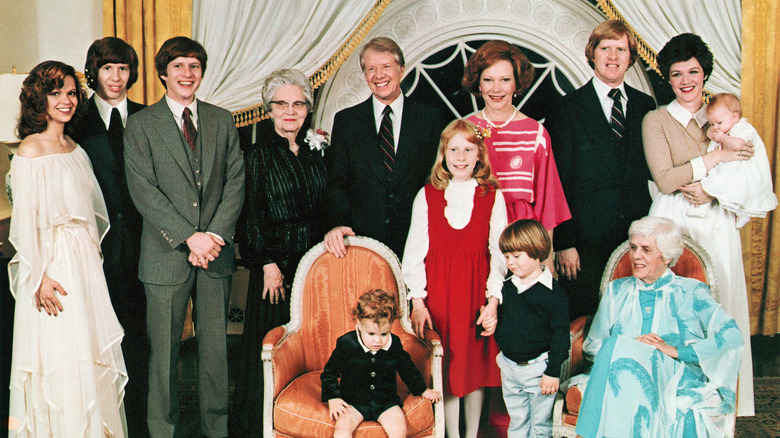 Historical/Getty Images
Most of us are familiar with the Carters, as in former president Jimmy Carter and his wife Rosalynn Carter — not Beyoncé and Jay-Z. James Earl Carter Jr., known as Jimmy, was the 39th president of the United States, serving during the late '70s and early '80s. Hailing from Plains, Georgia, the couple was beloved for dressing, speaking, and acting more casually than most government officials usually do. The down-to-earth duo also supported many American ideals of the time, like prioritizing family.
As such, they built quite the brood. Today, they have four adult children and 22 grandchildren and great-grandchildren. The longest-living president in America's history credits quality family time as the reason his legacy will live on. It's also why Jimmy and Rosalynn Carter's marriage has endured so long (over 70 years).
Here's a closer look at the Carter children, who, interestingly, almost all have nicknames, just like their father "Jimmy" and their mother "Rosalynn," whose first name is Eleanor.
Jack and Chip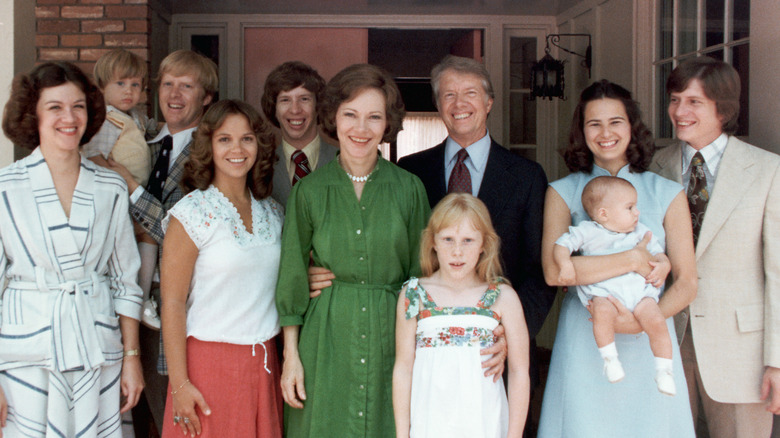 Historical/Getty Images
Jack is the family name given to the couple's first son, John William Carter. Born in Virginia in 1947, the eldest Carter child grew up in Plains, Georgia, working on the family's peanut farm. He attended a few different universities in Georgia, eventually earning a degree in nuclear physics and law. He is first and foremost a businessman, working in finance and investment. However, he did briefly try to become a politician, running for the U.S. Senate in 2006. He ended up losing the general election. 
Along the way, Jack married Juliette "Judy" Langford (again with the nicknames) and had two children — Jason James and Sarah Rosemary. When the pair divorced, Jack went on to remarry Elizabeth Brasfield in 1992. He became stepfather to her two children. 
Chip, aka James Earl Carter III, was born far from the peanut fields in Honolulu, Hawaii in 1950, but the family eventually found their way to Georgia. That where Chip got his start, working at the peanut warehouse. This was before moving into government like his dad. Chip was as a political consultant before becoming president of his dad's not-for-profit organizations – Friendship Force. Chip is also a father to two kids — one from his first marriage and one from his second marriage. He and his third wife, Becky Payne,  now live in Decatur, Georgia. 
Jeff and Amy Lynn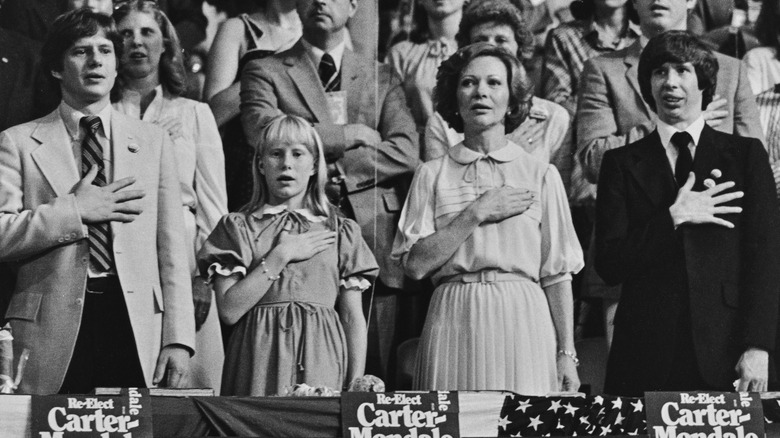 Fpg/Getty Images
The Carters' third son is Donnel Jeffrey "Jeff" Carter, born in 1952 in Connecticut. The computer cartographer, who also studied geography, started a business called Computer Mapping Consultants after graduating from college. Eventually the company went on to partner with World Bank. At the same university, Jeff met his wife and the mother of his three sons, Annette Davis. 
Finally, there's Amy Lynn Carter (no, really, it's just Amy Lynn), who was born in Plains, Georgia in 1967. Since Amy Lynn was just nine when her dad became president, she grew up in the White House. As an adult, she gained media attention for being dismissed from Brown University, being arrested at political rallies, and finally for gaining an art degree from Tulane University. Using her skills, Amy Lynn illustrated her father's memoir and worked with him on his children's book, "The Little Baby Snoogle-Fleejer." She has been married twice, first to James Gregory Wentzel with whom she shares son Hugo James Wentzel, and then to John Joseph "Jay" Kelly with whom she has another son, Errol Carter Kelly.