Who Are The Real-Life Women That Inspired J.Lo's Movie Hustlers?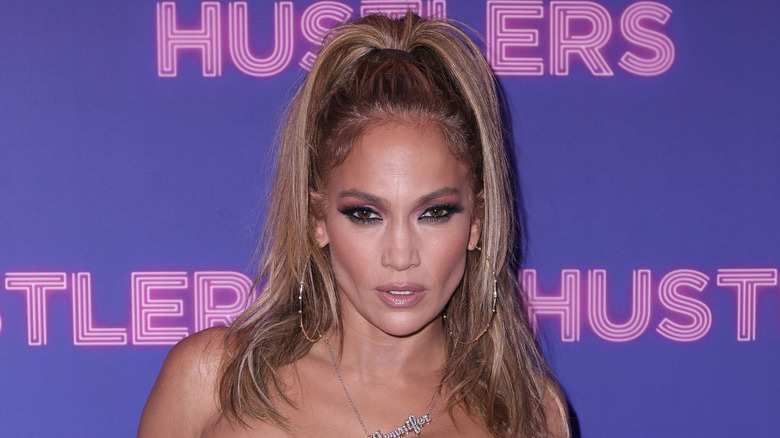 John Parra/Getty Images
A strip club worker devises a not-so-legal plan to empty rich men's bank accounts by drugging their drinks at a bar, coaxing them back to a strip club, and charging massive bills to their credit cards. She enlists the help of a few of her fellow exotic dancers, and when the scheme works, the group is guiltlessly rolling in the dough together, telling themselves that the only ones that might be hurting are the Wall Street bankers and wealthy lawyers who agreed to go on a date with them (who, they believed, kind of had it coming).
This is the plot of "Hustlers," a 2019 movie starring Jennifer Lopez and Constance Wu. While it makes for an entertaining story, it's not all fiction — the events depicted in "Hustlers" were actually inspired by real-life women. The strippers' scheme was first publicized in a 2015 article by New York Magazine, released just a year and a half after The New York Times reported that four of the women involved were arrested. In the New York Magazine article, Samantha Barbash (played by Lopez) and Roselyn "Rosie" Keo (played by Constance Wu) gave their account of what really went down before Hollywood swooped in to make "Hustlers."
The original Hustlers women made money from their illegal scheme
In her interview with New York Magazine's Jessica Pressler (who is also featured in "Hustlers," portrayed by actor Julia Stiles), Roselyn Keo revealed she worked alongside Samantha Barbash in New York City strip clubs and noticed that, despite the economic downturn of the late 2010s, Barbash seemed to be doing remarkably well in the nightlife scene. "Samantha had found some kind of loophole, where 'I can get paid and not have to actually have sex,'" Keo explained. Soon, she wanted in on whatever scheme Barbash had concocted.
Barbash would contact past clients one by one, offering to meet for drinks. She often sent Karina Pascucci (Lili Reinhart's character in "Hustlers") or Marsi Rosen (played by Keke Palmer) in her place, and they were tasked with bringing the men back to the strip club. Eventually, Keo joined in and would go out scouting for potential clients. If the men they met turned down the strip club invite, the women spiked their drinks with MDMA and ketamine. "It sounds so bad to say that we were, like, drugging people," Keo remarked. "But it was, like, normal."
Just like in the movie adaptation, the crew brought in thousands of dollars per night and started buying up luxury cars and designer clothing. But their money-making spree started to unravel in 2014, when a man came forward accusing the women of drugging him, per the New York Post. Within two months, the women were arrested.
The women seem to no longer work in strip clubs
In 2016, Marsi Rosen and Karina Pascucci admitted their crimes and were sentenced to four months of weekend jail and five years of probation, according to the Daily Mail. The following year, Roselyn Keo accepted a plea deal that allowed her to sidestep jail time in exchange for five years of probation, and Samantha Barbash received similar sentencing, the New York Post reported.
When "Hustlers" came into the picture, Barbash wasn't happy. "It's my story [Jennifer Lopez is] making money off of," Barbash told the New York Post, accusing the actor of defamation. "If she wants to play me, then she should have gotten the real story." To set the record straight, the ringleader penned a book titled "Underscore: Breaking my Silence" in 2020. Roselyn Keo also wrote her own memoir detailing the real-life "Hustler" story called "The Sophisticated Hustler."
Since the film's release, the women seem to have mostly stayed away from the strip club scene. Barbash posts risqué selfies on her Instagram account, but according to her bio, her day job involves owning and running a New York City spa. Keo's website links to an OnlyFans page and also lists the former exotic dancer as a model. Rosen and Pascucci have mostly stayed out of the spotlight, though Pascucci told ABC in 2019 that she was pursuing a degree in criminal psychology.