Did Liam Hemsworth Cheat On Miley Cyrus With Jennifer Lawrence?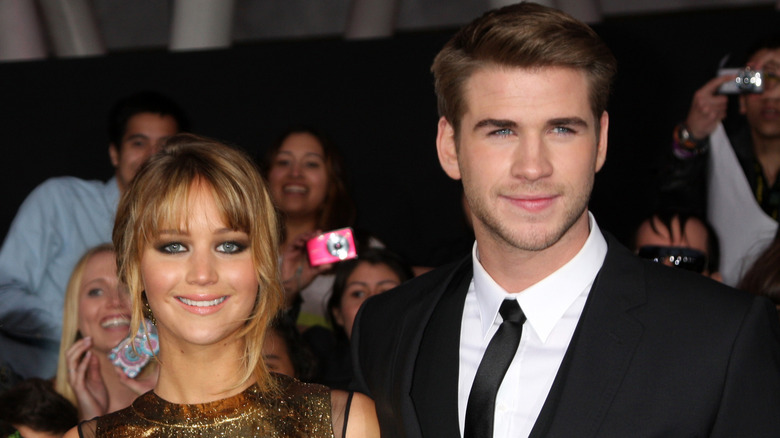 Kathy Hutchins/Shutterstock
The first "Hunger Games" movie took the world by storm when it premiered back in 2012. Jennifer Lawrence played District 12 Tribute Katniss Everdeen, while Liam Hemsworth and Josh Hutcherson starred as her two onscreen love interests (and behind-the-scenes besties). "The most fun I've ever had with actors on set is Josh and Liam on 'The Hunger Games,'" Lawrence shared in a Vogue "73 Questions" interview. Following the movie's release, the actors, all in their late teens and early 20s at the time of filming, were brought even closer together by their rise to global superstardom.
When "The Hunger Games" premiered, Liam Hemsworth was dating Miley Cyrus. The two met on the set of 2009's "The Last Song" and formed a quick connection. They had an on-and-off-again relationship until 2013 when they officially called it quits — that is, until they got back together in 2016, got engaged (for a second time) later that year, and married in 2018. In 2019, they decided to separate once and for all. 
What exactly went wrong between them was never made public. Given all the alleged "clues" on Miley Cyrus's 2023 album "Endless Summer Vacation," some fans speculate that Jennifer Lawrence got between the couple on the set of "The Hunger Games." However, "The Silver Linings Playbook" star has already dismissed the gossip. "Not true," Lawrence told Andy Cohen on "Watch What Happens Live," adding that it was a "total rumor."
Jennifer Lawrence and Liam Hemsworth did kiss (once)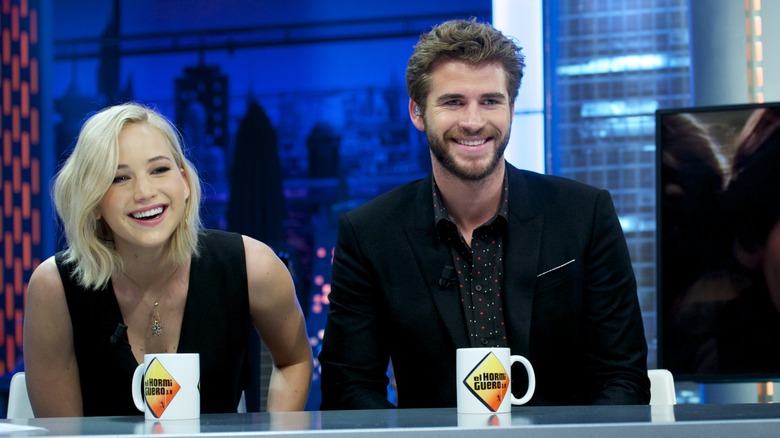 Juan Naharro Gimenez/Getty Images
Although Liam Hemsworth never cheated on Miley Cyrus with his "Hunger Games" costar, he and Lawrence did share an off-screen kiss on one occasion. However, both actors were single when they smooched. "We all know me and Liam kissed one time," Lawrence said on "Watch What Happens Live," adding that it was "years after [Hemsworth and Cyrus] broke up." During her 2015 appearance on the show, the Oscar-winner explained that she and Hemsworth "grew up together." "Liam's real hot," she added. "What would you have done?" In other words, Katniss chose Gale over Peeta in real life.
In an interview with The New York Times, Jennifer Lawrence also discussed a post-premiere ritual she had with Liam Hemsworth and Josh Hutcherson. "So the boys and I would always go back to our hotel and just drink whiskey and get stoned," she said, clarifying, "I don't do it anymore, I'm a mom!" These days, both Lawrence and Hemsworth are happily settled with long-time partners. The former married art gallery director Cooke Maroney in October 2019 and the latter has been linked to model and actor Gabriella Brooks since December of the same year. Miley Cyrus has also moved on — she even released one of the most popular breakup songs of 2023, "Flowers."
Did Miley Cyrus respond to the rumors in her new song?
"Flowers" dropped on Liam Hemsworth's birthday (yes, his birthday!) in January 2023 and it instantly topped the charts. Plenty of fans are certain it's about the actor, and they come armed with evidence. In her viral music video, which has more than half a billion views on YouTube, Miley Cyrus can be seen walking down the streets of Los Angeles wearing a long golden dress — internet sleuths have compared it to Jennifer Lawrence's look at "The Hunger Games" premiere in 2012. What's more, "'Flowers' seems to be a direct response to Bruno Mars' song 'When I Was Your Man,'" speculated one TikTok creator, adding that Cyrus and Hemsworth (allegedly) danced to this song at their wedding. On top of all this, certain scenes in the video were shot in the house where, according to several unproven reports, Liam Hemsworth cheated on Cyrus with 14 different women. 
Taylor Swift might be a fan of easter eggs, but Miley Cyrus can usually do without them. "I never need to be a master at the craft of tricking an audience," the singer told British Vogue, adding, "It will set itself on fire all by itself." According to the artist, the hit song's lyrics were initially very different. "The chorus was originally: 'I can buy myself flowers, write my name in the sand, but I can't love me better than you can,'" she revealed. Eventually, it evolved into the self-empowerment anthem it is today.