Why Christina And Joshua Hall Don't Want To Have A Child Together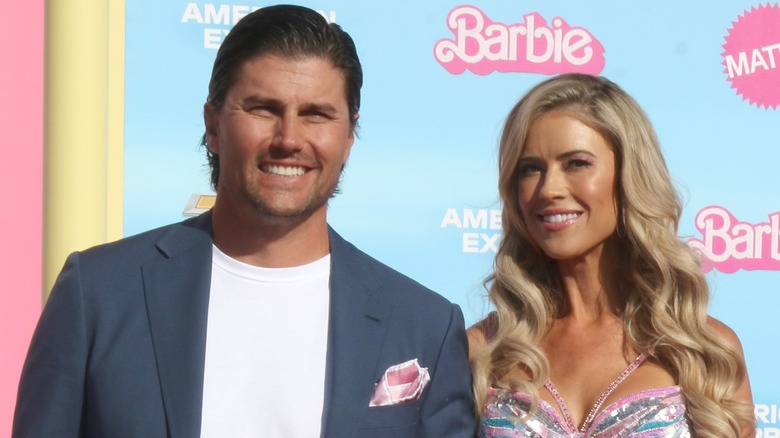 Kathy Hutchins/Shutterstock
Christina Hall, formerly Christina El Moussa and also briefly Christina Anstead, has had quite a complicated love life. While she has undoubtedly found success in home design, courtesy of HGTV shows like "Flip or Flop" and "Christina on the Coast," her marriages have been another story. Nevertheless, the TV personality has had a few bright spots in her relationships with her exes, namely her three children. 
Christina has two, Taylor and Brayden, with ex Tarek El Moussa and one, Hudson, with her second husband, Ant Anstead. However, the busy working mom confirmed that there won't be a new baby anytime soon with her third husband, Joshua Hall. In an interview with Us Weekly, the real estate investor said, "That door is closed," when asked about adding to her family with Josh. 
She continued, "We talked about that when we met. We're just too busy, and I don't feel like that's fair." Busy indeed, as the couple temporarily moved to Tennessee to film spinoff "Christina in the Country," which follows the HGTV star as she undertakes renovations for her neighbors while also enjoying the countryside with her family at their modern farmhouse, purchased in 2021 as a vacation home.
The HGTV star already has three children
Even though Christina and Joshua Hall aren't adding to their brood, there is no shortage of kids occupying the celebrity couple's time. The home designer regularly posts photos of Josh interacting with her children, taking them on adventures in the gorgeous landscape surrounding their Tennessee home. She also gushed to Us Weekly about how Josh has stepped into his role of stepdad. 
According to Christina, "Josh has taken on stepdad duties with love and integrity and that's big for me. If one of us has something going on, the other is like, 'Yeah, no problem, I got this.'" Josh has no children of his own, so his shift from bachelor to married stepparent was likely a significant one.
As Josh informed Entertainment Tonight, "It's adjusting my time. Instead of having to just take care of you [referring to Christina], I've got three little ones that I have to give attention to." But ultimately, he noted how incredibly rewarding it is to have a hand in shaping the next generation.
Christina acknowledged how co-parenting can be complicated
The third time might just be the charm for Christina Hall, but with two divorces under her belt, the HGTV star is well aware of how marriages can end. Having to co-parent might be another reason she doesn't plan on having a baby with her husband, Joshua Hall. Christina has had a rocky co-parenting relationship with Ant Anstead and Tarek El Moussa in the past. Christina splits custody of the children with both her ex-husbands, an arrangement arrived at after sometimes tense custody battles. 
She and Anstead nearly had to go to trial after a debate about custody of their son, Hudson, ensued following their 2021 divorce. Fortunately, tensions seemed to have died down with Tarek, as the pair plus his new wife, Heather Rae El Moussa, have been spotted attending events together. In a photo posted to her Instagram of the group attending daughter Taylor's graduation, Christina wrote, "Co-parenting 101. Kids come first." The "Christina on the Coast" star also spoke out about how necessary working together is when she and Tarek's son, Brayden, had emergency surgery. 
Christina took him to the hospital, where she was joined by Tarek and Heather, who also has a step-parenting relationship with their two children, while her new husband watched Hudson and Taylor at home. Christina even wrote on her Instagram Stories that it was, "A good reminder how important teamwork/co-parenting is," (via Insider). It seems like Christina made the right choice by deciding not to immediately add to her clan with Josh.