Trinity Rodman: 11 Facts About The Soccer Star And Daughter Of Dennis Rodman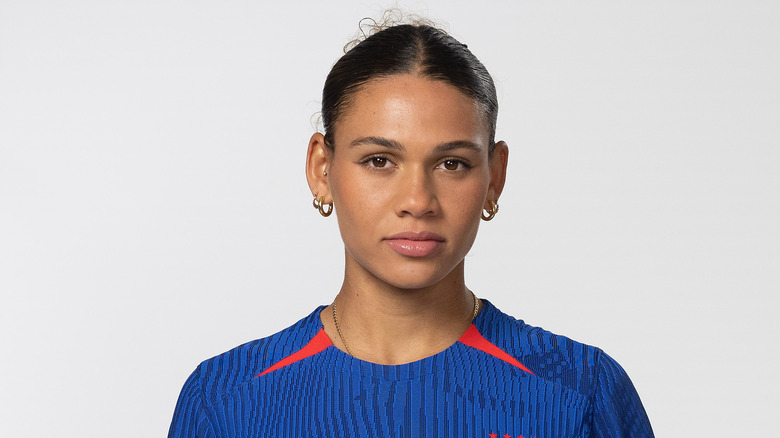 Kate Parker/ussf/Getty Images
Making a name for yourself in the world of women's sports is hard, and following in the footsteps of a famous athlete parent can come with unique challenges. For Trinity Rodman, her journey to becoming a top athlete in women's soccer wasn't easy despite her famous last name. As the youngest child of NBA Hall of Famer Dennis Rodman, she garnered plenty of media attention and fan hype the moment she stepped onto the field. 
As a rising star on the U.S. Women's National Team (USWNT), Trinity has already crafted a long list of personal accolades despite her young age. From scoring timely goals for the Washington Spirit to inking big contracts, it's safe to say that she's been able to step out of her famous father's shadow. "I'm not trying to overcome what he accomplished, I just want to build my own story, and I think I'm doing a really good job," she told ESPN in 2022. 
The 21-year-old already has an interesting life story that fans should know. Here are 11 facts about FIFA Women's World Cup rising star Trinity Rodman.
Trinity Rodman struggled financially as a child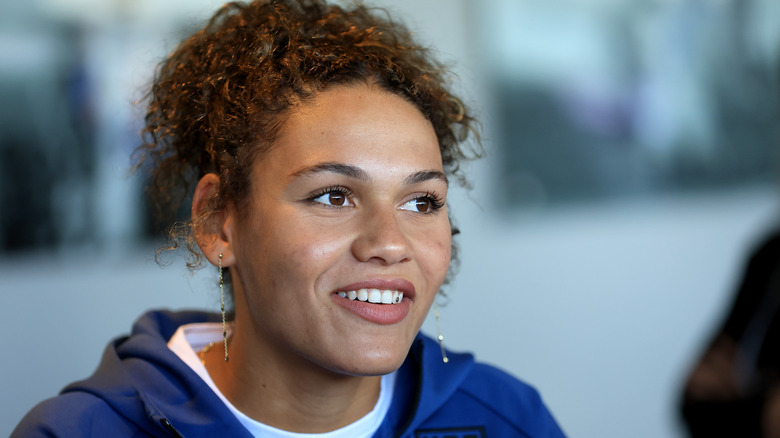 Sean M. Haffey/Getty Images
Trinity Rodman's parents divorced when she was just 2 years old. After her mother Michelle Moyer filed for divorce in 2004, she struggled financially despite her ex-husband's wealth. In an interview with ESPN, Moyer said that she and her two kids spent a year living in a motel as they struggled without any help from Dennis. At the time, Moyer didn't want her kids focusing on their financial troubles and lack of permanent housing, so she attempted to turn their hardship into something fun. "I wanted to make it like a vacation," Moyer explained of their time at the motel. "I would let them jump on the beds and do whatever they wanted, so it wasn't necessarily like, 'Oh God, we don't have anything. We're staying at this motel.'"
Over the next 10 years, Moyer and her children moved frequently, faced many evictions, and even lived out of a truck at one point. Despite the financial instability and  fractured relationship with her children's father, Moyer remained dedicated to supporting their athletic dreams. She attended their games and received help from friends and coaches to pay for travel expenses and club fees. "I'm blessed that the kids were good enough to get scholarships, or they wouldn't have made it to where they are today," Moyer said in an interview with Spokesman.
Trinity's financial troubles during childhood are starkly different from what many may assume the daughter of an NBA player would experience.
She has a complicated relationship with her famous dad, Dennis Rodman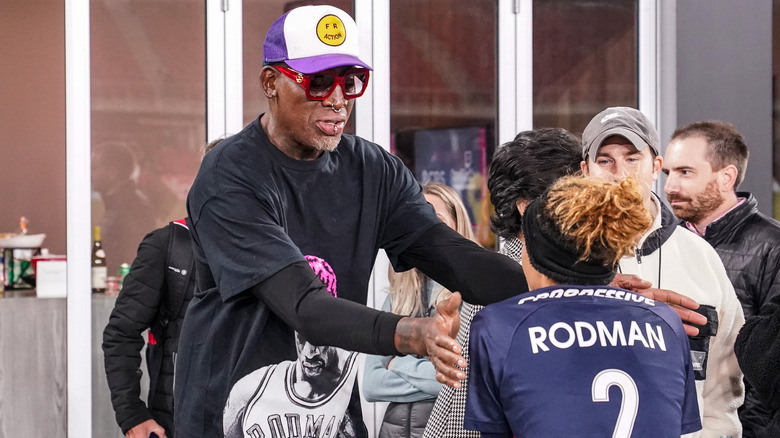 Tony Quinn/isi Photos/Getty Images
Dennis Rodman was known as the bad boy of the NBA in the 1990s. His eccentric fashion and ferocious attitude on the court made him a constant character in the press. Despite his tendency to break the rules, Rodman was an essential piece of the dynasty known as the Chicago Bulls. Trinity Rodman was born just two years after her father retired from the NBA. By 2002, he was no longer on the basketball court, but that didn't mean he embraced being a full-time dad.
As the Los Angeles Times reported, the basketball star kept his children at "a financial and emotional distance." Many fans believe the two have a tight relationship due to a shared love of sports, but Trinity has publicly described their relationship as complicated. When her father appeared at her playoff game in 2021, the athlete shared with the world her mixed emotions. 
"My dad doesn't play a big role in my life at all and most people don't know that, we don't see eye to eye on many things. I go months if not years without his presence or communication," she wrote on her Instagram. "Being in spotlights has been hard for us, him and me. We don't have the best relationship, but at the end of the day, he's human, I'm human." The soccer star told reporters that despite how distant the two are, she has found closure.
Trinity Rodman's father influenced her game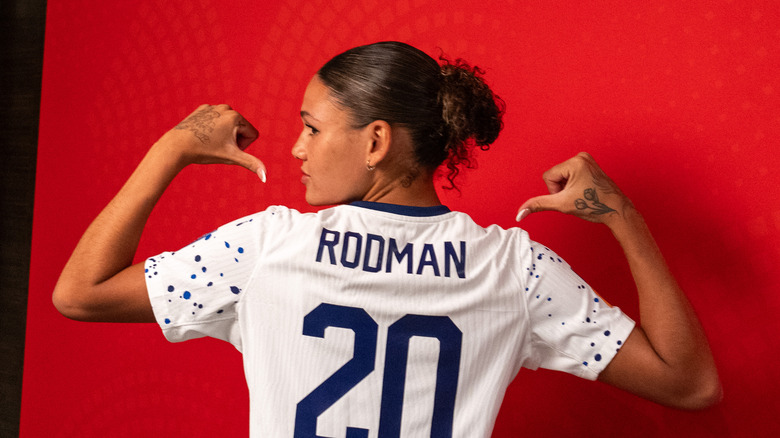 Brad Smith/ussf/Getty Images
Despite not having been born when her father dominated the game of basketball with his impressive defense and rebounding, Trinity Rodman grew up studying his game. And though she has pursued an entirely different sport, she admits that his aggressive style of play has been a huge influence on her. "It's hunting in front of the goal," she told the Los Angeles Times when asked about the similarities in their style of play. "It's hunting when you lose the ball. And I think that's a huge part of my game — regains, tracking back and being the first person to get a foot, a head, a knee, a shin on something that pops up." 
The soccer star even gave credit to how well her dad competed against NBA greats like Shaquille O'Neal. "He was a freak of nature. He was an insane athlete, but at the end of the day, he, I think, was one of the smartest players at the time. He knew the game."
Before falling in love with the game of soccer, she did try her hand at the sport her dad excelled in but quickly decided it wasn't for her. However, her older brother DJ stuck with basketball. "It was funny because I really wanted [DJ] to like soccer just like he wanted me to like basketball but we were both like, 'Nope, this isn't gonna work,'" she joked in a 2021 interview with The Guardian. 
She didn't play a single game in college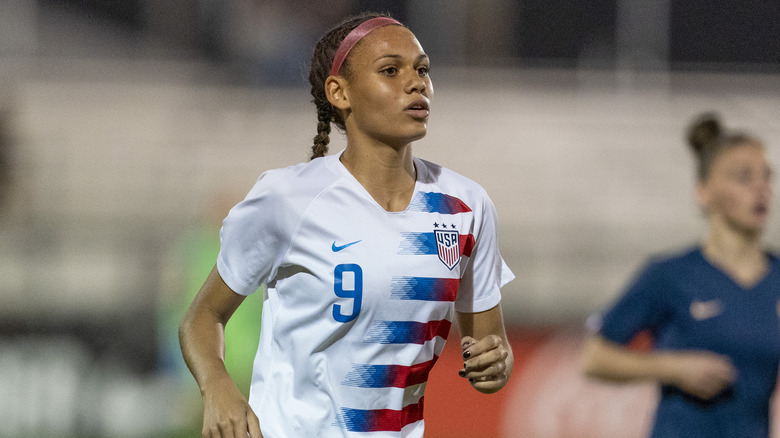 Brad Smith/isi Photos/Getty Images
Trinity Rodman's road to becoming a professional athlete has been different from that of many of her peers. While attending Washington State University in 2020, the COVID-19 pandemic postponed the soccer star's debut fall season. Instead of playing in the following spring season, Rodman took a leap of faith and entered the National Women's Soccer League (NWSL) draft to turn pro. Unlike her peers, she entered the draft without a single college game under her belt. This meant potential teams hoping to draft her weren't able to see her skills in college games and some were even worried about her lack of development before turning pro. Despite those two worrying factors, they didn't deter a top team from drafting Rodman. 
The Washington Spirit selected her as the second overall pick in the 2021 NWSL draft. "To even just be in the draft with my situation and my age is insane, but to be No. 2 to an amazing team is out of this world, like I couldn't ask for anything more," Rodman told ESPN. At just 18 years old, Rodman made history as the youngest player ever selected in the NWSL draft.
Trinity Rodman broke a record in her professional debut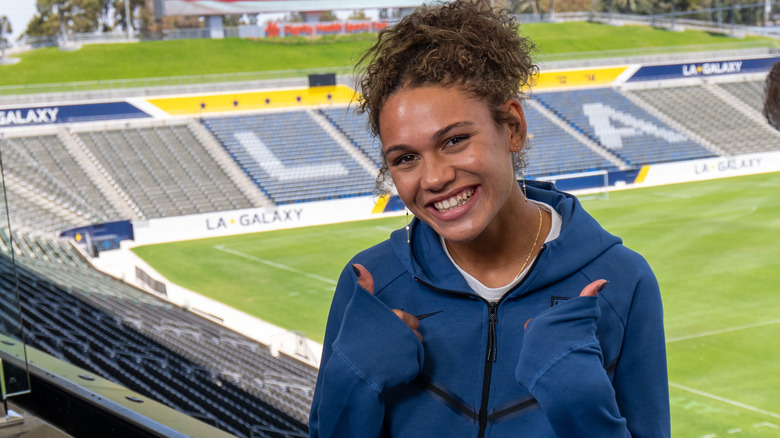 Brad Smith/ussf/Getty Images
After not being able to play a single game in college, the media and soccer fans were all anxious to see Trinity Rodman in action. In April 2021, the Washington Spirit rookie made her NWSL debut and kicked things off with a bang that silenced her doubters. When the 18-year-old finally subbed into the match in the 55th minute, it only took her five minutes to score her first professional goal. This made her the youngest goalscorer in NWSL history.
When she turned 19, she made NWSL history again by becoming the league's youngest player to record an assist in the playoffs. To many, the success in her debut season proved that despite her lack of experience in college games, Rodman fit perfectly alongside the other pros. 
Even though she had a record-breaking entry into the league, the young athlete didn't let it get to her head. She remained motivated to elevate her game and improve as a player. "The biggest goal for me is just working on myself and having a driven mindset moving forward," she told The Guardian. "I want to get faster. I want to get stronger. I want to get smarter. I want to get more skilled on the field."
She won a few awards in her rookie season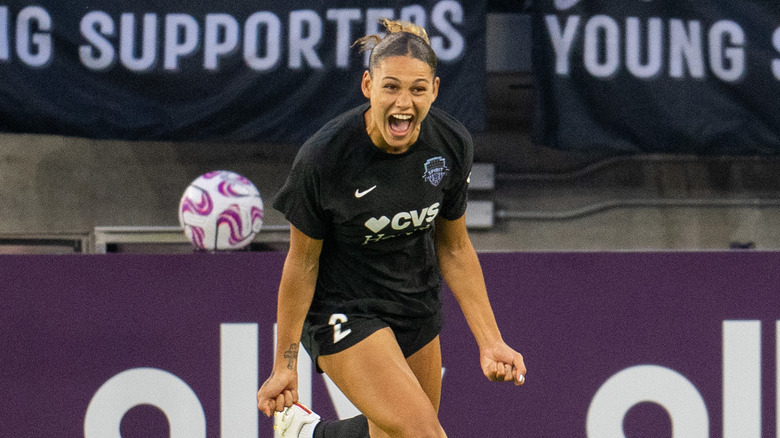 Brad Smith/isi Photos/Getty Images
In her record-breaking debut season in 2021, Trinity Rodman not only won the NWSL championship alongside her Washington Spirit teammates, but she walked away with a few solo awards too. In November 2021, the young soccer phenom was officially named the NWSL's Rookie of the Year. Not only did she get the bragging rights of being the best rookie, but Rodman was also given a cash bonus for winning the award. This distinguished award was voted on by her peers, coaches, media, and fans. Not long after winning this honor, Rodman was given another trophy with her name on it.
She was also named U.S. Soccer's Young Female Player of the Year. She earned 48% of the vote due to her impressive stats in her debut season. As she wrapped her first season as a pro, Rodman was focused more on what she accomplished with her Washington Spirit teammates than her outstanding personal accomplishments. "No one could even begin to put into words how hard this year was for our team," she wrote on Instagram. "But man ... this is my family. Love every single human on this amazing squad."
Trinity Rodman signed the biggest contract in NWSL history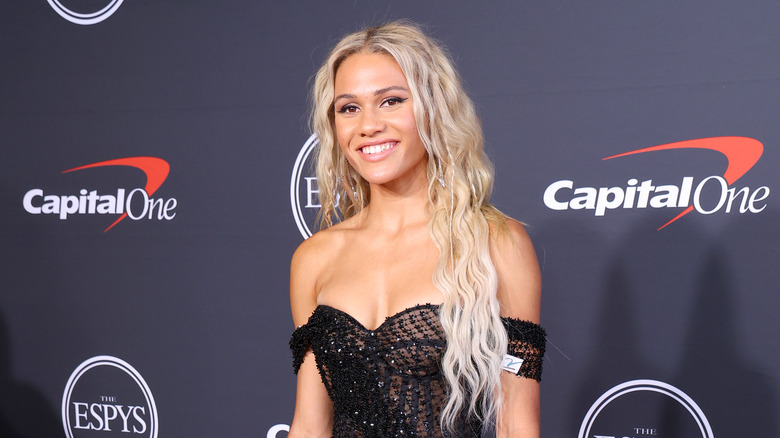 Leon Bennett/Getty Images
After her breakout rookie season included winning a league championship and personal awards, Trinity Rodman was further rewarded for all of her hard work. Many fans (and critics) of women's soccer weren't shocked when the Washington Spirit offered Rodman a four-year contract extension in 2022, but the dollar amount attached to it made jaws drop and records break. The Washington Spirit offered Rodman a contract worth a reported $1.1 million. Inking this deal made Rodman the highest-paid soccer player in National Women's Soccer League history at just 19 years old. 
Her historic deal, which is worth $281,000 annually, also means she makes more than soccer legends like Alex Morgan and Megan Rapinoe. This was something Rodman didn't shy away from in her interviews. "I'm not trying to say I shouldn't have got it because I did work very hard," she told USA Today. "But it was hard for me to work through the fact that all these players who had put their blood, sweat, and tears in for 10-plus years, who had been to World Cup and the Olympics, didn't get it. It was so hard for me to understand." 
The young star hopes that her groundbreaking contract can create a ripple effect in the women's league. "I'm paving the path for younger players and showing older players that this is what they should have gotten in the first place," she said in an interview with ESPN.
She is also the author of a children's book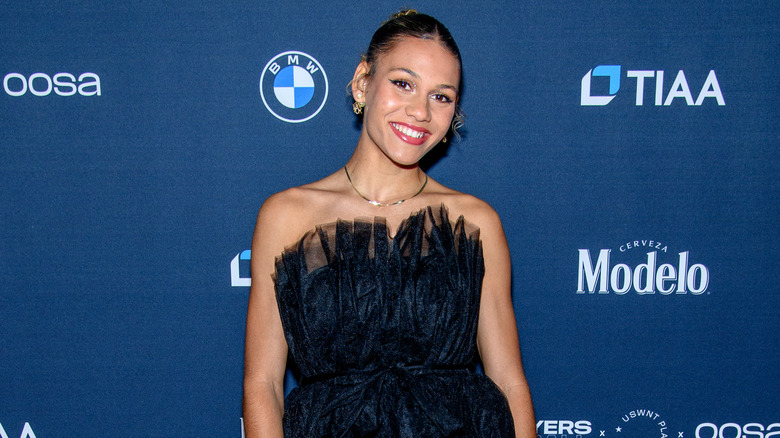 Roy Rochlin/Getty Images
In 2022, Trinity Rodman scored a deal off the field that made her an athlete turned published author. The Washington Spirit star penned a children's book titled "Wake Up and Kick It With Trinity Rodman" in partnership with shoe giant Adidas. In March 2022, Rodman excitedly announced the book's release on Instagram to her fans. "This is a 'wake up' book to encourage kids from all walks of life to see the incredible possibilities in each and every day," she captioned the photo of her posing alongside it. The illustrated children's book detailed Rodman's rise to the top of women's soccer and the obstacles she overcame along the way. 
In sharing her path to success, Rodman hopes to inspire young children to dream big for their future. "I'm excited for this book to inspire the next generation to go out and achieve their goals and dreams, proving that nothing is out of reach if you are willing to work for it," she said in a statement for Adidas. The partnership with Adidas included a special donation of 5,000 books to the youth through various community-based charities.
Trinity Rodman's dream of playing in the Women's World Cup has come true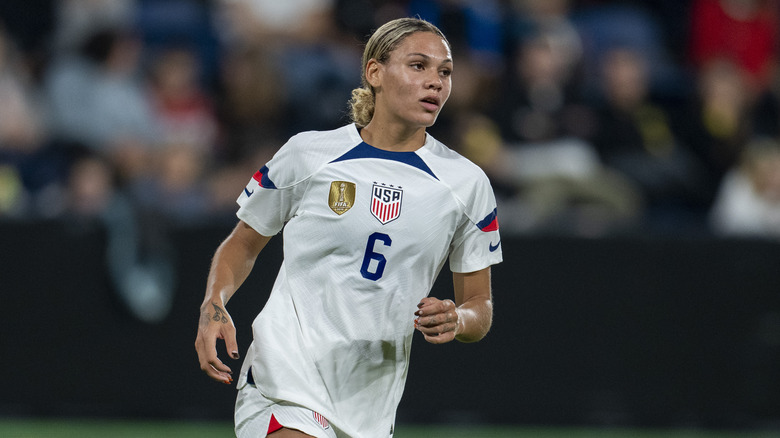 Brad Smith/isi Photos/Getty Images
As a young soccer player, Trinity Rodman had dreams of one day playing in the FIFA Women's World Cup. Not only is it the greatest achievement in her sport, but it would also give her the opportunity to represent her nation. Since falling in love with the game of soccer at just 4 years old, Rodman waited for the day she'd be selected for the U.S. Women's National Team. In 2023, at just 21 years old, her dream came true, and head coach Vlatko Andonovski FaceTimed Rodman to inform her she was selected, catching it on video. "Thank you so much, this means the world," an overwhelmed Rodman told him. "I'm like, shaking!" 
She is just one of 14 players making their first trip to the FIFA Women's World Cup with the USWNT. Unlike some other rookies, Rodman wasn't scared of the big moment. "I'm just telling myself that it's the same game," Rodman told Air Mail. "Nothing has really changed outside of the fact that it's a bigger stage, and more competitive ... but [it's] playing the game I fell in love with at 4 years old." 
To announce Rodman's slot on the team, the U.S. Women's National Soccer Team called upon Shaquille O'Neal (or as she calls him, Uncle Shaq). "Trinity Rodman, welcome to your first World Cup," he said in the video. "Go kick some ass and bring back that victory!"
She has a tight bond with her brother DJ
One of Trinity Rodman's biggest influences is her older brother Dennis "DJ" Rodman Jr. Not only do they have a tight sibling bond, but they also grew up with a shared love of sports. Instead of soccer, her big brother chose to follow in his dad's footsteps and pursue basketball. "With my mom's and my dad's genes, me and my brother excelled in a lot of sports," Rodman explained to ESPN. "I was good at basketball, but I was uncomfortable. I did not like dribbling, [I] didn't know how to shoot. ... It didn't feel like I knew what I was doing." 
With both sharing dreams of becoming professional athletes, they've spent most of their lives cheering each other on from the sidelines. The two even chose to attend the same college together. In 2020, during the global pandemic, the idea of the Rodman siblings quarantining together was a no-brainer. "We've done everything together since we were born," Trinity joked in an interview with Pac-12 Networks. "Even in elementary [school], everyone would get so surprised because we even requested to get the same teachers, same everything." 
On Instagram, the younger Rodman frequently posts pictures and loving captions about her big brother. To celebrate his 22nd birthday, she posted a lengthy tribute post to DJ that read, "I will forever be happy knowing u r by my side. Ur a hero to me always and forever."
Trinity Rodman is dating a fellow athlete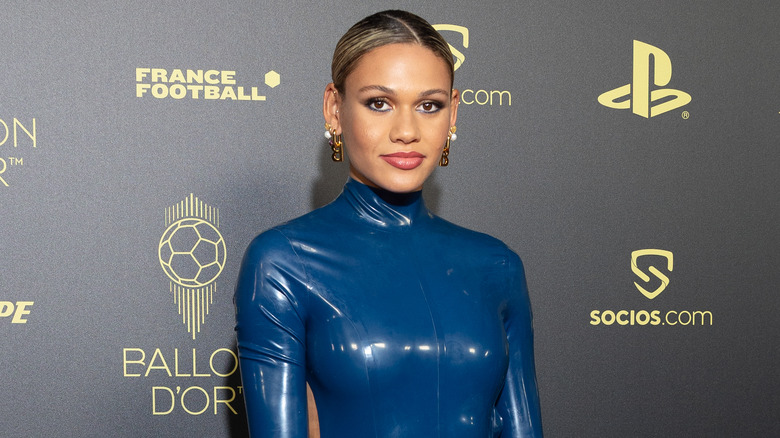 Marc Piasecki/Getty Images
As a young athlete thrust into the spotlight, there's been plenty of curiosity surrounding Trinity Rodman's personal life. In her interviews, the USWNT star has primarily focused on her craft and her family. However, her online presence has given fans a glimpse into her personality and life off the field. On her TikTok page, she has posted lighthearted videos of her dancing with her teammates, goofing off with her older brother DJ, and attempting popular TikTok challenges like a typical 21-year-old. 
In February 2023, the soccer star also took to social media to confirm that she was currently in a relationship. She posted a photo on her Instagram account with Chris Kuzemka, a college athlete who currently plays for the Loyola men's basketball team. In July, she dedicated another Instagram post to him in honor of his birthday. "Happy birthday to the love of my life," she captioned the adorable video montage of the two. "Thank you for being the sunshine in my life. U help me improve, pushing me to be a better and more positive human every single day and I'm forever grateful for that push from u." 
Judging by an older TikTok video on her page that featured Kuzemka, it appears that these two lovebirds began dating in 2022. The two seem in love, and Rodman even confirmed that he was at the FIFA Women's World Cup, cheering her on from the sidelines.