Khloe Kardashian's Most Outrageous Outfits Over The Years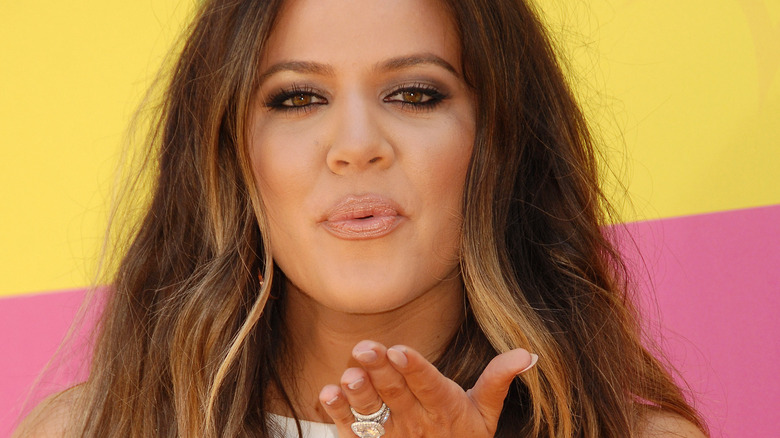 Ga Fullner/Shutterstock
Khloe Kardashian has been serving some serious looks ever since first bounding into the public eye back in the late 2000s alongside her family. "Keeping Up with the Kardashians" has given us plenty to chew on over the years, including who is wearing what. While her sister Kim Kardashian may make headlines more frequently when it comes to fashion, Khloe's uniqueness should never be underestimated as she fearlessly experiments with her style. The youngest Kardash-daughter has never been scared to put herself out there, but that doesn't necessarily mean she's always got it right, either. 
From fancy party outfits to head-to-toe pink for a simple day in Los Angeles, Kardashian has always managed to put her own stamp on things, even when it hasn't been easy. As the mother-of-two once told Marie Claire, "Fashion sometimes gets really intimidating, and people feel that they can't venture out into certain things because they were only shown certain silhouettes or styles." However, she added, "When you feel like you look good, you can take on the world." 
Admittedly, Kardashian's style has evolved over the years, with her more recent ensembles taking on an edgier, more high-fashion vibe — but some of them are just as outrageous as her picks from the 2000s, which is really saying something. Whether it's fake fur, thigh-high boots, or flashing some serious underboob, Koko has always lived to serve, and we don't see that changing anytime soon! Let's take a look at some of her most out-there fits.
Gangsta's paradise?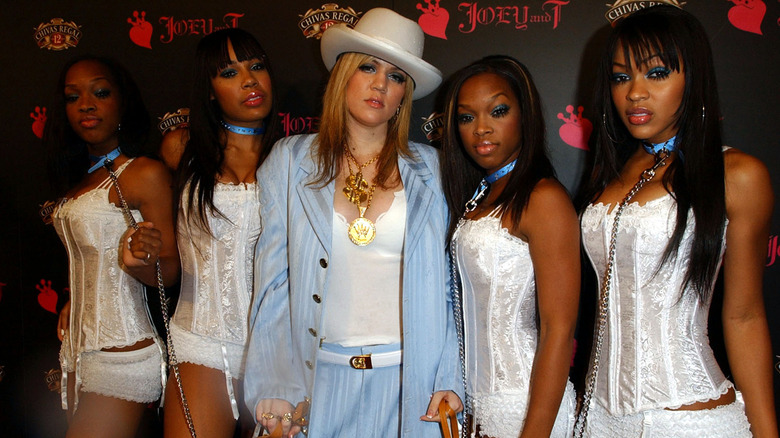 Michael Caulfield Archive/Getty Images
We normies always look forward to seeing what celebrities wear for Halloween. It's a huge event in Hollywood, with multiple brands throwing lavish and extravagant parties full of A-listers. If you thought Halloween was a big deal in your neighborhood, it's got nothing on the City of Stars. Khloe Kardashian has worn a few questionable outfits on October 31st, but this one from a 2003 spooky bash at Avalon Nightclub didn't win big with anyone, and it even came back to haunt the star in 2022. 
Kardashian, who was just 19 at the time, dressed up in a pale blue pinstripe suit with a matching hat and plenty of bling. Unfortunately, she accessorized with four black women dressed in lingerie on leashes. Even though it was still a questionable choice of costume back in 2003, Kardashian didn't receive backlash for it until much later when a Redditor posted the photo in a Kardashian-obsessed group. 
Sisters Malika and Khadijah Haqq, actor Meagan Good and her sister La'Myia are the ones who stood with Kardashian in the photo. Good addressed the costume prior to the 2022 controversy in 2019 when she tweeted, "That one time on Halloween when you were young and dumb ... and clearly didn't think 15 years ahead lol smh. Welp, mistakes were made." As for Kardashian, she chose to stay quiet and never commented on her seriously misguided choice of costume. 
Kop Khloe Kardashian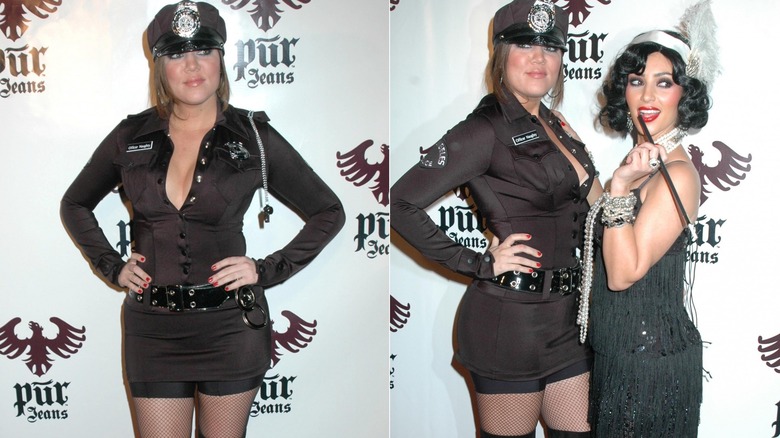 s_bukley & s_bukley/Shutterstock
Sticking with the Halloween theme, let's fast forward five years to 2008 when Khloe Kardashian attended Pur Jeans' Halloween bash with her sister, Kim Kardashian. While this costume certainly pales in comparison to the influencer's infamous blue suit, it definitely hasn't aged well, either. Kardashian opted to dress up as a police officer, wearing a teeny tiny brown dress with thigh-high fishnet stockings, a very low-cut neckline, and a matching hat. Thankfully, she left the fake weapon behind, which was a smart move on her part. Her sister went for a more timeless look as a 1920s flapper girl, wearing a fringed dress, short pin-curled hair, and a feather headpiece.
Khloe Kardashian definitely didn't invent the sexy cop costume, but given the issue of police brutality in the United States and beyond, the trend has taken a huge downturn in recent years. It's unlikely you would see any of the Kardashians wearing a costume as controversial as this now, but in 2008 Kardashian likely thought she was showing off her curves and putting a playful twist on corporal punishment — and she certainly wasn't the first celebrity to make a Halloween boo-boo! 
Backless beauty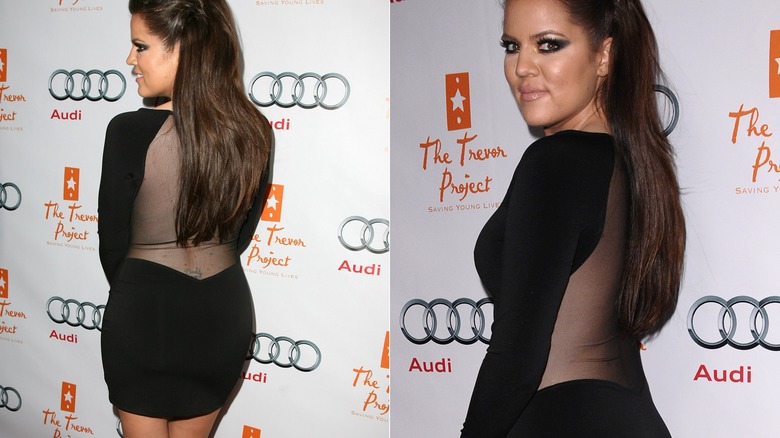 Jason Laveris/Getty & Angela Weiss/Getty Images
There are many charities out there that perform valuable work, and The Trevor Project is certainly one of them. The organization aims to support the LGBTQ+ community. Although the charity doesn't seem to throw its annual Cracked Christmas Gala anymore, back in 2009 it was still a huge holiday event that saw many A-listers turn out to show their support. Khloe Kardashian was there alongside the likes of Kelly Osbourne, Neil Patrick Harris, and the late "Glee" star Corey Monteith. 
Though the word "gala" might bring to mind sweeping floor-length dresses, immaculate make-up, and chic, understated style, this was the late 2000s and traditional wasn't quite the vibe. Kardashian opted to wear something a little risqué, appearing in a very short little black dress with totally sheer paneling on the back. Her long brunette hair in a half-up 'do and her smokey eye makeup combined to create a '60s-vixen-with-a-modern-twist aesthetic. 
Given the seriousness of The Trevor Project's mission, one might have thought Koko would wear something a little more demure. Even Osbourne — known for her wild style — wore a blue dress with black pantyhose, and Kim Kardashian stayed largely covered up in a black one-shoulder dress. When it comes to propriety, the youngest Kardashian sister missed the mark on this one. But at least she showed up to support the charity!
Lingerie lady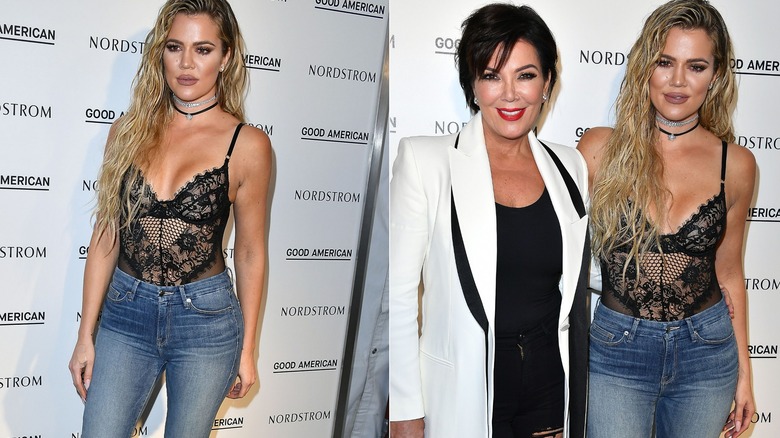 Steve Granitz & Steve Granitz/Getty
It's no secret that the Kardashian family is big on business. And ever since they launched their TV series "Keeping Up with the Kardashians" in 2007 their empire has continued to grow. Kim Kardashian has multiple enterprises under her belt, from beauty to her famous SKIMS line, while Kylie Jenner made headlines for her Kylie Cosmetics brand. As for Khloe Kardashian, she's found success in the past few years with her Good American brand. 
The size-inclusive company first launched in 2016 and has gone from strength to strength since. When talking to Marie Claire, Kardashian explained the ethos behind the brand. "We don't sell to retail stores unless they're going to carry the full-size range," she said. "It's our mission to make our assortment of denim, ready-to-wear, shoes, and more as inclusive as possible, finding ways to innovate in fabric and fit so women feel empowered." 
When it came to the brand's launch event with Nordstrom in 2016, Kardashian decided to dress up a pair of Good American jeans with a black lingerie bodysuit. The combination was striking, giving off supreme girl boss vibes in a way that many didn't expect. Kardashian topped off the outfit with a golden tan and wet-hair look, making this one of her most memorable outfits in recent years. As for Kris Jenner, she wore something more businesslike — a simple white blazer over a black dress. 
Blue and busty
J. Lee/Getty & J. Lee/Getty Images
Between their own businesses and others, the Kardashians attend a lot of events. That means a lot of outfits are required, but at least they aren't short on cash to hire stylists and buy something new. When it's an event for a Kardashian-owned venture, the sisters tend to make an extra eye-catching effort. Case and point: when Kim and Khloe wowed in very revealing outfits for a SKIMS SWIM pop-up in Miami back in 2022. Kim Kardashian looked futuristic in a silver latex bikini and pant combo, but it was Khloe Kardashian that really turned heads in a blue skintight dress with sheer paneling. 
While the dress itself was enough to get temperatures soaring, Kardashian also went for long, neon orange nails that added to the colorful aesthetic. She wore her blond tresses in loose waves and had black, square-cut sunglasses to top it off. Of course, her tan was also on point, making her long legs look flawless and a mile long. 
This bolt from the blue outfit made jaws drop, especially when coupled with her sister's monochrome look. Whether the Good American founder meant to or not, she stole the spotlight and cemented her place alongside Kim Kardashian as a true fashion trendsetter. 
Khloe Kardashian goes airport casual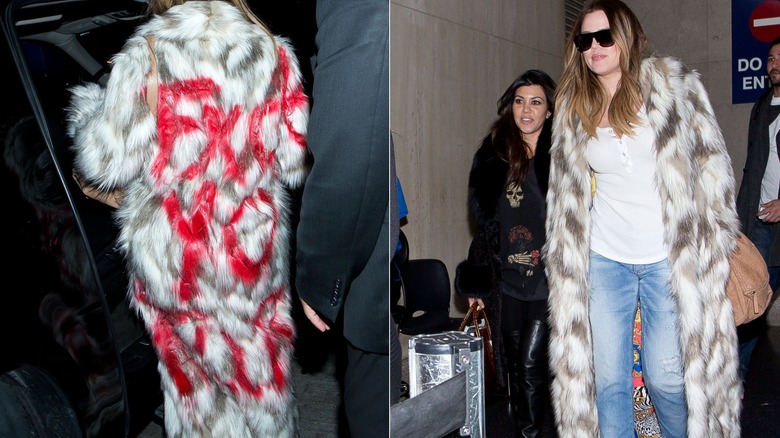 Gvk/bauer-griffin & Gvk/bauer-griffin/Getty
Wearing fur has always been a controversial thing, especially in the celebrity world. Khloe Kardashian has spoken out against wearing fur in the past, and she's even teamed up with animal rights group PETA. However, things turned sour between Kardashian and the organization after a prominent member pelted her older sister, Kim Kardashian, with flour on the red carpet at her perfume launch in 2012. Even though she doesn't work with PETA anymore, the younger sister continued to make it clear that she didn't support the fur industry. 
In 2014, Kardashian wowed onlookers at LAX when she strutted through the airport wearing a fake fur coat spray painted with the phrase, "Fxck yo fur." Kardashian continued to wear the coat when she landed in New York, but she seemed agitated that people didn't understand it wasn't made from real animals. At the time, she tweeted, "How do people not know that FAUX means FAKE?!? Come on people!" 
Regardless of the statement, the look was still a surprisingly lavish one to wear to an airport. Underneath the floor-length piece, she wore a simple white tank and blue jeans, making the coat appear even more out of place. Nevertheless, if Kardashian set out to cause a stir, then she achieved her goal. 
Left nothing to the imagination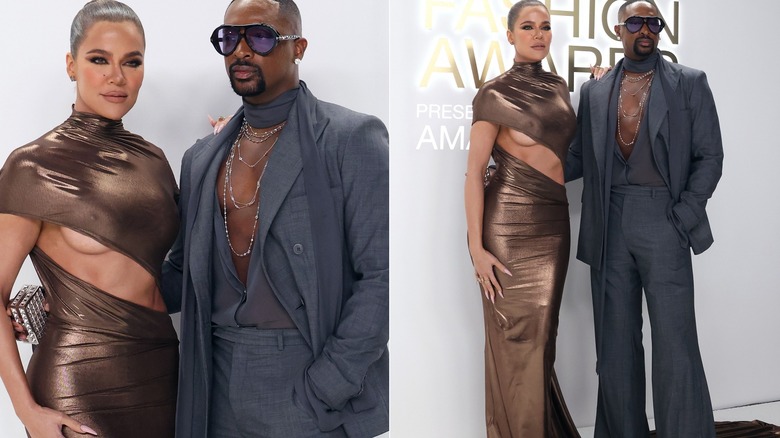 Taylor Hill/Getty & Taylor Hill/Getty Images
The Council of Fashion Designers of America Awards is an important annual event for any celebrity that prides themselves on their style. Although it doesn't make headlines in the same way that events like Cannes Film Festival or the Academy Awards do, celebrities continue to serve up some serious red carpet looks. To give you an idea of how important the awards are in the industry, 2022's ceremony saw Lenny Kravitz scoop the Fashion Icon award, which was presented to him by Bradley Cooper. Other stars in attendance included Cher, Martha Stewart, Kerry Washington, and our favorite Kardashian, Khloe. 
Kardashian's sister, Kim, took home the Innovation Award for SKIMS that evening, and Khloe certainly dressed to impress. She wore a bronze floor-length LaQuan Smith dress for the event, but it had an interesting twist: A huge cutout across the front of the dress, exposing some serious underboob as well as accentuating Kardashian's toned physique. 
This high-fashion ensemble made Kardashian look every inch the icon, even if it was more daring than some of her previous outfits. Her sisters Kendall and Kylie Jenner also turned up in immaculate gowns, while momager Kris Jenner wore a black floor-length number with no visible skin on display.
Jumping for joy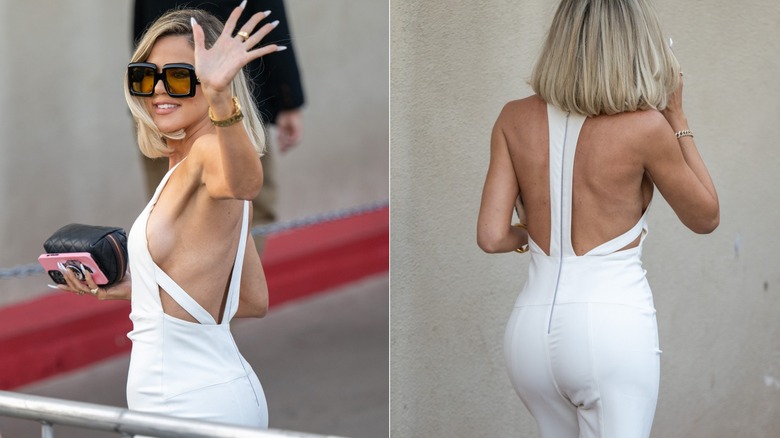 Rb/bauer-griffin & Rb/bauer-griffin/Getty
Jumpsuits are perfect throw-on outfits that look great and don't require a lot of thought — but most don't flash as much flesh as Khloe Kardashian's did when the star was out and about in Los Angeles in 2022. Kardashian donned the flashy white ensemble for a Hulu event to promote the family's show, "Kardashians." The look had just about everything you can imagine, from spaghetti straps to a zip-up back, huge cut-outs, and a wide leg. 
The star also ditched her long extensions for the event, opting for a short, sleek blond bob. She topped the look off with minimal accessories, including huge square black sunglasses. As usual, momager Kris Jenner went for a more understated look in a simple black business suit. 
It's rare we see a Kardashian wearing the same outfit twice, but this jumpsuit proved the exception to that rule. Kardashian had previously stepped out in the white jumpsuit in 2016, although it was paired with a long tan coat, so we didn't see it in its full glory. It's good to see that the reality mogul isn't afraid to recycle and make the most out of a daring look. Still, we can't imagine the amount of boob tape needed to keep embarrassment at bay! 
Sheer disaster?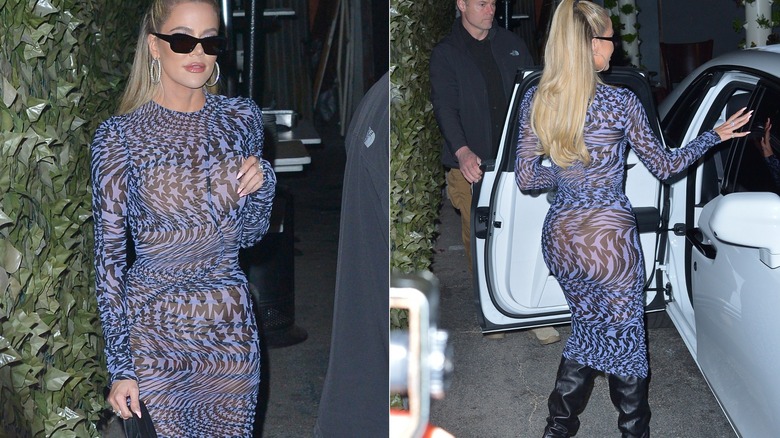 Joce/bauer-griffin & Joce/bauer-griffin/Getty
In early 2022, the Kardashian world was abuzz with speculation as it was confirmed that not only had Khloe Kardashian's baby daddy Tristan Thompson cheated on her multiple times, but he had also fathered a child with Maralee Nichols. Kardashian handled the entire situation with grace, keeping her head held high as she enjoyed a night out with friends at Craig's in West Hollywood. Giving Thompson a little taste of what he was missing, she was photographed wearing a skin-tight and sheer Thierry Mugler dress. The reality star wore her blond tresses in a half-up, half-down style and completed the look with baggy black leather knee-high boots and simple black sunglasses.  
The star-printed midi dress hugged her curves, and Kardashian chose to wear a nude bodysuit underneath it that could be seen more prominently with every flash of the camera. Whether the businesswoman knew that the dress would give that much away remains to be seen. The look was obviously one of the star's favorites, as almost a year later she posted pictures of herself wearing the dress on Instagram with the caption, "Many Moons Ago." 
The pink panther
Jamie Mccarthy/Getty Images
It almost seems crazy to think that Ye was once an official part of the Kardashian empire. But prior to his divorce from Kim Kardashian, the musician's Yeezy fashion line was a cause for the whole family to celebrate. The clan turned out in force for the 2016 launch of Yeezy Season 3 in New York, which also included the launch of his new album, "The Life of Pablo." In support of the brand, all the Kardashians and Jenners wore pieces from the fall collection, including some arguably over-the-top fake fur coats. 
While Kim Kardashian and Kris Jenner opted for white coats, Khloe Kardashian decided it was time to go pink or go home. She wore a nude skintight jumpsuit and threw on a massive pink faux fur over the top of it. The star also took a leaf out of Kim's book by keeping her blond hair sleek and straight for the occasion. The group's collective looks certainly made for an unusual family photo — but then again, do the Kardashians have any "normal" photos? 
The rapper-turned-fashion designer appreciated the effort his in-laws had made, telling onlookers at the event, "I wanna appreciate my wife and her family for supporting me when I go crazy on the fashion world and do all that s**t, you know."
A zebra never changes its stripes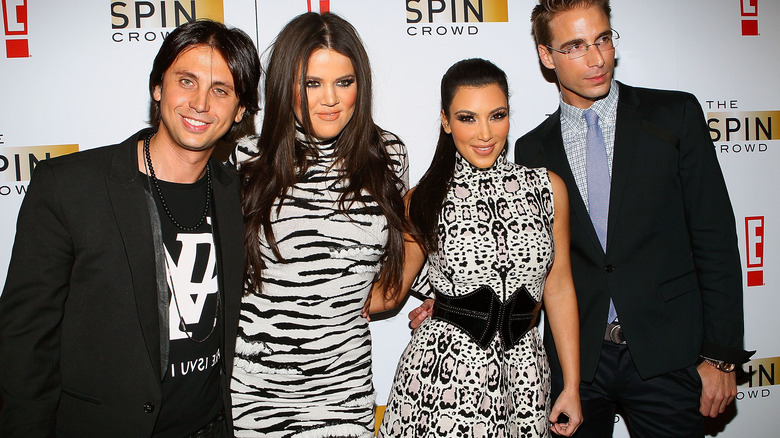 Jeffrey Ufberg/Getty Images
The year was 2010 and the vibe was animal print. The Kardashians aren't scared to show off their individual styles these days, but back in that era they often made sure to coordinate their looks for red carpet events. Khloe and Kim Kardashian showed up to the finale party for the TV show "The Spin Crowd" where Khloe opted for a zebra print long-sleeved, high-necked dress. The pair also took their pal Jonathan Cheban along for the ride. 
The most outrageous thing about Kardashian's outfit probably wasn't the outfit itself, but the way that it clashed with her sister's ensemble. It made for a dizzying picture, but it didn't end with the red carpet. After the event, Kardashian was spotted picking up pizza while carrying a dark purple bag and thigh-high black leather boots. 
At the time, animal print was one of the key fashion trends of the season, which was probably why the Kardashians went so gung-ho with it. Still, it's not the worst example of zebra print we've ever seen!
Barbie, please!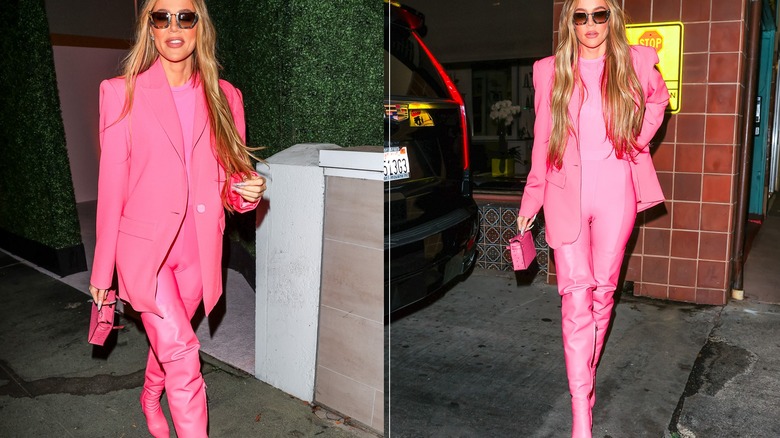 Rachpoot/bauer-griffin & Rachpoot/bauer-griffin/Getty
Believe it or not, Khloe Kardashian's head-to-toe bright pink ensemble wasn't paying fashion homage to Greta Gerwig's "Barbie" movie. She wore this look in August 2022, almost a full year before the "Barbie" movie hit theaters, proving that Kardashian is a true forward-thinker. The look was put together for a Kylie Cosmetics launch event, which might explain the color choice: Kylie Jenner famously loves pink and even owns a private jet decked out in pink detailing.  
Kardashian wore the oversized blazer on top of a pink shirt and pink pants, with thigh-high leather boots and a tiny handbag in a matching shade to finish the look. The only thing missing was pink sunglasses, but the black shades looked just as glam, and she wore her blond hair in subtle waves. 
There aren't many stars that could pull off a look as adventurous as this, but Kardashian has taken plenty of risks with bright colors the past few years. Maybe she's just keeping up with the trends, or maybe it's a change in personal preference. Either way, it's working for her — even if the outfit isn't to everyone's taste! 
Diana Ross dud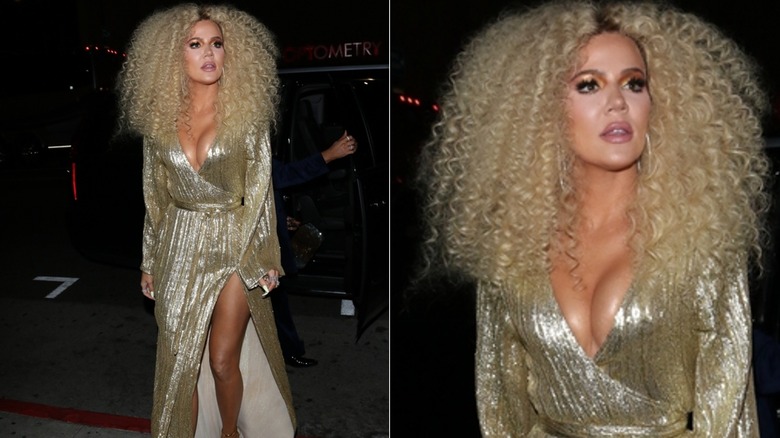 BACKGRID
Launch events, red carpets, and Halloween parties are one thing, but what does one wear to the 75th birthday party of one of the most iconic singers of all time? Khloe Kardashian put herself out there when she attended Diana Ross' big birthday bash in 2019, opting for a huge blond fro and a gold dress with a high split and plenty of cleavage. She clearly partied hard, sharing several videos to her Instagram story of herself dancing on and off the stage at Los Angeles' Warwick nightclub. 
This is one of Kardashian's most striking and memorable looks, but not necessarily for the right reasons. The mom-of-two loved the look so much that she decided to keep the wig on post-party, telling her Instagram followers, "I obviously had a lot of fun but my wig that's inspired by Miss Ross, I just didn't have the energy to take it off. So I am going to be wearing this today. It's a little crazy and I know the party theme is over but it's fun and I'll take it off tonight." When photos emerged of the star wearing the blond fro, many viewers took offense to it and accused the star of cultural appropriation. 
As is Kardashian's style, she never publicly addressed the criticism, choosing instead to keep things moving. Even so, this is one look that fans and haters alike won't forget in a hurry.