Barbie-Inspired Fashion To Influence Your Look, Because Greta Gerwig's Barbie Is Set To Rule Summer
We may receive a commission on purchases made from links.
Arguably the best all of Kacey Musgrave's looks, her Barbie pink moto jacket was the star of the 2019 Met Gala. And it isn't just Musgraves who's had Barbie fever for the past few years: Paris Hilton has been living her best Barbie-inspired life, and both Beyonce and Kylie Jenner have gone all-out and in the box for their Barbie Halloween costumes.
The "Barbie" movie is already gaining traction as the must-see film of summer 2023, and a cursory glance at the cast list shows just how many stars viewers will get to see living their most plastic and fantastic lives. Comedians like Kate McKinnon and Will Ferrell will be featured, alongside Hollywood A-listers Margot Robbie, Ryan Gosling, Simu Liu, and Issa Rae. It's clear that director and actress Greta Gerwig has all the ingredients of a culture-making movie. 
And since photos from the set began popping up in summer of 2022, fans have wanted to live the Barbie dream in their own spring and summer attire — whether that means full glam, nails, and pink latex, or just Barbie-approved pink and beachy tones. Gerwig's movie promises to be a new take on the Barbie franchise, and its fashion choices are sure to have a major impact when the movie is released in theaters July 21. Margot Robbie sent fashion trends soaring as Barbie even a year before the movie came out, and it's hard to overstate Barbie's influence on beauty and fashion.
Grab a Barbie-worthy handbag
Nothing says Barbie more than cute accessories. Whether you're more of a tote bag person or live and die by a clutch, there's one twist that can make you feel Mattel-made. With the 2000s jelly shoe coming back into style, we're also seeing jelly-style bags made of clear and glitter materials that would definitely be Barbie-approved. You can go with a hot pink heart-shaped bag, which might feel like the animated Barbie meeting her real-life counterpart, or go with a slightly more understated transparent pink jelly bag.
You don't need Barbie-shaped feet for Barbiecore shoes
One of the big coos that came with the new trailer for Greta Gerwig's "Barbie" is star Margot Robbie stepping out of a glittering pink heel with her foot keeping that classic Barbie doll tip-toes shape. In real life, you can cop Barbie's look with your own pair of dramatic pink heels, or experiment between flats and stilettos to find the height that feels best to you. An ankle strapped feather sandal will give you a few inches of wow factor, or you can go with Daisy heels from Free People for a ballet slipper color option. Forever 21 also carries Barbie glittery jelly heels, and Sophia Webster has an entire Barbie-inspired collection with plenty of options for your high femme alter ego.
Break out your rollerblades
After seeing the "Barbie" trailer and photos of the cast rollerblading in Venice Beach, we want to look just as good having fun this summer. Barbie and Ken's blades are a bright neon yellow, matching their knee and elbow pads and Ken's fanny pack. To be extra on-brand, you can copy their hot pink laces and wheels. Or, you can also take cues from Mattel's old school commercial for the rollerblade Barbie if you're prioritizing authenticity. 
Barbie-esque accessories can take many forms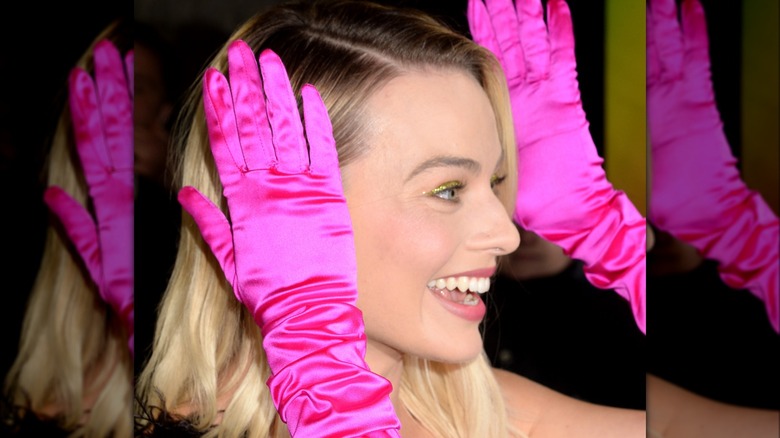 Dave J Hogan/Getty Images
Like "Barbie" actress Margot Robbie herself, you can choose which pieces you want to showcase your Barbie energy — whether that's through your hot pink gloves, a cowboy hat, or stylish sunglasses. You won't feel your full 100% Barbie fantastic every day of summer 2023, but you can mix and match colorful statement pieces for that extra bit of radiance whenever you need it. Instead of taking one accessory off before you leave, add one Barbie-inspired one on. 
Barbie loves a western-inspired look
One of Margot Robbie's best 'fits from the early "Barbie" movie photos is a two-piece hot pink outfit with a matching vest and bellbottom pants. She completes the look by tying a pink ascot around her neck, but there are plenty of alterations you can make while retaining the same country energy. You can go for full bellbottoms or grab a wide-leg slouchy pant in hot pink from ASOS to complete your look. A pink denim vest from PacSun also fits the Barbie bill to perfection. 
Knits can make the warm weather transition
If you're still fighting the spring chill early this summer, a sweet knitted vest can become a major Barbie moment. Plenty of folks are getting into crocheting their own looks (a hobby that outlived its origin of pandemic boredom). A cute argyle sweater is major Barbie-goes-to-school energy, while you can also play with layering a vest and the white and pink striped cotton button-up from H&M. Finish off the look with a sweet pink bow in your hair. 
Business Barbie is ready for work
You can bring your Barbie energy into work with the right tailored piece, since we know the Barbie doll succeeds in all her business ventures. You can grab a pink and white gingham blazer from Forever 21 and pair it with a cute skirt, or snag a linen blazer from Banana Republic to live your best 9 to 5 life. Adding pink shades to your work 'fits will bring Barbiecore to your everyday life. 
Barbie takes us back in time
Margot Robbie's stylist seems to be taking a cue from the '70s-style Barbie, so fans might hop on the Barbie train at one of its vintage stops too. Pairing a bellbottom with chunky boots and a layered oversized shirt with another tied around your waist could be the modern take on yesterday's Barbie. Plus, you can always add hot pink Barbie sunglasses to complete the sunshine and flowers look. Throw on some pink or neon orange platforms and boots for the full '70s style. 
Barbie's clothes aren't all pink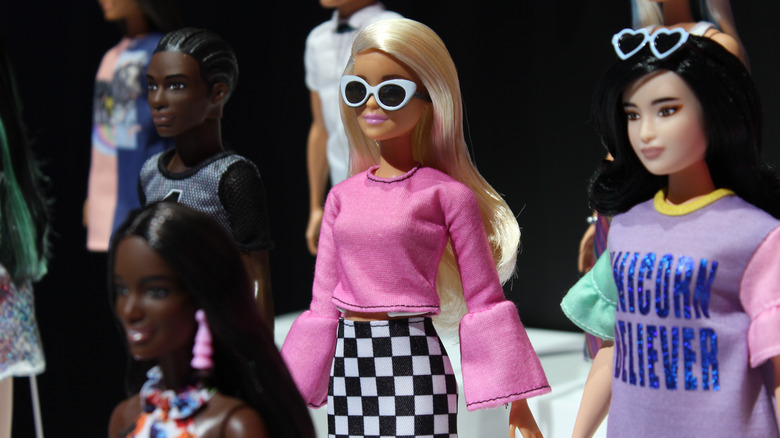 Sean P. Aune/Shutterstock
It's looking like Barbie's classic black and white swimsuit also shows up in the new "Barbie" movie, along with a blue gingham patterned outfit in the movie poster. Still, pink will always hold a special place in the Barbie universe. Kim Culmone, the SVP of Design for Barbie, told InStyle, "Pink has always been Barbie's favorite color." Culmone added, "She even has her own signature 'Barbie Pink' Pantone shade, PMS 219." However, pink signifies more than some rigid idea of color-designated femininity. "For Barbie, pink represents limitless potential and is a symbol of female empowerment," the SVP explained. And Barbie rocks plenty of empowering colors on screen and off.
Barbie's biggest impact on fashion is her confidence
Barbie SVP Kim Culmone shared with InStyle, "Barbie is inspired by pop culture and fashion. And like many of us, her style evolves to be reflective of today's trends and culture." The breadth of new Barbie styles and options seems to be expanding every year, and Greta Gerwig's new movie seems to make the most of Barbie and Ken's awesome range of potential representations. And any outfit can have Barbie energy — Culmone suggested we go for "simple, sleek, and can mix and match for any occasion," clarifying that obtaining your dream Barbie look is simpler than ever. She added, "Especially millennial women who grew up with Barbie — specific aesthetic lines are blurred more and more every day."