Jonathan Scott's Anniversary Post For Zooey Deschanel Has Everyone Saying The Same Thing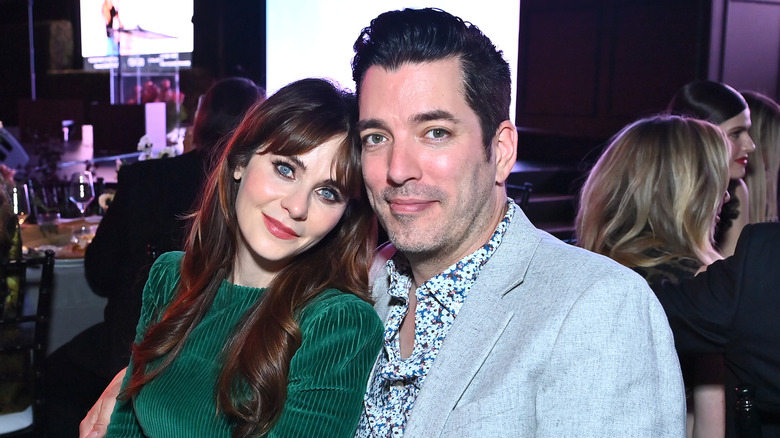 Stefanie Keenan/Getty Images
Zooey Deschanel and Jonathan Scott are totally couple goals. A source told Us Weekly that the couple had "instant chemistry" when they met while filming James Cordon's "Carpool Karaoke" segment back in 2019. "They've bonded over their love of music, film, theater — and Christmas carols," the source added. The two have been pretty much inseparable ever since and often share photos of their sweet dates, from New York City to Vancouver, Canada, on their respective Instagram accounts. 
On August 4, the lovebirds celebrated their four-year anniversary. The "Property Brothers" star marked the occasion by sharing a post on Instagram in honor of the special day. "500 days of @zooeydeschanel ...actually it's been a lot more, but who's counting anyway? 4 years really flies by. Happy anniversary baby!!!" he wrote. 
The post received more than 85,000 likes in 24 hours and fans took to the comments section to send love to Deschanel and Scott. Perhaps unsurprisingly, fans had a lot more to say in the comments as many are hopeful to see a long-lasting happily ever after for these two.
Fans want Zooey Deschanel and Jonathan Scott to get married
Shortly after Jonathan Scott shared his anniversary post, some Instagram users were sure to let him know that they want him to propose already! "You'll never find anyone better, marry the girl already," one Instagram comment read. "Put a ring on it," another Instagram user said.
Scott and Zooey Deschanel seem to be taking things at their own pace, however, which seems to be working well for them. In an interview with Entertainment Tonight Canada in March, Scott admitted that he sometimes feels "pressure" to get married — and admits they'll "get there."  
Both the HGTV star and the "New Girl" actor have been previously married, which could be one of the reasons they are simply enjoying their time together without putting a timeline on taking the next step. Scott married Kelsy Ully in 2007 but the couple split a few years later, while Deschanel was previously married to Ben Gibbard from 2009 to 2012 and to Jacob Pechenik from 2015 to 2020.
Deschanel has two kids with Pechenik, a daughter named Elsie and a son named Charlie. Back in January, Scott talked to Today about becoming a bonus dad. "You see your life transform, your priorities become your kids, and when they have a performance that they're doing at school, or working on some of their homework, or whatever it might be, it's a joy," he said. 
It seems like Deschanel and Scott know what they're doing, and we're just gonna sit back and enjoy their love.